Marketing & Sales
Look Who's Selling: The 2020s Baby Boom Pivot Has Arrived
Just as millennials' latent family-formation awakening has galvanized single-family demand, a Baby Boom age 55-to-75 analog -- extended family formation -- will transform resales and ignite the 2020s housing economy.
John McManus
August 20th, 2021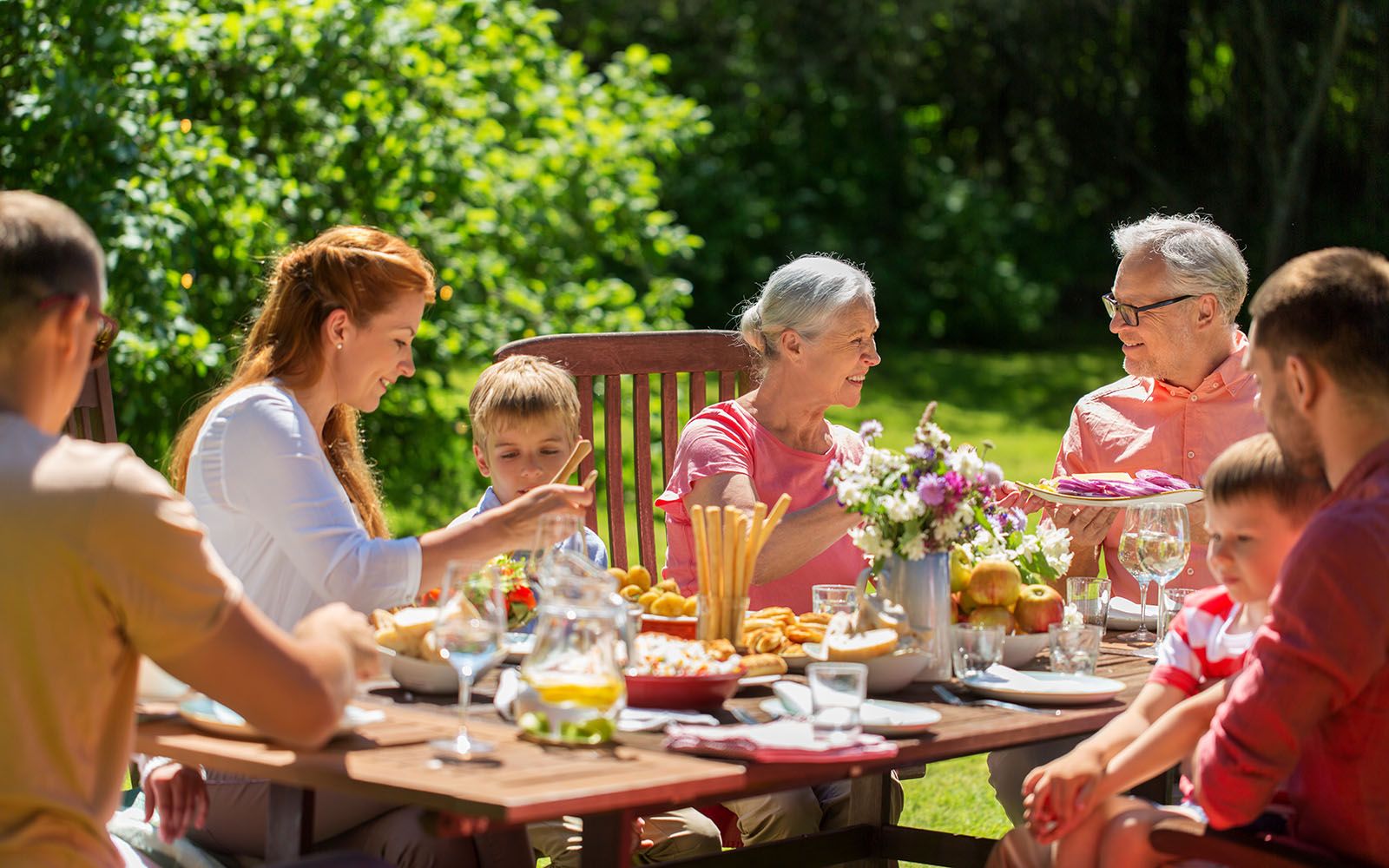 More resales on the market, many homebuilders believe, would be a positive in the Economics 101 "the-cure-for-high-prices-is-high-prices" sense.
The ailment and the cure, for homebuilders in a vicious-circle endgame that could stall a generational housing boom in its tracks, is genuine competition from a healthier existing homes marketplace.
The thinking is:
It would help relieve the pain of demand builders find themselves unable to meet right now
It would help soften – indirectly – pressure on building materials supply, as some existing homes do not require as many new materials and products as new construction does
It would help ease pricing pressure on new homes, as many homebuilders price their new homes to market, and added resale inventory could level-set comps
That thinking and that belief will now be put to the test. More resales are likely because there's just that, more resales.
Calculated Risk's Bill McBride writes that Inventory is the housing bellwether he's watching most carefully in a market signalling an inflection. You should check out his detailed local market-by-market chart of inventory, y-o-y, and sequential June to July change.
In McBride's words:
As I noted in Some thoughts on Housing Inventory
The key for housing in 2021 will be inventory. If inventory stays extremely low, there will be more housing starts and a larger increase in house prices. However, if inventory increases significantly, there will be fewer starts and less price appreciation.
Although inventory in these areas is down about 33% year-over-year, inventory is up 13.5% month-to-month (and up 26.5% over the last two months).  Seasonally we'd usually expect a small increase in inventory from June to July - so some of this increase is seasonal (as opposed to a shift in the market).
It does appear inventory bottomed seasonally in March.  And inventory is still historically very low, but increasing more than just seasonal.
Here's a snapshot of what McBride is talking about from the National Association of Realtors' Realtor.com July 2021 Monthly Housing Market Trends Report: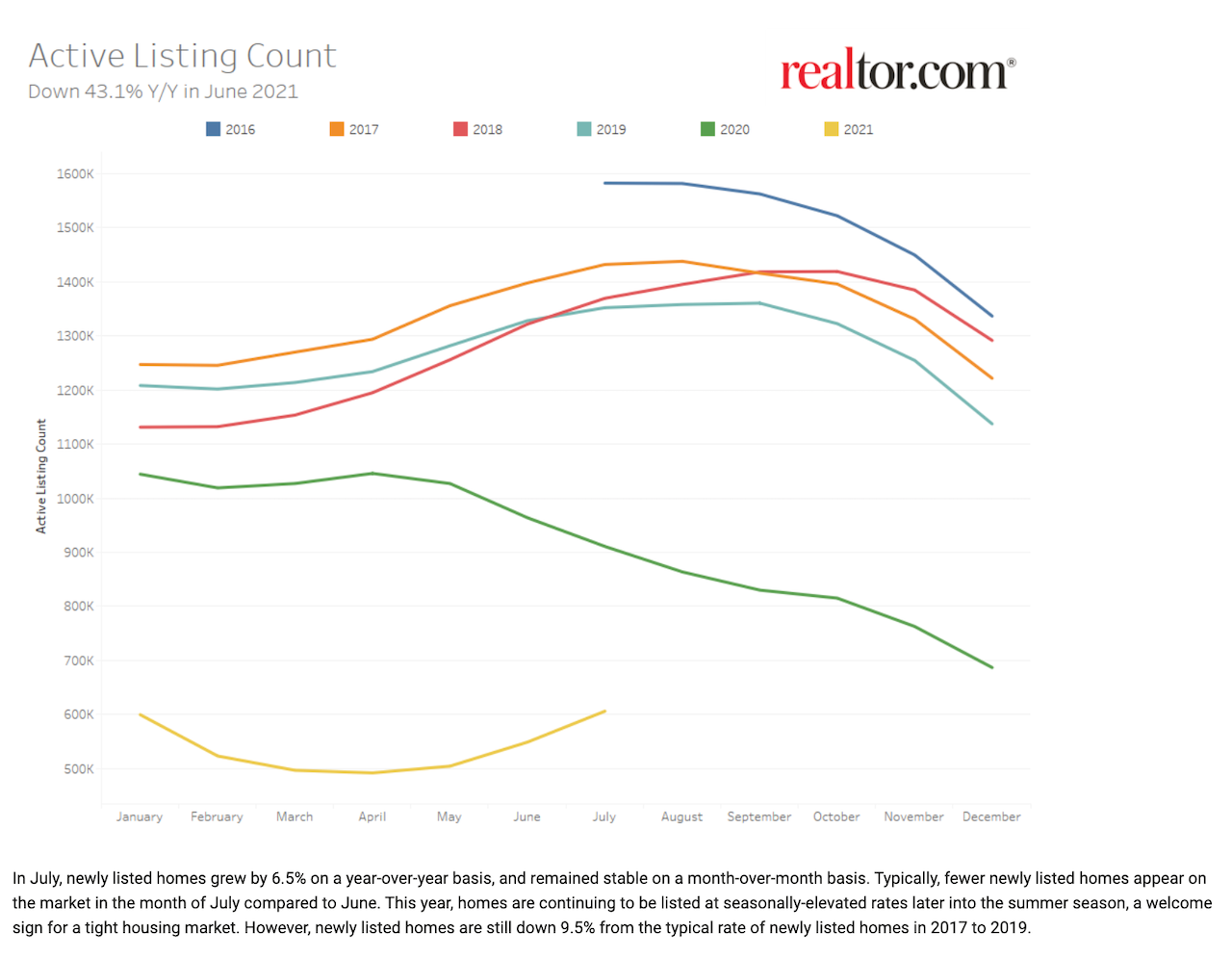 Builders, then, are beginning to get what they wished for – more listed, for-sale existing home properties.
What's got most economists', analysts', and housing observers' interest is the downshift from a torrid market dynamic to an above-average hot market.
We're interested in that, and it merits attention, but our real focus from a macro, 40-thousand foot view, is more in "the who" and less in the "how much." It's who's moving now, who's behind that swelling resale inventory and why that matters, because that's where both opportunity and challenge lie for residential property investment, design, planning, construction, engineering, and development.
So, first, a few highlights of what looks to be a hybrid correction-inflection:
New York Times real estate trendwatcher Candace Jackson clocks in with "Overheated Real Estate Market Begins to Cool." Falling knife time? Not so much. The operative term Jackson attaches to here is "balance."
Here, Redfin culls research from its national network of brokers, transactions, and listings, with the headline, "Housing Market Update: 5% of Home Sellers Dropped Their Price in Recent Weeks." Red flag warning? No way. Conclusion is, sellers are still in the driver's seat.
For your top-10-rankings fix on the matter, here's a titillating "Boon for Buyers: 10 Cities Where Sellers Are Slashing Prices," an Elena Cox roll-up of Realtor.com data. Blood in the streets? Not exactly when 255 out of 300 markets show few signs of price capitulation.
And, here, Fannie Mae's Economic and Strategic Research (ESR) Group cites still-constrained listed for-sale inventory as weighing on its housing activity forecast.
Two uber forces at work here in the dynamics of what's pushing and pulling housing like a camel through the eye of a needle of a volatile economy will sound like deja vu all over again. One, the pandemic, which, it turns out, has legs. The other is the landscape shaping impact of a generational cohort on the move.
Millennials represent the "incoming" delta-force factor in homeownership demand as homebuying's fastest-growing segment. Likewise, it may soon become evident that resale inventory increases will correlate to a disproportionate degree with Baby Boom-era sellers.
Here's an underappreciated macro driver that folks like us will be recognizing with the benefit of 2020 hindsight during the 2030s.
Just as biological clocks, dirt-cheap interest rates, and heightened level "homing" instincts toward the full-monte of single-family living have together turbocharged Millennials lean-in on single-family, a Baby Boom inflection is taking shape.
They will redefine a new 55-plus to 75-plus living, places, connections, priorities, resource-allocation, policy template.
Their version of sheltered-in-place to the-right-place strategy will mimic Millennials "family formation" drivers, evolving an "extended family formation" household and community model.
Existing homes – the repository of accumulated equity and wealth – are this age cohort's ticket to that "extended family formation" move. Further, the moment, in a recovering economy, with new adult generations clamoring for homes, and fewer "anchoring" impediments to both selling and buying, is now.
A couple of month-on-month comparisons showing a growing rate of existing home listed-for-sale inventory does not a macro-trend make.
We'd be willing to go on the record, however, with a suggestion that a Baby Boom tipping point from long-time family homes into the "extended family" household and community will be one of the key forces of the 2020s.
Who's ready for extended family formation, and the 55-to-75 economic makeover that lies ahead?
Join the conversation