Together with
Marketing & Sales
Self-Serve Meets White Glove Service: Empire's Homebase
Empire Atlanta's pre-Covid marketing and sales integrated services platform, HomeBase, plays as though it was designed with the pandemic-era in mind. Instead, it reflected putting homebuyers first, and mapping to their journey.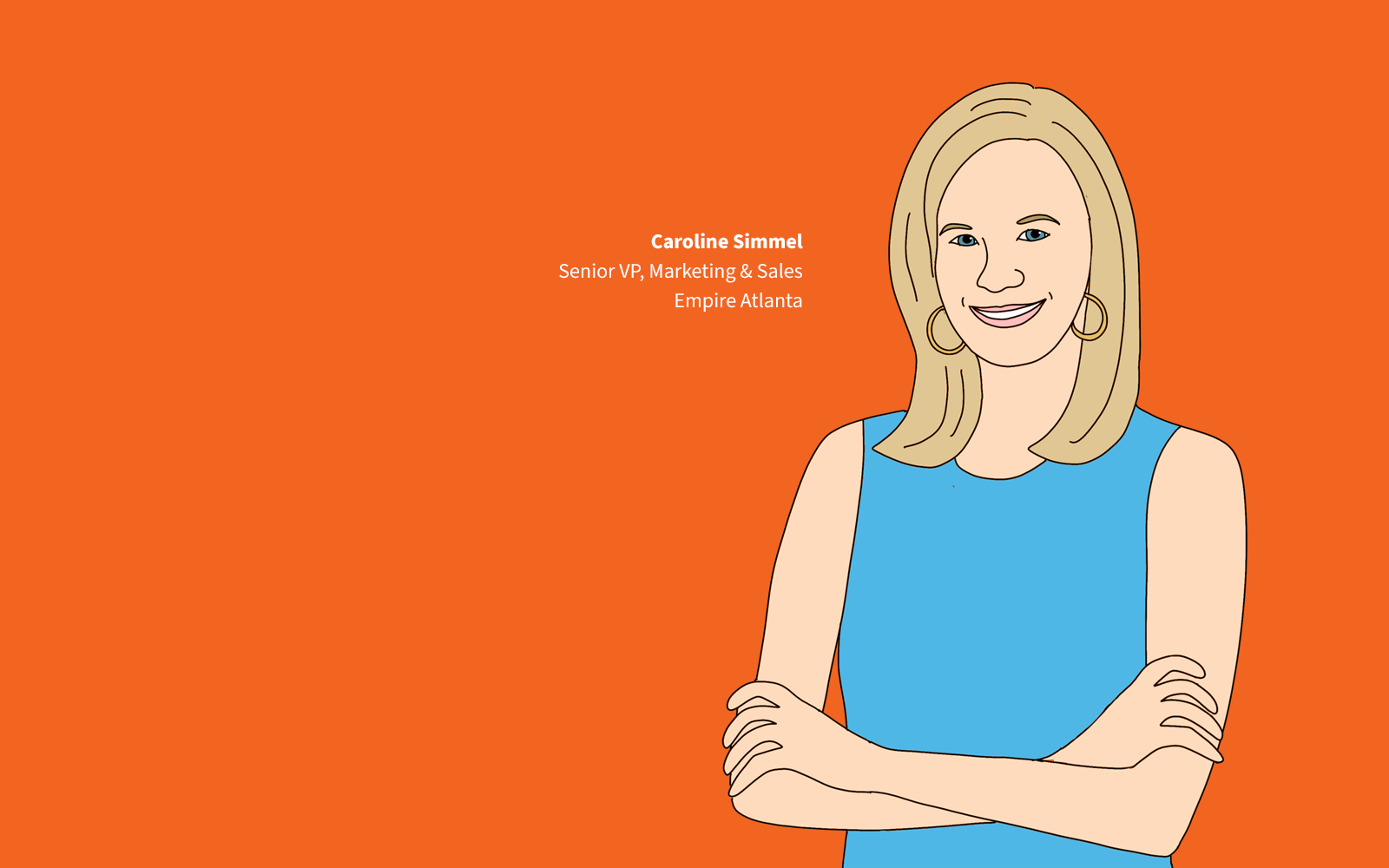 The question may not always have been this. But now it is; and for the foreseeable future, it will be this.
How would a best-of-class organization treat a client prepared to invest $300,000 to $700,000?
Pre-pandemic, that question already occurred to homebuilders.
New owner-occupier homebuyers – the wake-up call made clearer – are not so many lemmings, behaving in a pre-determined way, susceptible to dirt-cheap interest rates, and rising rents, and make-able monthly payments, that creates a $1 trillion new residential real estate and construction marketplace.
The news here: Homebase
Empire Communities Atlanta, the homebuilding enterprise formerly known in housing's Hot l'anta metro area as Edward Andrews Homes, has re-divined its homebuyers' journey with an extreme tech-and-human make-over of its Atlanta Intown selling system.
Three years in the planning, Empire has just unveiled HomeBase, a centrally located. urban core, state-of-art sales center that offers a personalized and collaborative homebuying experience featuring a streamlined and guides process including sales, design, lending and closing.
With Homebase, we've been able to align with every internalized step of our buyer's journey," says Caroline Simmel, senior vp of sales and marketing for the Empire Atlanta group. "Our technology-forward, centralized sales center simplifies our client-customer's pathway, and at the same time our organization learns from those clients what we need to to navigate our purchasing and supply chain challenges."
What TBD audiences need to know
HomeBase's origin story predates COVID-19, and traces its roots directly to the original question, posed above.
How would a best-of-class organization treat a client prepared to invest $300,000 to $700,000?
Here are timely reminders that while shelter, home, and even previously unlived-in new homes and communities carry triggering intrinsic values and a deluge of demand over the past year-and-a-half, nothing people pay for today – especially when it ranks for most of us as the most expensive investment we'll ever make in a durable good – qualifies indefinitely as a slam-dunk.
Sooner or later, the strong pull of demand relaxes, and the need for a push intensifies. Then builder-process centricity starts giving way to customer-care and focus centricity.
Empire's HomeBase – while it somewhat deceptively could pass for an innovative step-change borne out of the pandemic's force of nature demands to make homebuying simpler, more buyer-friendly, and more "seamless" – sprang into development in 2017. As a technology- and data-centric homebuyer's journey experience, it looks almost like it was designed specifically as an agile pivot for the Covid era.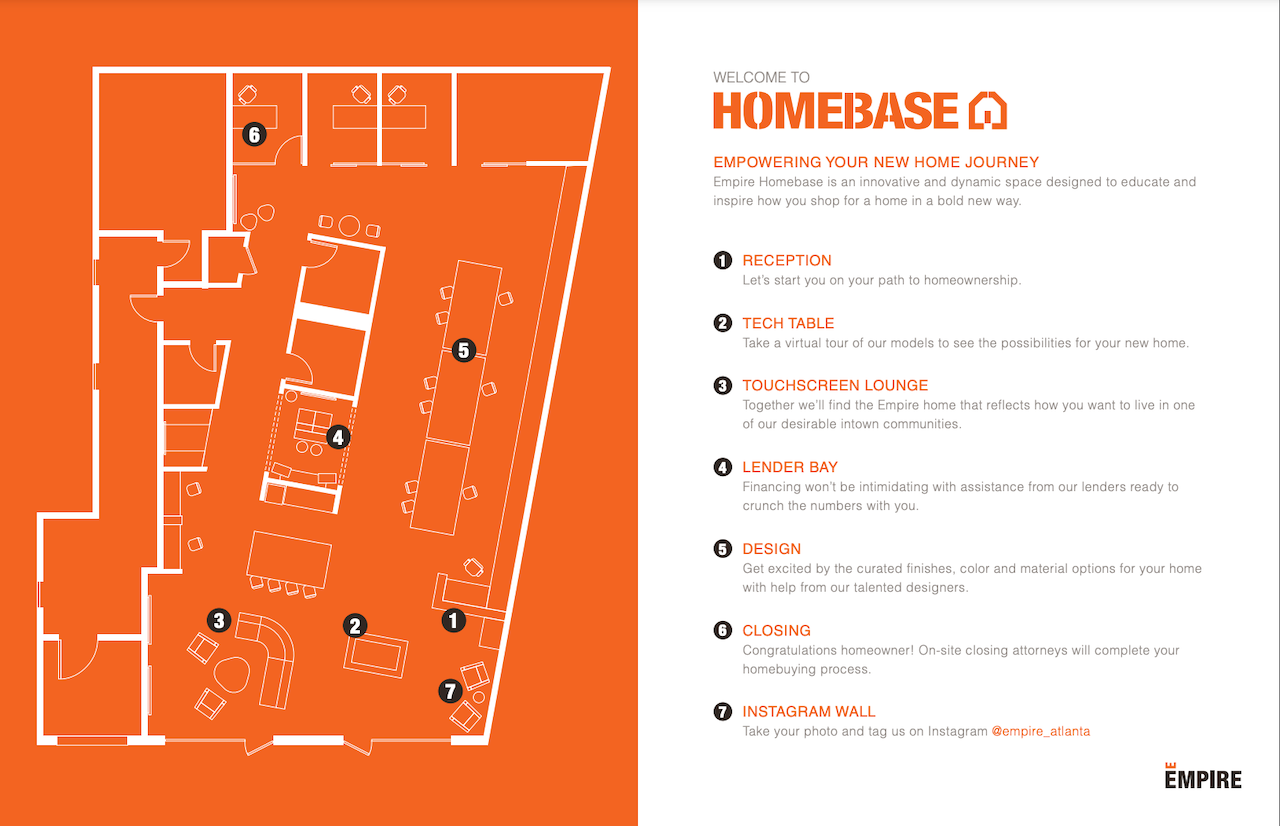 The timing of the pandemic and our launch of HomeBase was serendipity," says Simmel. "All the planning and design in the platform was in place in early 2020. We knew the challenge was to eliminate perceived barriers to entry while providing a clear picture of available inventory, locations and finish options in one location eliminating need to visit multiple locations communities spread out across the city. This all happened as an earlier recognition that the cost of land, labor and material made entry level homes more difficult for builders to underwrite and first-time homebuyer to afford in Atlanta's urban core."
The strategic team at Empire came face to face with the question we keep repeating:
How would a best-of-class organization treat a client prepared to invest $300,000 to $700,000?
In Empire's own system, the challenge mirrored that of hundreds of communities in scores of markets around the nation. The homebuying process was, and largely still is, an inefficient, fragmented and time-consuming process. The buyer is expected to find a lender, agent, design center, closing attorney; then connect to each one independently without direction or assistance. Often, they must also determine where to look without first understanding the benefits and nuances of neighborhoods and communities.
Kudos to Caroline [Simmel] and her team for having put us out ahead of the curve," says Empire Atlanta president Paul Corley, who founded Edward Andrews Homes. "HomeBase allows our future homeowners to be supported while ensuring they are making the right decisions, finding the community and home that works just for them. To simplify the homebuying process, and to put all of its parts into a one-stop-shop location centered at the hub of our five Intown selling communities has transformed us. We're not selling homes; we're selling an experience. We envisioned HomeBase as a way to engage millennial buyers; what we've found in fact is that it's engaging buyers of all ages, all stripes. It's how they want to go through the process in the pandemic era."
Once Covid reared up, buyers were under even greater strain and stress. A low supply of active listings meant buyers had to act fast or lose out. They had to be connected to a lender early in the process to know what they could qualify for, as more than four out of five homebuyers finance their home purchase.
What HomeBase Means for Empire
First, understand in your mind what HomeBase is. Picture an Apple Genius Bar, a Charles Schwab retail branch, a guided resort tour, and a coder-camp mash-up. The state-of-the art technology both online and in sales center help the buyer make educated decisions. Customers can tour models on their own time using U-Tour, offering more flexibility and autonomy.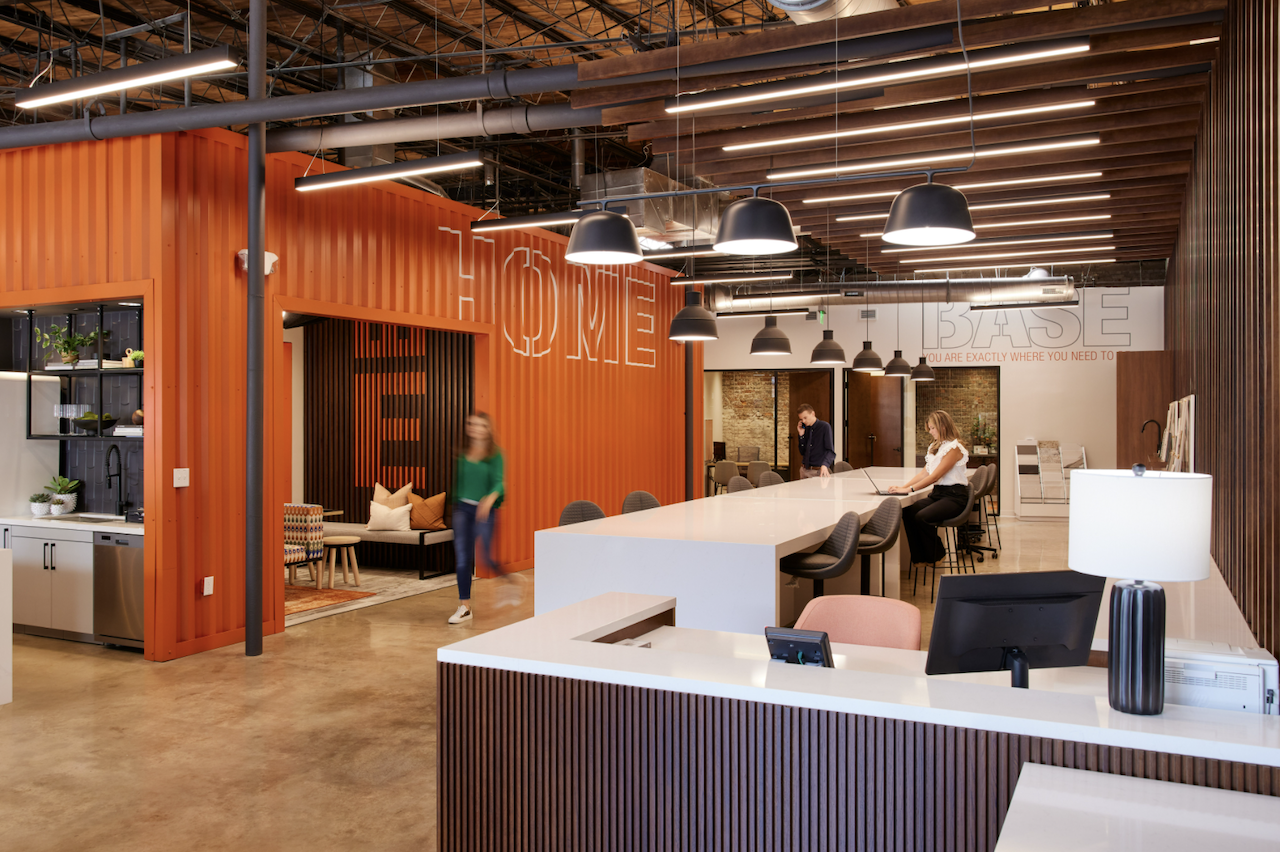 Six months into its Intown initiative HomeBase transformation, Empire Atlanta's sales performance metrics have begun to speak for themselves. Simmel's sales analytics team tells us:
Since HomeBase is a by appointment only, a key part of its success is Empire's Online Sales Counselor program.
All digital traffic is directed to the OSC. From there, the OSC educates the buyer about the communities, surrounding neighborhood, floorplans, and availability. Depending on the prospect needs, the OSC will either book the prospect an appointment at HomeBase and introduce them to sales team or continue to nurture and educate them until there is something available that is the right fit.
Key stats:
Lead to Kept Appointment conversion 48%.
Kept Appointment to Sale conversion rate already climbing at 35%  (should be higher with more inventory)
Online Sales Consultant's contribution is 77.7% of company sales
Since opening in May of this year, there have been 50 closings taking place at Homebase. The forecast is for 123 in total by the end of the year.
Empire's OSC program was implemented six years ago and is out-performing based on industry standards. The streamlined process with seasoned professional at every step of the process are the key factors that have made Homebase so successful within its first 6 months of operation.
Industry standard highest-level performance for lead to sales-center-to-conversion clocks in at 2o% to 25%," says Simmel. "Since we opened HomeBase, our convert rate is 48%. Once we start releasing more normalized inventory in the upcoming months, I'm thinking we can get to 50% conversion of our 'kept-appointment' rates."
Why it matters for homebuilding
Think again of the question at the top:
How would a best-of-class organization treat a client prepared to invest $300,000 to $700,000?
If the order of homebuilders' world began with that question and developed process, technology, resource-access, and talent from that baseline outward, how would the business change?
In fact, putting homebuyers and their journey first and foremost is actually reworking Empire Atlanta into a more streamlined, cost-efficient overhead organization. It was able to consolidate siloed selling teams from five separate neighborhoods, into its centralized excellence center at HomeBase – eliminating tens of thousands in commissions, and turbocharging its absorption rates for all five communities.
Our agent teams never imagined – before now – that they'd be able to do their job from an offsite, virtual location," says Simmel. "Now they can't picture doing it any other way."
The story of Thomas Edison's invention of the light bulb often involves note of his response to the question of how many failures it took to reach the final success.
I didn't fail 1,000 times," he replied. "It was just a 1,000-step process that lead to the invention."
Homebuilders, too, have taken many steps in their answer to the question.
How would a best-of-class organization treat a client prepared to invest $300,000 to $700,000?
Now, it seems, they're onto the right answer.
Join the conversation