Together with
Leadership
Behind The Headlines: The Sekisui House-Chesmar $514 Mil Combo
The year's largest M&A deal yet, and the largest publicly-disclosed private company valuation since 2012 makes for a story about new beginnings rather than the end of a cycle.
Left: Don Klein, CEO of Chesmar Homes
Right: Rick Robideau, CEO of Sekisui House Residential Holdings
Wall Street and Silicon Valley are atwitter over a high-profile proposed mergers and acquisition deal that's imploding.
So, instead let's look today behind the curtains at a landmark homebuilding M&A deal its key buyer and seller stakeholders have embraced as a win-win-win in both a near-term tactical context as well as market-rate real estate and construction's long-haul pan-cyclical suspension bridge from 2022 to the next decade and beyond.
If you believe Sekisui House's SH Residential Holdings $514 million ante last month to add a Texas-based top 40-ranked, private homebuilding rockstar – Chesmar Homes -- to its growing family of U.S. operators marks a deal-flow bookend of any sort, think again.
The Sekisui House-Chesmar deal – given the number of active strategic and financial buyers and at least an equal number of motivated sellers -- by no means signals the end of homebuilding mergers and acquisitions in a business environment regarded by most stakeholder strategists as normalizing.
If anything, key business motivators that incentivize and trigger acquisition deals – exposure to geographical and/or price-point or customer segment opportunity, need to add incremental volume, revenue, market share, and profit capability, a specific roll-up plan, or simply ongoing portfolio management – sharpens during inflection points in typical housing cycles.
Further, as operational, financial, and land-game levels-of-effort steepen in a time of uncertainty, baseline matters such as the age demographics of principals and founding partners, changing costs of operating capital, and the carrying costs and risks of owned land as absorption rates telegraph mixed signals, catalysts among sellers kick into a more active mode as well.
Thing is, the Sekisui House-Chesmar deal is more harbinger of what's to come – both in the continued dynamics of homebuilder mergers and acquisitions and, even more consequentially, in a future of housing that finally brings capital, advanced know-how, and commitment to balancing value, attainability, and sustainability – than it is a reflection of a housing boom period that may now take a temporary hiatus as the Fed attempts to tame raging inflation.
When you look beyond the fact that the Japan-based buyer now has added a high-growth potential Texas beachhead that now blends into an operating footprint that includes Woodside Homes, acquired in 2017, and Pacific Northwest-based Holt Homes, added in December 2021, the Sekisui House homebuilding group now totals to about $2.6 billion in revenues on 2021 homebuilding volume of about 5,500 homes – totals that flirt with top 15 national homebuilder ranking.
Not to forget however, is Sekisui House's declared plan to nearly double that volume – to 10,000 U.S. homes – in just a little over 36 months.
Remember as well that Sekisui House and Brookfield Residential have strong business ties throughout the country through Brookfield's May 2021 acquisition of Newland Communities, a relationship that can speed the plow of expansion and volume growth for operators like Chesmar, particularly in the Dallas-Fort Worth market, Holt Homes in the Pacific Northwest, and Woodside Homes in Arizona and California. The builders may already have relationships with masterplans in those areas, but the higher-level strategic bond can meaningfully impact the scalability of those relationships.
As we noted in our coverage of first news of the Sekisui House-Chesmar deal, the bi-directional benefits are both immediate, sweeping, and long-lasting:
For a big-picture strategic rationale, Sekisui House maps investment in the Chesmar brand, its operations, its energy-efficient home performance standards, its geographical strengths, and its prominently-regarded business culture of stakeholder value creation as fully aligned with a highly-detailed road map of long-term growth.
Since that time, Chesmar Homes ceo Don Klein and Sekisui's SH Residential Homes ceo Rick Robideau agreed to speak with The Builder's Daily about that epic, big-picture roadmap alignment that under-arches the combination.
Here are several of the strategic and tactical highlights and points of insight and learning about what's ahead from those conversations with Klein and Robideau.
The Rule Of 'Not Just Any' Geographical Powerhouse
What jumps out instantly in the latest combination – which goes down in the books as the single highest publicly-divulged valuation for a private homebuilding enterprise for a 10-year period in the wake of the Great Recession, and the largest homebuilder transaction of 2022, so far – is the way what is strong and special about Chesmar matches well with where Sekisui House has resolutely focused its future – on enduring value and happiness at home, positive environmental impact, and tapping people across its workplace ecosystem who care similarly about those values.
On operating performance alone, Chesmar stands out. It closed on 2,082 homes in 2021, generating revenues of $810 million, growing from 1,692 settlements and $611 million in sales in 2022. But those KPIs alone were not what clinched Sekisui House's interest. The appeal rose exponentially around cultural, customer, team member, and business focus matters.
Playing a key role in that cultural fit, Builder Advisor Group ceo Tony Avila's deep experience in the art, science, and business calculus of M&A match-making was a meaningful dimension of a process that was initially set to settle by the end of 2021, but needed to push to mid-year this year due to unforeseen circumstances.
Tony has a unique ability to be there in every moment – anticipated or not – when you need him," says Chesmar ceo Don Klein. "And he also knows precisely when to step back and let the process go as it's meant to among the principals. That kind of experience and depth of understanding of these big moments is rare."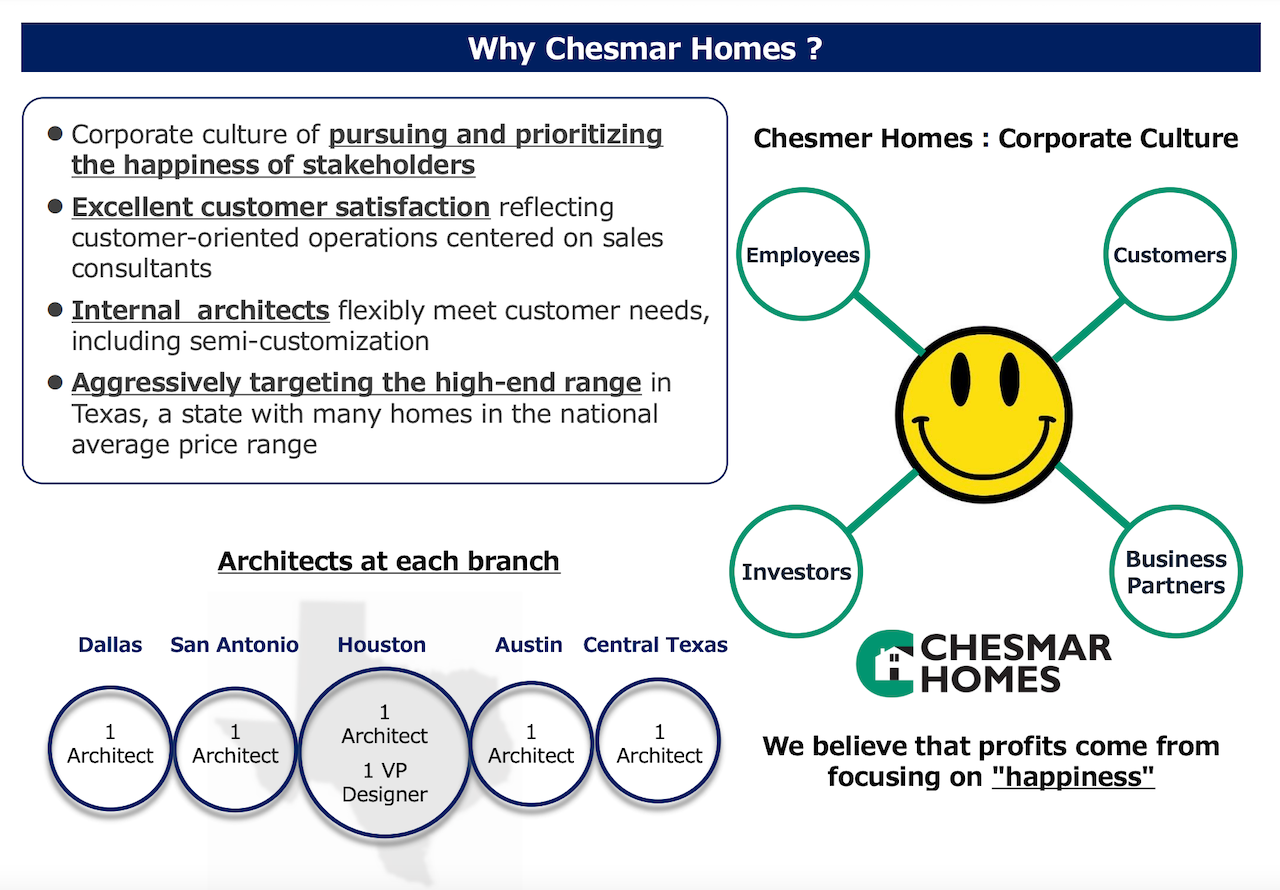 Although Sekisui House's corporate headquarters, its deep cultural core as a business, and its capital center happen to be Osaka, Japan, a hallmark operational principle driving expansion initiatives into opportunistic overseas markets is corporate leaders' belief they need to "learn from the proven experts," not only what American regional and local homebuying customers want, need, and will buy, but other local factors that impact regulation, access to construction trades, land sellers, etc.
The goal in the post-merger stages for all three companies is to learn what each of the local operators does best, and how that works," says SH Residential Holdings' ceo Rick Robideau. "Whether it's Roger Gannon at Woodside, or Greg Kubicek at Holt Homes, or now Don Klein at Chesmar, each of them is a crucial learning and discovery point for Sekisui House as to how and when to move forward in the markets as a key to durable success."
Robideau notes that what initially caught parent Sekisui House Ltd.'s strategic attention as magnets for each operators' position where three key non-negotiables: a product position that stands for value vs. price; a strong commitment bias toward sustainable, high-performance buildings, and a corporate team capable of cultural contribution towards Sekisui House's business principles. For the would-be acquirer, this narrows the field among strong business operators in any market or region to a short list of firms Sekisui House is prepared to listen to for intelligence and insight as to its opportunities every bit as much as it offers strategic guidance, financial, and operational resources to grow.
Our initiatives with respect to the local operators – Woodside, Holt, and Chesmar -- emphasize patience even as we explore, first of all synergies – human resources, some SG&A shared services, looking at national vendor agreements, procurement, rebate programs, and begin to get on the same page on IT across the operator group," says Robideau. "We are not going to be disruptive, but we'll look for the opportunities to support the businesses with any of those synergies that can help, particularly when supply chains are still undergoing stress and shock."
Chesmarians Win
Four-hundred and sixty-or so Chesmarians, the nickname team members Chesmar Homes have adopted over the years, count among the big winners in the combination, as almost all of them participated in an Employee Stock Ownership Program that owned 15% of the company.
What this means," explains Tony Avila, ceo of Builder Advisor Group, which served as exclusive advisor to the Chesmar team, "is that almost the entire employee base got a payout, and on top of that gets to remain with the company. It's particularly meaningful for the employees because, while the ESOP concentrates their net worth in the company's business, now, they get to take their payout money and invest and diversify it in a different place than the source of their career. That's an exciting part of the win in this deal, and nobody's happier about for the team members than Don."
A Big Checkbook
Klein echoes Avila's sentiment that the team at Chesmar – with a brain trust of strategic leaders with more than 100 years of homebuilding experience – up and down the chain of associates got a well-deserved affirmation of their work over the past several years. He's also mindful that especially as dynamics reflect a fast-changing market challenge, Sekisui House's combination of long-term patience and opportunism amount to a resource pool that encourages both confidence and boldness.
We'll likely be able during a cyclical downturn to take advantage of some deals to strengthen our hand in Texas markets, and navigate ways to take share as we've been doing for 40 years, but now we have a big checkbook backing us up," says Klein. "I'm looking forward to the relationships the Sekisui House team has with some of the masterplans that will give us some opportunity for faster growth in, say Dallas, and now we have the other builder operators – Woodside and Holt – to learn what's working and what's an opportunity as well."
Integration and Innovation
As Klein notes, his co-leaders – Gannon, Kubicek, he, and ceo Robideau – represent, for Sekisui House, drivers of eventual integration opportunities, beyond the initial synergistic overheads and shared services gains.
Robideau says that, next in line of priorities, one might expect more of an operational approach across the three separate entities on matters of business cadencing, monthly reporting, governance, and especially customer research, customer care and marketing as the company begins ambitious support around a two-pronged product development strategy.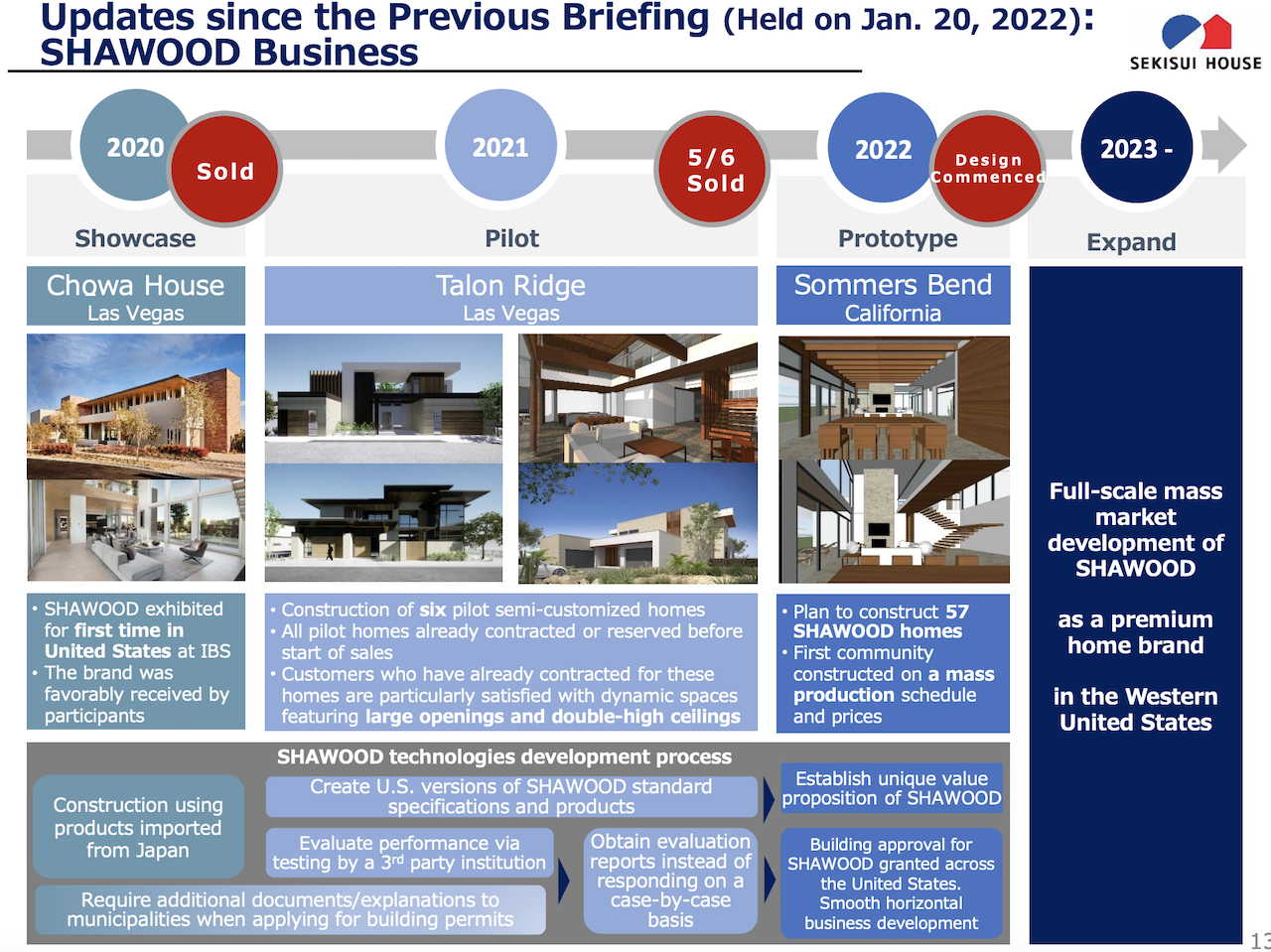 One of the key initiatives we're calling Lifestyle Solutions is a data-evidenced design and product platform that ensures what we're putting out there comes from a deep understanding of homes that meet needs in a profound way," says Robideau. "The other major push already underway is the expansion of the Shawood business, which combines advanced precision-manufacturing building technologies and a uniquely valuable and compelling product. The 57 homes we're doing at Sommers Bend in Temecula, CA, reflect a big step in our mass production progress."
So, no, the Sekisui House-Chesmar deal doesn't mark the endpoint of any consequential business or strategic cycle. Rather, it's a bellwether of how stronger, opportunistic players are likely to navigate both tactical and strategic pathways to a next housing recovery cycle.
Join the conversation
MORE IN Leadership
The transformation we've seen begin in residential real estate, construction, and their ecosystem in the last several years is one with both the future of home and work at the heart of it, toward expanded belonging. So, thank you.
A wave of layoffs, business retrenchments, and shut-downs of once-vaunted game-changers steamrolls through Silicon Valley tech firms. Resist the urge to gloat and say, 'I told you so.'
Sentiment is not the same as resolve. Sentiment is not the same as determination and cunning, and a next-batch of survival steps many homebuilders know by heart.
MORE IN Leadership
The transformation we've seen begin in residential real estate, construction, and their ecosystem in the last several years is one with both the future of home and work at the heart of it, toward expanded belonging. So, thank you.
A wave of layoffs, business retrenchments, and shut-downs of once-vaunted game-changers steamrolls through Silicon Valley tech firms. Resist the urge to gloat and say, 'I told you so.'
Sentiment is not the same as resolve. Sentiment is not the same as determination and cunning, and a next-batch of survival steps many homebuilders know by heart.