Together with
Land
In One Fell Swoop, Dream Finders Joins Building's Big Leagues
Patrick Zalupski's latest coup -- landing a $475 million deal for Texas powerhouse MHI Partners -- underscores a meteoric rise to multiregional relevance as a homebuilding power player.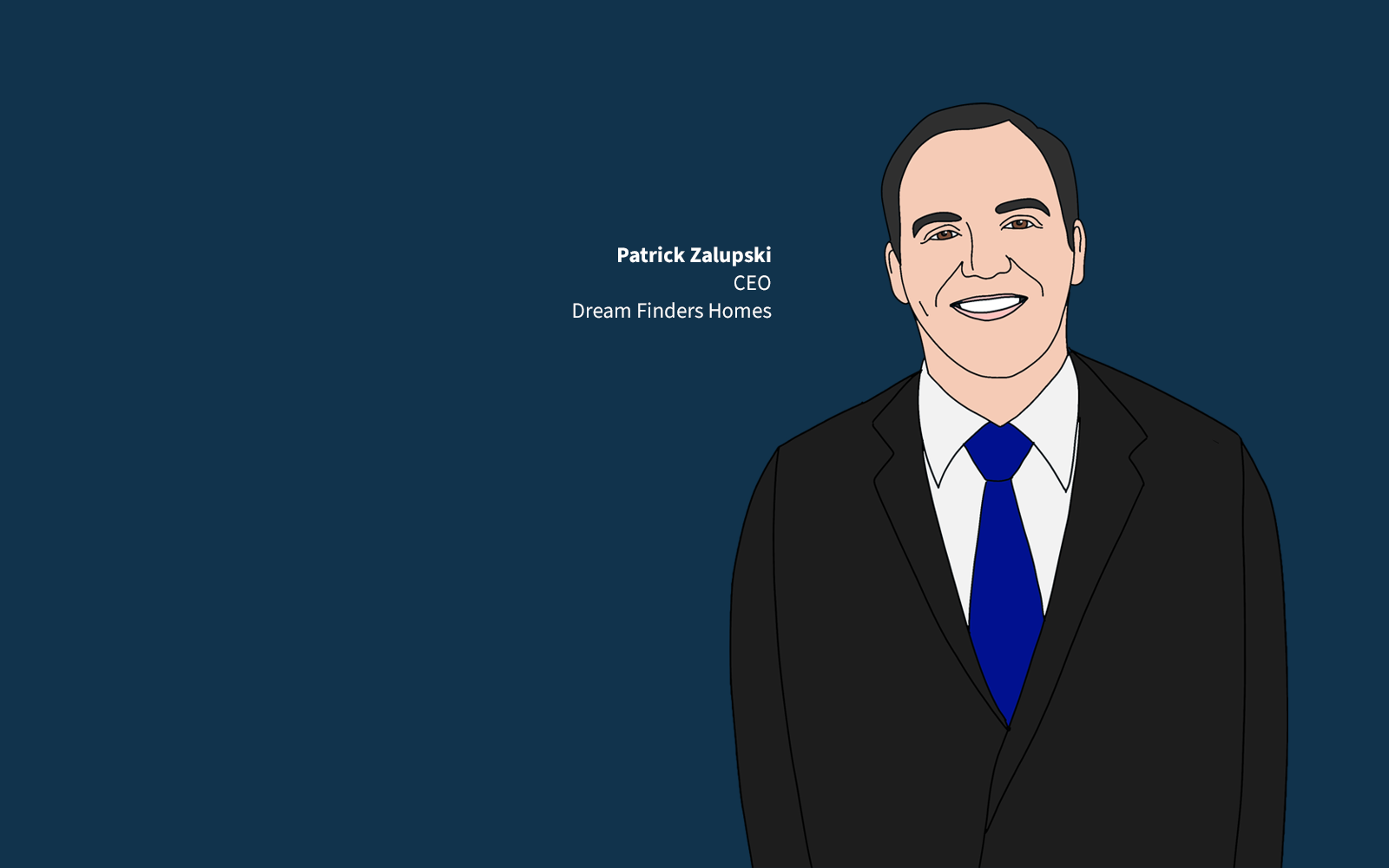 Homebuilding USA is no country for small publics. The onslaught of cost, brain damage, regulatory burden, and other ongoing encumbrances that come with access to the public equity and debt markets require scale, heft, and power as offsets to SEC hell.  Now one of homebuilding's fledgling first-year publics, Dream Finders Homes, has all of that and then some.
DFH, the NASDAQ ticker symbol for Dream Finders, announced yesterday that for an "approximate" purchase price of $475 million:
that it entered a definitive purchase and sale agreement to acquire the homebuilding, mortgage banking and title insurance assets of Houston, Texas-based homebuilder McGuyer Homebuilders, Inc. and related affiliates (collectively "MHI")."
Net net, the MHI deal means an instantaneous step-change growth for DFH by about 66%, catapulting the combined enterprise from a middling top-40 ranking among homebuilding's power elite into more rarefied company.  Dream Finders soared in from practically off-the-radar into one of America's 15 corporations with revenues that exceed $2 billion on unit sales volume well north of 5,000 homes.
Here's the framework of what DFH gets in the deal:
DFH expects to acquire approximately 1,850 homes in backlog, consisting of the following metro areas: 600 in Houston, 560 in Dallas, 490 in Austin, and 200 in San Antonio.
MHI stakeholders will retain approximately 1,000 finished lots and DFH will have the option to purchase the finished lots over the two years subsequent to the MHI acquisition effective closing date.
DFH expects to acquire approximately 200 finished lots at closing to begin home construction imminently, as well as finished lot options to purchase an additional 4,500 lots. DFH expects the consolidated company to own and control over 40,000 lots after closing of the transaction. MHI expects to have over 100 active selling communities at closing and, post-closing on a consolidated basis, DFH expects to have over 220 active selling communities.
In one fell swoop, a bootstraps firm that was born in Jacksonville, Fla., during The Great Recession, and overachieved as a sales- and operations-driven private regional Northern Florida stronghold for the first decade of its lifetime, is now playing in homebuilding's major leagues.
Basics of the DHF-MHI combination – which also requires DHF to pay the MHI Partnership an additional 25% of pre-tax income, "subject to certain minimum pre-tax income hurdles" for up to "five periods" over the next four years --triangulate around timeless raw material values – ones that either stay locked-up or become unlocked based on management skill and timing.
The selection of MHI founder Frank McGuyer and his team -- led operationally over the past 20 years by Gary Tesch – to secure DFH's Texas punching and counter-punching power among homebuilding's most aggressive and formidable competitors is no accident.
For McGuyer, who built MHI and the Coventry Homes name brand into one of Texas' multi-market strongholds – with operations in Austin, Dallas-Fort Worth, Houston, and San Antonio – achieves at least three essential goals in the bargain.
A financial windfall on the value of the organization he built from scratch starting in 1988.
Emancipation from debt obligations and the risks – personal and professional – that go with owing big money in times of uncertainty.
A relatively secured forward-path opportunity for a team of leaders, managers, and associates who'll keep their jobs in the new organization.
In his press statement about the deal, DFH founder, chairman and ceo Patrick Zalupski checks off on all the boxes that reflect the human talent asset, the reputational equity with both customers and trade partners, and the well-chiseled skills and muscle in a high-risk-high-reward land game that has entered crunch time in a broader economic phase flashing mixed signals, rising volatility, and plenty of uncertainty against a backdrop of strong fundamentals.
Importantly, he notes that MHI represents a jewel in a crown consisting of a relatively finite few critical geographical market magnets that represent a disproportionately large share of homebuilding's near-term future opportunity.
Zalupski states:
Frank and the MHI team have built a tremendous homebuilding organization over the past three decades. MHI has a reputation for being a great partner and has earned the respect of developers and homeowners across the great state of Texas. We are excited to welcome MHI employees into the Dream Finders family and look forward to growing our footprint in one of the country's best housing markets. The MHI transaction will significantly increase our geographic operations in the Austin region and will allow us to expand into Houston, Dallas and San Antonio. These metro areas rank as some of the largest and fastest growing residential homebuilding markets nationally with aggregate permits in excess of 120,000 annually. We are excited to get to work and anticipate making significant capital investments in these new markets, with the goal of being one of the largest builders in Texas."
In another time, manifest destiny spoke of a geographical expansionary thrust that was both justified and inevitable.
The construct fits today's noticeably-consolidating homebuilding landscape, and upstart public Dream Finders Homes has wasted no time in declaring itself up to the task of running with the bulls.
Having burst into relevance as an up-and-comer and outlier, now DFH – both justifiably and inevitably – will clash head-to-head not only with 19 or so other publicly-traded strategic rivals, but with private equity-backed single-family for-rent juggernauts, with Japan-, China-, and Canada-based homebuilding and development enterprises, and with a handful of well-capitalized private homebuilding powerhouses as well.
DFH's manifest destiny currently maps from the mid-Atlantic and Southeastern US, through and across Texas, as well as up into Colorado. Conspicuous in the absence of several puzzle pieces – to date – are hotbed markets in Arizona, Utah, California and up into the Northwest.
Zalupski's brought his firm into the homebuilding fray at a moment of accelerated fortune-building, heightened challenge and intensity, and dizzying risks. DHF will exercise its public debt access to help smooth its MHI work in process integration and acquisition and keep the trains running.
At the same time, it will go back into the public equity markets with a 150,000 share issuance of Series A Convertible Preferred Stock, to raise $150 million, per the press statement here:
The Convertible Preferred Stock will accumulate dividends at a 9.00% rate per annum, payable quarterly in arrears. The Convertible Preferred Stock will be perpetual with call and conversion rights; and will be redeemable at the Company's option in years four and five. Any Convertible Preferred Stock outstanding after year five will be convertible into the Company's Class A common stock. Builder Advisor Group acted as sole placement agent in the preferred stock issuance.
Likely as not, we will be reporting sooner than later on a "next jewel" in the DFH crown, mapping a manifest destiny into market magnets it must almost inevitably participate in to become one of America's leading 10 homebuilding enterprises.
For Homebuilding USA is mostly – and increasingly – a country for mega publics.
Join the conversation