Together with
Marketing & Sales
Century's 'Buy-Now' Ground-Breaker Shifts The CX Goal Line
Here Century Communities president Liesel Cooper unpacks the strategic, operational, and consumer-focus reasons for cutting over to its click-to-buy contract platform. And, she affirms the "integral ongoing role" of sales associates in the new normal.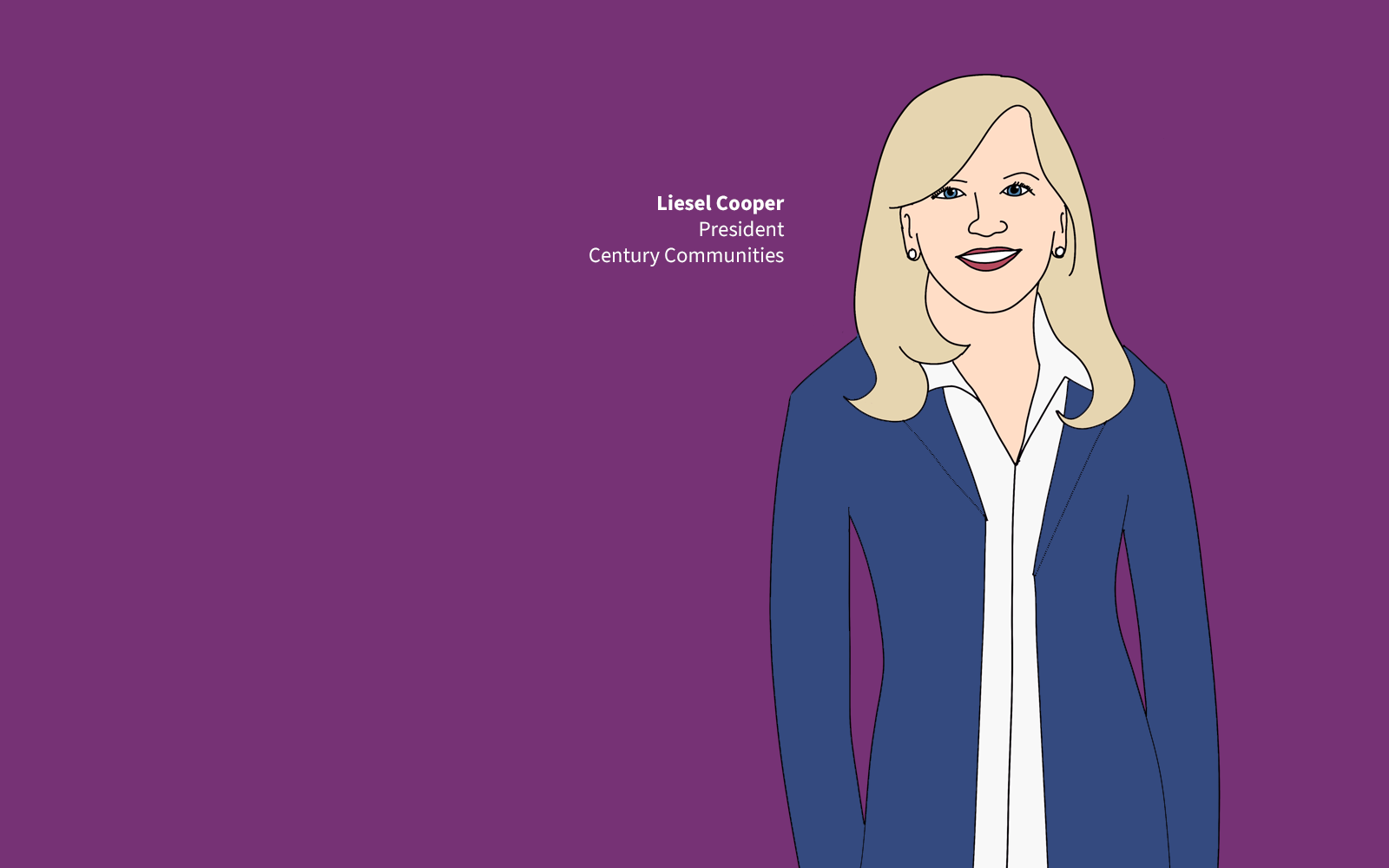 This story – on the 9th largest U.S. homebuilder Century Communities 100% cutover to a simple click-to-buy contract on a specific home and property – starts with a story and ends with a story.
Story 1: The homebuyer journey's moment of truth
The brief backstory is that Century kick-started its "buy now" digital go-to-contract experience with its all-spec first-time buyer Century Complete line, the brand platform the company created out of its 2018 purchase of Wade Jurney Homes.
Fast-forward to a 4-market-test pilot-program Century set in motion in November 2021, to try out its gameplan to extend the click-to-buy formula across its Century Communities product portfolio – which accounts for 68% of annual unit sales. It's Thanksgiving Day, Thursday, Nov. 25, 2021. It's one of exactly three days a year – the others being Christmas and New Years Day – every employee in every workplace in Century's $4 billion, 17-state, 40-plus market, 75,000-plus lot, 11,000-new home ecosystem of real estate, construction, and retail operations goes dark.
Three-hundred sixty-two days a year, you'll be able to track down one of our sales team members for all of our offices, but those three days we shut down," says Liesel Cooper, president of Century Communities, as she tells this "there's-a-first-time-for-everything" account. As the story goes, Cooper says, a home seeker on military leave drove to one of Century's 32 Inland Empire, Fresno, CA-area neighborhoods – Meadowood, featuring single- and two-story home floorplans that range in list price from the mid-$400s to $600s –  Thanksgiving afternoon, and peaked into the window of a rough-framed new home. "It was a pre-power, standing inventory unit. He peeked through the window into the dark unfinished interior, then went online and bought the home. I got a notification. The contract went effective at 1:44 pm local time. I was so tickled, I texted [co-chairmen/ceos] Dale and Rob Francescon. It was a first."
What buy-now capability means as an industry inflection point
The story of an earnest backlog order on Thanksgiving Day, especially in the context of a hyperactive demand for new homes has two powerful homebuilding business take-aways.
One – that sale for Century on Thanksgiving Day signifies an entirely new dimension of the meaning of the homebuyer's journey, how it maps, and the moment it can reach its inflection.
Two – that precise home, matched and fully-contracted to that precise buyer at 1:44 pm PT, clocked in as a competitive opportunity gained for Century, and an opportunity lost for the dozens of homebuilding rivals up and down the street from Century's currently-sold-out Meadowbrook neighborhood in Fresno.
Both of these take-aways tie to new-normal realities of pandemic-era consumer journey mapping and behavior. Yes, click-to-buy web tools and technologies for the head-spinning, mind-numbing, tedious, and stressful homebuying process have been a grail among homebuilders, and, yes, it's safe to say that many of the largest enterprises and their mid-sized siblings are just angstroms away from introducing their own mobile device- and laptop based buyer-contract platforms.
What Century's industry-first execution reflects most is a business cultural morphing toward action beyond talk that recognizes that customer centricity may seem like a competitive "nice-to-have," but it's really, actually, less and less and less an option. Customer centricity has come out of the echochamber into the realm of necessity – and that includes businesses in homebuilding design, development, investment, and construction.
Just ask the "gearheads" in Detroit, automotive engineers who ruled what was once America's flagship consumer transportation industry. Now, car companies – to survive and thrive – are literally turning themselves inside out to engineer, design, and produce transportation consumers demand they offer or else.
So, too – like it or not, or believe it or not – is the case for new homes, and the natural selection process in the homebuilding sector begins with syncing up now – yesterday if possible – with how homebuyers map to their point of purchase.
How well does this quotation apply, for instance, to that moment – 1:44 pm PT, Thanksgiving Day, in Fresco, CA – a first in homebuilding?
Customers don't follow scripts. They follow impulses, urges, whims, and preferences, often in unplanned moments of opportunity. So it's important that journeys are not aligned to specific touchpoints according to what the company wants to happen. Rather, the company should seek to understand the series of need-points customers traverse in order to make decisions that achieve whatever outcome they ultimately intend."
For those who'd benefit from specific clarification of what Century's newly-introduced capability means and how it works, the new process flows in five steps, and involves an exactly $495 dollar online payment for any home a prospect engages with and clicks on.
Click "Buy Now" on any available home
Fill out a quick Buy Online form
Electronically submit an initial earnest money deposit
Electronically sign a purchase contract via DocuSign®
Now, even in a rocket-fuel selling environment jostled by fissures of imbalance between scarce available supply and heavily motivated buyer prospects, it's getting and meeting the "need-points" of a buyer that will tell the difference from one builder to the next, especially as product lines and property locations, and price-points increasingly blur in buyers' minds.
It's proving out, being able to buy when it's convention for the buyer, and wherever they are, and removing the barriers to doing that is a capability that's showing up as important to our buyers," Liesel Cooper notes. "Of course, these relationships very frequently do start at our sales offices, or with our online sales assistants, who are integral to adding value and deepening the level of engagement with our customers. It's fascinating, now that we've got the platform fully active, to see the 'buy now' activity that occurs at 6:30 am, for instance. This may be after a visit to the sales model or with a sales associate, and a kitchen table family huddle the night before, we're seeing that 'buy-now' contract notification first thing in the morning, or after dinner in the evening."
Cooper notes that four out of five Century Communities' line of homes – and 100% of its Century Complete line – are built on spec. This means that structural plans are relatively standardized across the enterprise's communities. Variability for an online purchaser would, therefore, include options around "soft options" like carpeting, flooring, countertops, and other soft finish items. This reduces SKU variability to a large degree, and allows Century construction operations to manage evenflow start-to-completion time-frames on as predictable a building lifecycle as is achievable these days, given supply chain disruption.
Depending on the inventory level a division has in its pipeline, Century division leaders can choose which spec inventory properties it's able to release and showcase in each community's gallery," Cooper says. "This way, we can keep the focus on what we have ready to sell, and manage the engagement and interest of other prospective buyers around what will be available next."
Are sales team members' jobs at risk?
On the surface, automating the retail go-to-contract purchase virtually may come across – incorrectly – as a looming death knell for the role of sales management and sales team associates. In fact, insists Cooper, it's the opposite. Efficiency – in the form of the administrative and bandwidth time saved in a process that a buyer can complete in minutes from anywhere – is a win for the concierge service and value front-line sales associates bring to what's still an emotionally-fraught, nerve-jangling experience for many people making their life's highest-ticket purchase.
The more time we give our client representatives to do what they do best, which is building, growing, and securing those relationships, the better they can shine," says Cooper. "More efficiency ultimately allows us to improve holistically how we create value, whether it's in operations, sourcing, management, marketing, and sales. This is about tools that allow us to pivot more wholely toward the kind of customer care Century wants to be a leader in."
As an illustration of Cooper's point – that the human factor in the customer journey of home purchasing remains a bulwark of what Century stands for – she cites another anecdote from the early annals of "buy-now" lore.
Story No. 2: Tapping into the "urgency" factor
As last year was coming to a close, customers – a couple – were sitting with a Century associate at  the company's now completely sold-out Silverstone community, in Frederick, CO. The couple liked what they saw, and got excited by what they heard as the sales team member talked them through next steps in their particular journey. On the spot, the couple gave a thumbs up on a particular home in the fast-selling community that was ready-to-go.
What happened next may be familiar to anyone accustomed to online seat assignment booking for a flight. Liesel Cooper explains.
At the same instant that couple was sitting in the sales center with our sales associate, coming to a decision on a specific home, a buyer – on mobile in their car – clicked 'buy-now' on that same home and clinched the contract," Cooper says. "Now, that example reflects the work of another one of our sales associates having worked with the mobile buyer to move fast – striking that chord of urgency – which the winning buyer did. What wound up happening as well was that the sales team member working with the couple in the office was able to find another one of our homes that suited them as well. But when the technology can work to amplify that note of urgency, then it's a powerful motivator that helps our sales folks close."
Certainly, we'd assert that Century's current industry-first advantage in deploying a technology capability that is long overdue in homebuilding will be short-lived. By the end of 2022, we'd expect it to be industry standard, at least for larger organizations.
What's more critically noteworthy is that it shows accelerating appreciation for the kind of customer-centric operational improvements a builder like Century would rather lead than to be dragged into.
As Accenture Global Lead for high tech Gene Cornfield notes in a Harvard Business Review essay you may want to check out, customer centricity is not a static nor a bolt-on market positioning. It's not simply about "buy now," it's about mapping the business culture to be there at homebuyer's point of need. This is not about buzzword, mumbo-jumbo terminology that sounds good. It's about doing business today, and thriving.
Company outcomes depend on the number of customers who successfully achieve their intended purpose. The better a company measures and manages how well they're enabling customers to progress across need-points, the stronger the resulting business outcomes."
Join the conversation
MORE IN Marketing & Sales
After a two-year pause-button on all-points, fully-activated strategic selling, now builders are hitting "play," as they work to navigate to a normal demand level they can live with.
As many as 5,000 new neighborhoods are due to come online — representing hundreds of thousands of new-home lots already fully-invested in — and builders' next big challenge is to activate them come what may.
Hyper-focus on challenges and success at securing homebuilders' bottom line -- when demand eclipsed new home supply -- meant less time and energy for the top line. Then the world changed.
MORE IN Marketing & Sales
After a two-year pause-button on all-points, fully-activated strategic selling, now builders are hitting "play," as they work to navigate to a normal demand level they can live with.
As many as 5,000 new neighborhoods are due to come online — representing hundreds of thousands of new-home lots already fully-invested in — and builders' next big challenge is to activate them come what may.
Hyper-focus on challenges and success at securing homebuilders' bottom line -- when demand eclipsed new home supply -- meant less time and energy for the top line. Then the world changed.