Together with
Land
Spec Power: Why Move-In-Ready New Homes Are Key To '22 Plans
Here's how Century Communities' Complete line cuts through some of the supply chain and labor constraint bottlenecks as it fuels expansion to America's hot markets of tomorrow.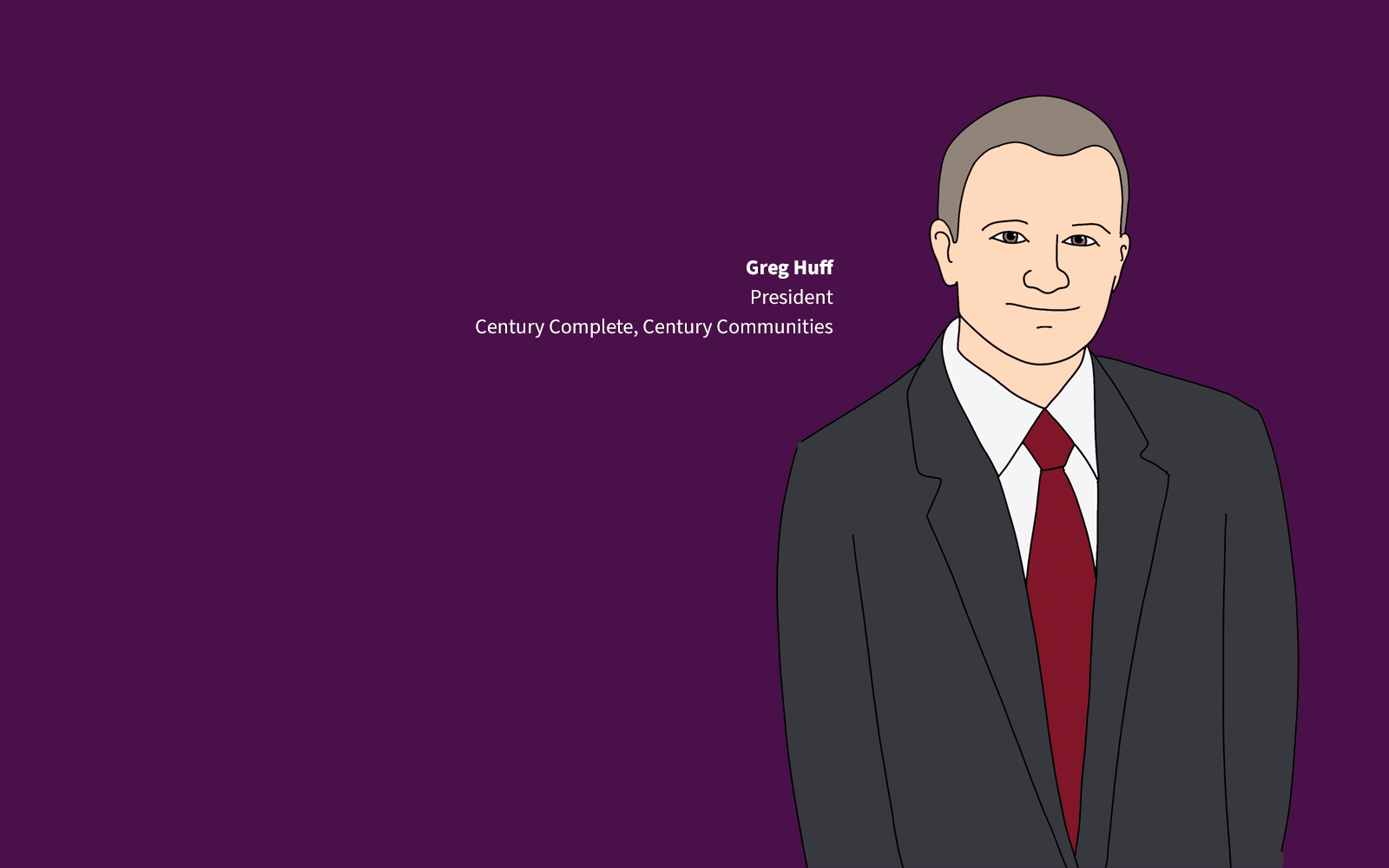 Simplicity is not easy.
Here's a challenge you know only too well. Assemble 19,000 pieces of building materials and products, 400-plus SKUs, 600-plus lines of bill-of-materials code, among 25 separate trade crew, across 150 or more days into a 2,200 square foot home, and, by the way, do it all right the first time, on time, on budget, and within a homebuyer's purse-string limits.
Simplicity, we know, is the opposite of easy.
This daunting-enough riddle doesn't even price in normal nor abnormal added complexity. Like human error, or site-specific snags, or 35 rain days, or the windows not showing up, or the drywallers showing up only to learn there's nothing to do that day because the windows never showed up in time for the weather-tight inspection, etc..
Simplicity, anybody who's done time in real estate and homebuilding can attest, is mostly talk with not much to back it up. Mostly a pipedream.
Except when it's not.
Examples of simplicity at work in the real world of homebuilding and residential real estate happen too rarely. Complexity and complication – it's widely viewed as received wisdom – are a given.
Now, one of the brighter lights in human scale design and where that marries with technologies is John Maeda. Maeda's 10 "laws" of simplicity land – in 100 crystal sharp pages – here, at Law 10 / The One:
Simplicity is about subtracting the obvious, and adding the meaningful.
Applied arithmetic, but does it, can it match up to the real, messy, Rube Goldberg-world of home construction, where controlled chaos might describe the ablest of practices?
This is why top-10 homebuilding enterprise Century Communities' hellbent strategic expansion thrust behind its most-affordably-priced line of homes and neighborhoods – Century Complete – sparkles with relevance, especially today.
The relevance of the new-market expansion narrative vibrates around a Maeda-style triangular simplicity:
In Century Communities' strategic and operational model
In the firm's relationship with land, trade crew, and materials partners
In the consumer buying experience
The backdrop here is this: Century put down stakes in Kentucky, with three new Louisville-area communities in the Kentucky-Austin, IN, axis for its Century Complete homes and neighborhoods, with pricing from the high $100,000s to the low $300,000s.
In the last 12 months we have grown organically into the new markets of the Florida Panhandle, Jacksonville, FL, and, Louisville, KY," says Greg Huff, president of Century Complete. "The simplicity of Century Complete is that we build a high quality, turnkey, move-in-ready home for the affordable homebuyer."
Expanding the brand to Kentucky in the latter part of 2021 is noteworthy on several levels.
First, from Century Communities' strategic perspective, its Century Complete brand – which builds 100% of its homes on spec, builds no model homes, but rather sells out of strategically-sited retail sales suites, and makes its buying process a 100% online "buy-now" experience – is a juggernaut. Right now, as of July earnings reporting, the "entry-level" brand comprised about 31% of Century's total homebuilding unit sales, with $626 million in revenue, or about 16% of Century's $3.8 billion in revenue.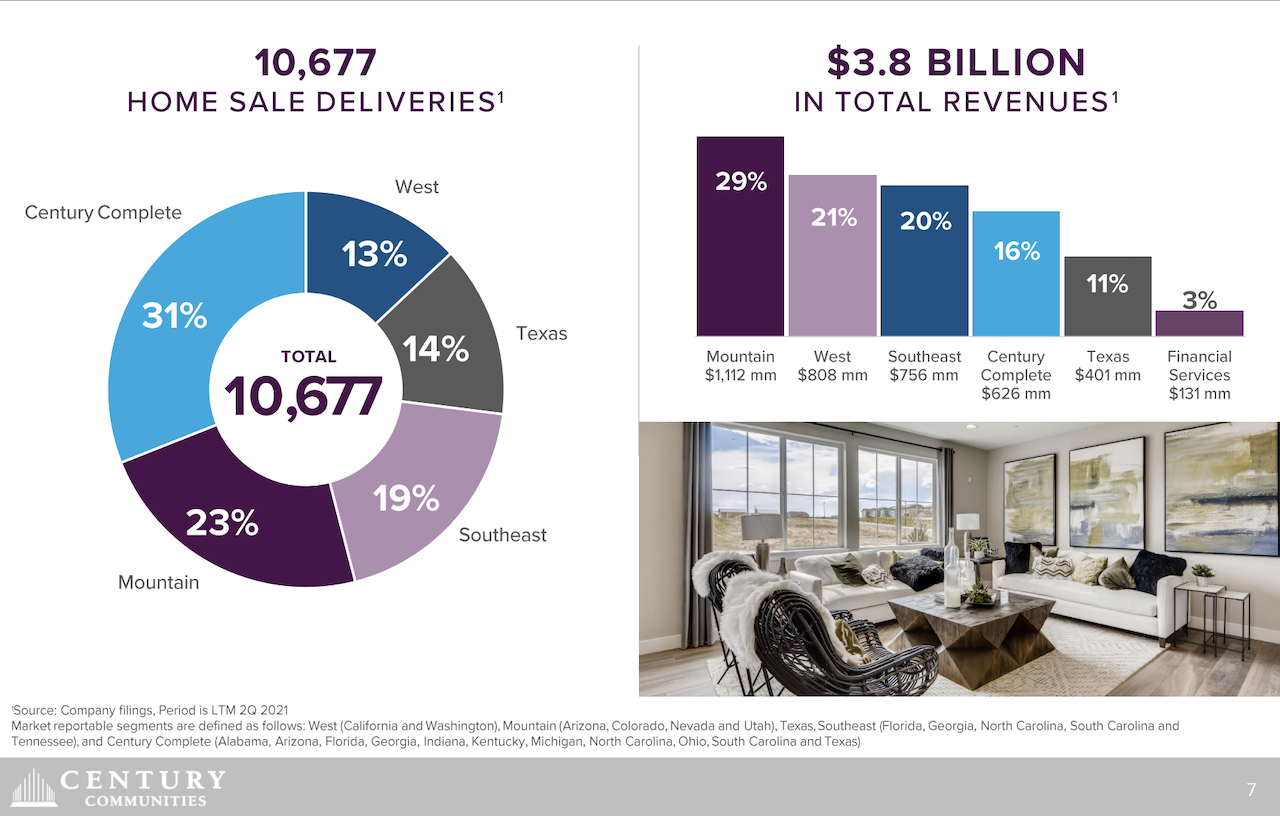 This is one of the growth engines of our company," says Huff. "We're driving to a goal to take Century Complete to a level where it's 50% of the new-home volume we do."
Expansion, especially for a meteorically-growing enterprise like Denver-based Century – which operates in 17 states and more than 40 markets -- is part-and-parcel of every higher-volume homebuilding enterprise's DNA. So, no biggy in that.
Peel this instance back a bit, however, and you'll see where simplicity does and will play an awfully important role in both builders' ability (1) to meet attainability and latter-day buying convenience needs of consumers, (2) do so in a pandemic-era time frame that highlights secondary and tertiary markets' importance as work-from-anywhere-and-live-where-you-choose magnets, and, lastly, (3) allow the builders themselves opportunities to scale volume completions in a supply-constrained operational environment.
First, the why of market expansion. Volume homebuilders are constant-motion enterprises, at the same time following the money and leading it as best they can with informed, evidence-based speculation on where to invest soonest ahead of the human curve of demand. The delta between what builders pay for land – and the rest of costs related to permitting, developing, and building a vertical structure – and what they sell the property for to a homebuyer is the make-break formula for success.
In 2021 and for the foreseeable future, two forces matter for homebuilders and the machine they need to feed to keep their businesses going and flourishing: Getting new land that they and match with their floorplan product offerings, and then managing their process so that buyers can pay for the home and so that they – the builders – can profit from the sale.
These days, as the Covid pandemic slowly cedes its grip in its ultimate evolution toward an endemic health challenge, and as the embrace of technology un-tethers people from some of their in-person workplace obligations, secondary and tertiary markets have excited a movement as beacons of magnetic attraction.
This movement makes locations like Louisville, with its own attributes and its added attractiveness insofar as its transportation connectivity, its diversified economy, its concentration of capable workers across fields, and its technological infrastructure, shine.
Add to those magnetic forces a key clincher ingredient for both America's newly mobilized households and the businesses and services that map to migration: Housing attainability, especially in comparison to bigger, costlier Southeastern metro areas like Atlanta, Charlotte, and, now Nashville.
For employers, transportation with three Interstates, the recent infrastructure projects involving new bridges that have unlocked Indiana and Kentucky, and the affordability we can achieve, it's a good fit," says Century Complete's Huff. "From a land acquisition standpoint, our price position and operational model allow us to vie for tracts that are not competing with a lot of other rivals."
The land acquisition model for Century Complete, as a matter of fact, goes back to the brand's original business pedigree – as Wade Jurney Homes, which Century acquired 100% of in 2018 – and is key to the simplicity that connects the dots of land buying, construction operations, and consumer buying experience.
We don't do our own land development with Century Complete," Greg Huff explains. "Since we want to remain asset light, we deliberately partner with local individuals in each community to become part of the fabric of that community, and that enables us to focus 100% on building quality homes and providing a great experience for our buyers."
That "great experience" for buyers depends on a real-time evenflow construction process that ensures "deliverability" as a pillar of the brand, keeping "ready-to-move-in" homes working their way to completion. Supply chain challenges, particularly painful to build-to-order builders whose options involve many, many SKUs and variations, are – to an extent – buffered through the simplicity of the Century Complete product and operational model.
We manage about 40 different plans across the whole Century Complete floorplan portfolio," says Huff. "Some have external cladding variation depending on regional differences, but we have just two windows SKUs across the entire 40-plan library. This also means our variations in construction for the trades are a non-factor. We offer no options. By keeping it simple, our trades like us as customers."
Consequently, where homebuilders have found themselves in a real challenge to finally bring their dramatically "elongated" construction cycles to a conclusion by year end, Century Communities – with its Century Complete line – stands to maintain an advantage, thanks to the way low-variability and purchasing scale work.
Being a top-10 builder, combined with the way we can pre-order larger quantities of units of our building materials and products based on our floorplan streamlining gives us purchasing power and visibility," says Huff. "We can continue to bring our Complete homes to a certain stage of completion, and then release it as a ready-to-own home. And while other builders have been making strides since the pandemic in the online purchasing process, our 'buy-now' platform has been part of our DNA since before the pandemic. We're the pioneers in the online experience, and we're proud of that."
Huff affirms that the Century Complete operational model, value-engineered product, and market capability in land acquisition align with opportunity in the sizzling hot built-to-rent arena, and that Century is exploring its strategic options in the BTR market.
Right now, our capability at making homeownership attainable to 'hometown heroes,' the teachers, first-responders, working households, etc., and being able to do the for-sale model in a way that allows us to reach farther out, and make that homebuying process online work from farther away is our focus."
Subtracting the obvious. Adding the meaningful. Keeping it simple.
Join the conversation
MORE IN Land
What happens when abstraction crashes into homebuilding and development's real-world, morning, noon, and evening reality?
It would be naïve to think there is an argument that will win over most of these folks. But we need to convince some and at least lessen the negative passion of a material proportion of the rest.
On the plus side for a "growth" strategy, present absorption rates, pricing trends, and traffic, and interest have arced determinedly upward through April.
MORE IN Land
What happens when abstraction crashes into homebuilding and development's real-world, morning, noon, and evening reality?
It would be naïve to think there is an argument that will win over most of these folks. But we need to convince some and at least lessen the negative passion of a material proportion of the rest.
On the plus side for a "growth" strategy, present absorption rates, pricing trends, and traffic, and interest have arced determinedly upward through April.