Together with
Land
Brookfield, Toll JV A Long-Game Play As Most Fret Near-Term Risk
A $43 million jewel of a 214-acre site just outside land-constrained Seattle, due for timed-release land basis with exceptional margins beginning in Spring 2024, spurred two power players to team up and pounce.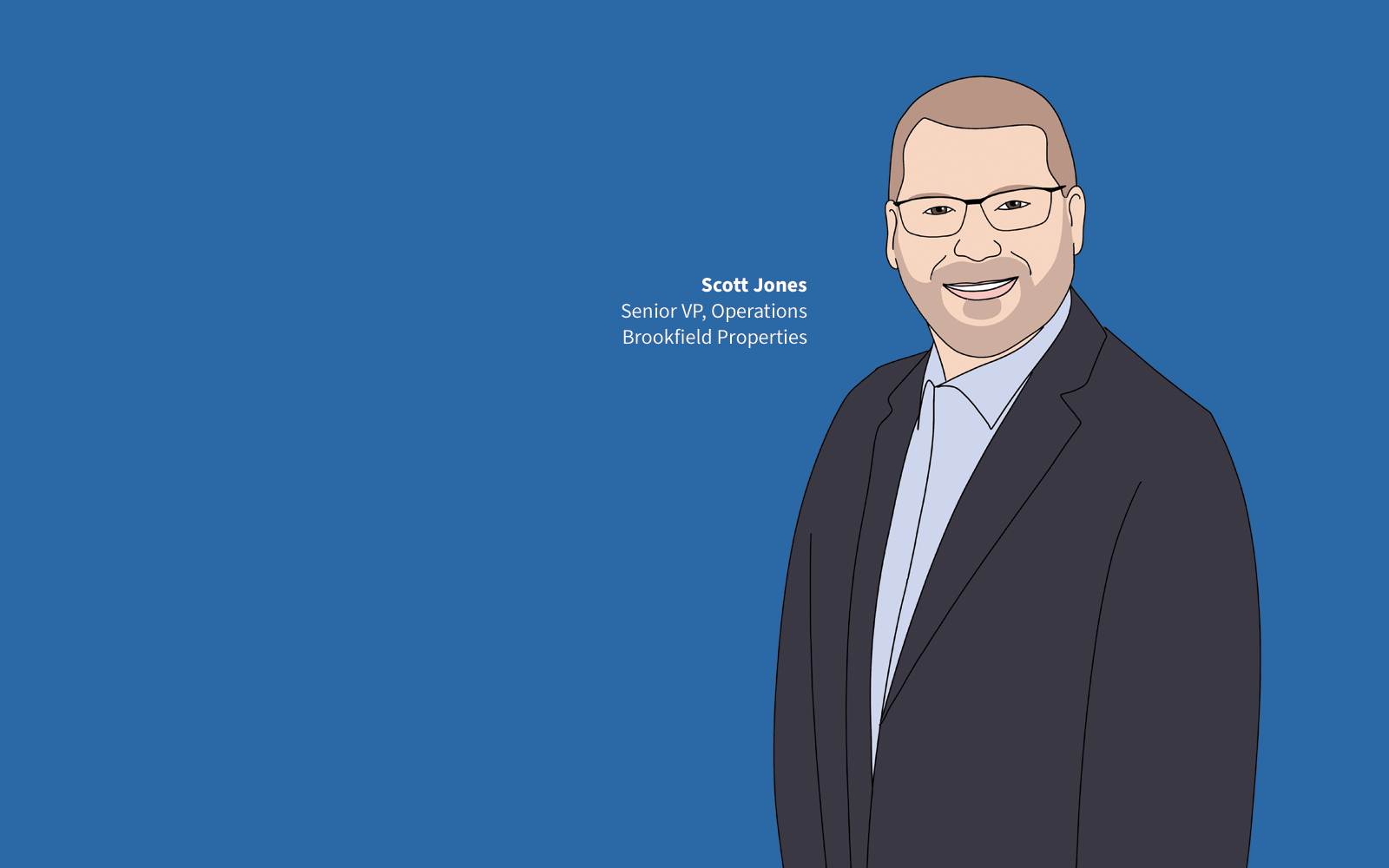 An irrefutable future demands that homebuilders and developers produce a lot more new ground-up homes and communities for people who need, can pay for, and aspire to live in them.
An epically uncertain present pulls – at least temporarily, while those same people make up their minds to move forward rather than wait for a more opportune moment – the opposite way.
Between the two dangles a time period that emits one signal to one kind of player and another signal to another, each angling, not just to survive the turbulence but – one-day – to dominate a next wave upward. Today's mixed-signals real estate cycle correction screams, "wait!" for players facing off with a gnawingly-baffling present of "falling knife" buyer's remorse, even if many of them sit on sound balance sheets and low leverage. At the same time, a widening gyre of vertigo and flux may also whisper "do it, now!" to others. They have sufficient dry powder, ultra-patient capital, and a particular strategic impetus that aligns that irrefutable future to their own brand and model of bringing value to homebuyers and renters.
Welcome to every housing cycle's Rorschach test limbo, a timeband of weeks or months when – particularly among land and entity acquisition players -- strategic opportunism and tactical hesitancy set rivals off one another. At such a time, a deal that may stand out as a rash and reckless misstep for a majority of firms may glimmer as the perfect instant to boldly strike for a rare few.
For that exceptional few, now looks and feels like a superb moment to ignite a post-downturn growth spurt by stocking a land-and-development barrel for a jewel of a community site penciled to grand open in about Spring of 2024. While the majority of builders are growing ever more squeamish to look beyond a challenging year-end in 2022 and a crapshoot of a year ahead, this tiny cohort of exceptions believe they can ill afford to pass up on one-of-a-kind opportunities that span across an up-down-and-up housing cycle extending into and beyond the start of the next decade.
Some builders will have blinders on because we are no longer in a goldilocks period, says Tony Avila, ceo of Builder Advisor Group, which serves as strategic advisors on mergers and acquisitions and land strategy deals, of the current moment's business context. "They will stop land acquisitions,  fire land personnel and stick their head in the sand vis a vis land acquisitions. Others will be more bold and dare to be great. It is these companies that are prudent with leverage and control land at advantageous prices that flourish in the long term."
In such a backdrop, Brookfield Properties' parent Brookfield Asset Management and Toll Brothers agreed to ante up a reported $43 million to Bellevue, WA-based award-winning placemaker Oakpointe Communities, for a 214-acre tract zoned for 1,750 residences at LakePointe Urban Village, in Covington, WA. The  at easy equidistance from of Seattle and Tacoma.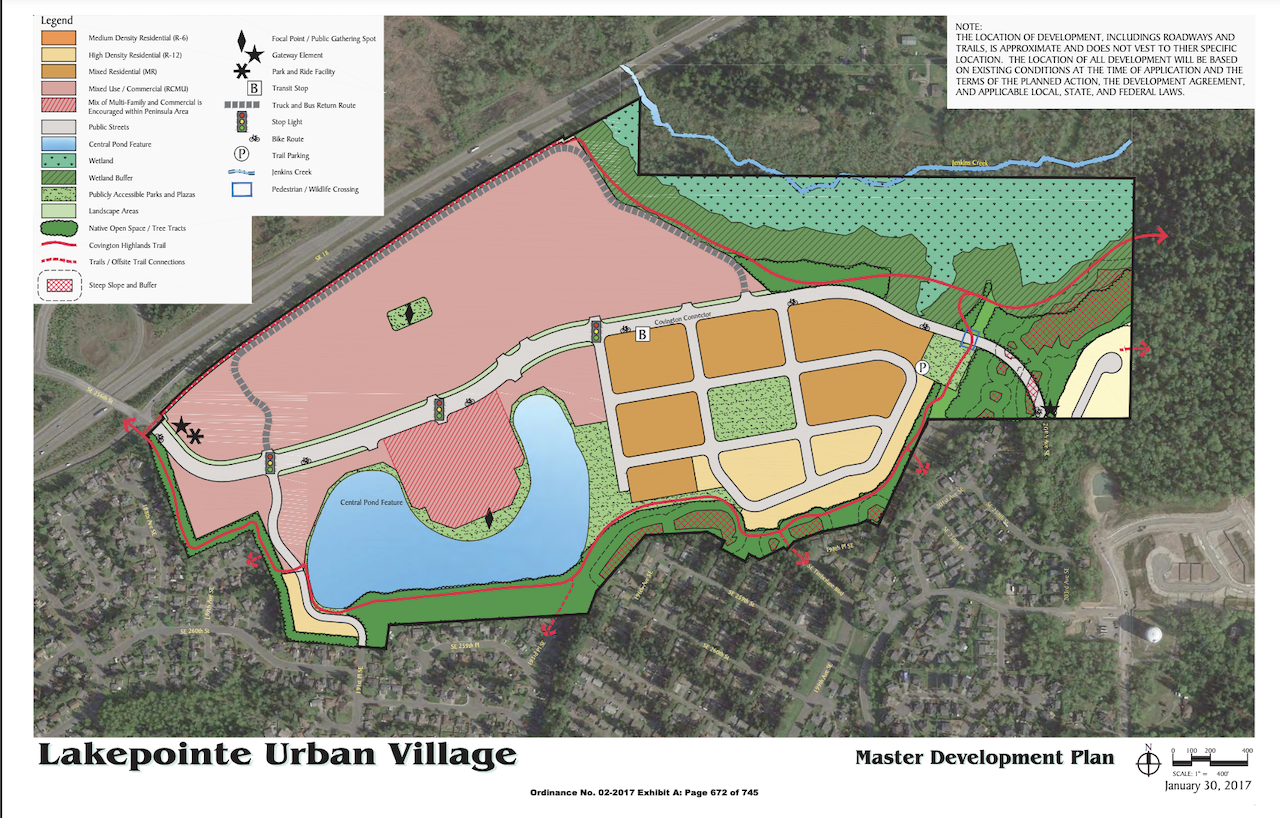 The News
Per a press statement:
LakePointe, a former gravel excavation operation site, is zoned for up to 1,750 residences, including both attached and detached single-family homes as well as two multi-family parcels. It is also approved for up to 1.3 million square feet of commercial space, including retail, office and hotel space, and an assisted living facility.
The site was acquired by a Brookfield Asset Management real estate affiliate and Toll Brothers, and will be developed jointly by Brookfield Properties and Toll Brothers. The transaction is the largest one to date in the region for Toll Brothers, and it represents a significant expansion in the greater Seattle market for Brookfield, which already has a sizable real estate presence in the region that includes office, retail, logistics and multi-family businesses, as well as a master-planned community development.
LakePointe is situated in a desirable commuter corridor of King County, located in the core path of growth for the Seattle MSA. The property is located at the northern part of the city of Covington, just 35 minutes from downtown Seattle, and is considered one of the few remaining large parcels of land in the region suitable for community development.
Per an earlier report from The Registry, Pacific North West Real Estate:
The project, which was a joint venture between Oakpointe Communities and Presidio Residential Capital, was designed by KTGY Architecture. The development was to be constructed on a peninsula, extending outward onto a 20-acre lake and offer a mix of uses as well as a park, open space and walking trails. At the time, the project was anticipated to cost approximately $670 million.
While it is unclear whether or not Toll Brothers will continue with the project as planned, the company has been building luxury homes across the United States since its founding in 1967. In 2011, the company entered Washington with its acquisition of housing community CamWest.
Scott Jones, senior VP of operations Brookfield Properties' Pacific Northwest development group – part of the executive team that came over to Brookfield with its acquisition, just over a year ago, of Newland Communities – quips that two of the big changes since Newland became Brookfield are:
Our emails and an emphatic, constant push for growth," says Jones.
The growth imperative Jones is referring to aims at two areas – one, being deeper scale and greater share in the development empire's current footprint – as the joint venture with Toll Brothers to integrate LakePointe into an already-robust Pacific Northwest masterplanned community presence illustrates. Brookfield's clout there already includes the nearby 4,700-acre mixed-use community of Tehaleh as well as retail, logistics and office properties in the Seattle-Tacoma area. Brookfield Properties' other Pacific Northwest community is the 463-acre mixed-use community in Hillsboro, just 12 miles from downtown Portland, Ore. The other, he notes, will be expanding that footprint beyond the current operating regions.
This acquisition is an investment in our long-term commitment to the Pacific Northwest, allowing us to leverage our established land development expertise and expand our footprint in a dynamic, growing market," said Adrian Foley, Managing Partner, Real Estate and CEO, Development with Brookfield Properties. "Partnering with Toll Brothers and bringing our collective expertise to the table demonstrates our ability to collaborate with a fellow industry leader. This joint venture offers another phenomenal mixed- use opportunity in this exciting and sought-after market that continues to see tremendous growth for Brookfield Properties."
As for the Rorschach test timing of the deal, Jones attests to the business track records of both Brookfield and Toll Brothers as counter-cyclical long-game players.
We're aligned at how we look at the dynamics of softening and challenge in the moment as both a long-term opportunity, and a more mid-term shot to make good things happen, especially in a Seattle market that continues to show signs of strength, but which is chronically-constrained in new home supply. LakePointe is one of the few true treasures out there to bring online, and we're excited we'll get to work with Toll Brothers to do this."
Simultaneously, seller Oakpointe and its founder Brian Ross have also – going back to his running point on a giant deal in the mid-aughts to sell Black Diamond Ranch to then-Standard Pacific, which became CalAtlantic, which now is Lennar. Ross' uncanny land skill set is to take raw dirt and make it gold, as he has done repeatedly in the Pacific Northwest.
By creating a JV structure to make the acquisition at this time, both partners get at least an opportunity to run the venture off balance sheet. While they share risk, exclusive single-family homebuilding partner Toll Brothers doesn't have to absorb the land as "owned" capital investment burden on its own balance sheet, an asset-lighter mechanism to pipeline the lots.
Toll Brothers, a top-5 homebuilder in the Washington-Oregon axis, now gets to climb – explosively – into the ranks of the top three builders in the Pacific Northwest, a market it entered 11 years ago.
The JV structure, with us doing all of the horizontal and placemaking development and Toll Brothers building the vertical product, allows each of our organizations to play to our greatest strengths," says Jones. "The terrific part about Covington – which is equidistant from both Seattle and Tacoma, and is hometown to employees of Microsoft, Amazon, T-Mobile, Boeing, etc. – is that it's in what I call a sweet-spot for both an easy commute or a lovely work-from-home remote work small-town feeling."
While the grand opening of the community and sale of the first homes would not begin for almost two years, Jones characterizes the 214-acre tract's land-plan, density, single-family detached, attached, and multifamily rental variety as aiming at a more affordable price-range opportunity, Jones says.
Per the press statement:
We are excited to partner with Brookfield Properties in a joint venture to develop this very special piece of land in the Seattle area," said Douglas C. Yearley, Jr., Chairman and Chief Executive Officer of Toll Brothers. "This acquisition offers a multitude of opportunities on a coveted development site in the Pacific Northwest. We are looking forward to expanding our presence in the region and working with our partners to bring this significant community development to fruition."
So, while others fret the epic uncertainties and risks of the present, Brookfield and Toll are moving to lock in a hold on that irrefutable near- and longer term future, and it would not be a surprise to see them in tandem in other bold moves during days many others are closely watching every dollar.
Join the conversation
MORE IN Land
What happens when abstraction crashes into homebuilding and development's real-world, morning, noon, and evening reality?
It would be naïve to think there is an argument that will win over most of these folks. But we need to convince some and at least lessen the negative passion of a material proportion of the rest.
On the plus side for a "growth" strategy, present absorption rates, pricing trends, and traffic, and interest have arced determinedly upward through April.
MORE IN Land
What happens when abstraction crashes into homebuilding and development's real-world, morning, noon, and evening reality?
It would be naïve to think there is an argument that will win over most of these folks. But we need to convince some and at least lessen the negative passion of a material proportion of the rest.
On the plus side for a "growth" strategy, present absorption rates, pricing trends, and traffic, and interest have arced determinedly upward through April.