Together with
Marketing & Sales
Pandemic-Era New Normal Segments: 50+ Is The New 55+
As Dream Finders Homes unveils its active adult game plan, it starts by including a spryer customer set. Here's why that's a game-changer.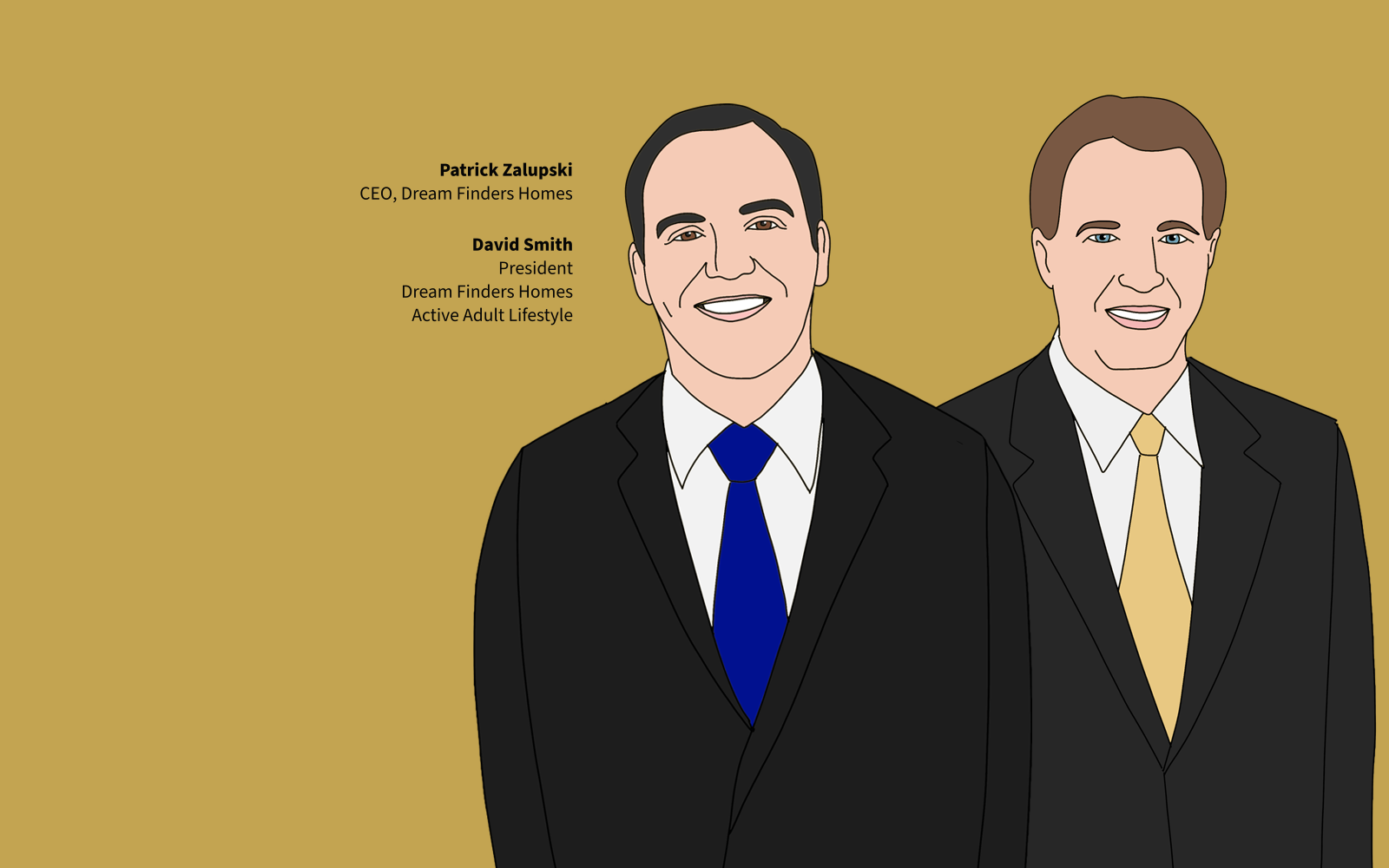 One of U.S. homebuilding's newest public companies – fast-growing Jacksonville, FL-based Dream Finders Homes, which went public this past January – will unveil its own newest strategic focus next week, age-restricted 55+ community living.
Here's why the new Dream Finders 55+ lifestyle strategy and its pilot community initiatives, matter now:
The push to expand its customer base of first-time, move-up, and smattering of luxury homebuyers into age-targeted and age-restricted offerings reflects the ongoing disproportionate importance of adult-households' "barbell" age-cohorts. These comprise largely Millennial-aged households, now energetically galvanized into home- and family-formation on one end of the barbell, and those on the other end, a massive, monied population of households in extended-, expanded-, and evolving-family formation mode that comes after raising kids to college age.
Dream Finders' strategy also merits note because, consistent with its business cultural boots-on-the-ground approach to operational excellence, sales enterprise, and customer focus, its strategists see 55+ with a contrarian twist. Having no prior legacy presence, commitment, or heavy land investment in the active adult arena gives the company a de nova agility and nimbleness opportunity to glean what works best in customer segmentation from rivals, and to wean out what doesn't.
Lastly, in a related sense, and particularly relevant in a pandemic-era evolving economic and social context that's exerting an array of varied impacts on workers, work, and workplaces – with particular effects on people in the latter phases of their livelihoods – Dream Finders sees 55 as just a number. What this means for its property investment and community and product planning strategy is that 55+ or 55-, give or take, is an expandable value proposition.
"We're not necessarily going to be known as the smartest ones in the room when we're compared with other public homebuilders," Dream Finders Homes ceo Patrick Zalupski, told The Builder's Daily, just after the company's January IPO. "We will be aiming to be known as the hardest working ones in the room in all we do."
Dream Finders, which recently reported Q2 pre-tax income of $37 million, an increase of 193% y-o-y, driven by an 83% increase in home salees revenues, will grand open its Reverie at TrailMark active adult  offerings on Sept. 4, with plans for  550-or-so gated, age-restricted, 40-, 50-, and 60-foot home lots with connectivity among the St. Augustine, FL-masterplan community's 2,200 or more mixed-age single- and multifamily neighborhoods at build-out. The TrailMark masterplan is a 1,400-acre parcel in St. Johns County, developed by Greenpointe Holdings, LLC,  with amenities that include walking and cycling trails, a kayak launch to Six Mile Creek that leads directly to the St Johns River, a Basham & Lucas-designed welcome center, fitness center, a variety of sports courts, free-form resort-style pool with beach entry, and a Camp House lakeside pavilion.
"Reverie is where the country meets city and where city living meets nature," says David Smith, president of Dream Finders Homes Active Adult Lifestyle Communities.  "We soft-opened earlier this year, selling out of trailers on the site after we got our great amenities built, and we've sold 110 homes to date."
Smith's background in active adult includes strategic leadership roles at PulteGroup, and more extensively, at AV Homes under Roger Craig, where he oversaw the Solivita and Vitalia communities. At ceo and founder Patrick Zalupski's urging, Smith joined Dream Finders in late 2018, and fired up the active adult game plan in 2019, with a business product plan and about 800 lots suited to the new customer segment.
"We were ready with an age-targeted duplex product in Halifax Plantation and launched it, and it turned out that was the week before COVID hit," says Smith. "Of course, that meant we went through an immediate impact, and then, got that lift afterwards, and we learned a lot. Number one, we learned that we had an opportunity to expand the customer universe of active adult. It was not just 55+, it was more like 50+, and that's our current customer target for our lifestyle communities. "
Working on the TrailMark Reverie blueprint, Smith tapped into architectural and interiors expertise from two of the customer segment's nationally-regarded brands, Housing Design Matters' president Deryl Patterson, and Builders Design ceo Joe Duffus.
Many people don't move into these communities to slow down at all, but to keep up their active pace of living," says Smith. "Deryl's work gave us a refreshing, not as confining, new look in our plans that emphasize that many people in this group still work, and will continue to work, so it was important for us to offer flexibility, not only for a His office/den but a Her's office/den. Deryl helped us think through what spaces necessarily do when people are spending more time inside their living space. Members of the household play, they work, they work-out, they connect, and they want those rooms to have the flexibility and lay out the way they want, with natural lighting, outdoor living connections, and, critically important these days, intentional consideration for pets.
In creating the feeling customers should experience as they go through four brand new model homes at Reverie at TrailMark, one thing that should come clear, says Smith, is that extended and more-energized appeal in the age framing, beyond 55+ to those hitting 50.
What Joe and the Builders Design team do is keeping pace with a trend, or actually ahead of it and setting the trend," says Smith. "They get this market."
As for when and how Dream Finders Homes' new active adult strategy grows into the size business it currently represents in other public homebuilding enterprise customer segment portfolios, Smith is cautiously optimistic.
We will remain opportunistic, and will grow it as much as the market allows. 'Play at the pace of play,' I like to say," says Smith. "If we hit 10% of our total closings in the next 3-5 years, that would be significant. We are just getting started so it will take time to build the business up."
Expanding the addressable universe, beyond Baby Boomers, the youngest of whom have just turned 54, to include GenXers, ready for a new normal next adventure, is a smart start.
Join the conversation