Capital
Price-Pace Risk Is On: Where New Home Sales Is Heading
A fissure that separates homeownership opportunity and new home sales has emerged in an increasingly bubbly, frenetic demand market. Can builders build a bridge back to first-time, entry level buyers?
In the mid-teens of the decade past, homebuilders metered their pace of new home releases because they could.
It was the responsible thing to do – particularly with an already evident skilled-labor constraint and a motive to regain luster among institutional investors as a margin-focused peer group.
Now, builders are metering – or rather constricting – their pace of new home sales, and like in the mid-teens, ratcheting up prices as a way to do so.
However, this time, it's not because they can but because they can't not.
For this, the homebuilder community will come under fire, and serve as a collective proverbial punching bag in a politically freighted and bifurcated environment, and a media complex ravenous for the eyeballs that come with a good brawl.
The flat facts are that prices on inputs – land, labor, and materials ... everything, that is, except most importantly, the cost of money – are spooling out of the realm of visibility and predictability, and into the realm of red-flag risk.
When builders have to say, "no" to new homebuyers whose aim is to buy a new home, then new home sales as a macro figure will decline.
That's what's happening. These three paragraphs from National Association of Home Builders chief economist Robert Dietz put it bluntly: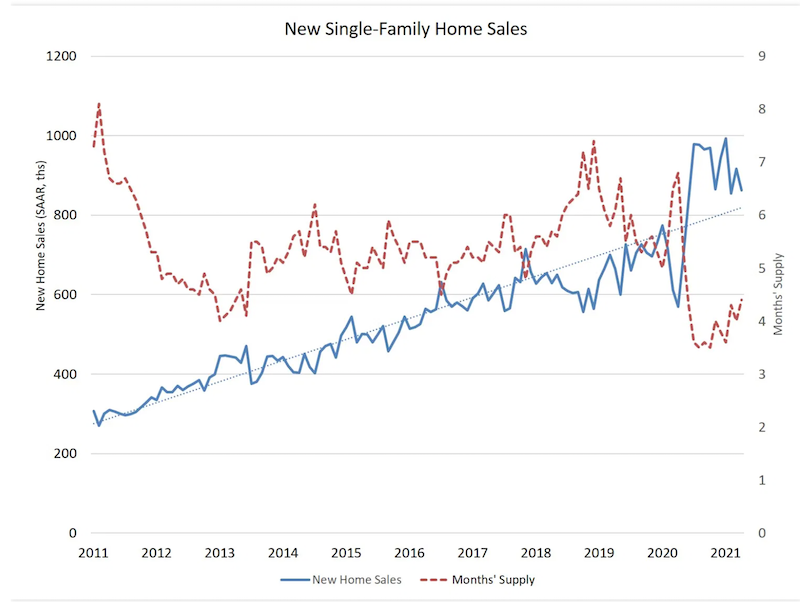 After a significant downward revision for the preliminary March data, April recorded a decline of 5.9% for sales of newly-constructed single family homes, according to estimates from the Census Bureau and HUD. The April seasonally adjusted annual rate (863k) was the lowest since June 2020, with the exception of a weather-influenced February report.
Residential demand continues to be supported by low interest rates, a renewed consumer focus on the importance of housing, and solid demand in lower-density markets like suburbs and exurbs. However, higher building costs, longer delivery times, and general unpredictability in the residential construction supply-chain are now having measurable impacts on new home prices. In April, the median price of a newly-built home was 20% higher than a year ago, at $372,400. As NAHB has estimated, higher lumber costs alone are increasing new home prices by $36,000 on average.
Higher costs have priced out buyers, particularly at the lower end of the market. A year ago, 45% of new home sales were priced below $300,000. In April 2021, only 27% of new home sales were priced below $300,000.
The broad market of active participants pursuing new homes now might best be characterized as "nice to have" discretionary buyers, buyers with new economy job security and 401-Ks, versus "must-have" homebuyers aiming to cross the line into new homeownership due to lifestage "necessity."
New home sales, thanks to the business financial need to suppress pace in favor of securing price, especially in the duration that materials costs are so hot – entry-level designed homes are widely regarded now as the "new move-up" buyer home – are at risk of disappearing from a longtime role in American housing's narrative: as a viable stepping-stone into homeownership.
Solutions involve three equally critical levers – new levels of construction productivity, new capital investment into equity for more households, and new policy.
If the center of those three forces can't hold, new home sales and first-time homebuyers will have less and less to do with one another.
Join the conversation