Marketing & Sales
As More Home-Seekers Click-To-Pay, Builders Bypass Middlemen
The pandemic-accelerated arrival of end-to-end digital search, selection, personalization, and purchase among homebuilding's power players has two profound sea-change implications. Here they are.
Click-to-buy truly came of age in the past dozen years or so, driven by the retail juggernaut that needs no mentioning.
With an express purpose of removing time and bother that tend to separate people from what they want, Amazon – and it its wake, all of retail – transformed buying into a simple, elegant, profound process, part concierge, part coach, and part video game.
For up-and-down-the-street sticks-and-bricks retailers, technology- and data-enabled removal of friction from consumer shopping experiences also removed something else, a future.
From a 40,000-foot perspective, the arrival of the future of retail – goods and services markets that subtract distribution and handling costs that stand for no tangible value to a consumer and add meaningful sense of agency and choice – tolled a death knell for physical-world commercial retail as it was known to be.
Now, it's a good number of years since homebuilders began talking about click-to-buy as a someday, "nice to have" phenomenon for home selection, product detail, options and upgrades customization, price-comparison, and, finally, the purchase.
Now it's a reality – as Taylor Morrison and PulteGroup have now launched pilot programs that allow home shoppers to pick, personalize, and purchase a new home and community digitally.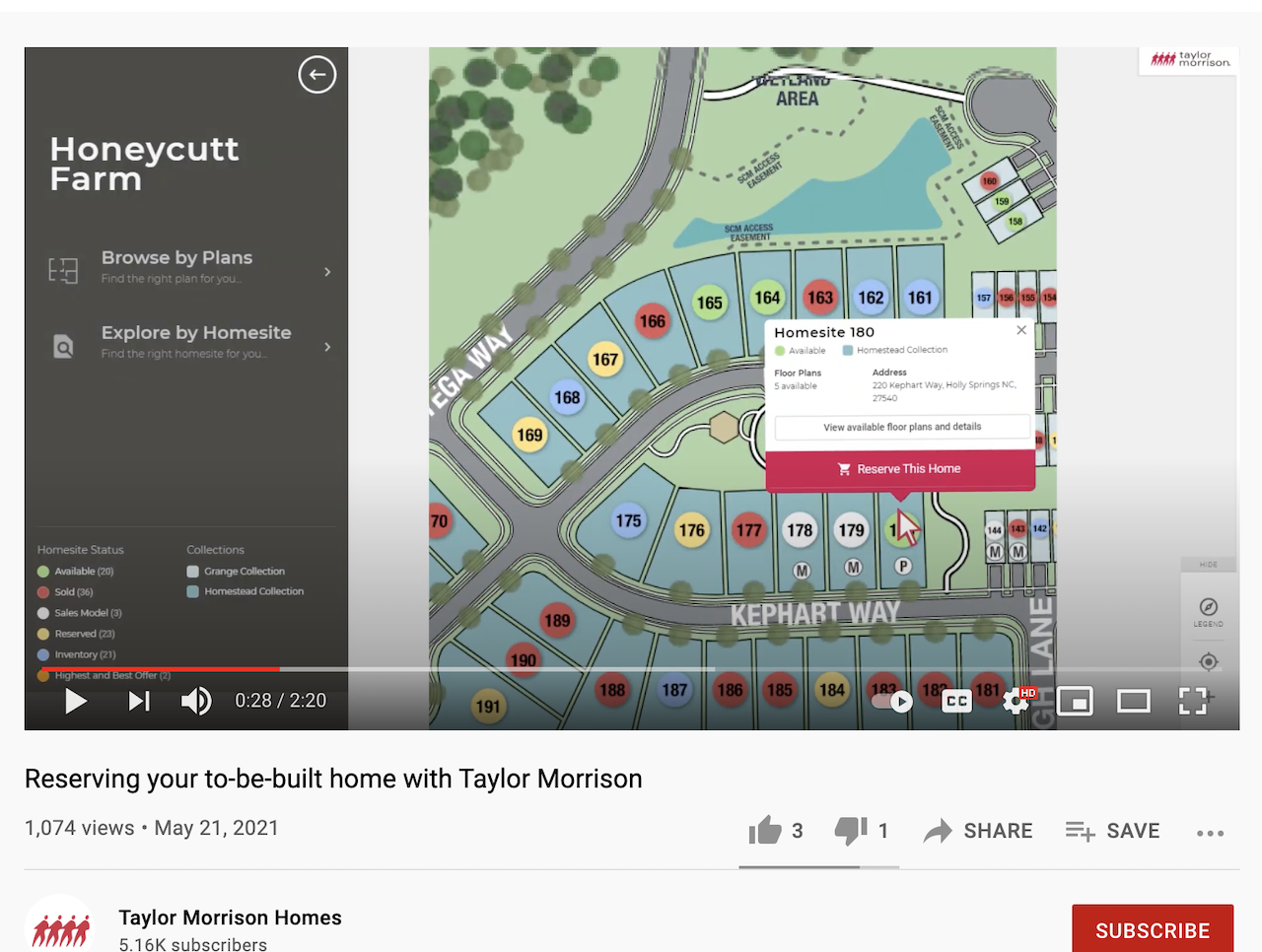 Taylor Morrison introduced its "digital configuration and reservation system for to-be-built homes," in May, and since then, Taylor Morrison buyer prospects have embraced the new buying experience, just as one might expect shoppers for any consumer durable to do.
CNBC real estate correspondent Diana Olick quotes Taylor Morrison chairman, ceo and president Sheryl Palmer in this piece about the immediate uptake for the new end-to-end online shopping, specifying, and purchase capabilities, now offered by Taylor Morrison and Pulte.
"We've only done the to-be-built reservation system for the last six weeks, and in total we've seen over 1,500 shopping cart entries, and probably something close to a 60% conversion [to sales]. That's 10 times what you would normally see."
Olick notes that the pandemic may mark the tipping point – the no-going-back inflection – for homebuying behavior online. She writes:
More than half of all buyers of previously owned, existing homes made their offers online during Covid, according to Redfin, a real estate brokerage.
Online real estate platform Clever analysis showed earlier this year that four out of five millennials – adults in the thick of their peak family formation and homebuying trajectory – "could be persuaded to buy a home sight unseen."
There are two hugely important matters that underlie the pandemic's catalyzing effect on homebuyers' "journey-map," from pre-shopping, to initial interest, to engagement, to nurturing, and to conversion and closing.
One matter is an inevitable disintermediation impact on the residential real estate representatives – agents, brokers, Realtors, etc. –  who've traditionally served as matchmakers in the buying and selling process, adding value by bringing the human touch of connective market knowledge and customer care to the process.
Consumers – however – have adopted wholesale a mindset that customer service and self-service have melded into one and the same thing in the Amazon era. Especially digital natives.
Further, homebuilders look at opportunities for expenditure savings in their balance sheets, and a glaring cost-of-sales bogie challenges them as they scrutinize present and future balance sheet management discipline: agency commissions.
While most builders have worked constructively with local real estate representatives and Realtors through the years, agency commissions have stood out like a sore thumb as enterprises have consolidated marketshare in new-home construction and development's most active markets, and as their virtual marketing, engagement, and conversion platforms have grown more sophisticated in the past few years.
A second critical underlying issue emerges with the new realities of end-to-end, seamless online shopping, selection, personalization, and purchase platforms deployed by the homebuilders themselves, 5,000 of whom command 90% of new-home construction and development in the U.S.
It's that as self-service becomes the norm, these enterprises become a universal key-style portal into consumer behavior writ large, especially given that homeshoppers can now not only complete their entire search, to choose, to buy process online, but can go further than that – selecting interior design and finish packages in one fell swoop – in a self-service-with-a-professional-twist channel as well.
In a sense, homebuilding enterprises – and their ultimate owners – represent the future of home retailing full-stop, displaying merchandise, smart-home technologies, and even livability solutions, all in a rich-media virtual environment that puts agency into an online user's control.
This bodes big – challenging – change, not only for real estate brokers and representatives, but for an entire ecosystem of home products and services that can now be flowed into simple, elegant, and profoundly meaningful value sets for a consumer user in the future of housing.
Join the conversation