Marketing & Sales
As Delta Surges, What's Next For Global Buyers of US Homes?
Here are the states where global demand for U.S. homes and properties matters most in a living-with-COVID-19-environment.
COVID-19 rained on the parade of international demand for U.S. residential property in 2020, but it hardly mattered, as many would-be sellers hunkered down during a time a third of the U.S. economy endured a self-inflicted coma.
However, as local, regional, state, and the national economies all try to reignite, while all the while Covid's tenacious slew of variants pronounce an intent to linger on for a longer haul, the question of global participation in American new- and resale home transactions may become more important, especially in some markets.
The National Association of Realtors last week offered these toplines on 2020 housing transaction activity among global buyers of U.S. property.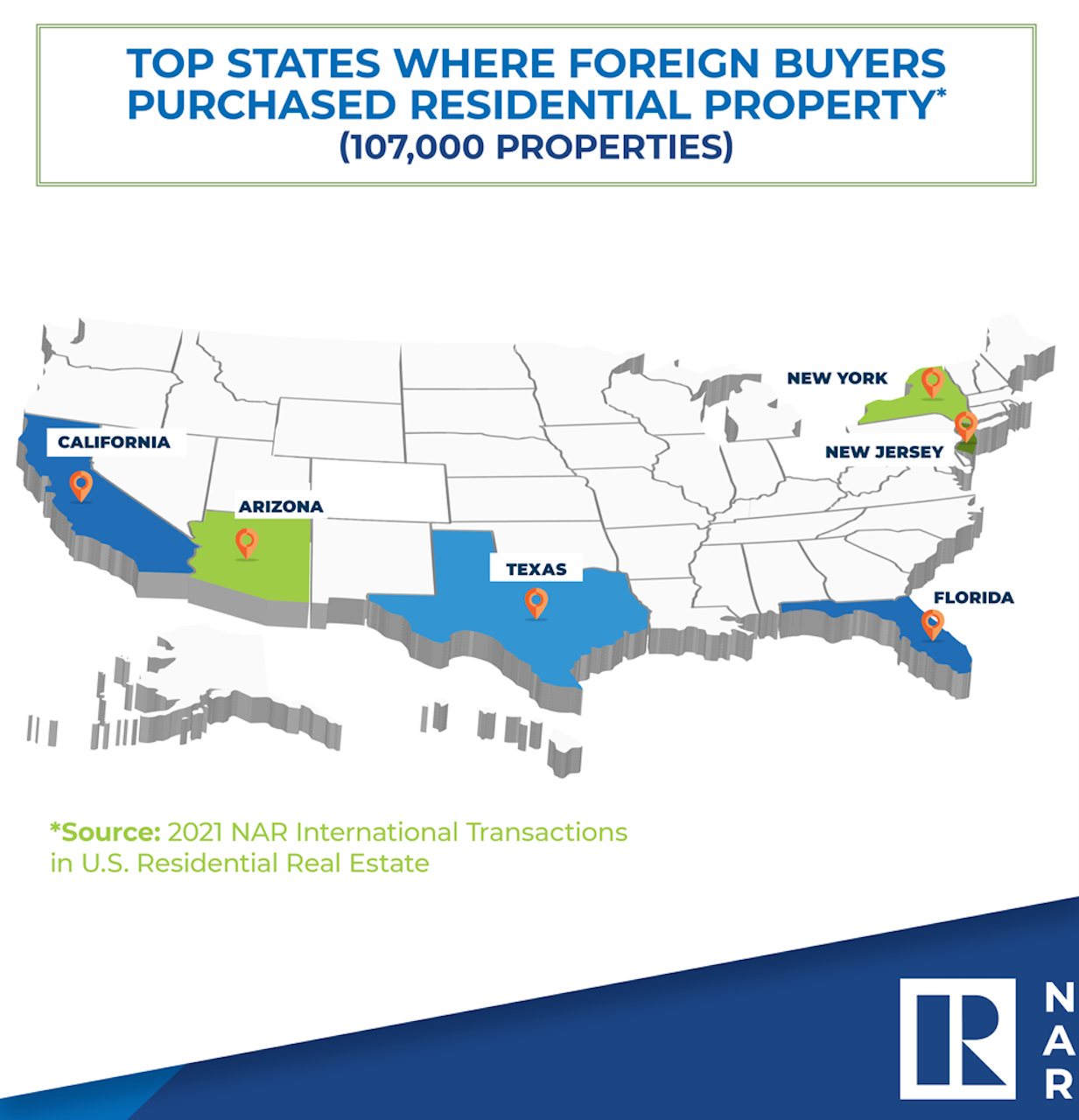 International buyers purchased 107,000 U.S. residential properties totaling $54.4 billion from April 2020–March 2021, down 31% and 27%, respectively, from the previous year and the lowest volumes since 2011.
China, Canada, India, Mexico and the United Kingdom were the top five countries of origin by U.S. residential sales dollar volume. The annual dollar volume for foreign buyers from China, Canada and Mexico all dropped by at least 50%.
The top U.S. destinations for foreign buyers were Florida, California, Texas, Arizona, New Jersey and New York.
NAR data notes that two of five international buyers (39%) are all-cash deals.
More than four out of five buyers from the United Kingdom – 82% – made all-cash purchases, the highest share among foreign buyers. Asian Indian buyers were the least likely to pay all-cash at just 8%. Two-thirds of Canadian buyers (66%), two out of five of Chinese buyers (40%), and a third of Mexican buyers (33%) made an all-cash purchase.
Today's snapshot market dynamics in the U.S. feature a gradually easing supply of homes for sale on the market, still offset by demand. The demand stack, it's noted, includes both individual would-be buyers, many of whom have been frustrated for months by failed bids and spiraling prices, as well as institutional capital investment buyers seeking to build or expand portfolios of single-family-rental housing for a growing market.
So, in a living-with-COVID-19-environment, missing-in-action international buyers may not appear to be a big problem. The wide gap between available inventory and prospective buyers – both individuals and now, institutions – isn't likely to shrink overnight, especially if ongoing public health issues, hospitalizations, and deaths mute economic activity, and cause people to stay longer in the homes they own.
Global demand for U.S. homes may not matter until and unless the U.S. economy's economic recovery softens and/or turns to a decline.
Then, markets that sorely relied on global buyers – Florida, California, Texas, Arizona – may feel their absence as conspicuous.
Join the conversation