Land
The Power Of Place: The Race For Pandemic Era Dynamism
CNBC's 'best states to do business' for 2021 spotlight all-important factors of education, talent, and workforce opportunity in why places rank high.
Magnetism and places are always and everywhere a thing.
What makes a place draw people to home, to settle, to become economic, societal, and cultural participants is the constant pulse of real estate's serious game of investment and return.
Big questions; lots of speculation; and many uncertainties swirl in the wake of Covid-19's onset and aftershocks, social upheaval, economic imbalances, in the longer-term context of both family and livelihood transformation.
Opportunity's measure and immeasurability lie at the crux of these dynamics:
work-life balance
home-workplace balance
human-technology balance
lives-livelihoods balance
economy-environment balance
The pandemic, which continues and will continue to shape behavior, attitudes, preferences, and values, introduced an array of new rules – or, in many cases, accelerative force to already-emerging rules -- to what makes places magnetic.
Annually, since 2007 with the exception of 2020's hiatus due to Covid, CNBC has surveyed business strategists across a set of weighted criteria with an aim to quantify and rank places according to how dynamic and conducive they are to business development, growth, and profitability.
In this year's rankings, Virginia topped the list of 50 states on CNBC's 2021 competitiveness index, as it did in 2019 and has done now five of the study's 14 total cycles.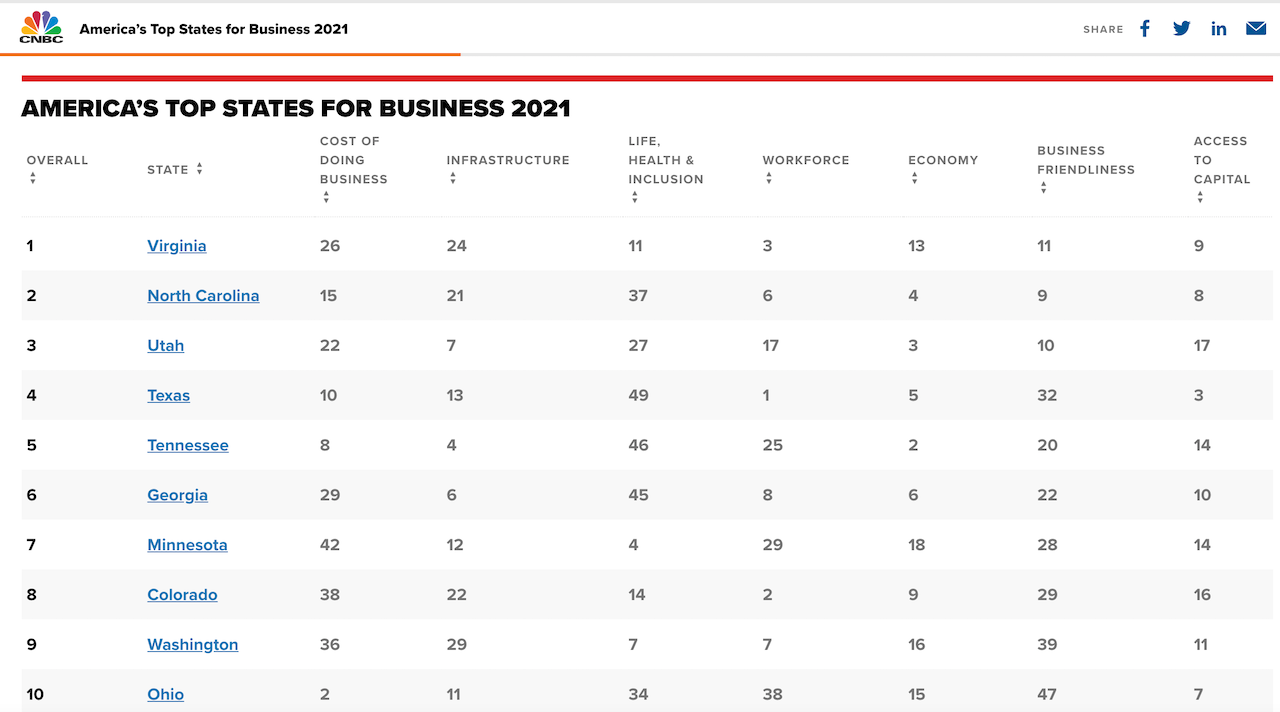 The most valuable take-away from the CNBC rankings, underpinned by the methodology of its competitiveness analysis and data, comes through in this snapshot by CNBC correspondent Scott Cohn on why Virginia came out on top, despite its challenges in business costs and infrastructural impediments.
Cohn writes:
Going into the pandemic and coming out of it, Virginia's greatest strength has been its ability to nurture and retain talent. Public schools perform well in terms of test scores, and a world-class higher education system is reliably funded.
Virginia employers reap the benefits, with one of the best-educated workforces in the country — nearly 39% of workers have a bachelor's degree or higher, according to the U.S. Census Bureau. Virginia also boasts the nation's third-highest concentration of science, technology, engineering and math (STEM) workers, according to the U.S. Bureau of Labor Statistics.
Education, talent, and an environment that values life, health, and inclusion – it should be no surprise – figure as critical raw materials for business competitiveness, just as they pre-indicate the likelihood of individual and household propensity toward social and economic mobility.
Contrast this with this dystopian analysis by Newgeography demographers Joel Kotkin and Wendell Cox, citing reasons California is hemorrhaging residents, with one out of two people who currently live there saying they're considering moving out.
California may be a great state in many ways, but it also is clearly breaking bad. Since 2000, 2.6 million net domestic migrants, a population larger than the cities of San Francisco, San Diego, and Anaheim combined, have moved from California to other parts of the United States. (See Figure 1.) California has lost more people in each of the last two decades than any state except New York—and they're not just those struggling to compete in the high-tech "new economy." During the 2010s, the state's growth in college-educated residents 25 and over did not keep up with the national rate of increase, putting California a mere 34th on this measure, behind such key competitors as Florida and Texas. California's demographic woes are real, and they pose long-term challenges that need to be confronted.
Places today have begun to amp up initiatives to attract knowledge workers, and new geographies and their economic trajectory – housing opportunity included – will continue to orbit the essential magnetic power of a place to win in the talent migration and mobility race in the years living with Covid.
Placemaking, and unmaking, will be one of the 2020s real estate's defining stories.
Join the conversation