Land
Here's Algorithms To Tell Which Markets Will Recover Fastest
New 10-year Bureau of Labor Statistics projection analysis reveals a choppy mosaic of geographical market risk and opportunity.
Broad-stroke national forecasts for an economy on an upward trajectory, tracking toward herd immunity, and determined to put the COVID-19 pandemic disruption in the past could be a recipe for real estate rack and ruin in the months ahead.
That's an – albeit inferred – take-away from this rich dollop of insight from Brookings Institution senior fellow Mark Muro and research assistant Yang You, of Brookings' Metropolitan Policy Program.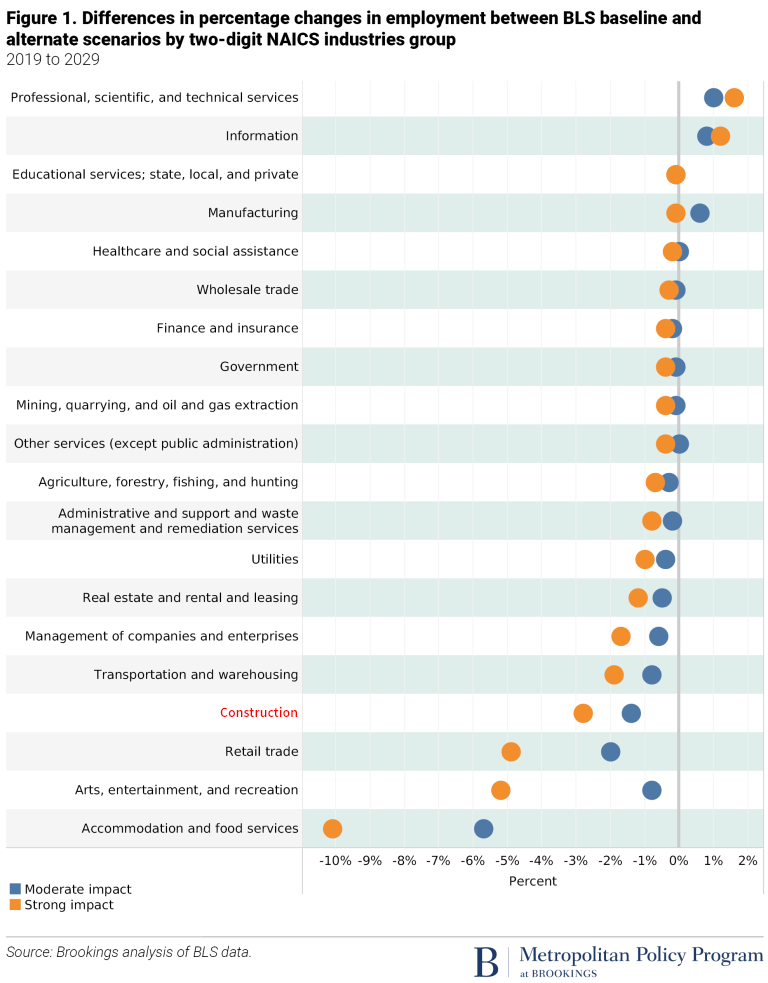 Muro and You pour new Bureau of Labor Statistics projections through a filter that cross-tabs industry sectors, geography, and post-pandemic re-activation trends to create a time tunnel-like forward glimpse of recovery scenarios by place.
By and large, demand shifts – some more dramatic, and some less so – will occur in a pandemic aftermath likely to extend for the better part of a decade.
What land acquisition and deal strategists need to glean from the analysis sums up nicely with the caveat: "While the immediate public health crisis will hopefully dissipate in the next year, the potential for longer-term and widespread economic impacts should not be underestimated."
Triangulating specifically with respect to geographic markets, economic sectors, and consumer behavior factors here are a couple of key take-aways:
Across the entire northern tier of the nation, greater orientation to scientific, information, or manufacturing pursuits and less reliance on leisure, tourism, and retail activity means that city regions there may see relatively narrower employment growth slowdowns in the pandemic's aftermath. The list of the least-negatively affected metropolitan areas is dominated by "superstar" tech centers (San Jose, Calif., Washington, D.C., and Boston), university towns strong in science and IT (Trenton-Princeton, N.J., Ann Arbor, Mich., Durham-Chapel Hill, N.C., Boulder, Colo., and Ithaca, N.Y.), and manufacturing hubs (Elkhart-Goshen, Ind., Dalton, Ga., Battle Creek, Mich., and Columbus, Ind.).
By contrast, the 20 most heavily impacted metro areas are almost exclusively southern, Sun Belt, or beach-based leisure and vacation centers. These communities include Atlantic City and Ocean City, N.J., Las Vegas, Gulfport, Miss., Myrtle Beach, S.C., and Orlando and Cape Coral-Fort Myers, Fla. As a group, these locales stand to see their 10-year employment growth sliced substantially by anywhere from 2.5% (in Orlando and Cape Coral) to 3.3% or 3.6% (in Myrtle Beach, Las Vegas, Ocean City, and Atlantic City). These metro areas should brace for a sluggish recovery with potential stagnation for their vulnerable tourism-based businesses and waves of low-wage, low-stability workers.
The original Brookings Institution post from Muro and You is here.
Join the conversation