Together with
Land
Texas Two-Step: An Organic-M&A Expansion Into San Antone
Huntsville, AL-based Davidson Homes acquires San Antonio-based Kindred Homes' assets for an immediate sales boost, and separately secures control of a total of 1,000 lots and sets up market leadership to fast-track future market share growth in a hot local economy.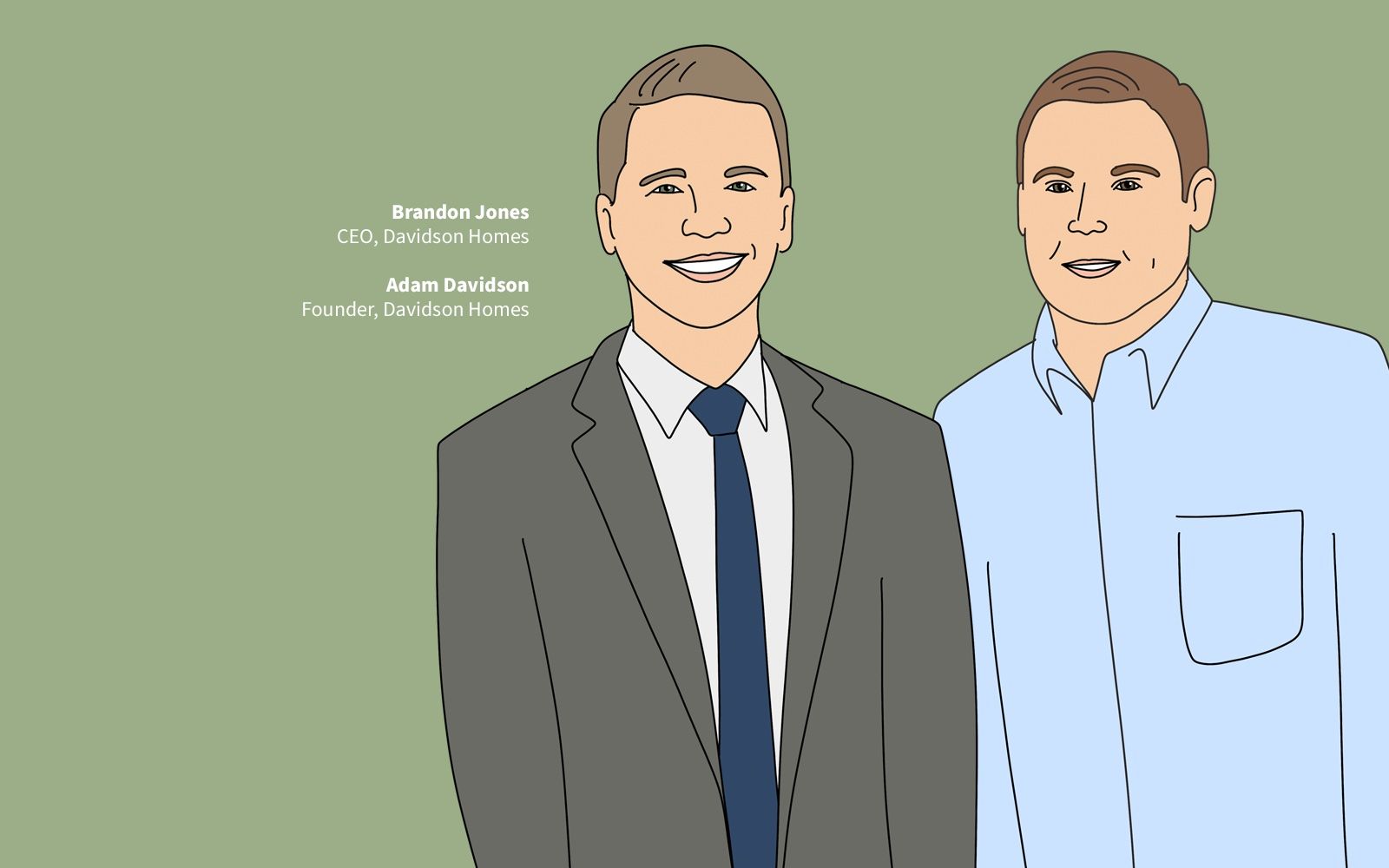 Fast-tracking Huntsville, AL-based Davidson Homes may be led and made up of humble people, but their ambitions as homebuilding enterprise empire builders is anything but humble.
The latest evidence of that is a distinctive hybrid blend of M&A and organic market entry – a template Davidson plans to iterate as it shapes a mega-regional geographic Manifest Destiny footprint expansion – for the launch of its operations in San Antonio.
To kickstart those operations with immediately accretive sales and revenue opportunity, Davidson Homes has acquired owned- and controlled land assets, two models, and engaged key individuals of the San Antonio operations of Kindred Homes. Kindred – launched by D.R. Horton co-founder Terry Horton (Donald's brother) and his son Trent, as well as Trent's former Wall Homes partner Glen Bellinger and Glacier Custom Homes founder Todd Miller – will finish out its work-in-process homes in six San Antonio communities, and will continue operating in 11 Dallas-Fort Worth-area neighborhoods.
At the same time, Davidson has tapped 20-plus year San Antonio-area homebuilding strategist Rob Wasyliw to the role of Division President, Central Texas, and – including some 400 owned-and-controlled lots that come with the Kindred M&A deal – acquired a 1,000 lot pipeline that could catapult Davidson to within striking distance of a top-10 marketshare among a pantheon of homebuilding's heaviest hitters.
Rob has done an outstanding job being proactive about making sure that we establish this new San Antonio business that matches the DNA of Davidson homes," says Brandon Jones, CEO of Davidson Homes. "That's been a significant amount of work. It's not just about buying land and communities from kindred and then plugging it in. It's a fresh startup, with fresh marketing and a fresh perspective on procedures and processes, how the operation should be run, and the way we look at financial data.
We've built that from the ground up. Typically, an integration of an acquisition involves taking two different cultures, and potentially having to jam them together. That challenge is not a growing pain in this acquisition, because it combines an organic start-up with an existing kind of shared DNA among players who are coming over. Quite frankly, the homework Rob has done has made sure that from step one, we're thinking with a long term vision of being part of the Davidson family. So still new systems to learn still new processes to acquire still some growing pains likely, but it's, it's not trying to mesh oil and water in that market because it's new."
Brandon Jones' explanation of the M&A-organic start-up hybrid gives a sneak-preview sense of how Davidson approaches further expansion opportunity and timing in Texas, extending to the Dallas-Fort Worth and Austin markets.
We're in Houston currently," Jones says. "The company is committed to being in Texas and we already have a full-time land acquisition person in Dallas as well. In the short term, we have an existing business in Houston. We're now standing up a business in San Antonio, and then next year, we'll have a business in Dallas. Proximity to Houston has allowed us to share resources, including a kind of tribal knowledge about how things work at Davidson homes. Those resources come into play as Rob jumpstarts the San Antonio division. So although it's not at all proximate Huntsville, it's a known area. We know Texas; we know how to build homes in Texas. And pulling from Rob's deep experience, specifically in San Antonio, and a shared DNA with regard to to public building professional practices has made it a really great fit and allowed us to move quickly."
Moving quickly – in spite of uncertainties and a consumer- and business confidence roller-coaster – is precisely the trajectory Jones and Davidson Homes namesake founder and chairman Adam Davidson have mapped into the next five-year span. We wrote here recently about the red-hot enterprise's plans to notch 20% growth in 2023 to roughly 1,200 new home deliveries, and a 2024 quantum leap of 60% to 70% volume growth:
We have a short-term goal in 2026 of 4,000 home closings," [Adam] Davidson says. "But I think, I've got more like 20,000 closings that we'll get to at some point. I'm a very competitive person. The way I look at it is that if Bill Pulte or Donald Horton or any of the others did it, then it's possible for me to do it as well. Of course, that's provided that I'm willing to go through the sacrifices that those guys made to to get to that size. Everybody has a different measure for what they call success. I don't necessarily have an end in mind, as far as closings go. It's about competition. It's about doing all that you can do with your talents. And if that talent gets us to $1 billion a year, $2 billion, or $20 billion, who's to say? What I do know is this: We owe it to ourselves to do as much as our God given talent allows us. And so that's my goal."
It wouldn't be late 2023's spotty, choppy, and iffy new-home market – even in the nation's 6th most-active new home real estate market of San Antonio – unless we addressed Davidson Home's strategy for both price and product-line diversity as well as an operational take on a mix between speculative and built-to-order sales and production systems.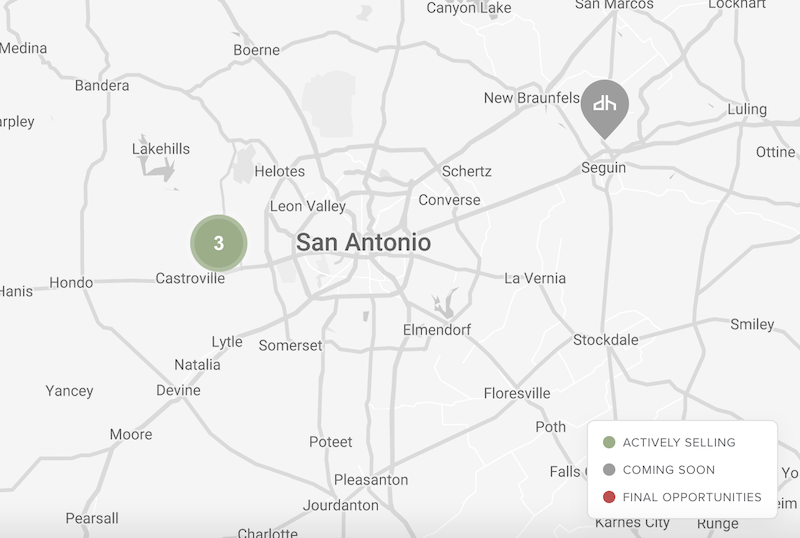 Davidson's Division President Rob Wasyliw notes:
We'll have three communities open in November, and then hopefully in Q1 of next year, we'll have another two coming online, which will get us to five communities in 2024," Wasyliw says. "By the end of the year, we're knocking on hopefully closer to 10 communities. "
You have realize where and what the opportunity is here in San Antonio. What Austin's been doing over the last 10 years is now feeding down to San Antonio, in regards to the growth and opportunity. Finding a balance here in San Antonio – you need to find affordable housing to meet the median household income. Coming into the market, Davidson Holmes understands that. That's what we're going after – multiple levels of buyers. The Kindred Homes assets are more move-up. But if you look at Potranco, it's heavily military. Four out of five buyers out there are military, so military is a big concentration for us.
And along with getting in there and trying to find affordable, quality-built homes that are available there for you know, blue collar, military, the medical field here because that's big with the medical center, banking centers – with USAA Federal Savings Bank and Cullen/Frost Bankers, and so forth. It's all about targeting the housing demographics of this vibrant market."
From a broader strategic Davidson Homes perspective, Brandon Jones emphasizes that product- and price diversity have been pillar positions in the firm's operational model, and that diversity has proved to serve – thus far – as a shield from the worst of the turbulence in the past 12 months' markets.
It's trickier than it was a few months ago," Jones says. "One of the benefits of the Davidson homes portfolio though is the diversification of buyer segments: Entry-level, move-up, etc. This has allowed us to weather the storm better than those who are focused solely on a specific buyer group. Although times are not as easy as they were, we've been resilient with sales over the last few months, including this month. We do see the storm on the horizon. We've done extraordinary work to ensure that we have affordability both with our product with our rate buy-down opportunities as well as house cost savings, which allow us to maintain margin to some extent, and that has allowed us to navigate it to this point surprisingly, well."
We're confident based on the results we've seen in our ability to pivot. The lack of existing inventory, both in the resale and new, and people who are relocating specifically to the markets that Davidson Homes builds in has created demand for new home product in good locations – that's exactly what we have.
So we continue to see people come into our offices, especially that move-up buyer looking for a home you know, many of whom are because they tend to be more experienced or are further along in their lives. Seven or 8% rates don't have the shock value that they do for those who've maybe only been in the market for the last 10 years. Nobody likes where the rates are, but there there does seem to be kind of an acceptance among older buyers that they're not at historical highs. They're high for the last 15 or 20 years, but between the rate buy-downs and other kinds of incentives that we have, we've been able to navigate it fairly well. Davidson Homes also has Davidson Homes Mortgage, a captive lender, which I think provides us some unique abilities as well."
In addition to a product and customer segment mix – targeting non-contingent first-time buyers on the lower price spectrum and more discretionary, less price- and interest-rate sensitive buyers among move-up and second-time move-up segments – Jones speaks of well about the calculus of spec vs. built-to-order sales and starts.
We've seen a shift to more spec buying due to the rate volatility," Jones says. We build specs commensurate with our sales demand and pace. Historically, however, we would have been more of a pre-sale builder. Over the last six to nine months, we've seen a shift to more spec demand. When someone shows up who's concerned about rates, they're more likely to want to move in in the next couple of months. They know what they're dealing with in the context of rates, as opposed to building and having no idea where rates might be in six months, up or down. So, demand for readily available homes is higher than we've seen in quite some time, which is why we've adapted to that for almost a year now."
It's with that nimble and agile array of levers Davidson's brain-trust is approaching its near- and longer term challenges, 1) to get a fast start out of the gate with the Kindred Homes acquisition, and 2) to lay the relationships, trust-building, and land-resources ground-work to maintain a steep curve of growth in a very short amount of time.
Here's what Division President Rob Wasyliw says, addressing both challenges:
In a relatively short term, 2025 or 2026, we're shooting for that 500 goal, which is about 4% to 5% of the market," says Wasyliw. "That is definitely something we can do. As to how you attack this market, it's from an affordability perspective. If you look at how much affordability has been impacted across the country, along with San Antonio, and you look at the median household income of San Antonio and the military presence we have here, being a an affordable, higher build-quality homebuilder is the way to go."
You see that with other builders in town, there is a move-up market, and we're going to be in that market. But you have to know what percentage of volume that represents, and recognize what scale you can deal with that move-up buyer. It's not as deep as the other markets, but there's a play there as well. Especially with the Kindred acquisition, we're aiming for the move-up buyer as well. So and I think that mix works well. You'll also see us focus on the introductory market – blue collar, double-income, no kids market – as well. One's a high-volume business, where you try to get units through the doors as quickly as possible. The other one's a lower-volume higher-margin type business. The blend will allow us to amass scale, while not having to own too many lots in order to maximize the return, but also still get the volume we need to get scale to negotiate with the trades."
During COVID, San Antonio starts went up by 20%, and if you look at the other big cities in Texas, they went up 6% to 8% or so. Our trade base wasn't as established as the other Texas markets, so that really kind of put a damper on San Antonio in general. We builders were chasing after trades and there weren't enough. But now starts have fallen 40% and trades are looking for business again. We're able to renegotiate and get better directs as a result. Some of those commodity prices are coming down, and we're starting to be able to get more competitive with the trades and the bidding process, which allows us to bring our directs down a little bit and work that into the purchase price in the end. It all comes down to affordability and that's where you're trying to get your costs down enough to bring in affordable homes. That's what we're going after."
MORE IN Land
In a one-to-one conversation with The Builder's Daily, New Home Company president and CEO Matthew Zaist discusses the deal to acquire Katy, TX-based Hamilton Thomas Homes, and the roadmap beyond.
A look at how the next generation of housing needs to look different and the way we think about zoning can help with that shift.
Mix shift or not, land and residential building lots are not only the homebuilding and development's precious resource "they're not making any more of," but also the very one 30,000 U.S. localities happen to make a common practice of making less of.
MORE IN Land
In a one-to-one conversation with The Builder's Daily, New Home Company president and CEO Matthew Zaist discusses the deal to acquire Katy, TX-based Hamilton Thomas Homes, and the roadmap beyond.
A look at how the next generation of housing needs to look different and the way we think about zoning can help with that shift.
Mix shift or not, land and residential building lots are not only the homebuilding and development's precious resource "they're not making any more of," but also the very one 30,000 U.S. localities happen to make a common practice of making less of.