Together with
Marketing & Sales
Camillo Weds Its Brand Family With A Newly-Spoken Vow: Opening Doors
An inside and up-close look at the branding and future-focus of one of America's biggest builders you may never have heard of ... until now.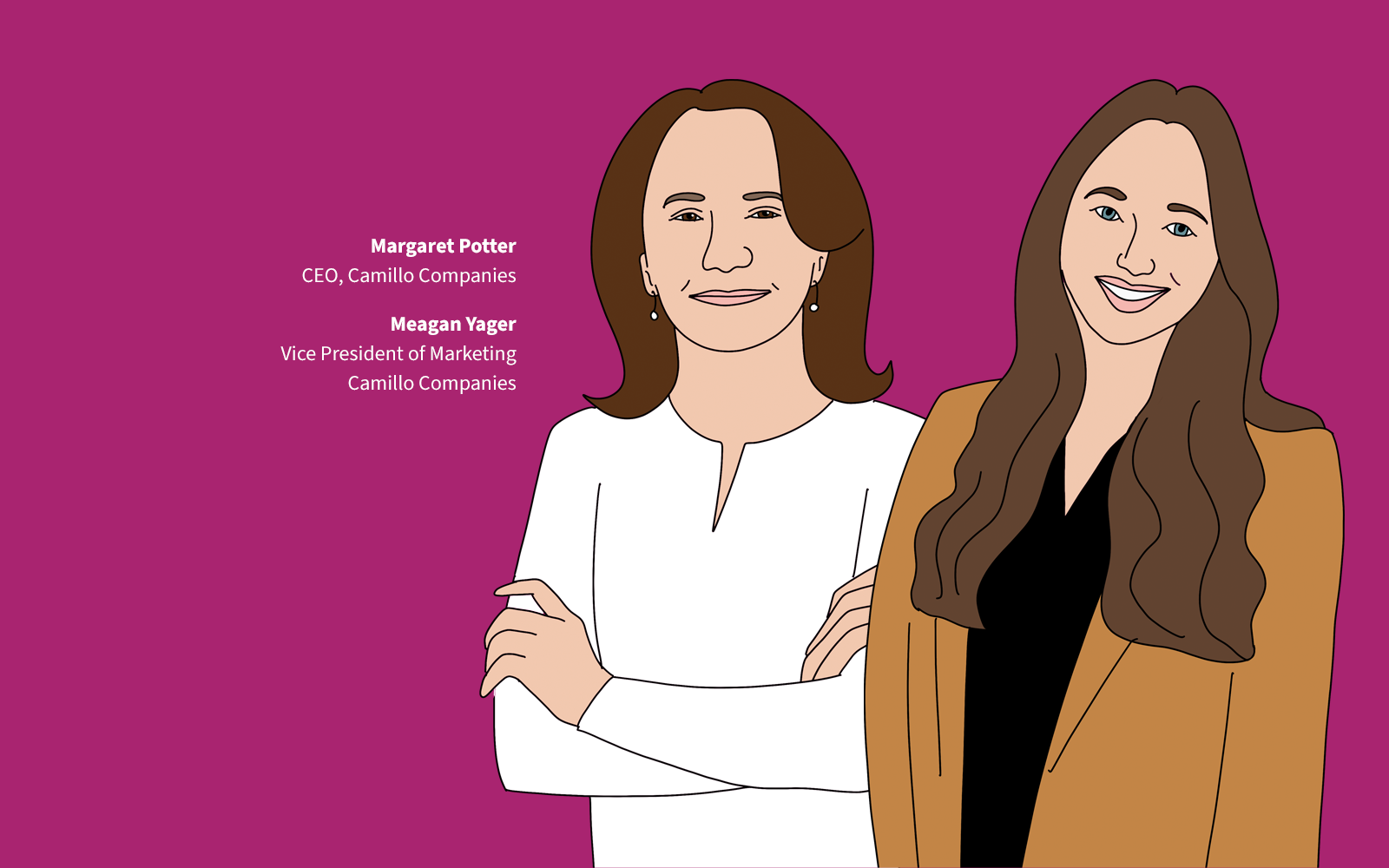 Necessity may be the mother of invention, but without exception, strong traces of character are inevitably present in invention's DNA.
Camillo may be one of the biggest names in American residential real estate and construction you may never have heard of. That was okay for a founder for whom breaking ranks and rules went hand in hand with breaking through barriers that stand in the way of access to a decent home and a shot at the American Dream.
All that's about to change, and the reasons for that become clear here:
The legacy of our organization dates back to 1989 and begins with our founder, the visionary Marcello Fortunato Camillo. His innovative thinking and penchant for risk-taking fueled the success of his operating companies, growing them into some of the country's most successful, privately held real estate development companies. Today, we are inspired to continue his legacy and honor his name through Camillo Companies. Our teams are more committed than ever to bringing innovative home and community solutions to our customers while providing our employees with an exceptional culture and experience at work. We remain dedicated to the same mission we started with decades ago, to open doors for our customers, partners, and employees through an expanded portfolio of products and a simplified experience.
For a team of more than 450 people working under three separately-spinning plates of operating companies, the moment of necessity gelled during a strategic team retreat a little over a year ago. Then and there, team members took stock of how to both honor and get out from behind the long shadow of larger-than-life impact of their firms' founder and longtime source of inspiration, vision, and purpose, Marcello Camillo. Camillo, 86, died in June 2021.
His two daughters – Lauren Sullivan and Lara Moynihan – wanted to carry on their dad's mission, but fuel it with an articulation that would gain entry to a stronger core of purpose. For the kind of staying power the companies would need for today's and tomorrow's evolving sets of challenges, necessity required re-invention, from the ground up.
The story of how Camillo Companies came to be, what it means, and why it matters for its three nested operating brands – homebuilder Legend Homes, land development firm Academy Development, and build-to-rent developer SimplyHome, all with Camillo as an endorsed mark in each brand's architecture – answers two simple questions of necessity.
Who are you?
Who do you want to be?
Those two questions, in all simplicity, are what every team doing business as new home construction companies needs to ask and answer every minute of every day, according to homebuilding legend Larry Webb.
The team across the entire Camillo enterprise and its operations has built a hard-to-rival functional talent network, and they have an unusually flat management structure that encourages whole-team focus and outcomes," says Thomas Carpitella, CEO of staffing and strategic advisory firm FTS. "They're one of the stronger diversity, equity, and inclusion business cultures in the industry, and that goes hand in hand with their focus on strong performance and profitability."
For Camillo and its strategic and operations teams, the answers to those two essential involve a discipline enriched by digging deep into the founder's character, and recognizing the ways it bubbles into the present, and enables a future focus. We talked with Camillo Companies CEO Margaret Potter and Meagan Yager, VP of Marketing, for insight into both the brand and functional evolution they're celebrating with their teams, partners, and customers.  Here are some verbatim excerpts from that conversation.
The Genesis Story
Margaret Potter, CEO
It started with Marcello Camillo. He born an Australian citizen, first generation, Italian descent.  He had a rough upbringing in terms of poverty, and like lots of immigrant children of his generation, he had to work as a child and not go to school as much as he would have liked. Still, he was an incredibly sharp guy, an intuitive businessman, and just a real hustler.
He made his mark in Australia as a homebuilder. He started building his very first house when he was either 20 or 21 years old. He had to patch together stories, and schemes, and cons to get people to give him the money for his first house. He built that house and flipped it and went on from there.
Throughout his life he was a fascinating man. He got involved in homebuilding and development. At one point, he moved his family to Italy for a period of time to reconnect with their history. He was involved in everything from goldmine investments and currency trading and at one point, Lloyds of London syndicates.
So, he was a real renaissance man that got involved in a lot of things despite his lack of formal education.
In 1989, his daughters were attending college in the US. He had traveled to Houston in the past and, he had been retired for a few years, and what he really decided he wanted to do was to get back to work, and into his real passion, which was land development.
In 1989, he made trip to Houston; he made some connections and started buying up land in the Houston area, and he founded what is still known as Cam Corp Interests, and under that umbrella is what we have as Academy Land Development. So, he bought some land and they started developing it. At one point he had a development fully done but there were no buyers for the lots. This is classic Marcello.
First Innovation: Full-On Spec Development
Margaret Potter, CEO
Mr. C said, 'There's no homebuilders to buy the lots? Well, I guess I'd better start a homebuilding company and build on the lots myself.'  So, In 1991, he founded Legend Classics Homes. He built houses on those lots, and, true to form, he sold them. He made a profit and he showed everybody. So that was the beginning of both Academy Land Development, and Legend Classic Homes. At time what Mr. Camillo wanted to do was not being done by very many people if anyone. A traditional homebuilder might put five or six spec homes on the ground, or maybe a few models. Buyer shows up, picks their house model, picks their lot and six months later, they have a house.
Mr. Camillo was having none of that. He was incredibly unconventional. He never listened to the so-called experts or the prognosticators. He just intuitively knew people. He knew what they wanted. He drowned out all the noise and did what he wanted to do. He said, 'you know what? We're going to put hundreds of spec homes on the ground. And when somebody comes to one of our communities, we're going to say, 'which house do you want?' and 'You can move in in 30 days.'
So he did that, and that's what allowed Legend Homes to really thrive. So Legend Homes really took off, and Academy Land Development only developed land for Legend Homes.
2nd Innovation: Build To Rent Begins In 2007
Margaret Potter, CEO
The downturn came and everybody stopped having fun in 2007. At that time, he had over 500 spec homes on the ground with no buyers. So he brought in his own money, and he unlevered houses, and instead of selling them for pennies on the dollar, or, like a lot of builders at the time, going under, he decided, "you know what? I'm going to rent these houses.'
This is how he was. He grabbed a couple of people from within the company and said, "figure out how to rent these houses." So, they had to figure out how to rent the houses. His thought was, "look, we're going to rent these houses and when the market turns around, we'll sell them." Well the houses rented up. The rents were great. The team there started figuring out property management and how to handle these houses. And the next thing you know, he's looking around and he's saying, "this is actually a really awesome business. The net yields are unbelievable."
So, he decided that we should get intentional about building rental homes. So, he formed a little team within CamCorp called Triton Interests, and started what I believe was the very first build-to-rent organization in the U.S. In 2007, Triton Interests started purposefully building houses for rent. The team took the home plans that Legend Homes was continuing to build on the retail side, and really started optimizing those as rental product. We started building houses, and getting a nice return and then, as most people know, around 2011, some of the really big private equity groups out there, like Blackstone, Colony, and others figured out this concept of the single-family rental industry. They were out running around the country, parachuting in and buying up the foreclosed homes. At a certain point, some of those groups discovered our little pocket of rental homes here in Houston. They approached us about buying our houses in bulk. And we thought this is great. This was right at the time I joined Mr. Camillo about 10 and a half years ago.
And we thought, this is awesome, we're going to sell these houses in bulk; we're going to make a great margin. And away we went, and so we did, we sold about 2,100 of our rental homes to players that long since have been absorbed into Invitation Homes and others.
But at a certain point, Mr. Camillo turned to me and he said, "You know what? If having a big portfolio of homes is good enough for them, then I want one of my own." People fought him every step of the way. In 2007 when he said to his own employees, "I want to build rental homes purposefully," internally they fought him on it, saying, "this is a terrible idea. We build homes and we sell them."
Margaret Potter, CEO
I didn't know better. I came from outside the industry, and I spent almost my entire career in wireless technology.
And when Mr. Camillo hired me, it was specifically because I was from outside the industry. He hated having people say, "that's not how we always do things." So he wanted somebody who was completely ignorant that he could pour all his ways of working into.
He told me he wanted me to help him start a new company that would be separate from Legend Homes, that would develop land, build houses, and keep them. So, we started Camillo Properties in 2012. Everybody thought we were crazy because we had a very different concept around built to rent than anybody else. At the time nobody knew if single-family rental homes as a portfolio was going to be an ongoing asset class. Everybody wanted to have their exit strategy. They wanted scatter shot homes. They didn't want wholly-owned communities.
Again, Mr. Camillo didn't give a flip about what everybody else thought. He knew he was going to build these houses and keep them forever. He wanted wholly owned communities. He wanted us to buy a piece of dirt, build every house on it as a rental home, and maintain it. So getting bank loans a was impossible. I knocked on every door. Nobody wanted to deal with us. And then finally, one of Legend Homes' longtime banking partners reluctantly agreed to give us a really small construction line.
That didn't hold us back. Mr. Camillo is the kind of guy that if he believes in something, he backs it with his money no matter what. So his marching orders to us were, "just get out there and do it, and the money will come." We got that small line and we started building houses, and long story short, today we're about to cross the 10,000 home mark in our build to rent portfolio. A few multifamily projects as well that we've done. But our primary focus is and will always be the BTR portfolio.
3rd Innovation: Growing The BTR Platform
Margaret Potter, CEO
Why did we leave Camillo Properties completely separate, and set up a completely different legal entity and everything else different from Legend?
It really goes back to my belief that when you try to start one company inside another it doesn't get enough oxygen. It doesn't get to grow and chart its own course and get the resources it needs, and so Legend Homes was doing its thing, keeping focused on who its buyer is, the first-time buyer, first time move-up buyer, spec builder, production, etc. And we were really beefing that company up as well, ramping it up and getting it laser focused.
We really purposefully focused Legend in around 2016 where we got away from some of our ancillary brands that we had branched out into and said, "no, we're going to get really laser focused on who and what we are and our roots." It really goes back to Mr. Camillo in Australia, building homes for the first-time homebuyer.
In the meantime, Camillo Properties is growing, Legend Homes is growing, and we've got Academy Land Development, which ultimately has become one of the largest developers of residential lots in the state. We typically have owned, not just controlled, but owned 25,000 to 35,000 lots that we are in some phase of development on.
Fast-Forward: Spring 2022 – The Inflection
Margaret Potter, CEO
One year ago this month, we were having a retreat, because you could feel this sense that we were at an inflection point as an organization. We've always had common ownership. Theres' always been some of us that worked across all of the different organizations. And you could just feel a shift in where we were going.
One of the things that really fueled the feeling was the passing of Mr. Camillo and his two daughters – Lauren and Lara – are coming into their full responsibility with regards to the operating companies, and them becoming introspective about what is their role and their vision while honoring what their father created. Mr. Camillo vision for the companies was very similar to his daughters but he didn't articulate it as well as they do.
Their real passion just like their dad's was – Mr. Camillo believed firmly that a key to successful life financially, and emotional well-being was homeownership. He believed in that to his core. He talked about it. He made sure our own employees had opportunities to buy homes at cost. He was passionate about it. But he really didn't articulate it.
When his daughters started thinking about what was really important in the scheme of things, it was really this concept of 'how do we create more opportunities for more people to live in a home or own a home?'
As we were working through this, we started to realize that our different branded companies would be stronger together. And if we really started to look at ourselves as being unified under a parent brand, where we had a shared purposed and a shared vision of what we're trying to achieve holistically that we really would be able to create more unique offerings and pathways to homeownership.
That was genesis of saying we needed to come together as one company.
The Pivot: Stronger Together
Margaret Potter, CEO
We as Camillo Companies have this shared purpose. It comes down to Opening Doors…Opening doors for customers, employees, partners.
Opening doors as in, how are we creating opportunities? For homeownership, and for the rental side for people who want to live in a home but don't want to own, or, maybe, are not ready to own.
So we crafted that identity, and then functionally started to come together as 'we are one Camillo.' And then we asked how would all our different branded companies fit inside this house of Camillo Companies? And went through the same process with each of the branded companies… How are they aligned to our purpose of opening doors to opportunity.  One of the things that became clear was that the name Camillo Properties didn't really reflect where we were today, the vision we have. It wasn't a name that really resonated even with our own employees. We've grown so much. And that's when we decided to rebrand Camillo Properties as Simply Home. Clearly articulates the vision that we have. And it fits nicely with the vision of Legend Homes, which targets that first-time homebuyer a lot of whom are renters. A lot of Legend Homes customers are people who are currently renting either a house or an apartment. And they're ready to move into a home.
So, with Simply Home, the rental product that we the rental communities that we create – they're not luxury communities, with a gym. They are a quality, value-oriented community designed for people who really want to rent a home in a nice quiet community that is well maintained.
It fits and dovetails so nicely with Legend Home that in a lot of cases, we have shared communities. So when we're looking at a piece of dirt as Academy Development, we're looking at it and saying, "is this piece of dirt best for rental or retail…. Or both?" So many times there's a natural dividing line and we can say, "we're going to plot off this much for Simply Home and this much for Legend Homes."
A Future Focus That Honors The Roots
Meagan Yager, VP Marketing
About a year ago there was this new evolving vision. Margaret mentioned an inflection point focused on where we're headed. This vision of uniting our operating companies so that together we can have a bigger impact, and a shared purpose that we can deliver on. Every operating company had been doing this in their own unique way.
So, there was this examination of 'how do we articulate that purpose?' As something that bubbles up from who we are today. So our companies -- 30 years old in many cases -- have this great culture and all of these values, but we've never articulated that as an organization. So, finding the common ground and common thread among all of the companies, and then reflecting the vision that the owners have of where we're headed, and honoring that vision of where we were founded with this idea of opening doors.
The challenge of starting there, and almost creating a parent organization from scratch when it really wasn't being created from scratch. It was being created from 30 years of history and evolution. That was one of the first challenges we faced. Operationally, we needed to make sure that our brand architecture strategy reflected the new direction of the company well. We felt that important that the Camillo name lived at the top of the parent organization, and that it remains as an endorsed mark across all of the operating companies.
So you see that change within our new branding. Certainly it's important for us is to articulate the reason behind these changes to our employees and to our customers. So we've spent a lot of time evaluating our values, and how that makes our company unique in this space, as well as our vision and our purpose, and where we're headed, and how each of our operating companies can uniquely contribute to that…. To open doors for customers across their entire journey, whether it's through renting or owning a home, finding a community in any of our markets.
Really, how we're working together to create a better experience and more value for customers.
ABOUT

Staffing and recruiting done right. Fast Tracking Solutions specializes in delivering top talent in accounting/finance, construction, and technology operations.
MORE IN Marketing & Sales
Brookings Institution senior fellow William Frey's recent analysis of a 2nd release of data points from the Census Bureau's 2020 decennial census has three highlights market-rate residential real estate and construction strategists will appreciate are right in their wheelhouse.
Will your homebuilding sales in the back-half of 2023 reflect a better than-, equal to-, or worse-than performance vs. historical seasonality? Depends on whether or not the team counts on mojo in demand pull, or pushes to keep driving demand.
When it comes to developing, designing, building, marketing, and selling new homes in new-home communities, the challenge is not just better and more valuable homes and communities, but "better and more valuable customers."
ABOUT

Staffing and recruiting done right. Fast Tracking Solutions specializes in delivering top talent in accounting/finance, construction, and technology operations.
MORE IN Marketing & Sales
Brookings Institution senior fellow William Frey's recent analysis of a 2nd release of data points from the Census Bureau's 2020 decennial census has three highlights market-rate residential real estate and construction strategists will appreciate are right in their wheelhouse.
Will your homebuilding sales in the back-half of 2023 reflect a better than-, equal to-, or worse-than performance vs. historical seasonality? Depends on whether or not the team counts on mojo in demand pull, or pushes to keep driving demand.
When it comes to developing, designing, building, marketing, and selling new homes in new-home communities, the challenge is not just better and more valuable homes and communities, but "better and more valuable customers."