Together with
Technology
Why Entekra Tanked Is Relevant; But, Why It Matters Is Crucial
An exclusive TBD second-day lead and analysis of where Entekra's shocking failure casts critical questions on an array of housing innovation initiatives that have sprung up in the past five to seven years.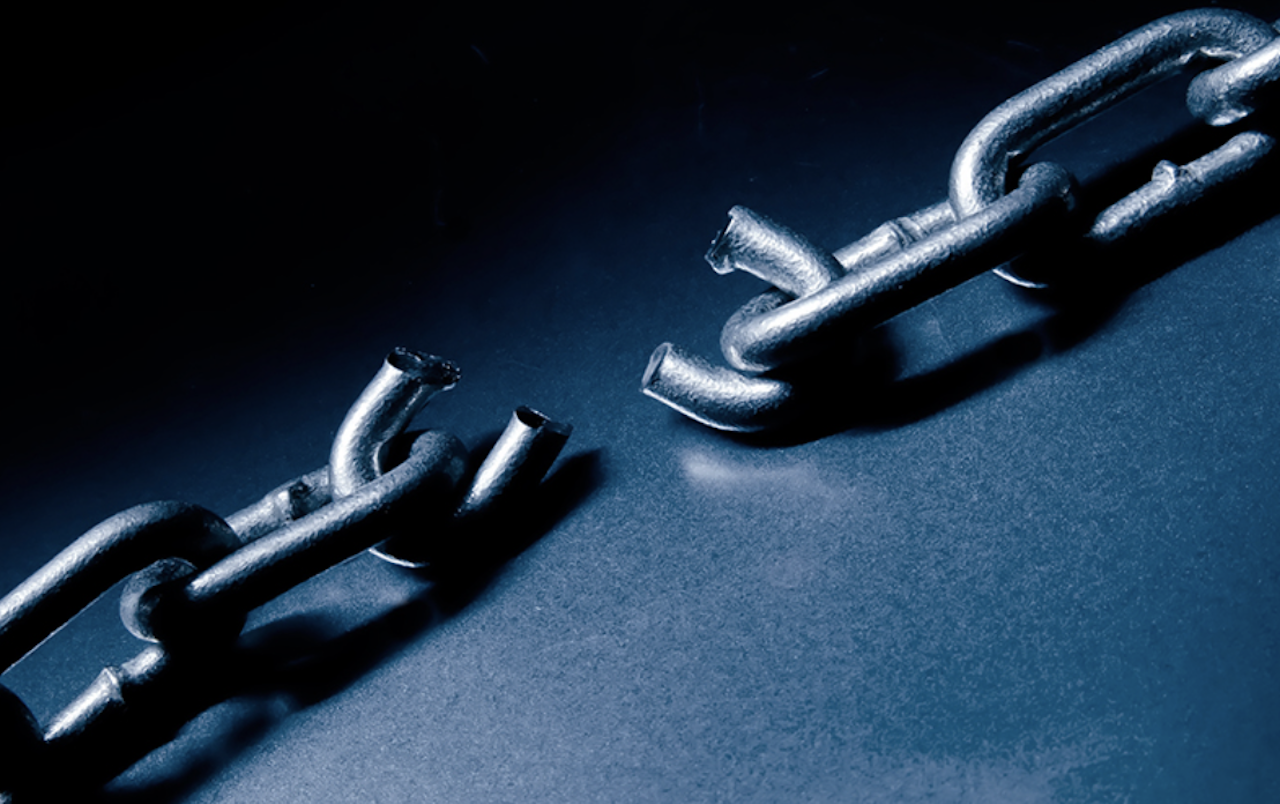 When life is long enough to have spanned being a magical thinking-prone six-year-old when New York Yankee Roger Maris hit his 61st home run in 1961, to being a magical thinking-prone 67-year-old when Aaron Judge hit his 62nd last season, a choice arises: Take yourself [and your opinions] seriously, or maybe, don't.
Why should this specific line of thought come up in the context of shocking news last week that Entekra – one of offsite residential construction's best and most promising storylines of the past decade – will shutter, let go of 200-plus employees, and, word is, explore transferring its technology assets abroad in the next 60 days or so? We have it on good authority that efforts to salvage all or parts of the business – including Entekra's Monaghan, Ire.-based engineering team – are ongoing, involving U.S. domestic capital interests, current builder customers, and even Europe-based offsite construction enterprises that seek entree into the United States market.
Whether those efforts pan out or not will come down to business negotiation and investment brinkmanship against the clock. A number of parties have – according to numerous sources with knowledge of the efforts – registered at least some interests in investing in seeing all or parts of the Entekra entity, organization, and physical assets and facilities continue to operate.
Three really important – currently unmet – needs for insight emerge in the wake of the tidings.
what happened to Entekra? ... i.e. why the sudden failure?
what does it mean for homebuilders and homebuilding?
why does it matter?
Given that majority owner LP Building Solutions has let us know it is in a quiet period leading up to its Q1 2023 earnings call next week, its lone statement on the matter will be all we'll get from the LP perspective prior to that call with equity investment analysts.
Right now, of the three questions above, the third weighs in our minds as the most crucial to recognize and work through because its scope of impact redounds directly to the future of building and the future of housing.
As one senior level homebuilding strategist from a top-10-ranked national enterprise expressed it to me yesterday:
I'm heartbroken to hear the news about Entekra because their kind of innovation in building technology is exactly what we need, and without them it will be harder for us to learn how to get to what's obviously and inevitably our future." – Senior Exec, top 10 homebuilding enterprise
Which relates to New York Yankee heroes Roger Maris and Aaron Judge exactly how? It all has to do with two human nature phenomena, both of which are critical to understand the "why it matters" question and ramifications in an Entekra failure story. One is the Monday Morning quarterback impulse that suddenly makes us experts on why something was bound to happen, but only after it happened. The other is comparing apples with oranges.
Briefly – if you're old like me and a New York native -- you grew up remembering a strange thing that happened in the years that followed Maris' 1961 feat. Everyone, it seemed after a few years, was there in "the House that Ruth Built," as witness to the heroics. Despite stadium seating and standing capacity of 67,000-or-so fans and that only 23,154 attended the 154th game of the 1961 season on Oct. 1, literally millions of folks – cab drivers, bartenders, apartment building doormen, train commuters, etc. etc. – claimed they were prescient enough to buy a ticket for that historical moment.
Long and short of it is, people feel they were there. They want to be part of history. They want to be known as ones who knew enough to plan ahead and witness a rarest of rare events. Monday morning quarterbacks, too, would have made the critical call to alter the outcome. They know, inevitably, more than the actual team members and coaching staff on the field as the game is going on.
Weighing in on exactly what happened that led to Entekra's abrupt end – whether or not you're inside or outside the company – is like Monday morning quarterbacking. At best, you know part of the story, and 99% of people don't know the whole reason. That doesn't stop many of them from believing they do and voicing that belief, including pointing a finger of blame for the outcome without real evidence as to why somebody's the culprit.
Monday morning quarterbacking won't add much value to the question Nolan Browne, Founding Partner of ADL Ventures, asks in a LinkedIn post in the aftermath of the Entekra news:
The LP shut down announcement came as a shock to me because ENTEKRA has earned the reputation of being one of the most technologically advanced and leading advanced panelization companies in the US.
The article attached also cites an optimistic Q3 '21 earnings call where the LP management said Entekra LLC was profitable and saw big growth ahead. With all the people who have been out there looking to buy new factories, or are eyeing a US market entry strategy; this seems like a golden opportunity. In the end, i can't imagine some savvy investor isn't going to snatch this up but it would be a real loss if the company is damaged as it transitions ownership.
What can we learn from these disturbances so we keep our industry moving forward?"
Nor will comparisons of Entekra's demise to the 2021 failure of Silicon Valley-style supernova Katerra, which Construction Physics' Brian Potter unpacked in detail here:
The turning point (for me at least) was the end of Summer 2019. There was a massive series of layoffs that cut our group by 75%, and essentially obliterated everything we'd been working on and planned to accomplish.
Everything after that feels like sort of a rearguard action. Shortly after there would be a new CEO installed, and the company became laser focused on (sorely needed) cost reduction. The year that followed was a long, brutal series of layoffs (when I left in October of 2020, I had survived 5 or 6 rounds of layoffs, and there were more after I left). Perks and benefits were cut, the Phoenix factory was closed, R&D got slashed to the bone, and most product development efforts outside of a few critical ones were cancelled. Self perform was eliminated as well.
But the problems of scale continue to apply even when you try to de-scale. The lack of structure meant that management didn't have good visibility on who needed to be let go and who should stay, and we frequently found that critical colleagues had been let go, leaving groups without the right resources or staff. Simply maintaining existing commitments became a herculean effort. I ended up leaving in October of 2020, prior to the recapitalization that cut the company's valuation by 90% and wiped out existing shareholders).
It should be said that there's likely a bit of narrative fallacy here - Katerra had some struggles but also a lot of bad luck: the WeWork blowup (which precipitated the focus on cost-cutting), the pandemic, the lumber price increase, the Greensill bankruptcy, . It's easy to imagine that if one or two catastrophic things hadn't happened, Katerra could have made it through, and become an amazing story of company survival. Anecdotally, up until the announcement they were closing last week, folks at the company seemed fairly pleased with the trajectory it was on.
Back then, in June 2021, we asked you to comment on what was probably an unfair binary choice. The either/or question we raised was: Did Katerra's fail spring from 1) a flawed business model or 2) bad execution? Here's how responses to those questions looked.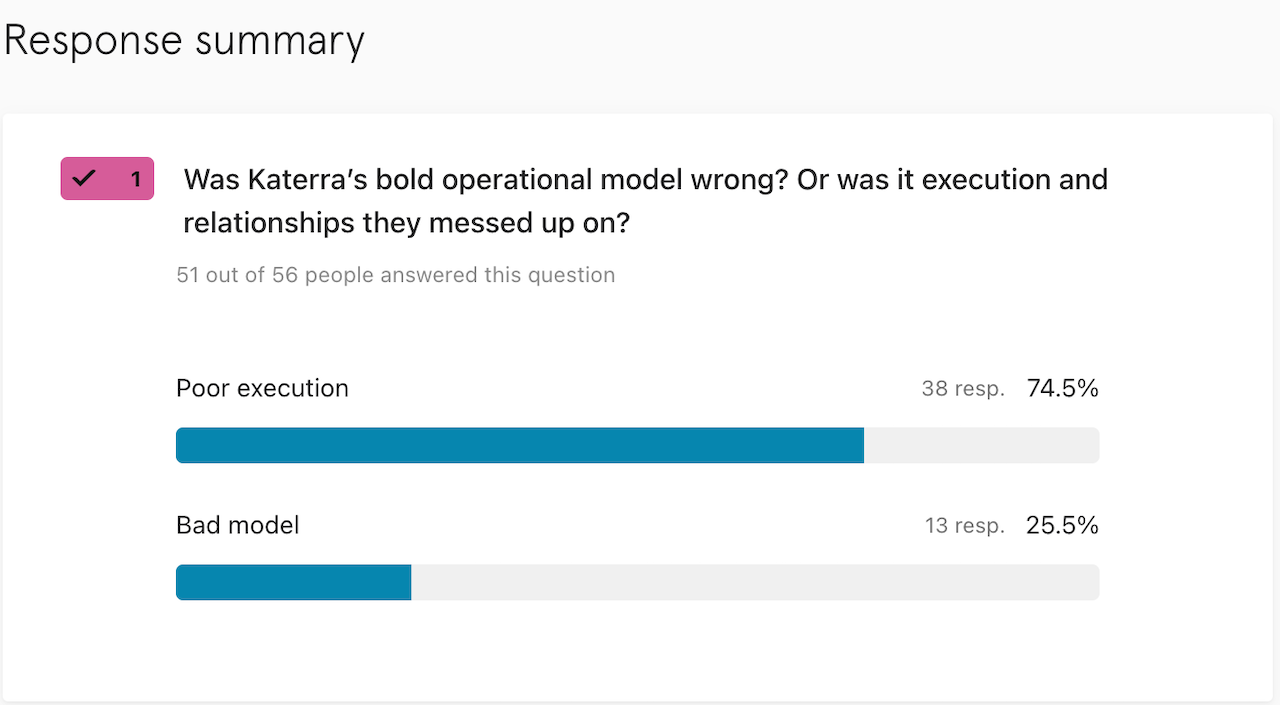 If you phrase the question the same way for Entekra's downfall, we're curious as to what we'd hear (and we will in a follow to this story).
However, observations about both the business model itself and its day-to-day execution would need to appreciate two separate time-frames. One, as a boot-straps, primarily self- and family-and-friends funded entrepreneurial start-up. Then later, after Louisiana Pacific invested $45 million and went on to become a majority owner of Entekra in 2021. For as an entrepreneurial standalone, the complicating factor of "other peoples' money" had not yet played a role, either from an accounting and overheads standpoint, nor as a fire-in-the-belly-driven crusader driving to make its solutions work for a portfolio of charter customers.
Further complicating external forces attached to both business model vulnerabilities and the operation's ability to execute during the post-pandemic convulsion: Shocks to building materials and products supply chains, its follow-on inflationary impacts, a historically sharp intervention by the Federal Reserve to tighten money supply and make it more costly, and a pall of volatility and uncertainty that clouds both the duration and severity of potential negative housing correction forces.
Today – with strong signs a Recession is brewing up a threat to the nation's strong job market, and signals a bank credit crisis continues to unspool in ways that will impact both businesses and individuals borrowers' access to lending – every equity dollar is worth an order of magnitude less than it was 24 months ago, and every debt or leverage dollar costs at least that order of magnitude more than it did.
Impacts to both a business model and its ability to execute are a night-and-day different analysis today than it may have been from 2017 to the end of 2021, the time Entekra's star seemed to shine brightest.
Facts include these:
Weinig Dimter, Hundegger, Weinmann, Randek and other proprietary construction automation, fabrication, production, and assembly technologies run in the millions of dollars each to buy, are costly to set up and tie to front-end code engineering and development, and continue to be expensive to link to architecture and construction documentation. Informed estimates are that it cost Entekra $25 million in CapEx to open its Modesto facility, an enormous upfront outlay requirement before generating a dollar of revenue, nevermind profitable revenue.
As a velocity-enabling production capability, known risks to Entekra's operational model include that it's building envelope solutions disrupt a partial – not full – stack of the 25 or more specialized subcontractor trade crews essential to a start-to-completion build cycle. In a lower starts volume period, some of the velocity advantage loses its appeal as home construction customers look to slash variable costs and revert to lowest bid contracts.
Further, LP Building Solutions serve both framers and builders as key customer bases, and may have disrupted some of its own customers' businesses by adopting Entekra offsite capabilities.
GAAP accounting and enormously, sprawling protocol-driven enterprises – even ones with an innovation, de-commoditization, and solutions focus as LP – mean that differences between "gross profit positive," "breakeven EBITDA," and actual net operating profitable can mask significant unit-level profit versus losses. A hypothetical revenue decline, from $100 million in 2021 to 40% of that in late 2022-early 2023, for instance – as a result in slower starts we'd heard about in the back half of 2022 – could have caused a huge swing from profit on paper to real world losses.
More will be revealed. The questions of "what it means" and "why it matters" are the ones innovators – in integrated offsite panelization of walls, roofts, and flooring, in modular construction and pre-fabrication, in 3D and robotics factory-in-the-field industrialization, and in other automation, modern precision-manufacturing, and building systems and processes – will find to be a hard, simple one.
Does the investment of money, time, people, and materials necessary to modernize building and scale wide and fast enough to expand the tightening box of access to homeownership and affordable, ground-up rental housing make sense as a discrete business model that does not tap into the multi-layered benefits and profit streams of real estate residual values?
Here's a characterization of the post-Fed hike innovation landscape the entire construction technology and innovation cohort is operating in these days:
As the market downturn drags on and investor cash remains hard to come by, more startups will start to run out of money, experts say. Some venture-backed companies will be forced to raise new funding even if it means agreeing to a lower valuation than they once secured, a deal called a down round, dreaded by founders and investors alike.
"We haven't had a compression in values like this in more than 20 years. It's an absolute bloodbath," said Cameron Lester, global co-head of technology media and telecom investment banking at Jefferies, adding that companies that are able to raise money, even at a lower valuation, are the lucky ones. "What matters is you're a survivor," Lester said. – Lizette Chapman, Bloomberg
This is why the fallout of the demise of Entekra matters. It will not be the last failure we'll be reporting on in the weeks ahead. Mind you, we're not likely to be taking our own, biased views that seriously, but would rather to tune in and listen to you, as you've been living these same questions for a good stretch of time.
MORE IN Technology
Capability in the form of an end-to-end build-cycle-as-a-service can offset at least some of the difference between having a free pass and not.
With so many combination deals under discussion, consideration, or moving toward finalization, a challenge in an era that leaves little-to-no margin for error when it comes gaining accretive value is in good implementation and integration.
Operators' best weapon to offset the risk of the two nemeses is running a business that's as light and agile on borrowed capital as possible, and as efficient and competent at deploying that upfront capital in the right places at the right moment.
MORE IN Technology
Capability in the form of an end-to-end build-cycle-as-a-service can offset at least some of the difference between having a free pass and not.
With so many combination deals under discussion, consideration, or moving toward finalization, a challenge in an era that leaves little-to-no margin for error when it comes gaining accretive value is in good implementation and integration.
Operators' best weapon to offset the risk of the two nemeses is running a business that's as light and agile on borrowed capital as possible, and as efficient and competent at deploying that upfront capital in the right places at the right moment.