Together with
Land
We Celebrate Ted Nelson, Who Leaves A Legacy '2nd To None'
A Salute to the life and work of Walter F. 'Ted' Nelson, who helped innovate and shape sustainable modern hometown living as we've come to know it.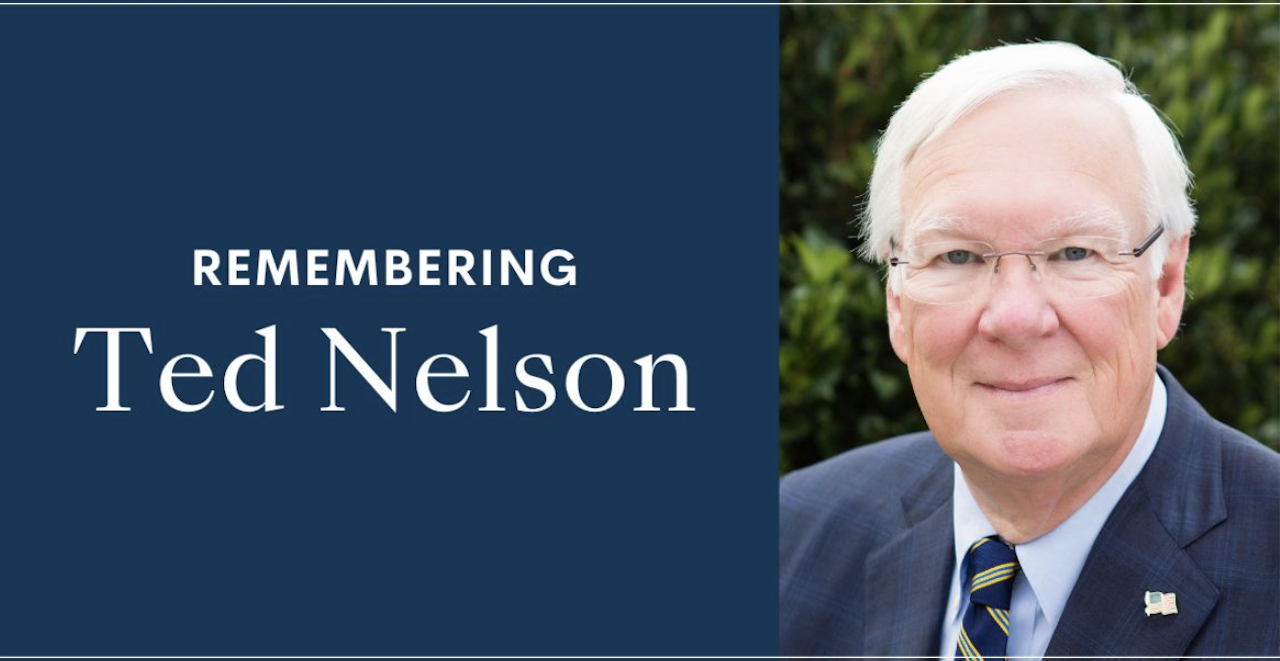 Wherever you stand
Be the soul of that place."
-Rumi
For places these days to have a soul, it takes a children living there under its rooftops, awakening to who they are and what they'll strive to be and make of life. It takes a deep-hidden balance of earth's own wonders, permitted to be and become. It takes a sense of confidence and courage going out, and a sense of longing and comfort coming home.
It takes a village of people to breathe human presence into the soul of a place. And it takes at least one person to spark and safeguard an equal truth, that it breathed there long before them and will outlive them all. It takes no less than one person to stand – absorb all the interests and stakes of others – and be the soul of that place.
Walter F. "Ted" Nelson devoted himself to being that person. He committed considerable skills, boundless patience, lifelong learning, and a tireless, selfless gift of himself to a career of making places home to countless families and households. Across more than four decades of work, starting at George Mitchell's gamechanging masterplanned community, The Woodlands, Ted Nelson's passion and delight were working with others on kindling in a place its heart and its soul.
In Ted Nelson's  own words, from notes Ted's family shared:
It is often said that the person one becomes is largely defined by the environment in which one was raised. This environment is certainly bolstered by the the family and the community." – Ted Nelson, A letter to his family
Ted Nelson – one of U.S. residential development's legends, and a widely revered innovator in modern hometown development – died this past Friday, Feb. 10, at age 72, after a long battle with cancer. That many of his colleagues and teammates never suspected his struggles with serious illness date back more 13 years attests to Ted's character and a second-nature habit of putting those he served first.
Ted so loved the people he worked with and he was so passionate about encouraging them because he loved what they were working on," says Kathryn Nelson, who was at Ted's side when The Woodlands grand-opened outside Houston on Oct. 19, 1974, and married him the following year. "He had more integrity than anyone I've ever known, and he was adamant about doing what was right by the families in the communities they created, making them safe and sustainable for many generations to come.
Kathryn Nelson also tells of his love of his daughters, Meredith and Lauren, the time he spent with them from their earliest childhood, teaching them to strive and learn, to enjoy the outdoors he'd grown up loving, hunting, and fishing.
Education was a non-negotiable, and it was connected with love and joy," says Kathryn Nelson. "A college degree was not an 'if;' a graduate degree was expected. Today, both our daughters are practicing attorneys. They adored their father, and they loved spending time with him. When he took up fly fishing, they joined him 11 or 12 years in a row, fishing up in Montana, the Missouri River, the Yellowstone, and the Gallatin, even Alaska."
Kathryn Nelson also speaks of a signature Ted Nelson trait – whether it was in his personal life or among colleagues, partners, competitors, etc. – that anyone who knew him considers quintessential.
That dry sense of humor," she says. "He was one of the funnier, wittier people you could know, but sometimes you could hardly tell when he was joking, except for that twinkle in his eye and an almost imperceptible crack at the corner of his mouth. He was also a man of few words, but all of them deeply thought out."
Bob McLeod, who as chairman and CEO at Newland Communities, worked for 20-plus years as Ted Nelson's boss, counts that wry, dry Texan sense of humor and his profound thoughtfulness as two of Nelson's magical powers.
You'd hear it again and again from people before they got to know him," says McLeod. "They'd say, 'Ted, are you serious?' And then it would dawn on them he was making light of the moment, and everybody would relax. And when somebody like Ted – with the knowledge he had – is also a man of few words, everybody listens to every single one of them."
Adrian Foley, president and CEO, Development at Brookfield Development, acknowledged that during the six to nine month period of due diligence and early transition as Brookfield concluded its acquisition of Newland Communities in 2021, Ted Nelson went out of his way – playing an "instrumental role" at a critical moment – to remove friction in the combination.
Initially, during the early days of those discussions, you're never quite sure of what direction they'll go," says Foley. "Ted was always incredibly warm in an authentic way, and his comments, whatever the issue was, were reserved until everyone else had spoken. He'd always put himself and his interests last. And when he spoke, it was with a voice of truth, honesty, and openness. And it was invariably gracious."
Foley recalls a tour of 20 master planned communities in a 10-week period during mid-2021, a drive of hundreds of miles, where Ted would be "first up to breakfast in the morning and still had a smile at dinner."  He added:
Ted insisted on doing the driving during the tour," says Foley. "Now, part of that may have had to do with my driving, but in large part, it just spoke to Ted's feeling that he wanted to be a hospitable host, especially in Texas. The legacy he leaves behind in our industry is second to none. With over 40 years of experience, Ted was recognized for his role in the vision and growth of West Houston, overseeing signature projects including Cinco Ranch."
Here, from a LinkedIn profile of Ted Nelson, is how he outlined his career milestone:
Ted Nelson [CEO at Newland Communities], with more than 40 years of master-planned community experience, heads the operation of Newland's development and acquisition activities through hands-on leadership and tactical oversight. He is a member of the Executive and Investment Committees which set company policy, provide strategic direction of existing developments, and analyze acquisition opportunities. .
"Ted joined Newland through its acquisition of the Terrabrook portfolio in 2003 and has held multiple positions of leadership over the past 15 years. At Terrabrook, he was responsible for assets in Houston, Austin, and Dallas. Ted began his career in the residential development division of the Woodlands Development Corporation. He then served in several capacities for American General Land Development, Terrabrook (predecessor to Newland) Houston operations where he was a key member of the team that was Instrumental In Planning and Developing Cinco Ranch and other communities such as Telfair, Seven Meadows, Greatwood And Summerwood. At Newland, Ted provides operational and senior leadership to the development of Newland Communities' residential master-planned, commercial, retail, and urban mixed-use real estate projects across 12 states.
"Ted graduated from the University of Texas with a Bachelor of Business Administration in insurance and did postgraduate study in accounting at the University of Houston. While serving on the adjunct faculty at North Harris County College, he taught several courses in real estate related subjects. Ted is a member of the Urban Land Institute and participates at both the local and national level. As a member of the West Houston Association, he previously served as its Chairman and continues on as a member of its Executive Committee. Ted was awarded the Association's "Impact Award" for leadership in quality, sustainable development, including spearheading the Association's "2050 Plan." A member of the Greater Houston Builders Association, he is an integral part of its "Build PAC" leadership committee. Ted enjoyed the unique privilege of participating in the Massachusetts Institute of Technology's "Future of Suburbia" program as an industry representative. Ted was appointed to the board of the Texas Real Estate Advisory Committee by the governor of the State of Texas in 2013 and continues in that capacity today.
Ted proudly served his nation as a member of the US Army."
It should be noted that the LinkedIn profile counts 32 "skills" as areas Ted Nelson not only practiced, but excelled in – from Land Acquisition, to Entitlements, to P&L Management, to Marketing, to Budgeting, Customer Service, Zoning, to Microsoft Excel – among them, Team Building, he focused on as a priority without equal.
We counted on Ted for so much," says McLeod. "This experience and ability to size up a problem and come up with solutions when those difficulties inevitably come up and stump the rest of us. There were countless times it was he who'd come up with ways to work through and past those difficult moments in nearly every project."
Ted Nelson was born in Liberty, TX, the son of longtime Chambers County judge Oscar Frederick Nelson and LaVerne Nelson. He had one sibling, a younger brother Randall, known as Randy, who died last August in Washington, DC.
As a kid growing up in Anahuac, near Texas' coastal waters, Ted worked with his grandfather and father on their rice farm, took up photography and learned as a teenager to fly a private "taildragger" plane.
He'd fly out to the fields at the end of the day, land the plane on a country road, and pick up his grandfather from where he was working the rice fields," Kathryn Nelson tells us. "He grew to love the work he did with a passion. Look, he worked up until the last days, never really retired. I always knew I had to share him. I'm so grateful and amazed to read all of the notes and comments from people that he impacted through the years, and I think 'I was married to him!' I learned so much from him and I told him recently, 'the one most important thing you taught me was patience.' And he had that twinkle and that little crack on the side of his mouth, and said, 'well, I failed at that.'"
MORE IN Land
While it took more work and time to cross the finish line as a listed enterprise, the premise and promise of Columbia, S.C.-based United Homes Group, up-to-now a regional powerhouse, remains undeterred and poised for a launch
"This enables agility to flow down that value chain, ultimately to where builders can engage consumers with things like a 3D, automotive-style configurator experience," Higharc ceo Marc Minor says. "The market needs more of that now."
Determine "what's the bet?" What are we really banking on or believing in that leads us to do this deal? You can't answer this question rigorously unless you are ruthlessly honest in your pro formas. -- A Scott Cox MasterClass
MORE IN Land
While it took more work and time to cross the finish line as a listed enterprise, the premise and promise of Columbia, S.C.-based United Homes Group, up-to-now a regional powerhouse, remains undeterred and poised for a launch
"This enables agility to flow down that value chain, ultimately to where builders can engage consumers with things like a 3D, automotive-style configurator experience," Higharc ceo Marc Minor says. "The market needs more of that now."
Determine "what's the bet?" What are we really banking on or believing in that leads us to do this deal? You can't answer this question rigorously unless you are ruthlessly honest in your pro formas. -- A Scott Cox MasterClass