Together with
Land
Trumark Lands In Colorado's Front Range: The Inside Story
Trumark Colorado division president Scott Davis opens up on the challenges and opportunities of launching a de nova market expansion in a pandemic-era mobility magnet.
Land, people, money.
People, money, land.
Money, land, people.
Scramble it any way you want, you wind up in the same place. Namely, success in a homebuilding, residential real estate investment, and community development endeavor – new, old, always and forever – means getting this triangulation of pillar forces to sync up and outperform.
Timeless formula though it may be, these particular times feel different. Hypercharged with zooming demand, tricky operational dynamics, what with the supply chain's firehose of problem-of-the-day challenges, froth lathering up at the margins, and an array of big and little issues as long as your arm – intensify the need to get those three pillar resources into just-so alignment.
Or else.
Just ask Scott Davis. He's got a heady challenge ahead of him: Getting a Northern and Southern California stalwart – Trumark Homes – up and running, from zero to a run-rate of more than $100 million by this time next year in the Front Range corridor of Colorado, and perhaps 10 times that in the next decade or so.
The MSAs along the Front Range represent nothing but upside for us," says Davis, who led D.R. Horton's Colorado intiatives as division president for 11-and-a-half years until his departure in October, 2018. "We'll begin by starting 10 homes a month, and we'll be at a run-rate of 100 closings a year in January, and go from 100, to 500, to 1,000. Our goals are to put together a team, and with the backing, patience, and focus of Trumark leadership and Daiwa House, navigate that balance here in Colorado between what the customer wants in excitement and what the customer can afford. That's what's aligning here in my mind."
Market expansions – de nova start-ups or via acquisition – are part of the longer, several-decade story of homebuilding business consolidation, which has concentrated 90% of new-home development and construction among a couple of thousand firms that build and sell more than 20 new homes a year.
Further, expansions remain an essential part of the wheelhouse of enterprises bent on growth, ebbing and flowing across housing's parabolas of up- and down cycles.
It's noteworthy, all the same, that manifest destiny-like expansion into the 2021-to-2030 patchwork quilt of metros – many of which may have been regarded as economically- or logistically-challenged – shifted decisively as the pandemic breathed viability and attraction into a new map of lives and livelihoods.
Multiregional and national homebuilding enterprises that had been focused for the past half-dozen years on the upside business returns of deeper, more-concentrated, more localized market scale have begun pinning new mobility magnets into their operating footprint – ones with smaller, but fast-growing populations drawn to physical, cultural, or economic resources in a work-life balanced future.
Denver, CO, ranked eighth among 2020's "inflow" migration destinations, per a Bloomberg zip code analysis of LinkedIn users.
We'll be a receiver state," says Davis, with his forecast hat on, looking at the years ahead. "We've got people coming in from both coasts, who have the jobs – attracted to the outdoors, the personal health, the quality of life – and some who come here for the lifestyle, who don't have a job yet but plan to get one when they settle in. That in-migration, on top of an already known undersupply of new home construction that dates back pre-pandemic, will exert a strong pull on demand-supply relationships."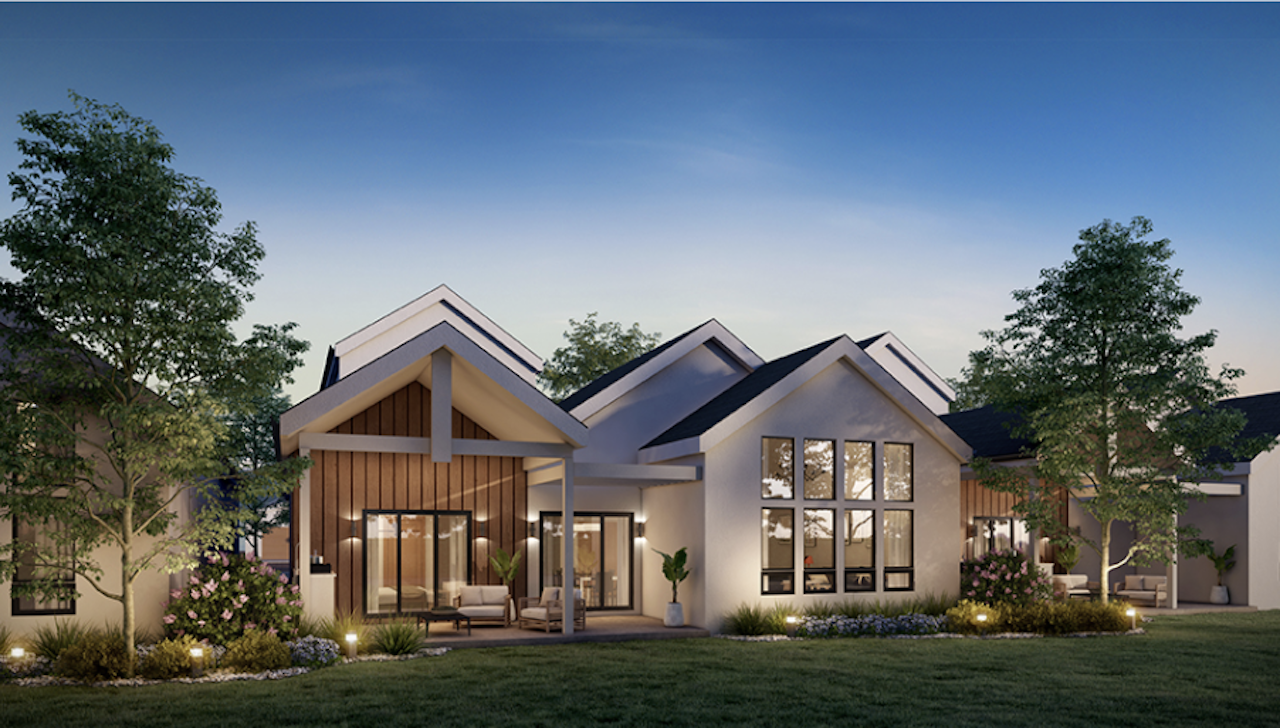 Trumark Homes' recent thrust over the Continental Divide into Colorado's Front-Range corridor, stretching from Fort Collins to the north, down through Denver, Boulder, Colorado Springs, south as far as Pueblo, stands as a case in point. Trumark's flag-in-the-ground effort, Trumark Homes at Pelican Shores, in the Fort Collins area north of Denver, says Davis, will feature 11 contemporary floorplans, both ranch style and two-story plans, ranging in size from 2,199 to 3,746 square feet, through a deal that purchased from Juma Homes.
As Trumark readies designs for communities to come, it has turned to a series of new floorplans and elevations – including 11 new plans in the works -- from award-winning architect Michael Woodley's Woodley Architectural Group.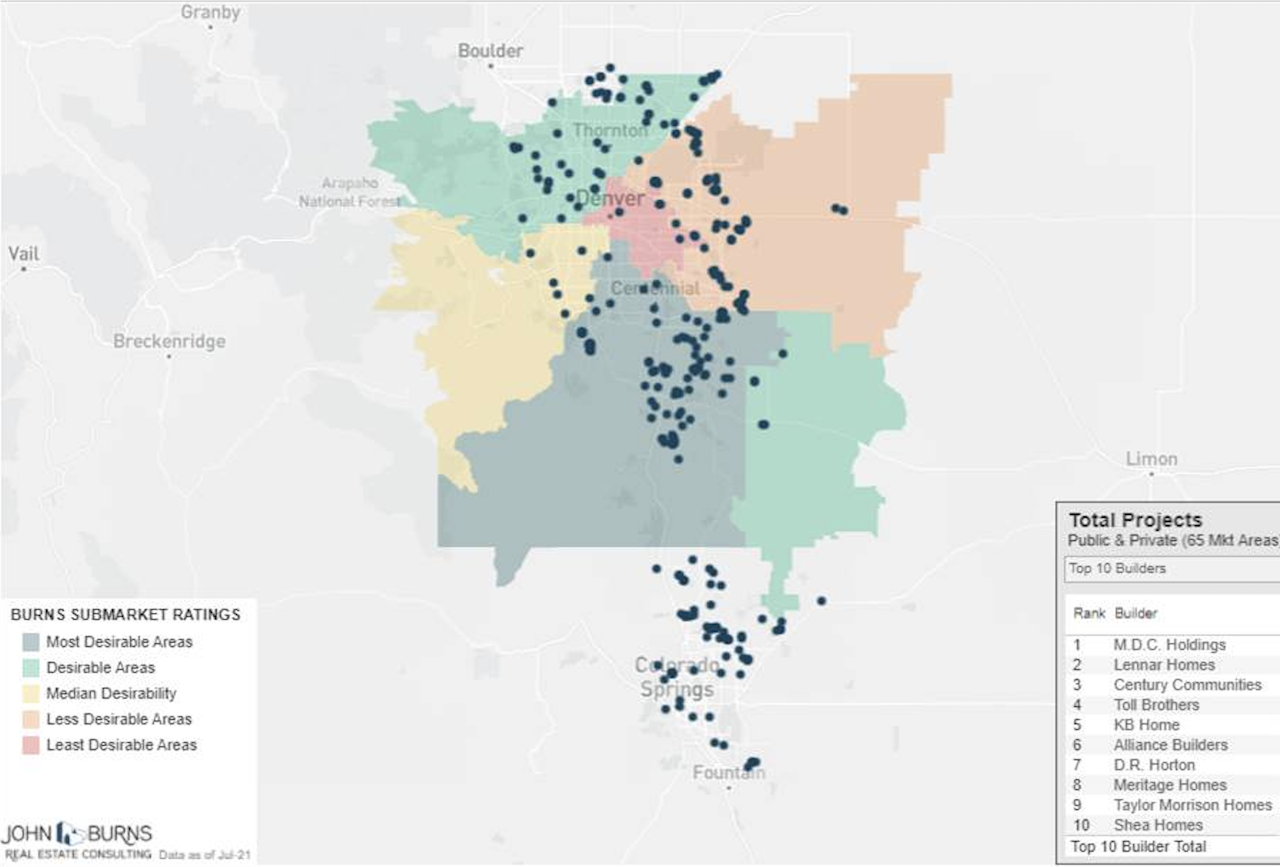 The backdrop for the Trumark Colorado start-up is a fiercely competitive, highly muscular competitive arena, featuring nationally active public homebuilders, as well as some local and regional powerhouses, like Thrive, Clayton Homes-owned Oakwood Homes, and others.
The opportunity in the Colorado market, particularly for a builder like Trumark, which has been doing distinctive architecture and contemporary designed communities in Northern and Southern California, is that buyers want that exciting 'wow' and 'cool' factor in the floorplans and elevations," says Kenneth Perlman, a managing principal at John Burns Real Estate Consulting. "Working with Woodley, Trumark's ability to address the Colorado-area challenge of balancing great product with attainability is enhanced. Both have pedigree in dealing with density, which is how they can go at attainability, and both have a strength and flair with style, indoor-outdoor livability, and indoor flow.
What's more, a ton of people are migrating from NoCal and SoCal to Colorado, and they're going to recognize the Trumark name, which is a competitive plus," says Perlman.
To build a business from scratch into what promises in a foreseeable timeframe to sprint headlong into a $1 billion core market arena, the challenge for Trumark's Colorado go-to leader Scott Davis started at a gut trust level this past late winter, when Whelan Advisory principal Margaret Whelan made the match between Davis and Trumark's two co-founding principals Gregg Nelson and Michael Maples.
The three of us had all been in the business three decades, and when that first introductory call happened, we spent more time laughing [amusement, joy, pride, learning] than anything else," says Davis. "When I saw the alignment Greg and Mike had with their Daiwa House partners on the investment commitment to fast growth, strong design, and great quality, and on the communications, patience, and integrity of the people, that's where the fit became clear cut."
Whelan, who'd originally introduced Nelson and Maples to Daiwa House execs, leading to the 2019 acquisition of Trumark, adds:
Beyond access to capital, chemistry and fit are of utmost importance to me when I'm making an introduction on behalf of a client," she says. "Having worked with the Trumark team for the last few years, I knew that Scott's expertise and character would be the right way for Trumark to put up a flag and expand outside of California for the first time."
Daiwa House has had a full agenda in the North American market since it bought Stanley Martin Homes in 2017. With the launch of Trumark Homes Colorado, the accelerate agenda shows no sign of slowing down.
Join the conversation