Land
Tertiary No Longer: How The Pandemic Reset Small Town USA
The Wall Street Journal/Realtor.com emerging housing markets index for the Summer of '21 heatmaps pandemic-era boomtowns.
John McManus
July 20th, 2021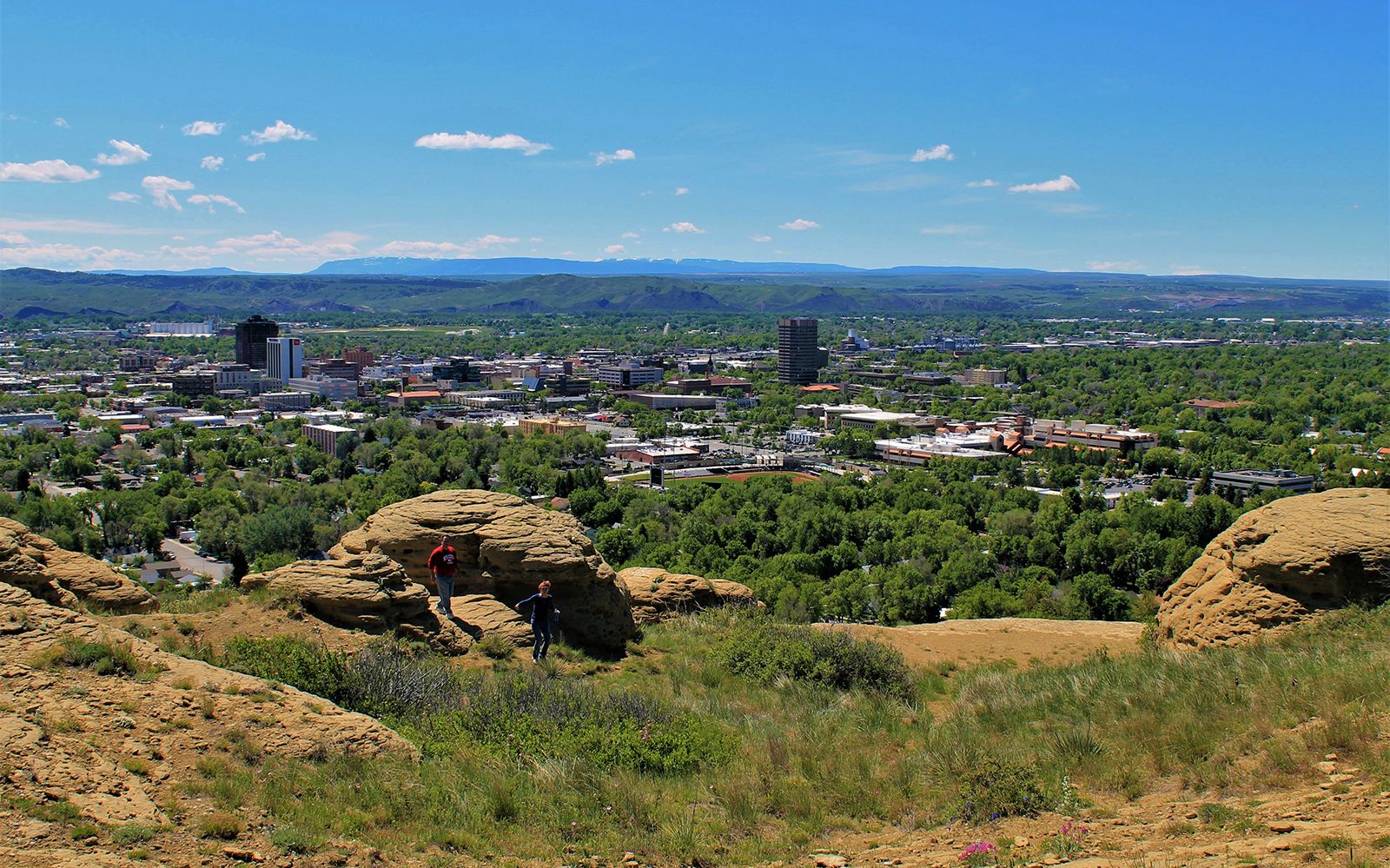 Time was that it took a minimum of 250 or 300 annual new-home closings, and more commonly, 400 completions – on a sustainable, foreseeable future horizon of a decade or so – to merit a full-on divisional expansion for a big builder.
Consider those minimum benchmarks a thing of the past now. The COVID-19 disruption and its aftermath – coupled with the exponentially expanding advance of data mining and newly emerging and freshly-embraced building technologies  – have begun to power pop-up, asset-light market presence by some big players in places once considered secondary and tertiary markets too small to support volume enough to carry their overheads.
GS&A [overhead cost] got reeled in and disciplined after the last boom and The Great Recession stripped out a lot of wasted expense," the ceo of one multi-regional production homebuilder tells TBD. "With the reemergence of land-bankers, our asset-light operational models translate well to some of these emerging hot markets we may have passed over considering in the past."
"For all intents and purposes, secondary markets are now the new primary markets, given where we're seeing mobility and migration occurring, especially among knowledge economy millennials keen to get family-formation and kids kick-started. And tertiary markets are the new secondary markets, which means that even some of those metros may be an opportunity for some of our flags.
Today's Wall Street Journal features an update by staffer David M. Ewalt to the The WSJ/Realtor.com Emerging Housing Markets Index Summer 2021 and an accompanying analysis on Billings, Mont., as the No. 1 boomtown market by staffer Nicole Friedman.
Here's the top 10 from the WSJ/Realtor.com index: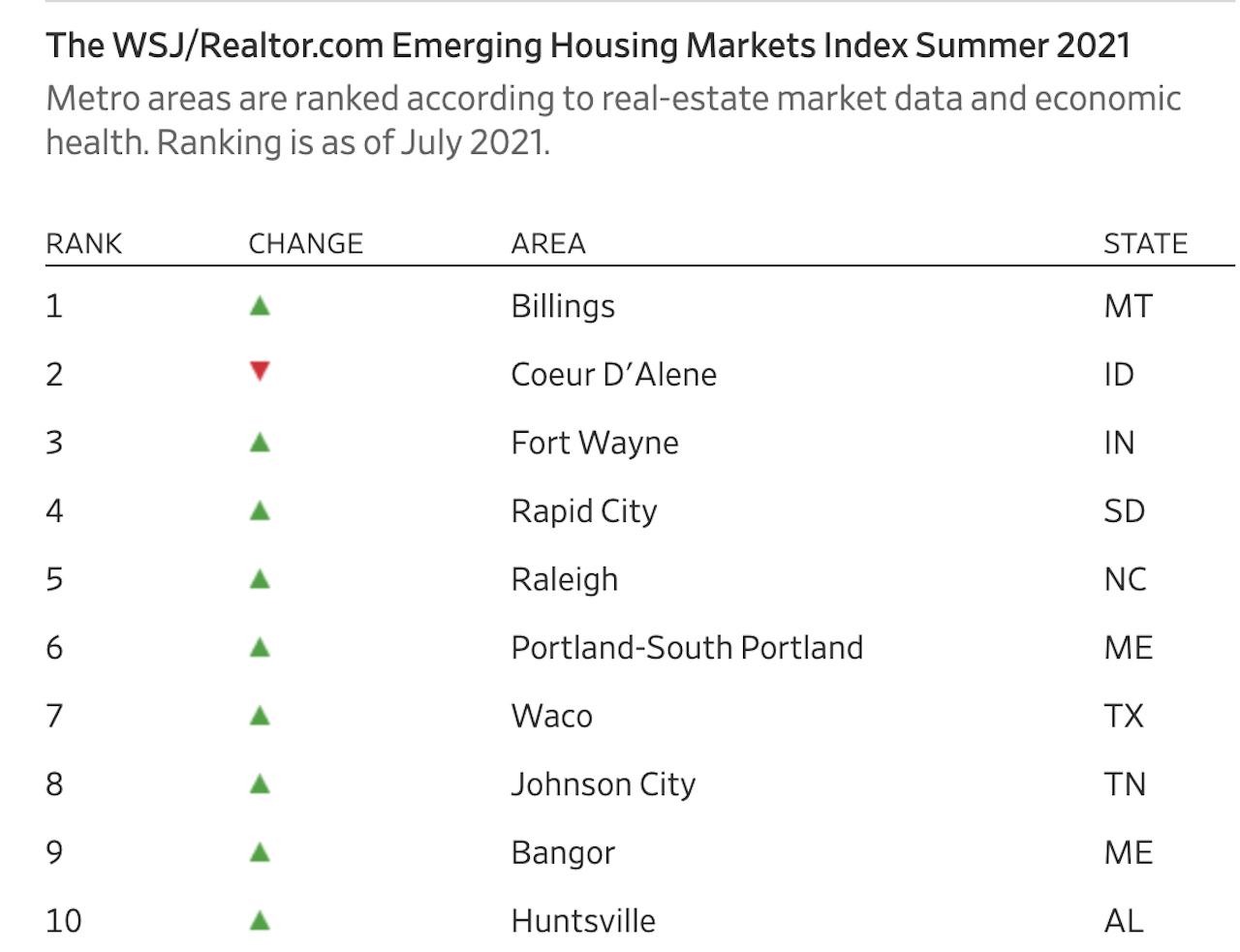 Friedman writes:
The index reflects how the housing boom has ignited homebuying activity in smaller to midsize cities around the U.S. The top 20 cities in the ranking have an average population size of just over 300,000.
In the latest index rankings published on Tuesday, smaller cities dominate. The No. 2 metro area is Coeur d'Alene, the lakeside Idaho city that held the top position when the index premiered in April. Fort Wayne, Ind., Rapid City, S.D., and Raleigh, N.C., round out the top 5.
The index identifies the top metro areas for home buyers seeking an appreciating housing market and appealing lifestyle amenities. This quarter's version added the new criteria of real-estate taxes, which caused some areas in the Northeast, Midwest and Texas with higher property taxes to fall in the rankings.
The pandemic, we remember, did not invent remote work, nor work-life-balance trends, nor enabling technologies, nor the appeal of naturally-amenitized life. Those macro trends were and remain the future, and the future, in some ways crashed the party of the present thanks to Covid's arrival on the scene in 2020.
However, given two inalienable factors – millennial biological clocks and the fact that COVID is not a one-and-done phenomenon, but an enduring force-factor in the economy and business – the impacts to mobility and migration from expensive, dense, and constraining big urban areas to places that offer multiple dimensions of lifestyle support and livelihood connection will evolve the way a relatively-rapidly consolidating homebuilding sector views development and construction opportunity.
The issue we see as one of the only limiters is how many builders can scale in those smaller-population markets?" our multi-regional strategic chief executive explains. "One or two big players can do fine in some of those smaller metros, but beyond that, it gets crowded fast. So it's a question of who can establish a first-to-market presence and claim critical mass before others can gain a foothold.
Bigger players that have a well-oiled machine thriving in secondary markets – D.R. Horton,  LGI, and to some degree, the Clayton Homes group and the Sumitomo Forestry North America portfolio of privately-held operators – seem well cut out to avail of these opportunistic market expansions. Other bigger homebuilding enterprises may see the Covid boomtowns as a risk worth taking – either through public to private acquisitions, or de novo division pop-up divisions.
Join the conversation