Together with
Leadership
New Meritage Push Doubles Down On Its People Skills Commitments
A six- to nine-month Road To Construction Mastery platform gives construction manager, superintendent team members a 'Meritage Way' immersion in operational success tools and cultural support.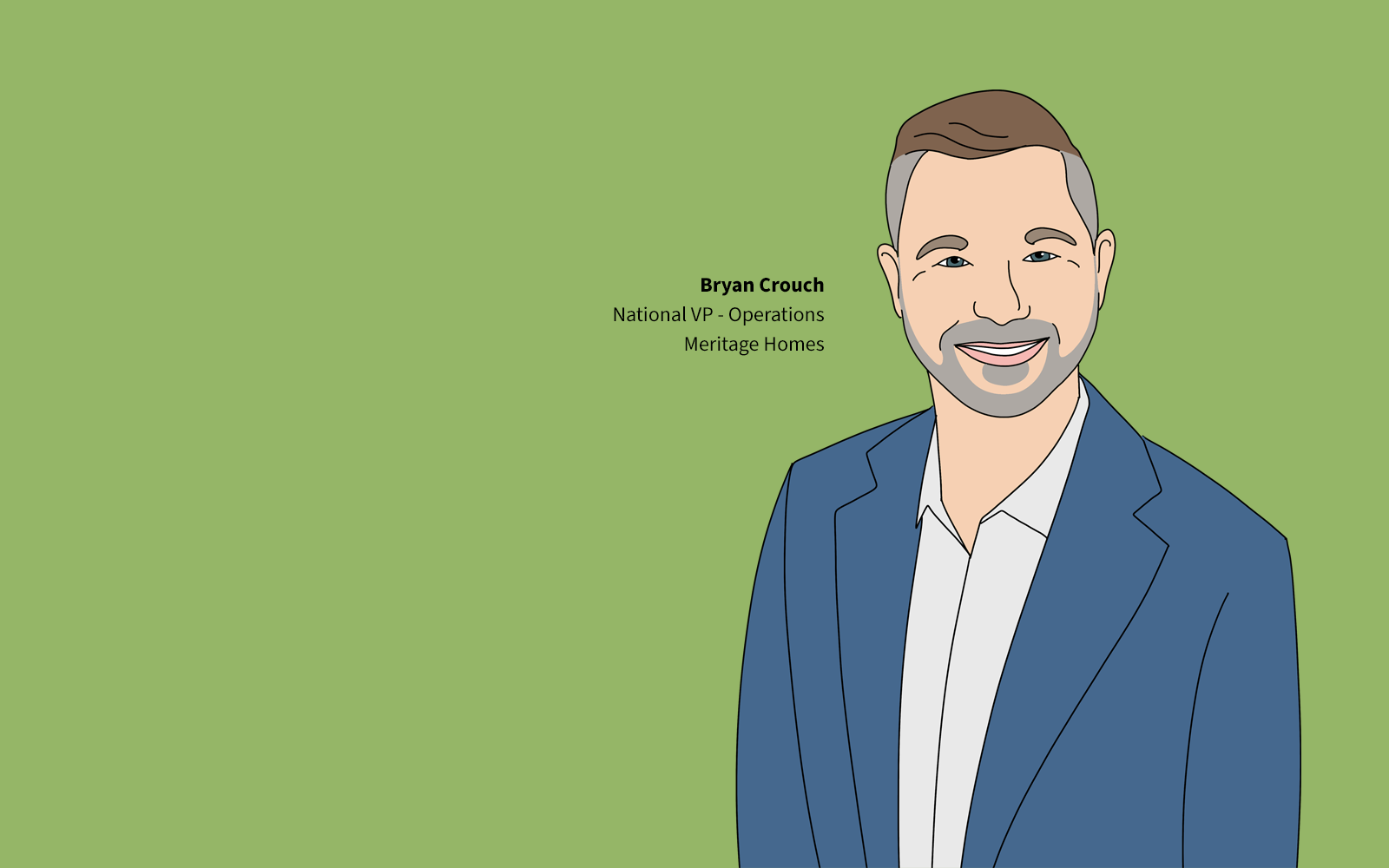 From The Builder's Daily to you: Happy Labor Day!
The big picture
Homebuilding and homebuilders mean the same thing in the minds of most of those of us who don't make a livelihood of homebuilding as a homebuilder. Those whose livelihoods do spring from making new homes and communities know just how different and separate and distinct each homebuilder is from homebuilding in general. Homebuilders capable of withstanding what's ahead, come what may, and coming out the other end of it stronger prove they're different.
They have and they will. They're clear on the essentials. They know who they are. They know who they want to be. And they know – most importantly at this juncture – what business their customers want them to be in, the business of well-being, of safety, of confidence, and of stability.
That distinction that sets a homebuilder apart from his or her or their peer – this Labor Day – is a bulwark of dynamism to come and cause for celebration and hope for an economy that has weathered its share of tough times, and will do so again.
Among the leading causes for optimism about professionally managed homebuilding companies and their skill at staying fit to perform in the face of split-second seismic changes in market conditions, is their embrace of a business cultural transformation that centers on finding, training, and igniting the potential of a human wave of new talent.
We couldn't get done what we have to get done now, in the months ahead, and beyond that, if we simply ran new construction manager and super hires through an onboarding, checked the boxes, and gave them a 'one and done,' training," says Bryan Crouch, national VP of operations at Meritage Homes. "Our people need to feel they're valued enough that we'll continue to invest in them."
Amidst echochamber refrains that homebuilding and homebuilders' practices have been unimpeded by progress, real progress where it matters most – instilling the fire and focus of purpose in a growing cohort of new entrants into the field – is happening, and it's happening across organizations because their competitive and business resilience right now depends on it.
We wrote recently about Taylor Morrison's Voyager construction superintendent academy – an investment in home-grown training, onboarding, career support and development essentially designed for people brand new to the homebuilding industry – as a brightspot addition to homebuilding's capability culture, which Lennar, NVR, and Pulte Group have long led the way on.
Today, we look at a different approach to investing in a homebuilding organization's cultural and capability evolution, Meritage Homes' Road To Construction Mastery program for construction supervisors, conceived by Meritage's Bryan Crouch and largely operationalized by Marc Austin, South Region VP of Operations, and Nicole Fiore, Learning, Development, and Culture Partner. The six-month training and engagement program is designed as an answer to both essential needs of an adverse and tricky market of the moment, and tomorrow's imperatives that a homebuilding organization be both adaptable and true to its timeless principles.
Home-grown programs that break through the barriers to attracting, retaining, and growing leaders and entrepreneurs from a pool of future-of-work young men and women are a sign of progress and a cause for confidence that homebuilders recognize they're ever on a path of cultural transformation.
Whereas in the past competing homebuilding companies tended to dip and poach from a common pool of construction management and superintendent team members, give them a perfunctory "onboarding" drill, and drop them into the field, just like that, a growing recognition has sprung up in the past couple of years that if a company's leadership expects outstanding engagement, performance, and sustainable impact, they're going to have to invest like any other enterprise to ensure their people and their practices and their systems and their organizational cultures mesh from the get-go.
Here's a look at some of the origin story, the mechanics, and the early-going impact of Meritage Homes' commitment and investment in its Road To Construction Mastery platform, and why it matters right now.
But first.
The Economic Backdrop
A pre-Labor Day August employment report came in strong, as feared, expected, hoped for, and a source of continued surprise.
How can one piece of monthly survey-based Bureau of Labor Statistics data have been all those things at once?
For homebuilders, the U.S. economy's addition of 315,000 new employees to nonfarm payrolls, with a slight bump up in hourly pay, skews as "good news is bad news, and bad news is good news" nine ways to Sunday.
Leading the negatives, of course, strong-but-cooling jobs data – albeit subject to a high margin of error and revision typical of August surveys – means that the Federal Reserve's level of fiscal and monetary policy aggression will remain elevated pending a consumer price index release due in two weeks.
Another negative challenge embedded in the numbers, higher wage trends – again, growing at a slower rate than last month – almost necessarily translate to increasing labor expense. That inevitability comes at a moment builders have their work cut out for them. Dissecting all the ways they're going to have to cede chunks of the record gross margins their teams worked so hard to achieve through the first half of 2022 is part of every organization's painful budget planning process right now.
Positive offsets, on the other hand, are not nothing. Although the pace of hiring has fallen off from a mind-boggling number in July – revised down – the 300k-plus data point reflects undeniable present- and forward-looking resiliency among both households and businesses. Further, an uptick in unemployment's silver lining is that more people are coming off the sidelines to re-enter the America's labor force.
Another noteworthy plus in the August employment report: an increase of 16,000 construction workers during the month, which Calculated Risk's Bill McBride notes now puts construction employment, on an apples to apples basis, 84,000 employees higher than the Spring 2020 pandemic.
Within that macro context, each successive data print peels away at least some the forward-looking ambiguity for a market-rate residential real estate and homebuilding economy that has already entered recession territory.
The Fed will likely stay on course with either a 50 or 75-basis point funds rate increase after CPI prints in two weeks, further ratcheting tighter access to mortgages that allow for manageable monthly payments.
New home sales transactions will continue to slow, which will drive concurrent domino-effects into both the wider consumer spending economy and the nested economics of business and industrial activity supporting new home development and construction.
Just as these macro-forces tend to cause people to blend, blur, and lump all homebuilders into a single homogeneous secular enterprise, it's what each of these organizations does to set itself apart, as different from other peers in value, operational excellence, balance sheet discipline, etc., that will determine not just who'll survive, but who'll weather the current storms and flourish as they run their course.
Concisely, Wolfe Research VP/analyst Truman Patterson maps the jobs reports' double-edged sword this way:
We view the release as a modest positive for the Housing equities today as labor force participation rates improved to a post-pandemic high while wage inflation decelerated sequentially, which should ease inflationary pressures, ceteris paribus. However, we believe housing demand ultimately depends on the Fed, with continued gains in the labor market likely supporting stronger Fed action. While we are not rooting against increased employment, more hawkish Fed action clearly creates headwinds for our sector."
The Meritage Homes Context
Meritage's business and competitive plan right now calls for operational execution on a plan its strategic leaders laid out in the past few years, evolving its position from a move-up homebuilder to one that effectively faces the sustainably biggest universe of new homebuyers: entry level.
Through its 2nd quarter, Meritage had reached an important operational milestone to play out its strategy for growth: 300 actively selling communities across its West, Central (TX), and East regions. Just ahead, its strategic leadership have guided not just to clearing through its 7,000-plus home backlog, but generating new orders at an absorption pace of three to four per community per month.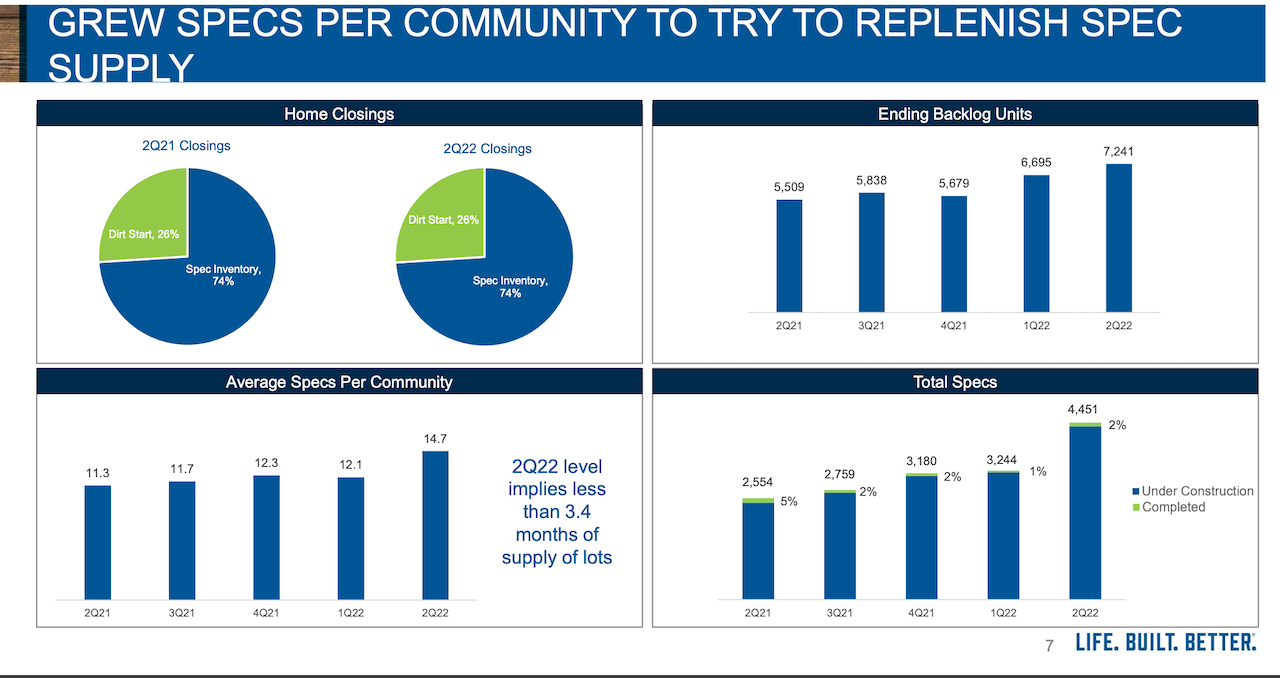 When all's said and done, Meritage is focused on completing both our homes in backlog and our specs in the ground for new sales at a time when it's harder and harder to build a house and at a moment where customers are more discriminating and sophisticated and nervous about timing than ever," says Crouch. "So our goal now is to turn out the best team of construction managers in the business, and ones that know and do it 'The Meritage Way,' to assure customers they're getting the value."
The Road To Construction Mastery
Crouch, who'd spent time earlier in his career at Pulte before joining the Meritage in 2007, says the company's Road to Construction Mastery platform today grew out of 3-day immersion onboarding principles and practices that trace back eight years or more. More recently, with Marc Austin on point, Meritage evolved and codified the learning and training platform in the past six to nine months – both as a best practices skills tool for its 1- through 5-level construction managers, and as an engagement and retention program to keep talent on the team and on the beam as the broader economy pivoted during the pandemic into The Great Resignation.
Partnering with BuildIQ and IBACOS, Meritage designed "The Road" program initially as a self-paced six-month program series, 50% field and 50% class-work modules that address both technical construction aspects, OSHA standards, and customer interaction tools and tactics. Based on the uptake and positive impacts of 200 Meritage construction managers now about half-way through completion of their first six months in the new program, Crouch and Austin envision extending the program out another 12 months to address upskilling and career advancement opportunities.
Pivotal in Meritage's training approach, Crouch notes, is a robust inflow of people new to the construction field altogether, because freshly minted entrants "don't bring the bad habits in" to a Meritage operational culture fixated on excellence and customer care up and down its food chain. To set up linkages to potential recruiting pools, Meritage partners with WayUp – an internship and recruitment platform serving a number of business sectors – and taps into college construction management programs at Arizona State University, University of Arizona, Texas A&M, Texas State, Clemson, Central Florida, and North Carolina A&T, at a regional and divisional level.
We're going direct to young people and working through these partners to showcase opportunities and discuss what a career in homebuilding might ultimately become," says Crouch.  "The Road to Construction is a way for us to teach the basics of the homebuilding process and get them excited about a career in something they may never have thought of while at school. There are many different career paths in homebuilding and the Road to Construction is a great way for these to be showcased.
The construction manager and superintendent team members – numbering 450 or so across Meritage's 300 actively selling communities – are at the fulcrum of one of the crucial ways the company plans to executive on closing its entire backlog and driving new orders, completions, and closings through the cycle, Crouch notes.
We have a rule given that our customer never ever complains that we're communicating with them too often," he says. "So, we're shooting for contacting every one of our customer once a week, and that usually falls to both the construction manager and the sales team member together for those updates. That's been a core part of the Meritage culture forever, that superb customer service, and we're always having to raise awareness across our team and among our customers that this is what we do."
Once the initial cohort of 200 or so construction management team members completes the Road to Construction Mastery, Crouch says there's more to come.
It's not rolled out yet, but for our high performers, we're working on a Next Step set of modules and field training in leadership, so that we can roadmap career advancement paths up and forward for our valued people," says Crouch.
What better cause for optimism and confidence – despite the known challenges – that homebuilders will stand apart from one another in how they build capability out of cultures of career and life-long learning.
Join the conversation
MORE IN Leadership
Although most builders' well-engineered "shock absorber" – hefty gross margins – has undergone moderate stress in the past six or seven months to keep selling pace up, that shock absorber's got its work still cut out for it in the stretch ahead.
To hear Tom Mitchell, a few more new Tri Pointe divisions – organic and or via acquisition – may follow closely on the heels of the Utah expansion. One of them sounds imminent: Orlando and/or Tampa-St. Pete, FL.
In a bid for a competitive share of the higher-end of the Salt Lake City, Provo-Orem, Ogden, Draper, and Saint George new residential explosion, Tri Pointe taps a Utah native son to lead the charge.
MORE IN Leadership
Although most builders' well-engineered "shock absorber" – hefty gross margins – has undergone moderate stress in the past six or seven months to keep selling pace up, that shock absorber's got its work still cut out for it in the stretch ahead.
To hear Tom Mitchell, a few more new Tri Pointe divisions – organic and or via acquisition – may follow closely on the heels of the Utah expansion. One of them sounds imminent: Orlando and/or Tampa-St. Pete, FL.
In a bid for a competitive share of the higher-end of the Salt Lake City, Provo-Orem, Ogden, Draper, and Saint George new residential explosion, Tri Pointe taps a Utah native son to lead the charge.