Together with
Land
Lennar Mini M&A Spree Continues With Buy Of Columbia, S.C. Firm
The purchase of Executive Construction Homes reflects how secondary, and tertiary markets — getting a pandemic era economic lift — have spiked as prime targets for opportunity as land and building capability blend with technologies, and nimbler operational and selling processes.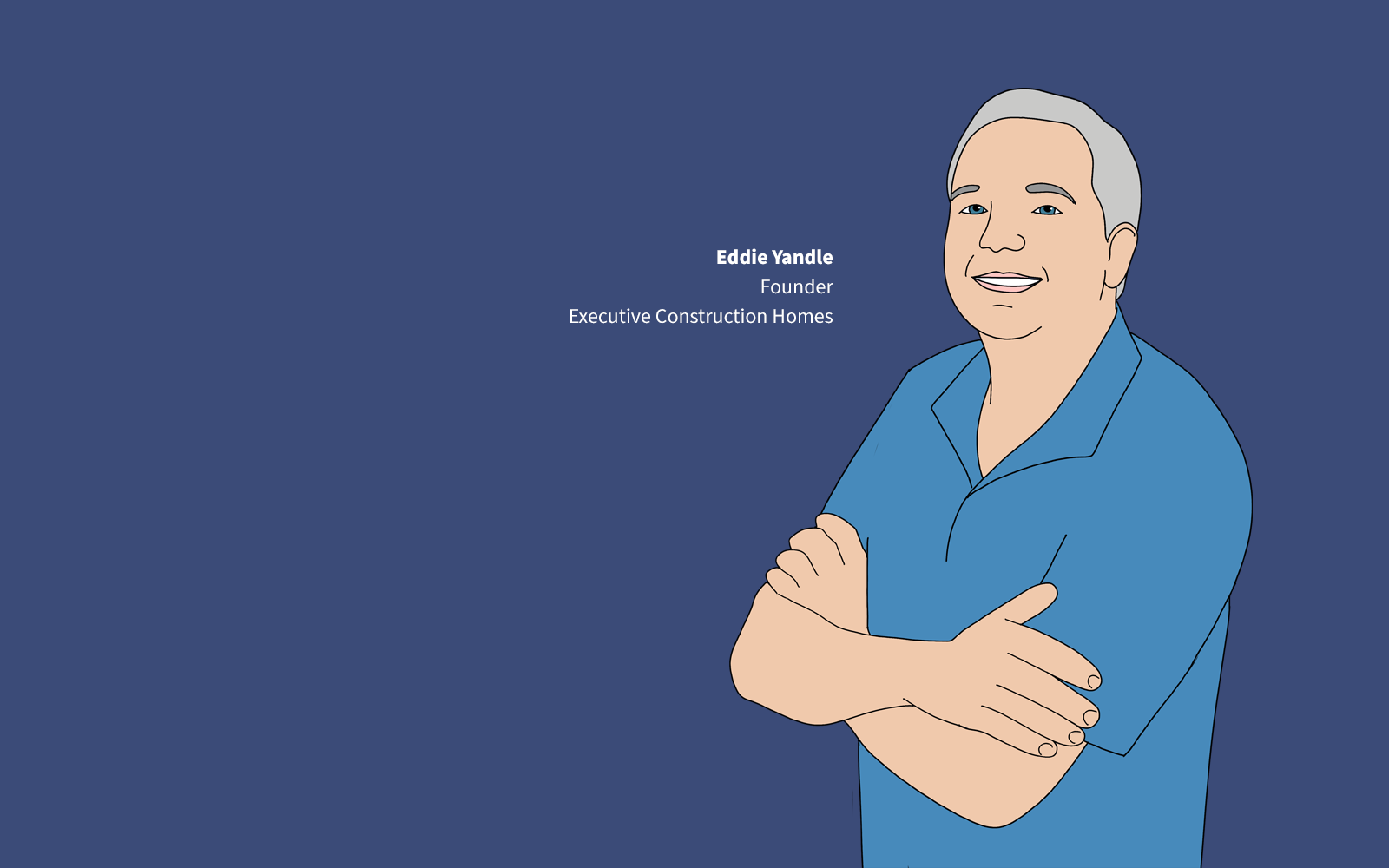 Lennar agrees to purchase Executive Construction Homes, a local operator currently selling homes in eight communities to the north and northeast of Columbia, S.C., a crossroads capital city roughly equidistant from Charlotte and Fayetteville, NC, Charleston and Myrtle Beach, SC, and Augusta, GA.
First-blush reaction to a deal of this nature and financial scope may be, "so what!"
When the nation's 2nd most prolific, national public homebuilder buys a single-market, roughly 111-home-, $41 million-a-year, 33-year old homebuilding firm whose '22 closings figure to add up to less than one-quarter-of-one-percent of the 68,000 homes the enterprise expects to settle by the end of 2022, there'd better be factors in the transaction that make it well more than meets the eye to merit attention.
This one is exactly that. For it speaks to several seismic business shifts – not all of them sudden, but all suddenly converging. Together, those shifts will likely dramatically resculpt homebuilding's landscape in the next 24- to 36-months for the balance of the 2020s.
The common denominator in those shifts is, of course, land and the delta of value that it can generate, and at what cost. The numerators include an array of factors – locality, operational capability and product, timing,
It's not only noteworthy in a volatile, shifting, could-go-either-way market backdrop, reflecting a recent step-change intensification of ten or so recurring buyer-seller motivators that have propelled mergers and acquisitions throughout the entire post-Great Recession housing recovery period.
But also, what's emerged in a business environment of high inflation, interest rate creep, geopolitical risk, is a new – or at least, freshly energized – driver of urgency around M&A discussions: Ongoing building materials and products supply chokeholds and the way they disproportionately impact smaller operators versus larger, more-scaled organizations.
First, let's look at some simple facts of the transaction, and then see how they provide a sneak preview of the playbooks of both the largest public homebuilding enterprises, and the hundreds of private homebuilders doing 100-or-so homes and $50 million or so in annual revenues.
TBD Editor's note: We reached out to Executive Construction Homes owner-founder Eddie Yandle, and did not hear back from him at press time. We did speak with JTW Advisors ceo and managing partner Chris Jasinski for broad perspective on M&A motivators and trends in the current business context.
The News, per a statement
Lennar, the nation's second largest home builder with more than 59,000 homes built annually, will expand its portfolio into the Columbia, S.C. market with the purchase of Executive Construction Homes' WIP, finished lots, and land pipeline totaling more than 3,300 lots.
'We are proud of our firm's involvement in this deal between Executive and Lennar,' said Chris Jasinski, CEO & managing partner of JTW Advisors. 'As the Southeast region continues to be a hot market for new development borne out of relocation trends, this deal speaks to the vision that leaders at both companies have to capitalize on growth opportunities and align their strengths to bring new homes to the growing Columbia market.'"
For Eddie Yandle, owner and founder of Executive Construction Homes, the Lennar transaction marks the next step in the evolution of the company he launched in 1989. Eddie and his family will remain involved in the business and will continue selling finished lots to Lennar through their related-party land development companies. Dawson Yandle, Eddie's son, was instrumental in assembling the 3,300-lot pipeline and serves as CEO of the Yandle's land development company.
"As a rapidly growing company that is passionate about the communities we serve, we are excited to further expand our presence and continue building the high-quality homes we're known for under the Lennar banner," said Yandle. "Lennar is one of the biggest, most trusted names in the industry and we have always had immense respect and admiration for their work. We are proud to now be a part of their team and have the addition of their resources to meet the growing demands of home buyers coming to our area.'"
Geo Specific M&A
Whether M&A deals happen in this next stretch of the housing cycle, or they fall apart, JTW Advisors' Jasinski notes, "is deal specific." Migration patterns as they've begun to define themselves and continue to play out will start to widen a gap between broad national supply and demand, and specific metro, market, and submarket supply and demand, he says.  This is what makes Columbia, S.C. – which grew to about $1 billion in homebuilding sales revenue, and expanded by about $200 million in the past 24 months – a hot market now.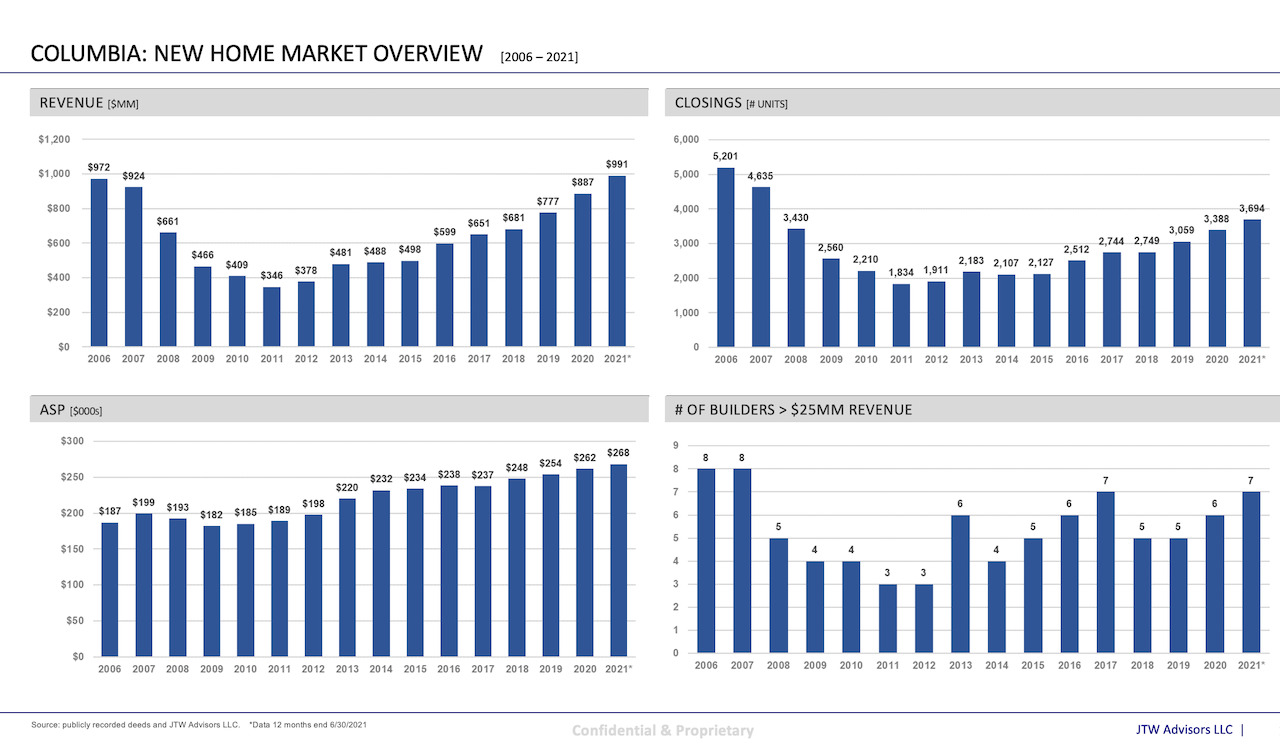 JTW also advised Breland Homes on its sale to Lennar in the Huntsville, Ala. and Pensacola, Fla. markets. The Executive Construction Homes deal also marks JTW's second transaction in the Columbia, S.C. market. In 2020, JTW advised Essex Homes in their sale to Stanley Martin Homes (a division of Japanese-based Daiwa House Group).
Unpacking the deal: What it Means to builders
Broadly, homebuilder M&A transactions are said to be going on at a faster clip and a heightened urgency. Similar to trends in home sales themselves, those who are earnest on both the buyer and the seller sides of the equation view intensifying volatility, higher risk, and greater rewards as catalysts for action.
At face value, Lennar – in a fashion similar to its Q4 2021 acquisition of Carolina Coastal operator Realstar, and more recently, the Q1 purchase of Gulf Coast Alabama and Florida operator Breland Homes – is carrying out the "orderly targeted growth" Lennar executive chairman Stuart Miller referred to in commentary during the company's recent Q1 2022 earnings call.
As we noted in our account of the Breland acquisition:
Lennar's move into Alabama runs consistent with a game plan that reflects opportunism and a tried-and-tested market expansion model that's proven to be a success since COVID-19 began in Spring 2020 to alter migration trends, hybrid workplace requirements, second home demand, generational housing preferences, and an overall embrace of healthier, safer, more durable new homes.
With the Breland Homes acquisition, Lennar instantly adds incremental profitable volume in the North Alabama and Gulf Coast markets – previously considered secondary and tertiary markets whose permit counts might not support full divisional focus – that have experienced outsized, pandemic-resilient growth.
In the case of the Executive Construction Homes purchase, similarity with the Breland deal go one step further. In each of those two cases, sellers get to gain a financial windfall and a rampway of operational continuity in the vertical construction entity, and, at the same time, get a capital adrenaline infusion and a sustaining customer for ongoing land acquisition and development work going on separate from homebuilding operations.
Nested in this pivot are two of the seismic shifts playing out in homebuilding's landscape.
Lennar – as is the case with every public homebuilder save for asset-light NVR and Dreamfinders Homes – is positioning to ignite a stronger valuation by rotating toward an asset-lighter model – meaning that advantaged local market access to lots without putting them on the balance sheet aligns with Lennar's pure-play vs. SpinCo plan.
Executive Construction Homes – an increasingly typical and growing challenge for privately-held local homebuilding operators is a clout and heft issue with respect to building materials suppliers, manufacturers, and construction trades. As those challenges intensify, so does risk related to capital borrowed for acquisition, development & construction. The Lennar deal both relieves the pressure of that debt and taps into an expansive flexing of corporate muscle to secure the best possible supply chain solutions through to the end of the shock and stress period.
In Q1 earnings commentary, Lennar co-ceo Jon Jaffe addressed this particular issue:
If you sit down with CEOs and key executives of manufacturers, distributors for 4 to 6 hours, really opening up the thought process, how do we have a different approach to the products we buy, to the way that they're distributed, to joining together manufacturers and distributors to think through from the origin of the supply chain, all the way to the installation of our home. You're going to come up with a lot of interesting thoughts and ideas.
And we're in the process right now of really vetting those, we'll be beta testing them and are very confident that we already see opportunities for significant improvement. And as I mentioned, it's going to give us better cost control for both us and for our trade partners and give us much more clarity as to the delivery process. And it begins a lot with our technology and our ability to give forecasting information with real clarity to our vendors, which is critically important for them as they plan how to strategically supply us.

In the same Q1 earnings transcript, Rick Beckwit, co-ceo with Jon Jaffe, carried the point across in terms of how local dominance – at both the land and the construction supply channel – begins to turn the screws even tighter, pressuring local private builders even further with a shrinking local market position.
There's no question we continue to gain market share on the private builders and many of the larger or mid-market public builders. This is going to continue to happen. A lot of this is driven by really access to land. Because when we have 20% to 40% market shares, the land market needs to work with us. So those land relationships are driving a lot of the gain. And then just the efficiency of our product, our Everything's Included program allows us to work much more efficiently with the supply chain and as a result of that, we're capturing more product.
All in, both the better, more strategic, and more disciplined buyers, and the better, more operationally-sound, and more capable on the land access, entitlement, and development front a seller is, the riper the M&A market is.
JTW Advisor's Jasinski observes that a deep and wide potential pool of buyers remains relatively undeterred to achieve their acquisition goals, even as uncertainties send shivers of risk into parts of the economy and business outlook.
Strategic public homebuilding companies have growth targets to meet
Foreign investment and strategic buyer interests include Asian, Canadian, and even, of late, European, and Middle Eastern entities
Too, Clayton Homes, the nation's No. 1 manufactured homebuilder, continues to build its portfolio of site built operators.
A few "roll-up" regional players are actively working to add to their portfolios
An emerging buyer includes, specifically, build to rent operators looking to acquire local and regional homebuilding operators
You're seeing a period of heightened transaction activity, and now changing conditions mean that activity means more deals will be harvested," says Jasinski. "The windows of opportunity to sell don't exist – especially the ones open now – at every part of a housing cycle. So, for sellers – as for buyers, who are mostly angling for land where it's constrained in a concentrated number of mostly Smile States markets – timing matters."
Going forward, pressures – to grow and deliver completed homes on the strategic acquirers side, and to buffer increasing supply chain chokehold risk and potentially become longer term land providers on the sellers side – are building fast.
Join the conversation
MORE IN Land
In a one-to-one conversation with The Builder's Daily, New Home Company president and CEO Matthew Zaist discusses the deal to acquire Katy, TX-based Hamilton Thomas Homes, and the roadmap beyond.
A look at how the next generation of housing needs to look different and the way we think about zoning can help with that shift.
Mix shift or not, land and residential building lots are not only the homebuilding and development's precious resource "they're not making any more of," but also the very one 30,000 U.S. localities happen to make a common practice of making less of.
MORE IN Land
In a one-to-one conversation with The Builder's Daily, New Home Company president and CEO Matthew Zaist discusses the deal to acquire Katy, TX-based Hamilton Thomas Homes, and the roadmap beyond.
A look at how the next generation of housing needs to look different and the way we think about zoning can help with that shift.
Mix shift or not, land and residential building lots are not only the homebuilding and development's precious resource "they're not making any more of," but also the very one 30,000 U.S. localities happen to make a common practice of making less of.