Land
Homebuilding's '20 Scorecard Shows Heat In These Hotspots
Broad sweep of Census divisions highlights macro migration magnets, spotlighting natural appeal, affordability, and tech augmented job center mobility.
Job centers, a timeless, defining real estate investment, business, planning, and construction construct, are wholly in play over the next several years, thanks to a convergence of human instinct for health-connection-and-peace-of-mind, macro and micro-economic drivers, and tech-augmentation.
Double-digit growth, or better, in five of the nation's nine Census regions netted homebuilding's best year-on-year performance since the negative-to-positive swing coming out of The Great Recession.
The nation's most active new-home construction region by a long-shot, featuring red-hot, relatively more attainable, home-building-as-essential-economic-activity-friendly dynamics in the Carolinas, Florida, and Georgia as production leaders for a breakout year that grossed a 12% national increase in single-family starts, versus calendar 2019.
Here, per National Association of Home Builders director of forecasting and analysis Jing Fu's quick-dive on recently-released U.S. Census Survey of Construction data, are the nine Census regions with each of their S-F-starts tallies for 2020 in order of absolute unit counts.
South Atlantic – 329,422 units
West South Central – 181,079 units
Mountain – 141,309 units
Pacific – 101,999 units
East North Central – 84,095 units
West North Central – 48,545 units
East South Central – 46,867 units
Middle Atlantic – 32,538 units
New England – 27,781 units
Jing Fu makes note of the extent to which the top-three performing Census Regions impacted the step-change year-on-year spike in starts growth.
These three divisions represent 20 states and Washington, D.C., approximately 41% of United States, while the number of new single-family housing starts in these three divisions accounted for about 66% of the total new single-family housing starts in 2020.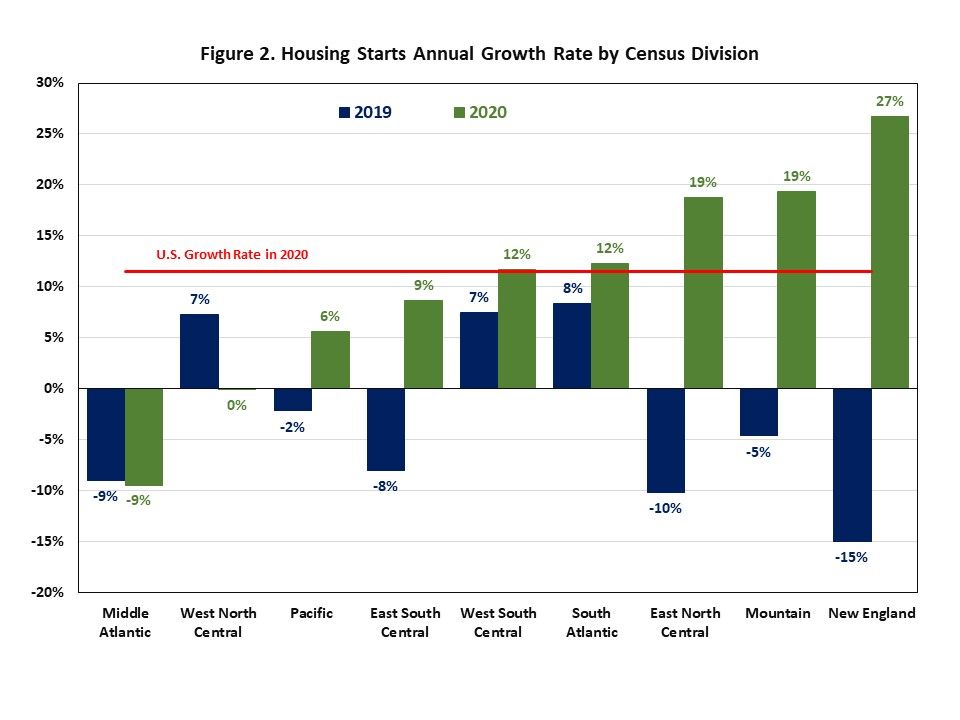 It's no secret that these three divisions reflect the broad sweep of forces that kicked into gear in the early-pandemic months – spurred by health concerns, biological clocks ticking millennials into family formation moves, technological advance enabling work from anywhere, and the sling-shot of generation-low interest rates as accelerants.
Characteristics of the markets that sizzled as other geographical hubs
These geographical macro areas contain the tertiary markets that have become the new secondary markets, and the secondary markets that have leapfrogged into primary futures markets for land acquisition and community development planners and investors.
Join the conversation