Together with
Technology
Even As Costs Bear Down On Buyers, Builders Can Spur Demand
Here's how Builders FirstSource's evolving Paradigm Omni platform venture with Pacific Northwest-based Hayden Homes points to removal of one of the building lifecycle's costliest resources: Time.
The path from simple to complex is mystifying in its predictability. Eat, sleep, play, work, relax, enjoy, raise families, flourish, age – simple to get our brains around – instantly become complicated in the sum package called life.
A place with bedrooms, bathrooms, kitchen, living area, connections to livelihood and community starts out simple, almost infinitely repeatable. Add this little four-letter word home, and that rudimentary array of rooms assembled in some geometric combination under a roof becomes one of commerce and culture's defiantly unsolvable, nuanced forms of value.
Unpacking that a bit further, to the design and construction of those sheltered rooms that make up our "machine for living in", the same truism goes.
The recipe's raw ingredients are constants.
time
money
space [in square and cubic footage]
human effort
materials
If you don't have all five, you can't do homes or communities. If you have all five, you can. Commonalities end there, as we're painfully aware. The stupefying labyrinth of sourcing and sorting, combining and designing, engineering and assembling from plain old molecular-level somethings to something elses altogether. Difficulty in keeping things simple rather than to allow them to blow up into mind-bogglingly complicated blends of the five core recipe ingredients has never ended as a challenge. Probably never will.
As we see too often, tries at containing or reducing one or more of those five essentials result in causing the others to expand, inflate – cost more.
As we recognize too rarely, it is a capacity to pay more – not among everybody, but among enough people and households – that correlates most directly with cost curves bending upward rather than downward among the five core resource inputs that it takes to make homes and communities.
That capacity to pay higher prices – via mortgage rates anchored at artificially low levels to stimulate activity, logarithmic home equity wealth growth during the past two plus years, and some gains among the homebuyer set in income and other financial assets – may now be hitting an economy-wide tipping point. We're experiencing real-time ways that high prices will or won't cure high prices.
All the while, an underappreciated and maybe unrecognizable market factor in an economy rapidly resculpting itself from a time of gushing money supply to a period of more restricted, more costly stream of capital is the extent to which the goal posts of financial capability have moved – and importantly, will move off the current plateau – for households.
While those goal posts continue to move – interest rates going up, household wealth maybe not so much, financial assets taking a hit, and – all-importantly – employment and income growth showing signs of strain, an almost universally applied evidence-based measure of "health" in the housing business has kept a poker face. Absorptions per community per week – a pillar of business rate benchmarks – have held up through the thick and thin of pandemic era travails.
Now comes a reckoning. The full impact of moving the goalposts may take some time.
Will "normal" revert from late 2020 and 2021-era would-be bidders of 10 to 15 prospects for every new-home release to a pre-2020 level of one to three?
Hold that thought. Gyrations and dislocations set in motion by both household inflation and a step-change increase in mortgage interest rates create a wedge in what had been the would-be buyer universe fueling 10 to 15 bids on every available new home.
Remaining now are the would-be buyers undeterred and unswayed by higher rates and higher prices.
Gone, or going, are a newly minted cohort of consumers. These are households for whom dirt cheap mortgage interest rates served as a payment-power boost over the past couple of years. Now, they're the households in the cross-hairs of a cost-of-living crisis, apt to get stuck in the Catch-22 of paying too much rent to save enough for down payments, and earning too little to qualify at stiffened loan to income borrowing terms.
Colleague Frank Anton addressed two possible channels – right-sized floorplans and rationalized regulatory costs -- to re-open, at least slightly, access to households that interest rate increases and house price inflation are vacuuming out of housing's buyer pool.
It's going to take those two strategies – and more – to reignite what is potentially a material extinguishing of  homebuyer demand. Rather than settling back from unsustainably high demand to a normalized level of qualified buyer demand, housing cycles often overshoot that normalization level and sink to abnormal low points. Few experts say that's what they foresee.
Still, when the goalposts move and suddenly many folks who were doing okay financially and contemplating next steps in family formation are now battling to keep pace with cost of living fire drills, mini-emergencies, and a whack-a-mole of everyday life challenges, it can put a damper on the kind of collective motivation and urgency that has galvanized the new-home construction and real estate market since COVID.
This is where that raw recipe ingredient "time" – especially in light of the legacy impacts and spasms of dislocated supply chains, and an ongoing, worsening human skills force – probably never loomed as so crucial a spark to reignite more inclusive demand and restore a healthy normal to absorptions per community per week in the 12 to 36 months ahead.
It's in this context – where improvements in saving time, materials, human effort, and money can potentially make a difference in re-engaging more households battling a cost-of-living crisis now -- that we'll briefly spotlight the recently-announced pairing Builders FirstSource formalized with Pacific Northwest private homebuilding powerhouse Hayden Homes with its burgeoning digital construction technology platform Paradigm Omni. [Note: We wrote here in June 2021 about Builders FirstSource's $450 million acquisition of Paradigm].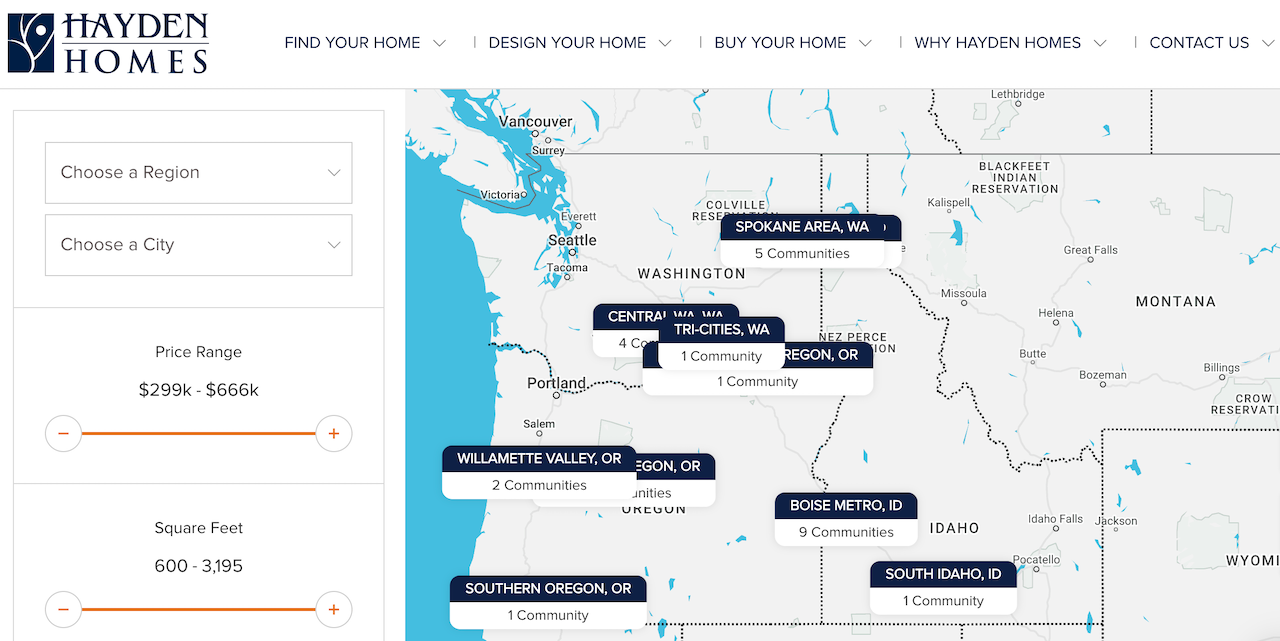 In commentary with investment analysts during Builders FirstSource's May 10th first-quarter earnings release and investor call, Dave Flitman, ceo, president, and director, announced the strategic deal with Hayden. The venture stands as illustration of Builders FirstSource's plan in 2022 to invest an additional half-billion dollars in accretive M&A, with a growing emphasis on technology solutions that can remove time, materials, and people resource costs from the start-to-completion building lifecycle.
Flitman notes:
During our fourth quarter earnings call, I highlighted the deployment of Paradigm Estimate, which we continue to roll out across our operations to provide faster and more accurate customer quotes. Year-to-date, we have completed 2,000 estimates on customer plans across 9 states, and that adoption will continue to accelerate. In addition, this process provides a foundation for our configurable visualization technology and improved design and construction efficiency for homebuilders.
Regarding our visualization technology, I'm pleased to announce that we have signed an agreement with Hayden Homes, a builder in the Pacific Northwest for the use of our Homebuilder Omni platform. With their plans of approximately 2,000 starts, Hayden Homes will become the largest builder currently using our digital solutions. We believe we are making the necessary investments to revolutionize our industry and that our digital strategy is on track to capture an incremental $1 billion growth opportunity by 2026.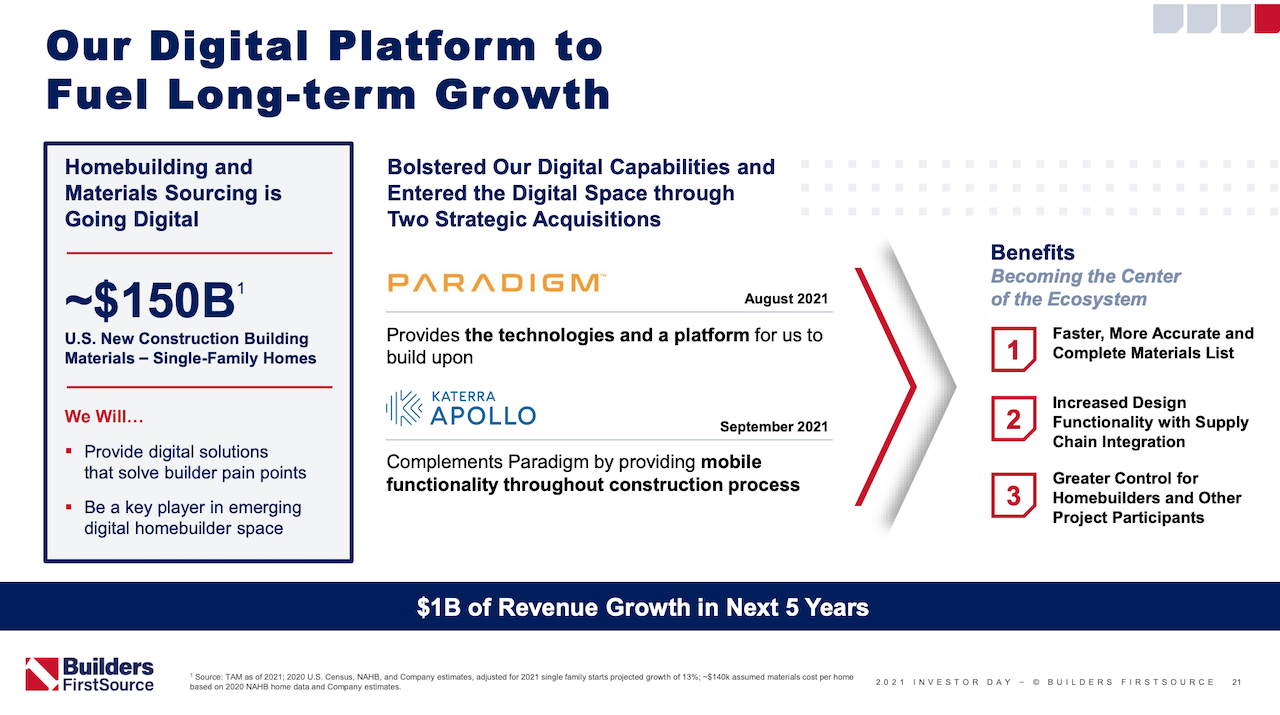 Flitman commented with further detail on the Hayden Homes venture in response to an analyst's question of how Builders FirstSource will ladder up to that $1 billion in growth against these new construction technologies by 2026.
We're excited about Hayden, and we're certainly excited about the work that we've got going on with our digital platform, and this is just great recognition of the work and the traction that we're getting in the market. Hayden is the largest customer so far that we've worked with on digital. They are the sixth customer that we have for Omni for homebuilders, but by far the largest at this point.
And it's a really cool story actually. Legacy Paradigm had been working with them a year to 18 months ago, and they kind of lost a little bit of traction until our acquisition of Paradigm last summer. And Hayden really realized that the ability to build out this platform and -- with the financial wherewithal that we have and the investment we were committed to making in advancing digital is really what brought them back to the table and allowed us to sign this agreement with them. They also were a legacy BFS customer already in Idaho. So we've got a longstanding relationship with them. And so it was good to see that materialize into the signing of that agreement for Omni. So we're excited about it.
To your second part of your question, we do expect things to ramp up. But as you recall, and we've said this the last couple of quarters and certainly in our Investor Day, this is a year where we're investing heavily in that platform to build out our capabilities for digital, in Omni and all the other pieces of the digital platform. And so as we would expect, we will see continued customer adoption of this through the course of this year and into next year. But that $1 billion of revenue is really back-end loaded, in the back half of that period of time and we said that from the beginning, only because of the digital ramp-up that we see coming over the next 3 or 4 years. So a lot of heavy lifting going on by the team.
Flitman drilled even deeper into the Hayden Homes deal in a conversation with Seeking Alpha capital markets analyst Josh Kincaid, not only peeling back the mechanics and use-case of Builders FirstSource relationship with Hayden and high-volume builders, but scoping back on the business sector opportunity construction has to get its digital technology house in order.
So they can take a two-dimensional design, and make it configurable to be able to visualize that and then estimate and price those products. Now what Paradigm did was very focused on millwork. So think about doors and windows. And what we've done is we saw a fantastic platform from which to build, to take that to the whole house design, right? They have to have a platform.
So right now we're putting a bunch of effort, headcount money into developing that platform. So I already spoke about our component manufacturing, and what we do around windows, millwork and doors. So if you think about what we do, we have 700 designers in our company that do the structural design of these homes that are being built all over the country.
So think about our ability to digitize that and just get more efficient in doing that design, getting those designs to our customers and ultimately estimating it. And then in the future, think about taking that same capability from just the structural design of the home to the entire design and visualization of the home. So then our customers can sit in front of their customer, the home buyer, and make design changes real time, have it reconfigure what that looks like, but importantly, also re-estimate what that cost is going to mean to the consumer going forward.
So we think there's a large platform for growth here. In the future we think we're on the leading edge of that for our industry. We looked at some data before we made that Paradigm acquisition, and there aren't many industries that are currently less digitized than homebuilding. In fact, the one I can point to that's less digitized is agriculture and farming. So we're pretty low on the totem pole in terms of digitization. And given our strength and platform, we thought becoming the industry leader around digital was something that that could be important for our customers going forward.
Given Builders FirstSource's enormous operating footprint and book of relationships business in the materials and building technology capability channel, it may be fair to look at both the investment commitment and approach as a proxy for the window of expectations for homebuilding's long-delayed pivot to digital, industrial, and modern manufacturing capability.
That is, stage one fully in process within four years.
But that won't come without first enduring mid-2022 turbulence for 12 to 36 months, nor without taking one more good relook at those five recipe ingredients and zeroing in on the one that can exert resource-optimization across all of the other four: Time.
As a parting notion, a reminder. Innovation is as often about removal, subtraction, getting rid of, as it is about adding bells, whistles, and value-add capabilities. Time is one of construction technology's most fertile opportunity areas. It's frictions drag value, and inflate costs. Building tech progress, then, is about removing time from the equation which can positively impact other resource sucks.
There is nothing inherently wrong with adding. But if it becomes a business's default path to improvement, that business may be failing to consider a whole class of other opportunities. In one study of organizational change, for example, we found that when stakeholders suggested hundreds of ways to improve an organization, fewer than 10% of those improvements involved taking something away. Across a series of follow-up experiments, we demonstrated that people systematically overlook subtractive changes.
But subtraction has untapped potential. With subtraction in mind, the designer might rid the app of unnecessary features, the manager might remove barriers.
Although the path from the simple to the insanely complex may have been inevitable, the route back from overly complicated to more simple is a challenge we sense homebuilders and their partners are well suited to overcome.
Four more years, for starters.
Join the conversation
MORE IN Technology
Capability in the form of an end-to-end build-cycle-as-a-service can offset at least some of the difference between having a free pass and not.
With so many combination deals under discussion, consideration, or moving toward finalization, a challenge in an era that leaves little-to-no margin for error when it comes gaining accretive value is in good implementation and integration.
Operators' best weapon to offset the risk of the two nemeses is running a business that's as light and agile on borrowed capital as possible, and as efficient and competent at deploying that upfront capital in the right places at the right moment.
MORE IN Technology
Capability in the form of an end-to-end build-cycle-as-a-service can offset at least some of the difference between having a free pass and not.
With so many combination deals under discussion, consideration, or moving toward finalization, a challenge in an era that leaves little-to-no margin for error when it comes gaining accretive value is in good implementation and integration.
Operators' best weapon to offset the risk of the two nemeses is running a business that's as light and agile on borrowed capital as possible, and as efficient and competent at deploying that upfront capital in the right places at the right moment.