Together with
Marketing & Sales
Data Says It: A New Homebuyer Behavior Pivot Has Happened
Households searching online for new homes declined, year-on-year, for the first time in 52 weeks. Panic time? No. Time to shift from order-taking to high-level customer focus and care? You decide.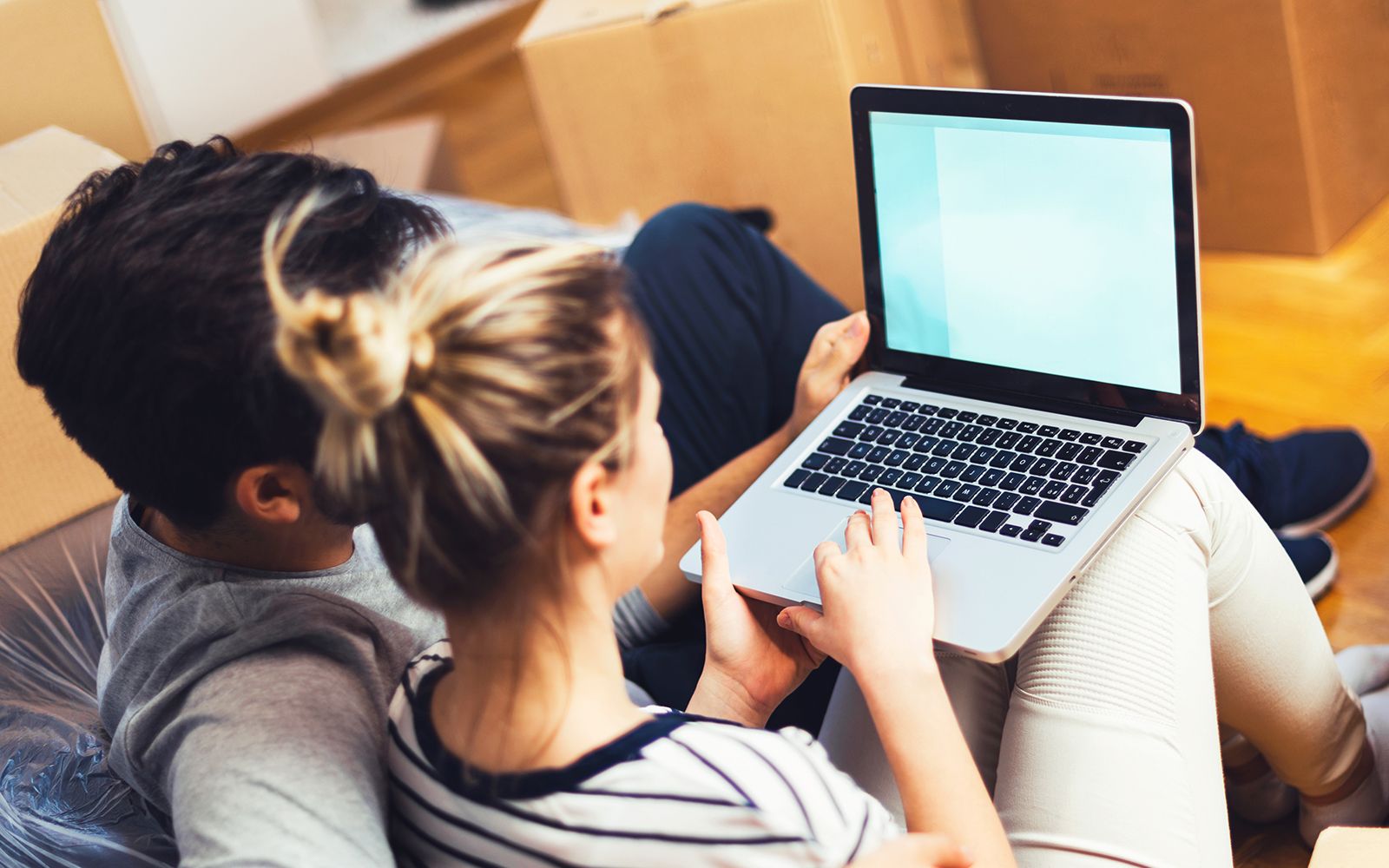 It took 52 weeks, but what was predictable happened.
New homebuyer behavior changed. It does that.
For 52-plus weeks, everything homebuilders did – and they did extraordinary things to make the buying process fuss-free, less unwieldy, safe, appointment-driven, seamless, speedy, and digital – worked.
Now, homebuilders face a new challenge: What specifically really worked? What will work?
Maybe start with a reframing. Forget homebuyers. Instead focus on her, him, them, the couple, the single household traversing that tough path from where they are to a new home.
More than 10 years now of suppressed homebuilding production capacity – where demand for new homes has more or less constantly exceeded the number builders were able to develop and build -- may well have dulled the senses, numbed many to the reality, and, in some cases, just not offered some younger associates time-tested experience of how downturns work.
When new homebuyer behavior shifts, a lot of homebuilding company associates' job descriptions change. It can happen almost overnight.
They were "order takers."
Now, they're selling as if their livelihoods depend on it.
Earlier this week, Rose Quint, National Association of Home Builders assistant vp for survey research, brought evidence to light here that spotlights – if you will – an inflection. Quint writes: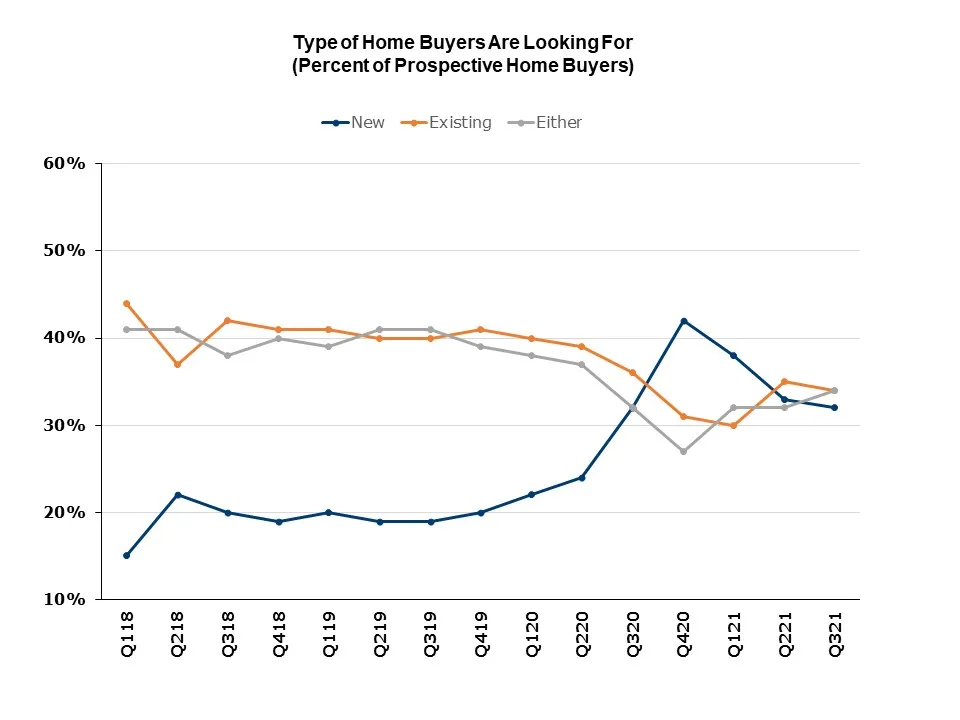 In the first quarter of 2018, only 15% of prospective buyers were looking for a newly built home.  The onset of COVID-19 propelled that share up to 42% by the final quarter of 2020, but strong gains in new home prices have driven it down for the last three quarters, reaching 32% in the third quarter of 2021. Meanwhile, the share who is ambivalent between new or existing construction has gone from 27% to 34% during this period.  These results come from NAHB's latest Housing Trends Report.
As Quint's NAHB data shows, an inversion occurred between Q1 2021 and Q2 of this year, as respondents on the hunt for a new home dipped below those whose preference is for an existing home.
A second flash of evidence new homebuyer behavior has hit a tipping point came through from Jay McKenzie, senior director at Builders Digital Experience - BDX.
BDX – through its real-time tracking of consumer search and engagement behavior across a portfolio of the nation's largest homebuilding enterprise websites – was among the bellwether signals, in mid- to late-Spring 2020, of a seismic demand surge as part of American households' response to the COVID-19 pandemic.
Now that signal has begun to flash a warning. As McKenzie writes: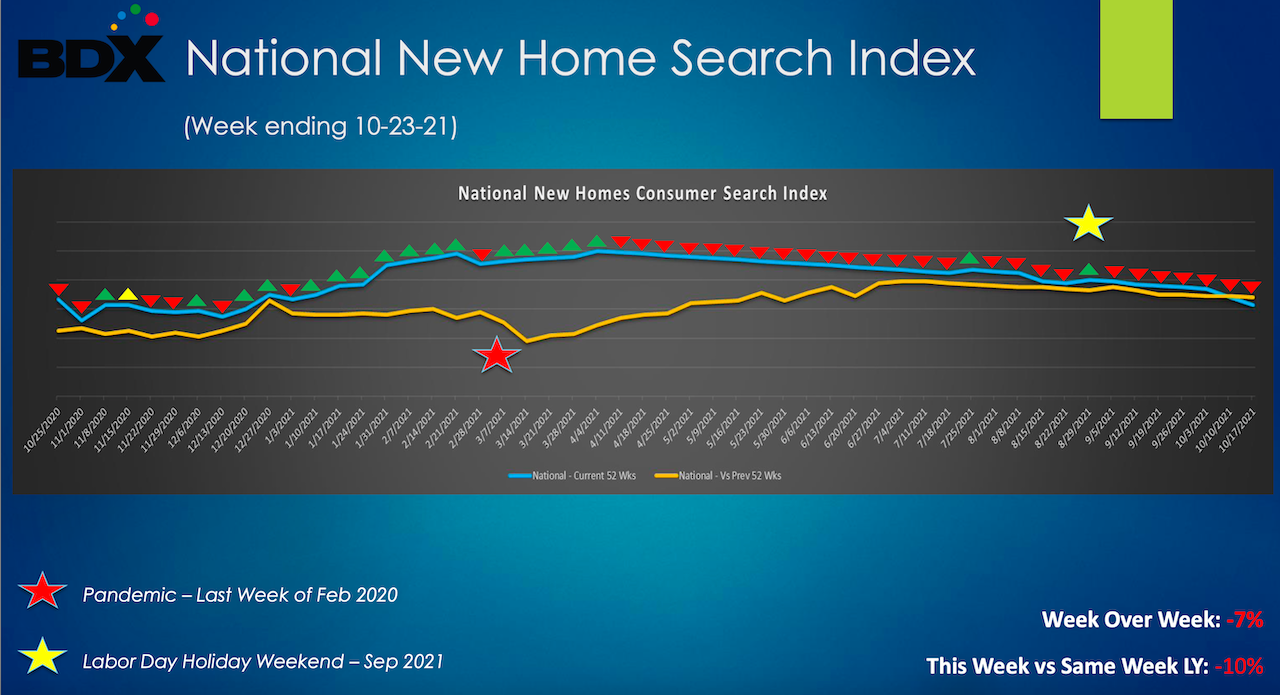 10% fewer consumers searched for a new home online the week ending 10-23-21 vs. comparable week last year.
7% fewer searched for a new home [sequentially] week on week.
First time in 52 weeks the volume of search online has been down year on year.
This, by the way, is not a call for panic, nor is it an overstatement of what the actual data shows. Clearly, new home search hasn't cratered – in fact, it's still elevated.
Further, underlying conditions – namely, solid demographic household formations, a still-recovering economy and signals of wage-power, and an indisputable affirmation among households in an intrinsic value of new homes – continue to be supportive.
It's the crutch of dirt-cheap interest rates and the crunch of input cost inflation that have begun to weigh, respectively, on prospective homebuyers' and homebuilders' pursestrings – and, consequently, their behavior.
When homebuyer behavior shifts, what does that mean?
As I note above, it changes job descriptions because leverage points shift.
Here, Seth "nobody-says-it-better" Godin talks about that precise point of leverage here:
[A] business will probably be most transformed by creating sell-through and market demand for their new product, But it's overwhelmingly urgent to focus on a shipment that's delayed, even though the supply chain can't be fixed.
It goes on and on. For a job search, fixing your resume isn't nearly as important as shipping a personal project. For a restaurant, creating a reason to come back with friends is more important than getting all the normal things right…
We can't fix this problem until we see it, and then we need to be clear with ourselves and with our colleagues about where that leverage point is.
Homebuilders and developers still have leverage – shelter is a need, a new home comes full of intrinsic locational, engineering, and livability value, and one homebuilder vs. another can engage someone(s) in their buyer's journey and make it a emotionally elevating experience. That's in the DNA and the skillset of many homebuilding firms, large and small.
So, it's a wonder – especially given an evidence-based tipping point in consumer buying behavior in the new home business landscape – that more builders have not begun to shift gears themselves, from order-taking to relationship-building and selling.
It's stunning, especially given that new survey research suggests that simply following up, fast, personally, and with a call-to-action can increase inquiry-to-conversion rates by 391%, that more builders don't do it – follow up – at all.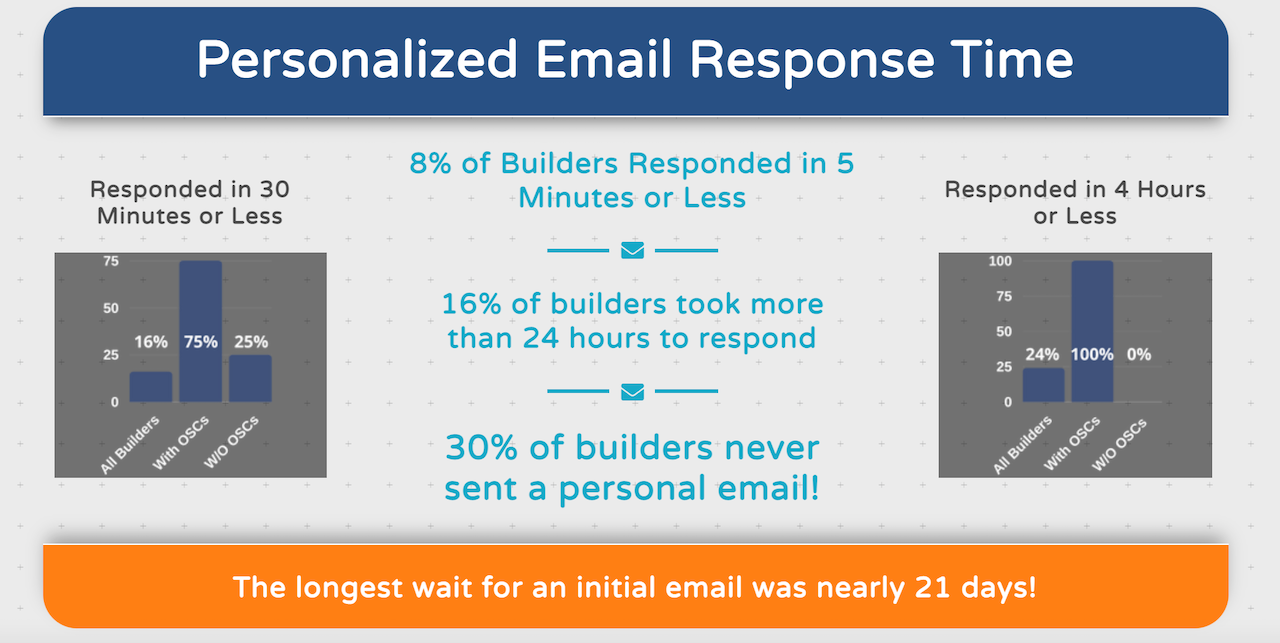 It seems like as an industry, follow up is a little lax," says Carol Morgan, president of Denim Marketing, which teamed up with Melinda Brody & Company and Blue Gypsy Inc. on a second annual Online Homebuyer Mystery Shop Report, with insight into homebuilder sales process communication and practices. "We need to button this up as we look to the future and work to build up the customer experience."
Here's what's likely.
Builders, because they're problem solvers, will ultimately navigate their way through supply chain shocks, and arrive at a modified start-to-completion schedule based on their ability to patch together a resource-flow.
They'll continue to test price tolerance levels of an economically-modeled buyer universe, even as interest rates ladder up.
Their challenge will be, not to out-produce, but to outsell – as inventories track upward, competitors – including resale bring more to the market.
The fact that corporate private equity and build-to-rent community developers have become full retail price buyers of many builders' entry-level offerings should not blur recognition that the days of order-taking are numbered. The days of selling, not to homebuyers, but to a prospective buyer who's going to have options – including waiting – are here.
Join the conversation