Marketing & Sales
As Wage Vs. Price Wedge Widens, Interest Rates Matter More
The pace of price increases is faster than wage growth in many places, exposing a fault line defined by historically low interest rates to narrow the gap to attainability.
Median sales prices of resale homes hit $350,000 in May; and for new-homes the median sales price clocked in at $374,000.
The gap – separating the within-reach level households can afford to pay and the priced-out level that makes them a non-participant – has become a wedge.
One in four would-be buyers – who would have been in homebuilders target pool a a year ago – now stands on new residential construction's sidelines, hunting instead for an existing home diamond in the rough.
The two questions of the moment are these.
Can anybody build and offer a $150,000 new-home in today's market (the answer is yes, and that builder gets immediate access to 22% of an active market of house hunters right now)?
The other, of course, is the question of whether sky-rocketed high prices will now become their own antidote?
Here, CoreLogic chief economist Selma Hepp comments on how prices may be testing the limits of their tolerance, noting that the only thing standing between today's sizzling market and risk of a downturn is historically dirt cheap mortgage rates suppressing monthly payments.
It is important to note that housing remains substantially more affordable than 15 years ago. The reason is that while home price levels relative to household incomes are similar to 2006 levels, current mortgage interest rates are more than 50% lower, resulting in notably lower ratios of mortgage payments to monthly household income, and to monthly rent payments, compared to today. Importantly, the resultant risk of home price declines over the next 12 months is also much lower today.
Fed watchers are starting to get jittery about the sustainability of those dirt cheap 30-year mortgage rates, as calls to tamp down an overheating economy grow more persuasive. Here, The Economist fires a salvo across the bough of monthly payment power as we know it, asking "Does America's hot housing market still need propping up?"
Meanwhile, although wage-and-income leverage is said to be migrating in the direction of earners, a household income gain here and there isn't keeping pace with galloping home prices in more and more metros, according to this piece from ATTOM Data analyst Christine Stricker.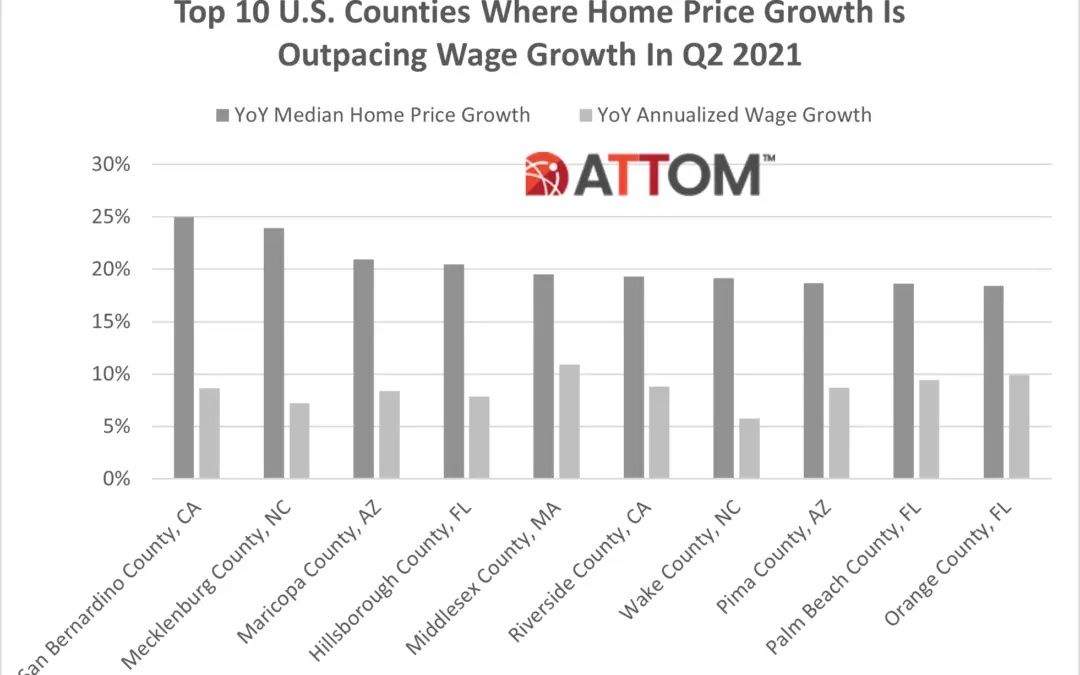 According to ATTOM's Q2 2021 home affordability report, home-price appreciation is outpacing annualized wage growth in 72 percent of the U.S. counties analyzed, with the largest including Los Angeles County, CA; Harris County (Houston), TX; Maricopa County (Phoenix), AZ; San Diego County, CA, and Orange County, CA (outside Los Angeles).
The report notes that the average annualized wage growth is outpacing home-price appreciation in Q2 2021 in just 28 percent of the U.S. counties included in the analysis, including Cook County (Chicago), IL; Kings County (Brooklyn), NY; Bexar County (San Antonio), TX; Santa Clara County (San Jose), CA, and Wayne County (Detroit), MI.
Monthly payment power has been the secret weapon of the entry-level and lower-price-tier of the housing market for five years now, and this potent ingredient fuels most price-and-pacing models among builders for years to come.
This is why all eyes are glued on how the Federal Reserve acts with respect to the "transitory nature" of inflation, and how that may directly impact one of homebuilders critical points of leverage in meeting structural demand.
Join the conversation