Together with
Technology
A Pathway To Affordable, Zero Carbon Emissions Homes by '30
A year-long evidence-gathering process under Wells Fargo's Innovation Incubator (IN2) and the U.S. Department of Energy's National Renewable Energy Lab worked with Blokable on a pro-forma to balance affordability and carbon neutrality.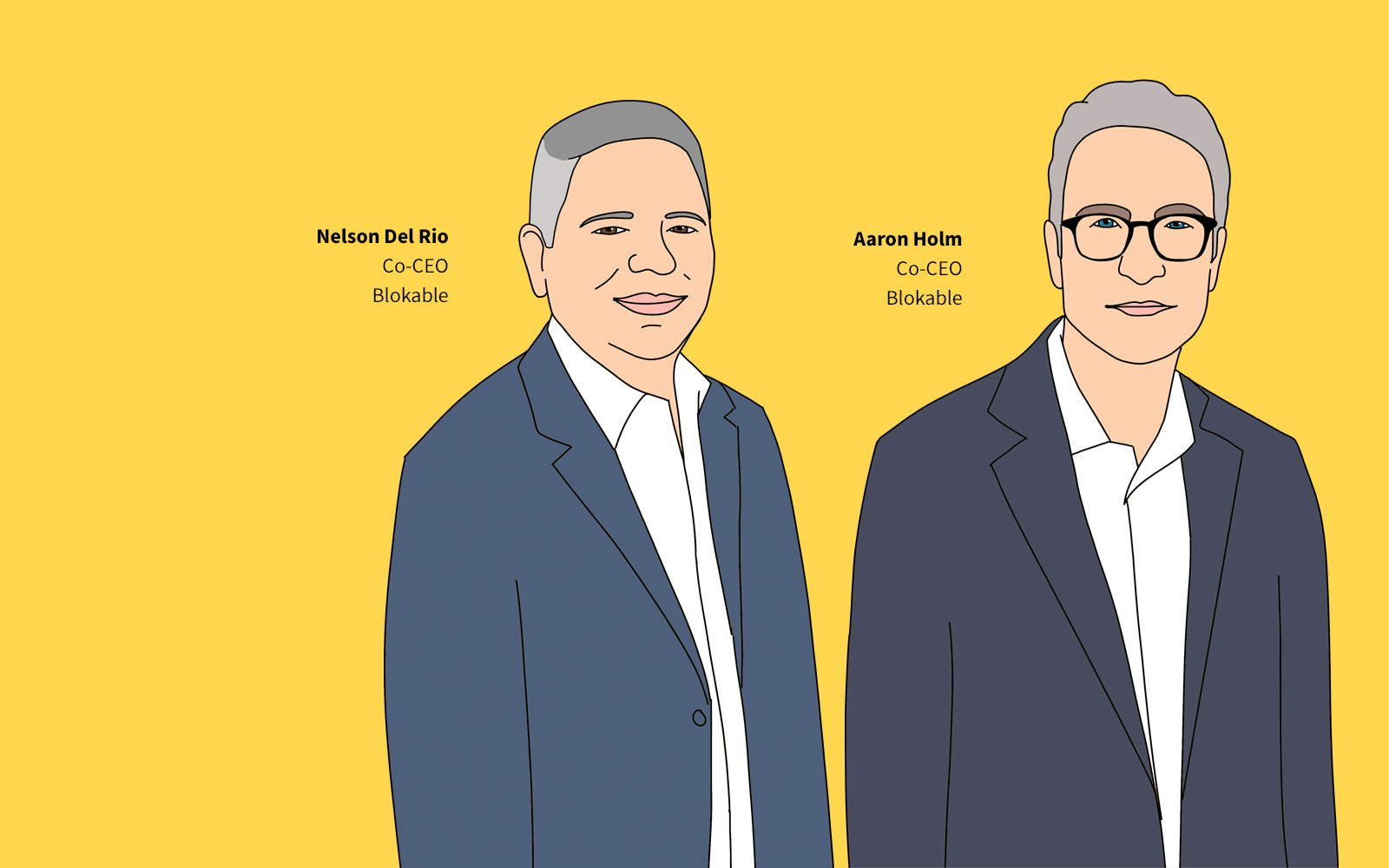 What would happen if a room full of U.S. business leaders in residential real estate and construction and investment were greeted with these five words?
Affordable, zero carbon emissions ... housing
At a moment like that, institutional knowledge, strategic success, strong work ethic, deep experience, trusted relationships networks, shareholder stewardship, valued consumer offerings, and canny economic trends analysis – in other words, all that makes housing's private sector players thrive in today's markets – would be standing at the banks of the Rubicon.
These five words – for many of those in the room – may set off alarms, or, more likely result in crickets. Self-contradiction, mutual exclusion, double-negatives not adding up to a positive, an already-settled and resolved issue – and at the end of the day -- a non-starter business model discussion for a going-concern real estate and construction firm whose simple purpose is to make money, produce homes for people, and develop dirt into American neighborhoods.
Here's how that might look: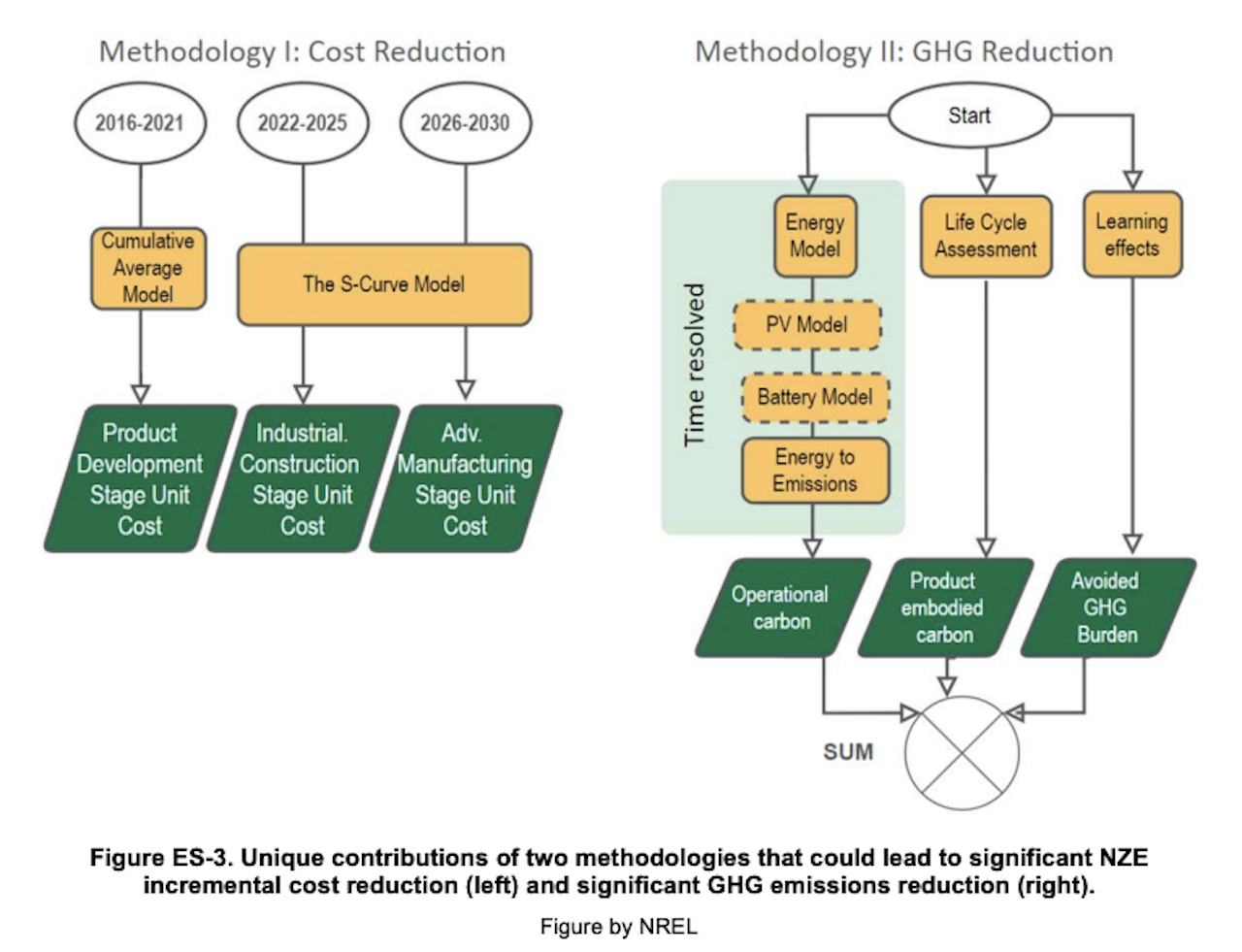 Affordable, zero carbon emissions ... housing – it appears -- and the business drivers that determine winning and losing in today's real estate development, investment, and construction sector occupy separate universes, one real and one imagined. That might be the reflexive response of most of the people in that room full of housing's leaders.
Or, those five words – as outlandish as they may sound, glued together like that – could signify a bright line that marks precisely where technology and human capability can change the past into the future of residential investment, construction, community development. The future nests their plausibility – not the present, certainly. For the present, they amount to an oxymoron. In the future, though, they – urgently – must not only be imagined but real.
It may be humbling, but it's probably true that the entirety of what the best and the brightest know from experience and wisdom in residential construction pales in comparison to what the best and the brightest must continue to learn.
If, fused in this way together, the words "affordable, zero carbon emissions  ... housing" could inform us as an oracle from a necessary future, they describe a goal line.
That goal line – should housing's leaders determine it to be worth working to cross – will be reachable only with a cost. That is, if the sum and total of the entire knowledge base, experience, trust capital, resources and networks, resolve, and wisdom of real estate investment, development, and construction's past and present now open the sluice gates to what the future – human generations, economic dynamism, environmental resilience, cultural evolution – has to teach us.
Current means and methods will not get near the goal line. Only evolved and evolving ones, ones that ask and discover what the future needs from the totality of architecture, engineering, construction, and real estate investment and development's applied brilliance can and will cross that Rubicon.
And, now, by the way a 10-year "pro-forma" for getting from current means and methods to a likely state of fusion between affordability and zero carbon emissions is fully laid out for all to consider.
The News
This week, an announcement.
Blokable, the Wells Fargo Innovation Incubator (IN2), and the U.S. Department of Energy's National Renewable Energy Laboratory (NREL), released a report detailing actionable pathways to developing net zero energy (NZE) housing without increasing costs, yet still reducing greenhouse gas (GHG) emissions.
On its surface, a privately-held modular factory-based builder developer, Blokable, has teamed up with a Federal agency, and with financial support from Wells Fargo, has produced research, data evidence, modeling, and a set of theses that roll up into a white paper scenario called Decarbonization During Predevelopment of Modular Building Solutions.
Get past the title, which could be mistaken for the name for a sleep aid.
What's inside is a business pathway that weld's together a common purpose shared by most of the people who are making careers, livelihoods, fortunes, and networks in the fields related to housing and a future that's bearing down on the present with greater urgency these days than ever.
Here's the claim underlying why you might want to know where that pathway leads, and what traveling along it might be like.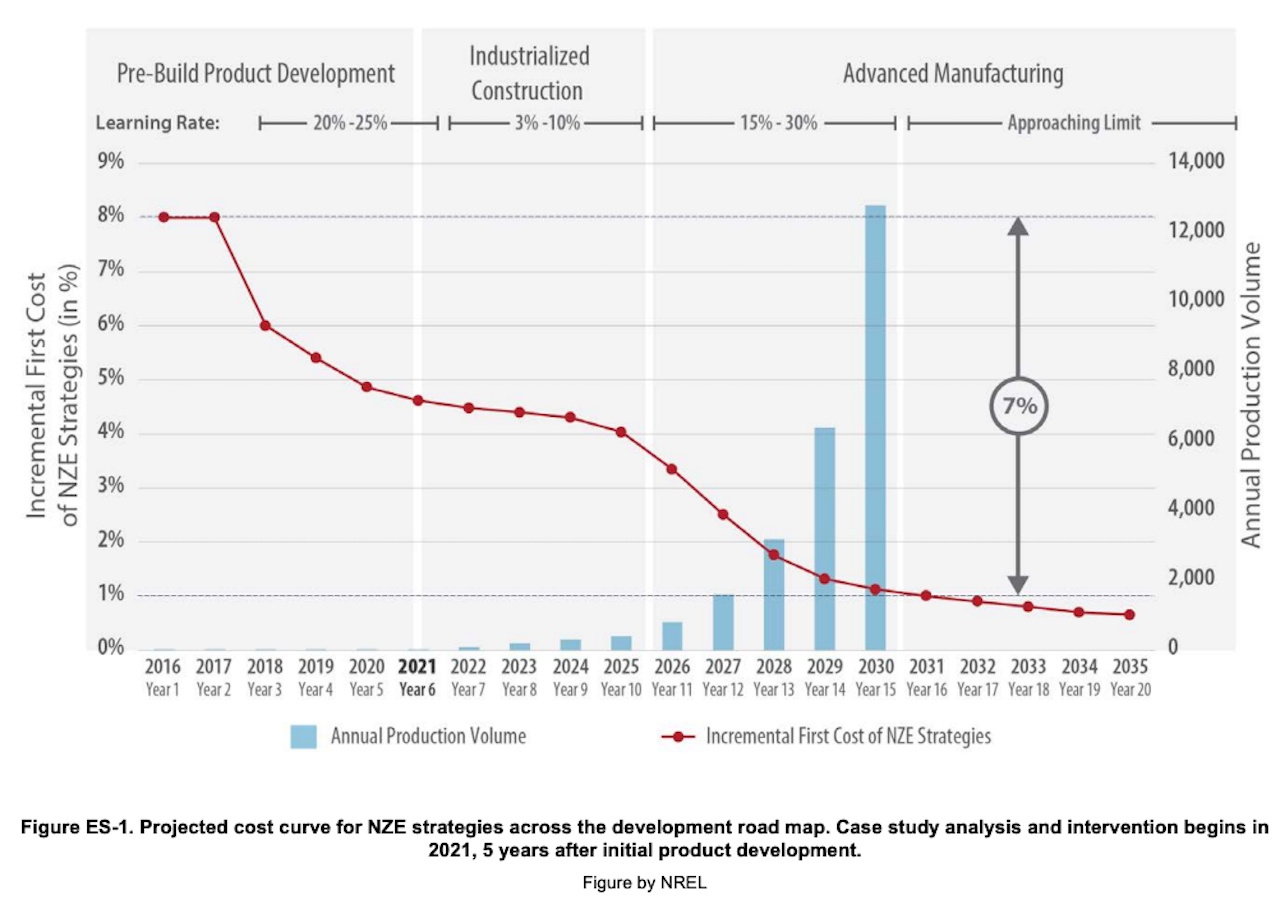 NREL compared Blokable's prototype designs with its scaled up, full production engineering model. The study found that by 2030, compared to conventional housing construction methods, Blokable's model for the manufacturing and development of NZE housing can decrease total lifecycle GHG emissions by 60%, reduce construction material waste by 91%, and avoid the release of 2.4 million tons of CO2 equivalent. Moreover, when Blokable adopts this model, it can achieve these metrics without any added manufacturing or development costs.
What Builders Need to Know
There's a lot to unpack, however, in doing so, builders might find ways out of an echo chamber where challenges self-reinforce, and where growth, improvement – learning – is blocked out.
Aaron Holm – who's worked with his co-founder Nelson del Rio for five years to start and design and engineer and create fabrication facilities and weave repeatable, scalable output of all those expertises together with the orthogonal value stream of property investment, home and community development, and management – considers those five years to be Blokable's prototype period.
What the team – design, engineering, fabrication – have been focused on for the past two years is the building system's manufacturability, its ability to be standardized and perform repeatedly," Holm says. "In our first phase we wanted to develop a pre-build specific product solution in the factory and work out a lot of issues in design, and process and constructability and performance, and the second phase is about industrialization, and then we can release and leverage the learning effects of that into advanced manufacturing, where you achieve both the cost impacts and the carbon emissions goals."
The critical importance of "learning effects" recur in Holm's account of what Blokable's been doing, and what its immediate-term and longer term business arc may look like. Here's what "learning effects" are in a tech-and-data enabled human capability venture.
Learning effects ... benefit from consumers and businesses pursuing their own self-interest to purchase the best products, but they are less the result of gravitational accretion than of finely tuned technology and product development efforts that require constant intervention and recalibration in order to tie together data, intelligence, product innovation and user/customer growth.
As a result, even though learning effects are partially the product of automated learning, they are by no means automatic. The data generated from new customers must be of the right kind and of sufficient volume to enable new learning. This learning must be optimized effectively enough to create new product value. And this value must be strong enough and productized well enough to attract more customers. Any break in this chain means there is no self-reinforcing cycle and hence no learning effects.
Learning effects are like a person on a bicycle vs. one running. Holm believes the study can serve now as a fully-baked pro-forma, a roadmap to a future that fuses "affordable, zero carbon emissions ... housing" into an achievable business value proposition.
Simplistically, to achieve net zero emissions in a building today for the specific Blokable building system, the extra first cost amounts to $8 per $100 of input costs.
The NREL-Blokable research gamed out a goal of reducing both cost and carbon emissions – via manufacturing improvements, scale, process improvements, etc. – that $8 premium per $100 of construction costs to $1 or less – in the context of a volume of 10,000 manufactured homes by year 2030.
After we set up the testing protocols with NREL, we tested the building systems three times in the factory and twice in our site at Blokable at Phoenix Rising site, near Seattle, then the evidence started coming in. We were struck by the amount of carbon in the construction process – the vehicle miles, the materials waste, all the people that travel to the job site – and that's not even including the construction materials, and the other life cycle costs of the of operating the home."
Holm and his partner del Rio have had to be patient. They're trying to get at housing affordability and zero carbon emissions simultaneously, which you'd expect would require a long time in research and development, prototyping and piloting.
Here's what they each say about where they are in their plan.
In the U.S., there are only 36 rental homes available per 100 extremely low-income households, and these households also bear the brunt of climate and energy risks," said Blokable Co-CEO Nelson del Rio. "This is why Blokable has spent five years developing a business model and building system that would address both housing affordability and energy efficiency. NREL helped us evolve our building design to exceed engineering best practices and building code performance metrics. Their research showed us that by adopting our model, we can manufacture NZE housing without adding new costs – thus scaling up a dramatically more efficient form of housing for society."
"Construction costs will continue to rise faster than incomes into the foreseeable future. Unless we invest and innovate right now, the housing crisis will continue to worsen, the cost to governments will continue to grow, and people and the planet will suffer," said Blokable Co-CEO Aaron Holm. "The development sector and supporting building industry have lagged behind other industries in achieving efficiency gains through technological innovation and standardization. The NREL report demonstrates that it is possible to leverage the learning effects of manufacturing to dramatically reduce both the economic and climate costs of housing creation. It means that Blokable can rapidly develop NZE housing that is substantially more energy efficient, at lower costs than conventional approaches."
Why It Matters
Building homes and communities for people – it's often said – is a noble undertaking. The depth of knowledge, wisdom, resources, and resolve to do what builders do under the circumstances and conditions impacting their work today is inestimable. Still, what our children's children's children need calls out from the future in a way that impacts that work today.
Why else are we doing this work?" asks Aaron Holm. "To Nelson and me, there's no point in doing this if we're not going to really do it."
Join the conversation
MORE IN Technology
The capability to improve, in good times or bad, will hinge on enterprises' ability to blend cultural and data transformation to zero in best on undeterred homebuyers' pursuit of value.
As higher and higher finance costs upend pro forma margins and depress land valuations, we'll see a culling of the weak vs. strong players in the BTR space over the next six to 18 months.
"Trying to align your business to the market on 'stale' data is not an efficient business practice and requires larger swings in pricing as you look to recapture lost revenue." — Paolo Benzan, Constellation Homebuilder Systems
MORE IN Technology
The capability to improve, in good times or bad, will hinge on enterprises' ability to blend cultural and data transformation to zero in best on undeterred homebuyers' pursuit of value.
As higher and higher finance costs upend pro forma margins and depress land valuations, we'll see a culling of the weak vs. strong players in the BTR space over the next six to 18 months.
"Trying to align your business to the market on 'stale' data is not an efficient business practice and requires larger swings in pricing as you look to recapture lost revenue." — Paolo Benzan, Constellation Homebuilder Systems