Together with
Leadership
Builders, Facing Turnover Risk, Gather Data To Power Retention
Tactics, strategies, commitment, and investment in team member engagement -- both to improve performance and elevate customer experience -- come to light in new Building Talent Foundation research.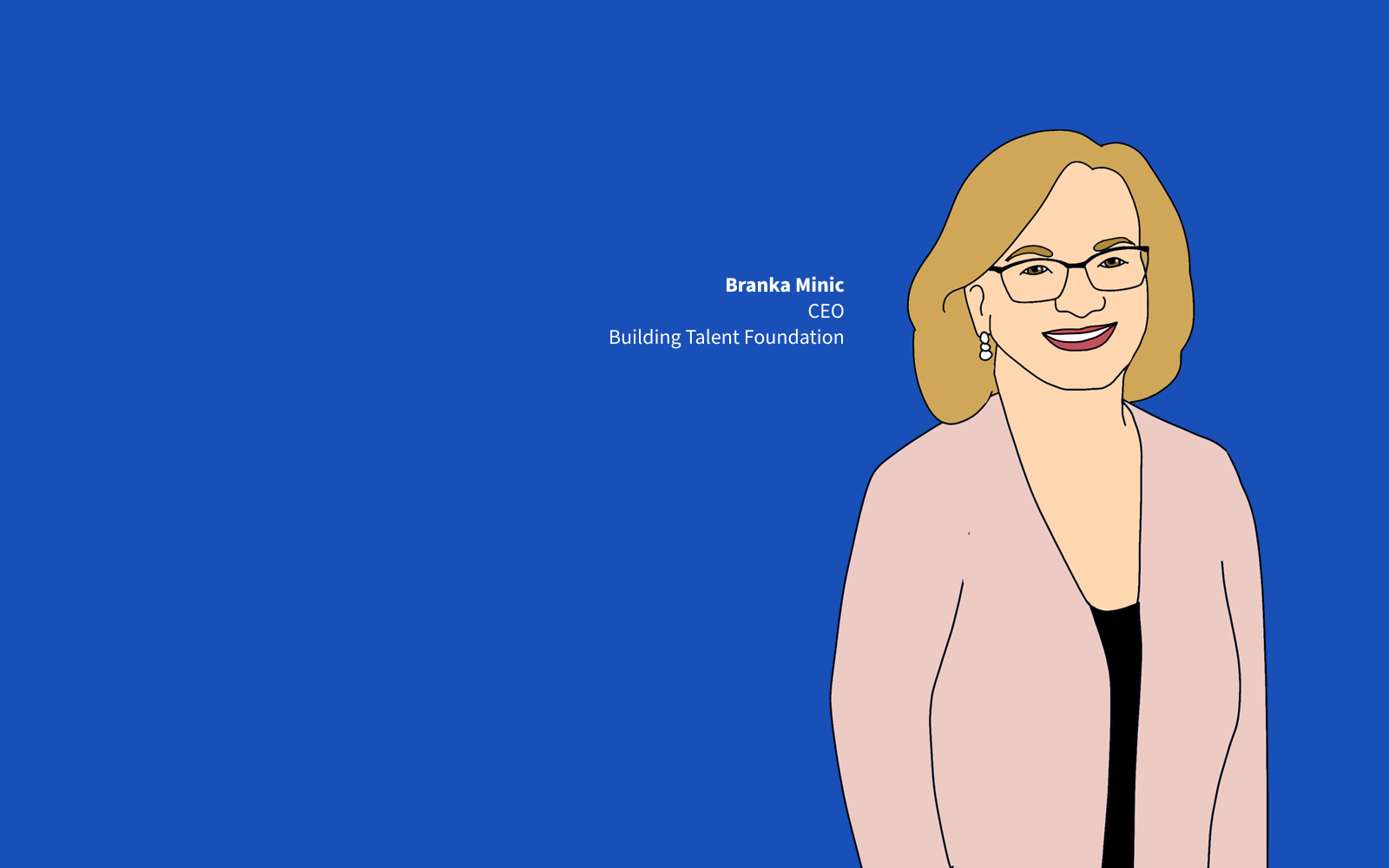 A far-flung builder we know hears he's talking this morning with someone who works out of a home office in New Jersey.
You know what they say," the builder says. "Builders and New Jersey-ites – you like them or you don't."
The kernel of truth in the statement often rides with a corollary. Neither many builders nor many New Jerseyites give that much of a flying-hoot about whether you like them for who they are or not.
It's what they do that should count most when all is over and done.
Builders, of course, are not a homogenous population. They make up 100s of thousands of entrepreneurs, salt-of-the-earth boot-straps subdivision super-contactors, single-market, second- or third-generation community trustmarks, or private sector titans of Fortune 100 multiregional enterprises.
Many eat, sleep, and breathe a Occam's Razor problem-solving approach to one of the world's most-complicated production processes – home and community-making – which says that "entities should not be multiplied beyond necessity." They – you – do the most noble of jobs, which is to provide people places to flourish, to thrive, to make both memories and futures.
A sure bet to make a lot of homebuilders bristle is to describe their workplaces and occupations in terms – i.e. "entities" -- other than the plain language of fair, free-market trade of value for value: a skill, a job, a team, a task, pay, doing-it-right-the-first-time, a completed high-quality project, and then on to the next one.
Such terms – "engagement," for example -- are prone to distortion. They crop up today, not just as annoyances, but as counterproductive to doing the work homebuilders do, which is to take a lot of moving parts and counterbalances and crush them all together in time to produce homes. In a politically charged, socially-freighted, and economically-uncertain setting emotions trigger, and people dig their heels in.
One homebuilding company ceo, who requested anonymity, recently wrote:
Our nation's labor participation rate of 61% is about the lowest in history. There are millions of unfilled jobs at well above minimum wage that employers would be happy to fill to any qualified applicant without regard to race, color, sexual orientation, or creed.
Until our leaders and schools value teaching math, science, and English more than being focused advocating social agendas we will continue to have a poorly educated workforce, very low labor participation , labor shortages and supply bottlenecks."
Here's the thing. This ceo is looking at others – people in official, educational, social, cultural roles that either support or oppose his business interests – and refers to them as "our leaders and schools" in a claim that contends they do not presently "value teaching math, science, and English more than being focused advocating social agendas."
Two issues jump out:
This executive is one of "our leaders." He is a business leader alongside the many other people society and citizens and community members look up to for leadership, and his role and accountability for valuing the teaching of math, science, and English" is equal to others he refers to.
Secondly, better teaching of math, science, and English is the shared interest, the common denominator everybody can support. It's simply not the province of one group versus another, and no political persuasion or ideology has the corner on that priority versus any other group.
What makes a builder recoil when they hear a word like engagement is understandable. It comes across as an outsider versus an insider dynamic, and the fact is that far too many outsiders – regulators, municipal elected or appointed officials, code organizations, Federal agencies, academics, big business consultancies, etc. – want to lay claim to or control or mine or feed off the proven talent and capability of America's network of homebuilders.
Still, engagement is an economy-wide challenge, and it's an homebuilding-wide economic measure of opportunity.
Most Americans (55 percent) who are either employed or looking for a job — what economists would describe as being in the workforce — say they are likely to look for new employment in the next 12 months, according to Bankrate's August 2021 Job Seeker Survey. Even more surprising, some 28 percent of working Americans who currently say they're not looking for a new job are still expecting to search for a different position at some point in the next year.
When a current employer is unable or unwilling to make a job more attractive, numbers on job openings suggest that burned out workers in many sectors can easily find new ones. "Workers have more bargaining power than they have had in the immediate past or the recent past. If you look at the ratio of unemployed workers, job openings, or just even just the quit rate itself, that does suggest that there's more power for workers in the form of exiting," says Nick Bunker, economic research director for North America at the Indeed Hiring Lab. "If they don't like the situation they're in now, they can leave."
The good news is that builders – among them the Leading Builders of America and its sibling organization, the Building Talent Foundation – are committing to and investing in both understanding "engagement" as core to the Occam's Razor riddle of business, operational, and economic success in homebuilding, and trying to put real-world practices into play to help builders do what they do for their homebuying and renting customers.
The first-dive focus of this commitment and investment is soon-to-be released research on elevated and rising turnover rates among the early-career stage team members builders need to both sustain current construction activity, and expand capability for greater output.
BTF engaged the Oxford Centre for Employee Engagement (OCEE) to conduct the survey to listen, learn, and respond to those with the most significant insight into the reasons for the high turnover rate—the residential construction workers. In order to help residential construction industry employers improve talent engagement and increase employee retention, and drawing from the research and experience of OCEE, BTF is developing best practice guidelines to share widely within the industry.
Applying rigorous scientific methods, the OCEE research team, led by world-renowned Human Resources expert Professor William Scott-Jackson, received and analyzed the results from the talent pool about why they stay in or leave their jobs. A total of 1,462 respondents completed the survey, 61% of respondents work on job sites, and 39% are in office/administrative roles.
High-level findings revealed in responses include what can be viewed as a the beginning of a practical roadmap of real-world action points:
Almost half of all tradespeople working on residential construction job sites (49%) are disengaged and at risk of leaving their jobs. In this group, 7 out of 10 workers are actively thinking of another job. Others are not yet pursuing another position but are unwilling to recommend the industry to friends and family.
Of those thinking of another job, more than half (51%) are considering leaving residential construction for other sectors, and more than 1 out of 3 (34%) are thinking of leaving construction for opportunities in other industries.
The group most likely to be thinking of another job is those tradespeople with 1 to 5 years of experience. By the time they have been trained, invested in, and add real value to employers, over 2 out of 5 (43%) of this group are thinking of another job.
Even more concerning is how many people with 1 to 5 years' experience who manage more than 5 team members are thinking of another job. They are the most valuable people now, and for the industry's future, yet over 1 of 3 (35%) are thinking of another job right now.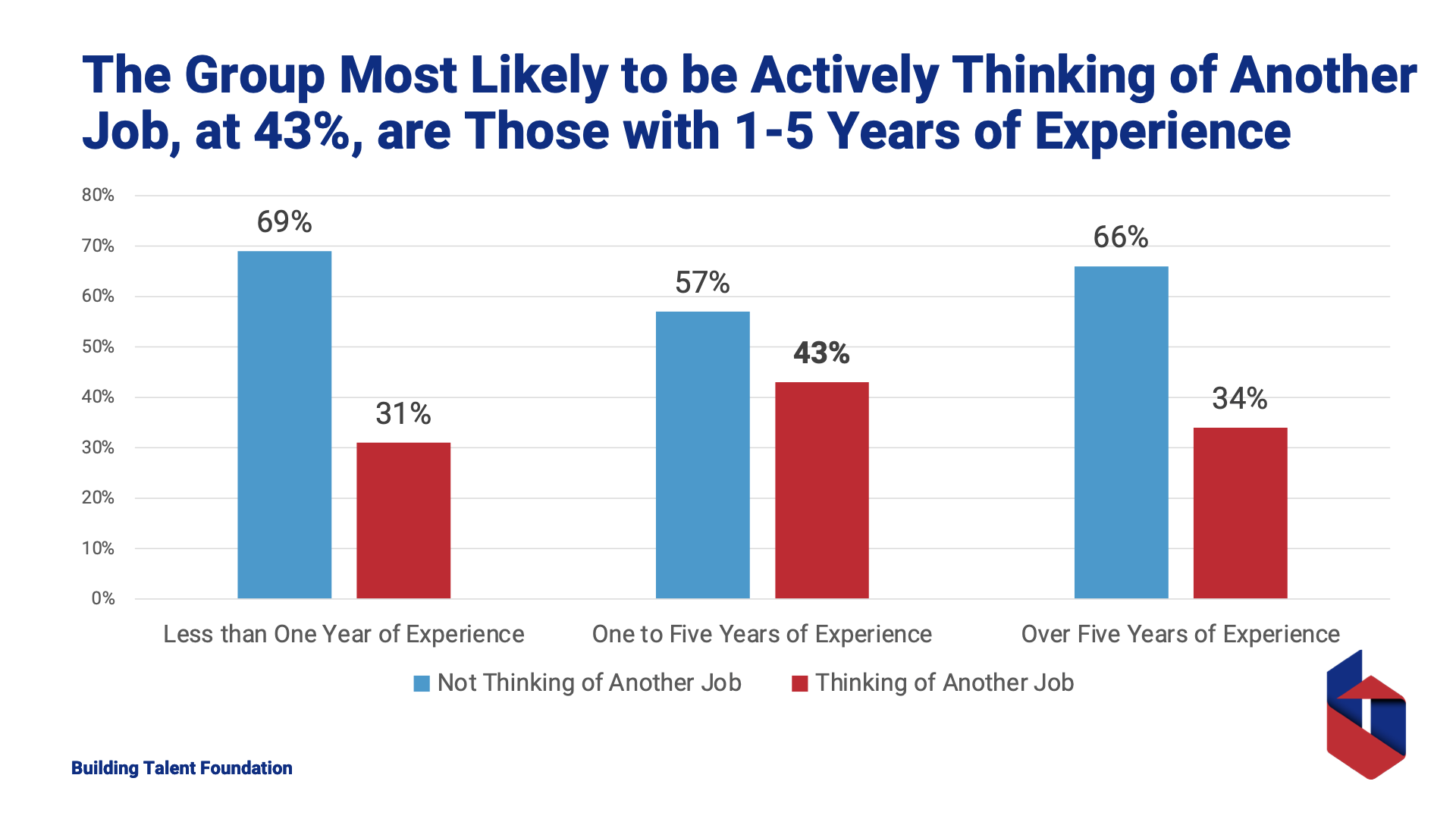 Of course, in all of those red-flag benchmarks and risk indicators lie nuggets to work with both strategically and tactically, and don't necessarily mean spending a lot more money and time – merely sustained, leadership focus. Here's what respondents noted work as positive impacts on their job focus and engagement.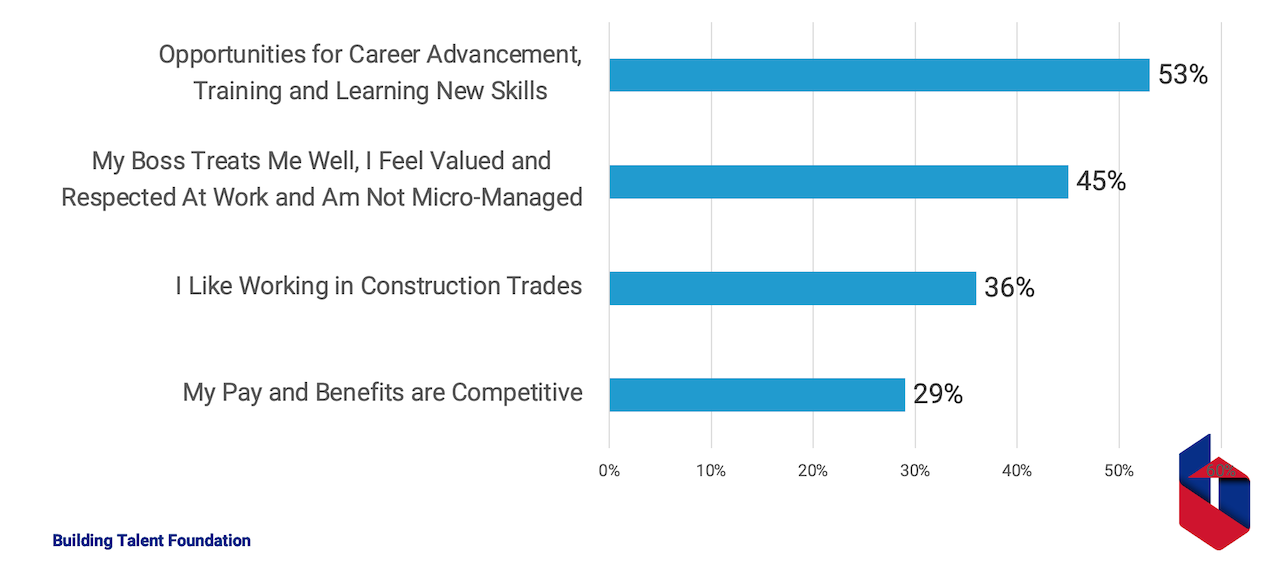 It's critical for us as a community to acknowledge we have these challenges, but it's also important to view them in the perspective of the broader phenomenon facing employers in all sectors of the economy right now," says Branka Minic, ceo of the Building Talent Foundation. "While the engagement levels here do set off alarms, and point the way to opportunities, we should note our sector scores better in Employee Net Promoter benchmarks for engagement than industries like food and restaurant service workers and healthcare workers."
Numerous industry analyses and data evidence point to a powerful, practical – non-social-agenda – relationship between team member engagement and business success. Author and business advisor Joseph Michelli looks at the financial and business effects, both at the operational and productivity level, and in how stronger team member engagement – at the job site, office, corporate headquarter level – impacts greater customer value creation and profitability.
The evidence is clear. Engaged employees perform better, experience less burnout, and stay in organizations longer."
The costly, potentially ruinous error here for the business people who lead America's homebuilding companies – large, medium, and small – would be to blow off these findings as if they're part of a woke social-agenda, rather than to simply absorb them into the brilliant Occam's Razor problem-solution approaches they take to so many of the daily complexities they face with their teams.
The investment that we are collectively making to attract, train, hire and develop talent in homebuilding sector, must be matched with adequate investment in engaging, upskilling, and retaining employees in our industry," says Branka Minic. "Building Talent Foundation is committed to working with all industry stakeholders to develop and implement programs for improving workforce engagement."
The builder we spoke with this morning – the one who says you either like homebuilders or don't - said it a little differently than Branka Minic, but means essentially the same thing.
You're only as good as your employees and your construction partners."
Join the conversation
MORE IN Leadership
Has the pie stopped shrinking? Or is the D.R. Horton slice of the pie getting bigger?
April will be pivotal for homebuilders, especially a moment such high-stakes bets are stacking up in belief that inflation's bound for a fast, steep drop, because it's then that pace will need to come off life-support, and begin to find its legs.
Like the more commonly understood benefits of building walkable neighborhoods to encourage physical activity, building spaces and places that encourage social connection is much more critical to health outcomes than their designation as "soft infrastructure" may suggest
MORE IN Leadership
Has the pie stopped shrinking? Or is the D.R. Horton slice of the pie getting bigger?
April will be pivotal for homebuilders, especially a moment such high-stakes bets are stacking up in belief that inflation's bound for a fast, steep drop, because it's then that pace will need to come off life-support, and begin to find its legs.
Like the more commonly understood benefits of building walkable neighborhoods to encourage physical activity, building spaces and places that encourage social connection is much more critical to health outcomes than their designation as "soft infrastructure" may suggest