Policy
Shut Off: Mortgage Data Reveals Race Gap In Pandemic Re-Fis
Disparities -- directly tied to racial discrimination -- define the threshold of the 2020s. Will they define the decade?
The 2020s decade – still getting underway – offers a choice.
Will disparity in the full flower of terabyte data granularity define the decade – a kind of apples and oranges economy that permits a housing boom and a housing crisis at one time?
Or will housing's leaders set conviction, capital, technology, and brilliance in motion to begin recognizing structural gaps that pave the way to prosperity for some and simultaneously shut many others off from access to that pathway?
At some levels of Federal financial and economic policy-making, recognition of the role and consequence of these disparities is growing.
One glimpse that suggest that at least some higher up on the food chain of capital and power "get it" comes through in this Wall Street Journal analysis, by staffers  J.J. McCorvey and Julia Carpenter, of a new report by economists at the Federal Reserve Banks of Atlanta, Philadelphia and Boston.
McCorvey and Carpenter write that while many home mortgage borrowers availed of dirt-cheap mortgage rates to refinance their home loans, many others – mostly people of color – missed the opportunity:
Researchers matched borrower data from Fannie Mae, Freddie Mac and FHA loans with data from firms that track mortgage performance, including Equifax and mortgage-data firm Black Knight Inc. BKI 1.31% The report found that 14% of Asian borrowers refinanced, while borrowers who identified as Latino clocked in at 9%.
Of an estimated $5.3 billion of savings for all households that refinanced during the 10-month period examined in the Fed report, only $198 million, or 3.7%, went to Black households. Borrowers who refinance generally pay a fee in order to lock in lower interest rates and reduce the total cost of their loan.
Discrimination's causal and structural self-fulfilling impact on economic, educational, housing, and social disparity gets highlighted in black-and-white, socio-economic data analysis that looks like this: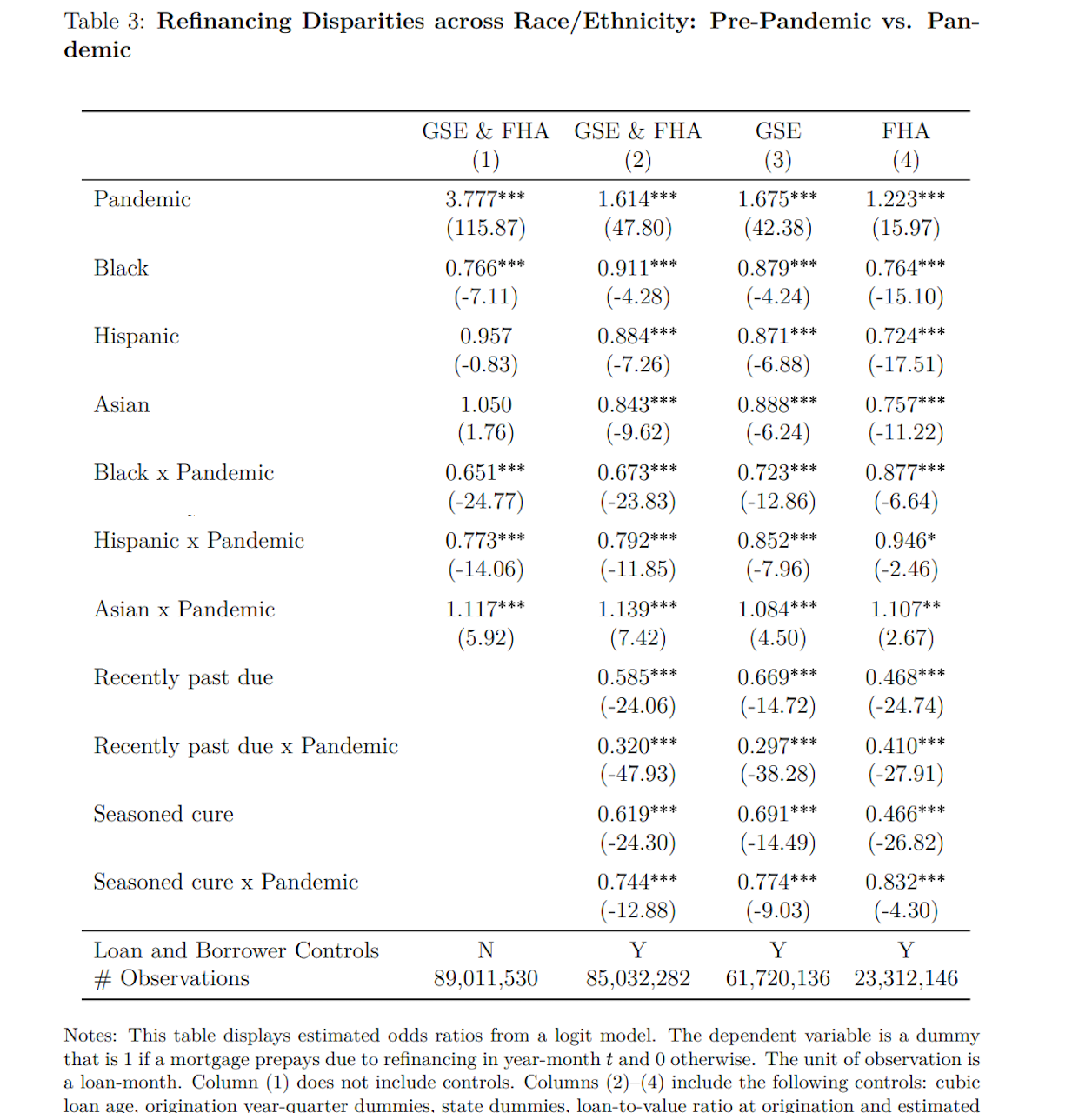 Fed economists Kristopher Gerardi, Lauren Lambie-Hanson, and Paul Willen sum up their data study this way:
Black, Hispanic, and Asian borrowers were significantly more likely than white borrowers to miss payments due to financial distress, and significantly less likely to refinance to take advantage of the large decline in interest rates spurred by the Federal Reserve's large-scale mortgage-backed security (MBS) purchase program. The wide-scale forbearance program, introduced by the 2020 Coronavirus Aid, Relief, and Economic Security (CARES) Act, provided approximately equal payment relief to all distressed borrowers, as forbearance rates conditional on nonpayment status were roughly equal across racial/ethnic groups. However, Black and Hispanic borrowers were significantly less likely to exit forbearance and resume making payments relative to their Asian and white counterparts. Persistent differences in the ability to catch up on missed payments could worsen the already large disparity in home ownership rates across racial and ethnic groups.
So, the question housing's leaders – market-rate, low-income, single-family for-sale, multifamily, and all intersecting partners – must address is this.
Will the 2020s define them all through the lens of continued, tolerated disparities, or will they seize the power of resources and time and talent to set new defining characteristics, where housing becomes a solution?
Join the conversation