Together with
Leadership
Heroes, Honored And Unsung, Celebrate Culture Of Giving Back
A Drees Homes Operation Coming Home project in Durham, N.C., takes its place among the counted and uncounted ventures of epic commitment, investment, and devotion to honoring those who serve and sacrifice to keep us free.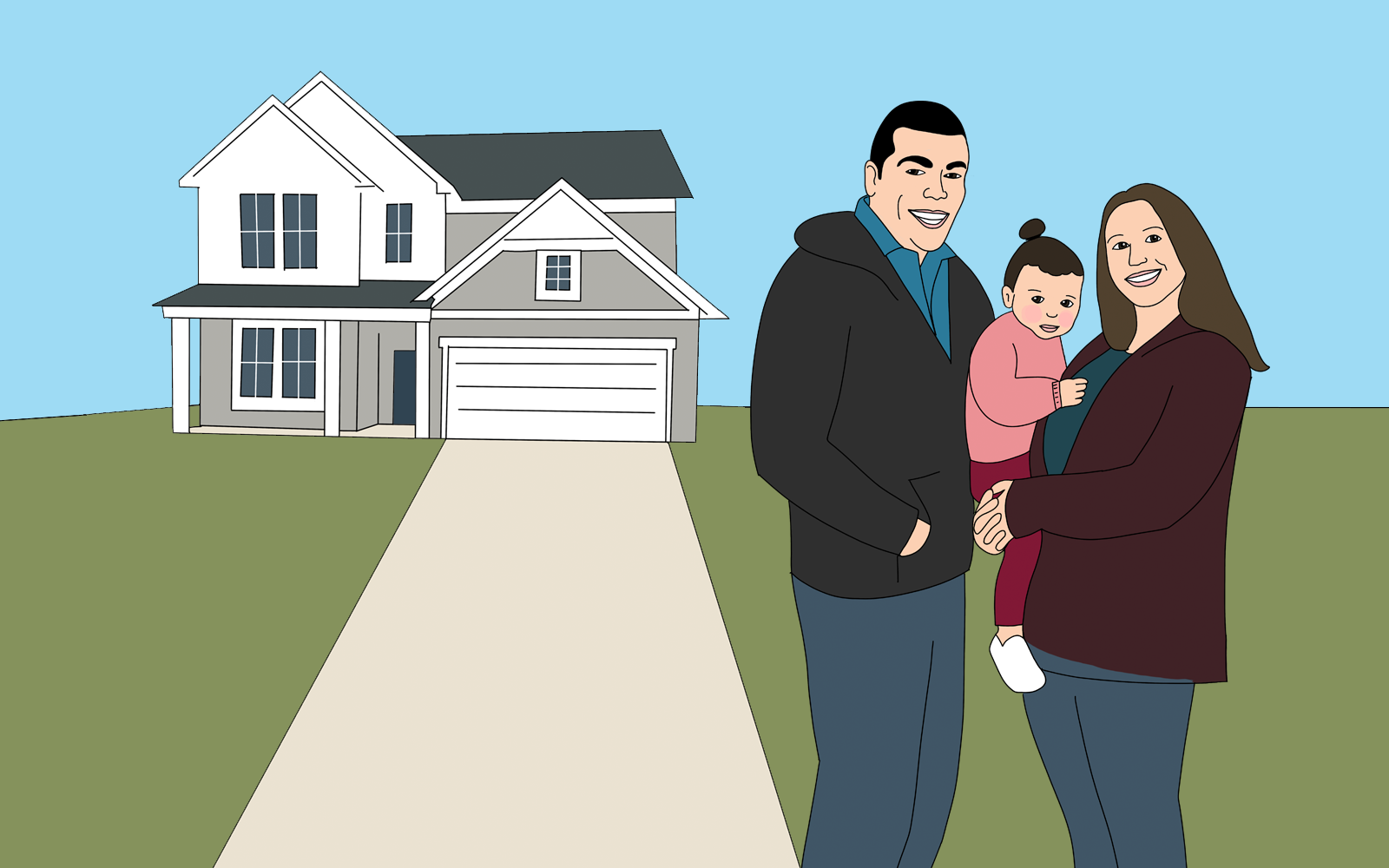 A 22-month-old named Jordyn is at the heart of this story of American Independence, homebuilders and homebuilding.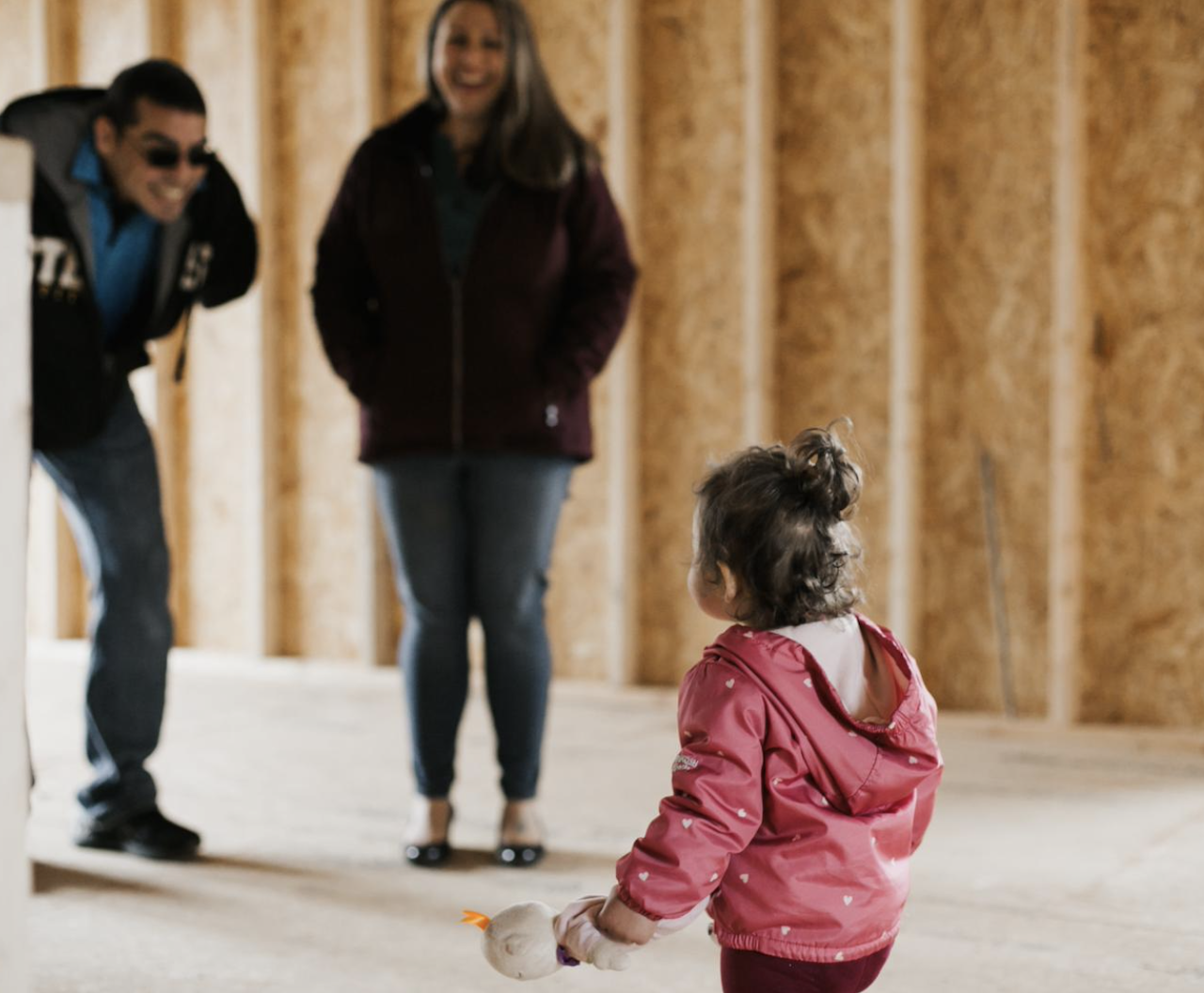 Jordyn – you could say – may have earned a singular distinction in U.S. homebuilding in the pandemic era. As her mother and father will attest, Jordyn was having so much fun visiting her future home site during the rough trades and framewalk stages and milestones, playing hide-and-seek and exploring, she's likely the one person in all of America who was visibly taken-aback the instant she discovered that her new home in Durham, N.C.'s Brightleaf at the Park – had dry-walled on time. [We'll get back to that in a minute].
Too, Jordyn's 40-year-old father Michael – a native of Throop, PA – who put his life on the line in active duty military service to defend the values and principles of American independence, is without doubt a crucial character here. Her mother Jessica – who's been by her dad's side since back in the Pennsylvania days, and sees her daughter as having been there literally from the instant this story begins – also plays a key role.
Together, toddler Jordyn, Retired Army Staff Sgt. Michael Kacer, and Jessica Schulman, a family whose epic sacrifice and everyday life choices of ongoing service to others makes for a riveting story of resilience and inspiration in and of itself.
Then add another major character to the to this heart-breaking and heart-warming narrative. The character homebuilding and its human lifestream – one that courses with a muscle-memory, shared culture of giving back -- in this case features the individual and collective efforts of Ft. Mitchell, KY-based Drees Homes and their partners, and that lifestream's deep estuarial linkage with organizations like Operation Coming Home, an initiative that the Home Builders Association of Raleigh-Wake County sparked in 2008, and this year celebrated its 25th "hero home."
The Drees Homes "family" and OCH honored and thanked the Kacers in an official "key ceremony" on June 9, 2022, with a new home designed, built, and awarded free of charge. The Kacers are among scores of the nation's armed services heroes each year who are beneficiaries of Habitat for Humanity's Veterans Build program, Operation Finally Home, Homes For Our Troops (HFOT), the Gary Sinise Foundation's R.I.S.E. program, The Warrior's Project, sponsored by Operation: Warrior's Path, the Building Homes for Heroes initiative, Operation Homefront's Homes on the Homefront, and PulteGroup's decade-long Built to Honor program.
Complete with parachuting delivery by the U.S. Veterans Corps in honor of retired US Army Staff Sgt. Michael Kacer, the June 9 ceremony took place outside of the Kacers' new home. Greenhawk Development provided the home site – fittingly the very last home site in Brightleaf at the Park, where the very first hero home was located in 2008.
Countless aspects of the Kacers home project – the materials and product donations from all of the manufacturers and distributors involved, donations of skilled labor crews involved in the construction cycle, the round-the-clock work to bring the construction process across the finish line, including a truck run to pick up appliances at the last minute – reflect the lengths team members will go to, and the fact that there are many unnamed heroes in this story about one of the nation's heroes.
A touch you could not make up if you tried involves 22-month old Jordyn's absolute favorite part of her new home – i.e. she did get past her initial dismay that the home was dry-walled on its way to being finished. It's a 9 ft by 4 ft cubby she can climb into beneath the stairway, complete with wall decals and furnishings that make the little play space her own.
She saw that room and audibly gasped with delight," says her mother Jessica. "She sits in there by herself and talks to the pictures on the walls, and she's so comfortable. To get that affirmation of seeing her love, live in, run through, and own the house. It makes us feel like everything's right and we could not be more grateful to for this!"
This has been, is, and will continue to be what builders and their partners do.
We got to talk with some of the characters in the story first-hand this week. They included Dan Jones, executive VP of homebuilding operations at Drees Homes, Raleigh division president Jerry Dean – an active part of the Raleigh-Wake County BIA – Amanda Arlauskas, Drees market manager, and Mark McCraw, the lead builder for Drees, and, of course, with Jessica Schulman and Michael Kacer.
Kacer, who was severely injured while deployed in 2008, is heavily involved in athletics for wounded veterans. He has made Paralympic Track and Field Nationals every year since 2011 and has also medaled in three events at the inaugural Invictus Games in London and four events at Orlando's Invictus Games. He now uses his platform to speak about mental health and suicide prevention.
Among these players, we learned of intensified investment and purpose. Each has a connection that personalizes their appreciation of the commitments and sacrifice that Michael and Jessica have made. Jerry Dean's 25-year-old son Kyle serves in active duty in the Air Force as a canine handler conducting bomb sweeps. Builder Mark McCraw, himself served in the very Army National Guard 514th Military Police battalion. Market manager Amanda Arlauskas' fiance Billy Shrader is himself in active armed services duty, giving the project a whole new meaning and point of focus as she became Michael Kacer and Jessica Schulman's go-to throughout the planning, design, color and options-selection and build-cycle.
Here are some highlights of those conversations:
The entire team at Drees Homes is grateful to have participated as a builder in this 25th hero home for Operation Coming Home, and this one's been near-and-dear to us, and all the credit for that goes to the Raleigh team and its leadership. Part of the DNA of Drees, going back to our founder Ralph Drees, who was a 2006 Hearthstone Humanitarian Award honoree, is a culture of giving back. That culture continues through all the work David and his family continue to do, and this project is emblematic of that ongoing work." – Dan Jones, executive VP of homebuilding operations, Drees Homes
When Michael and Jessica pulled up to their new home in the Humvee, and I caught the expression on Jessica's face as she took in the home, fit and finished, it made me feel extremely proud that I had gotten to have anything to do with this project at all. It was chilling fo know that somebody's son – Michael – would benefit from efforts of the Drees family. It still gives me a lump in my throat to think of that moment." – Jerry Dean, division president, Drees Homes
[Michael and I] hit it off from the start almost like we were family – like they're part of the Drees family, and we've become part of their family. Getting to take part in this project, and getting to know Michael, Jessica, and Jordyn rates right up there with having my kids as the most meaningful gift of my career and life." – Mark McCraw, builder, Drees Homes
Home is that 'safe place,' where we get to make memories, and live the important moments in our lives, and getting to do this for Michael and getting know Jessica, in particular – who related so strongly to my own experience of the importance of an 'Army family,' and who's become part of the Drees family – made this deeply personal. I feel so grateful Drees chose me and that I've been able to go through it the entire way with Michael and Jessica. It's life-changing." – Amanda Arlauskas, market manager, Drees Homes
To have gone through this process and seen the way every person we came in contact with through the entire journey poured their heart into it, makes the gratitude more than I have words to express. What struck Jessica and me was that in every case, we felt as if we were causing others to be grateful for being able to work on the home. They made us feel like this is not just a new home, but a new start." – Michael Kacer, Retired U.S. Army Staff Sergeant.
The way everybody came together and put out and gave with no ulterior motive made it clear to us there's hope for humanity. To be given what we've been given is humbling, and we can't be thankful enough. We feel as if we not only got a roof over our head, but an entire support network." – Jessica Schulman
Homebuilding – really, its human make-up – is like the son or daughter you look at and feel, believe, know with all your heart, and say, "you can accomplish everything you ever set out to achieve."
Sure proof that this is the case comes in flashes and glimmers. And yet too, its proof burns constantly and everywhere through homebuilding's trillion-dollar complex of systems, from coffee before dawn on a jobsite to midnight multi-time zone calls with vendors half a world away.
Nowhere and at no time is this clearer than when homebuilding – in the "this-is-something-bigger-than-all-of-us" sense – and the work of its people make moment like these.
MORE IN Leadership
With 21 freshly-trained new graduates of a new construction superintendent training, coaching, and career pathing program, the top-5 ranked homebuilder joins Lennar, Pulte, NVR, Toll Brothers, among others, with homegrown project management academies.
As challenging as conditions have become, almost one-in-five consumers surveyed by Fannie Mae considers now a good time to buy a home. Job No. 1 is to reel them in.
c
MORE IN Leadership
With 21 freshly-trained new graduates of a new construction superintendent training, coaching, and career pathing program, the top-5 ranked homebuilder joins Lennar, Pulte, NVR, Toll Brothers, among others, with homegrown project management academies.
As challenging as conditions have become, almost one-in-five consumers surveyed by Fannie Mae considers now a good time to buy a home. Job No. 1 is to reel them in.
c