Land
Second Homes Surge In The Wake Of The Pandemic
Here are the U.S. top 30 counties for vacation homes, as Americans blend their urge for recreation with a newfound capacity to work from anywhere.
Have you noticed? Everything has gone hybrid.
Second homes – in the forcefield of recency altered so dramatically by the Covid-19 pandemic – are, well, homes.
No wonder, then, that demand for them among people with the means and professional wherewithal to work, be a family, play, rest, connect, rinse, repeat, etc. from anywhere has surged.
The National Association of Realtors' 2021 Vacation Home Counties Report spotlights these top line revelations:
In 2020, vacation home sales rose 16.4%, outpacing the growth in total existing-home sales of 5.6%.
In 2020, the median existing-home sales price typically rose by 14.2% in vacation home counties, compared to 10.1% in non-vacation home counties.
In 2020, the top 10 vacation home counties were in the states of Florida, Maryland, Massachusetts, Michigan and North Carolina.
Vacation homes are a hot commodity at the moment," NAR's Chief Economist Lawrence Yun said in a statement. "With many businesses and employers still extending an option to work remotely to workers, vacation housing and second homes will remain a popular choice among buyers."
What's clouded in this data is just how purely defined, or not, "vacation home" is in an era whose dynamics include the massive reflexive surge among people who wanted alternatives to their cooped-up feeling shelter-in-place primary residences, people who're reaching the blended lifestage of near-retirement, and people whose occupations and livelihoods have now fully decoupled from the need to show up at urban job center office buildings.
NAR's definitional language for "vacation counties" includes the terms seasonal/occasion/recreational use, which common sense tells us, have entered full hybrid mode that may or may not be transitional.
Areas where vacant seasonal, occasional or recreational-use housing account for at least 20% of homes – identified as vacation home counties by NAR – saw sales climb at a rate higher than the overall market during this period. Existing-home sales from 1,060 non-vacation home counties increased by an average of 11.2%, while the 145 vacation home counties recorded a jump of 24.2% from the prior year.
According to the NAR report, median existing-home sale prices in vacation counties also grew faster than in the rest of the country, increasing 14.2% compared to 10.1% in non-vacation home counties.
For the moment, however, like everything else in real estate, the immediate force factor of the pandemic has created some big market winners of note. Here they are.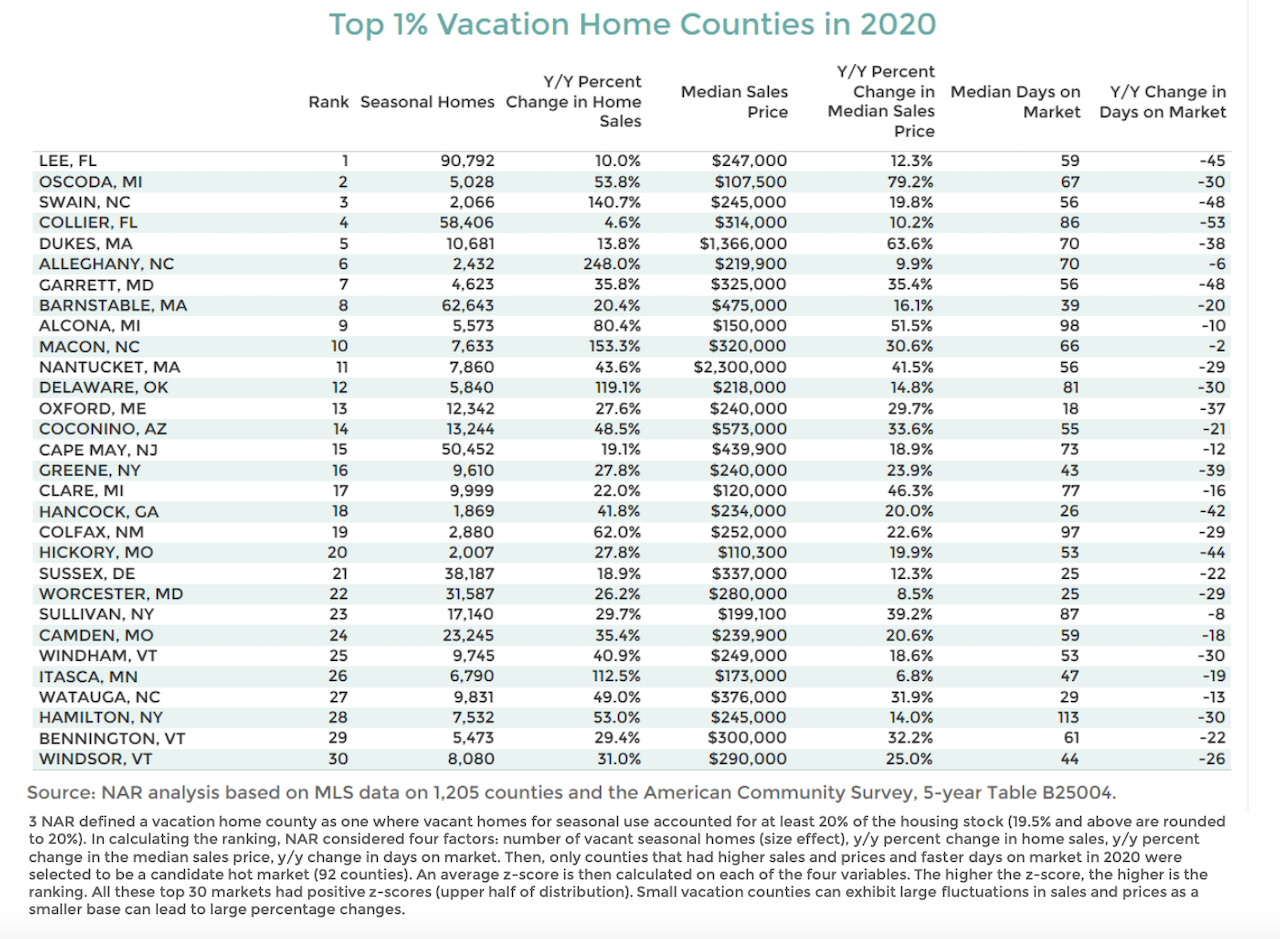 Join the conversation