Together with
Land
Twin Risks — Local & Federal — Loom On Built-For-Rent Horizon
With monster-sized wagers, investors are thronging into the newly built single-family-rental market, confident in a market tilting in their favor is high. Still, what about all that entitlement risk?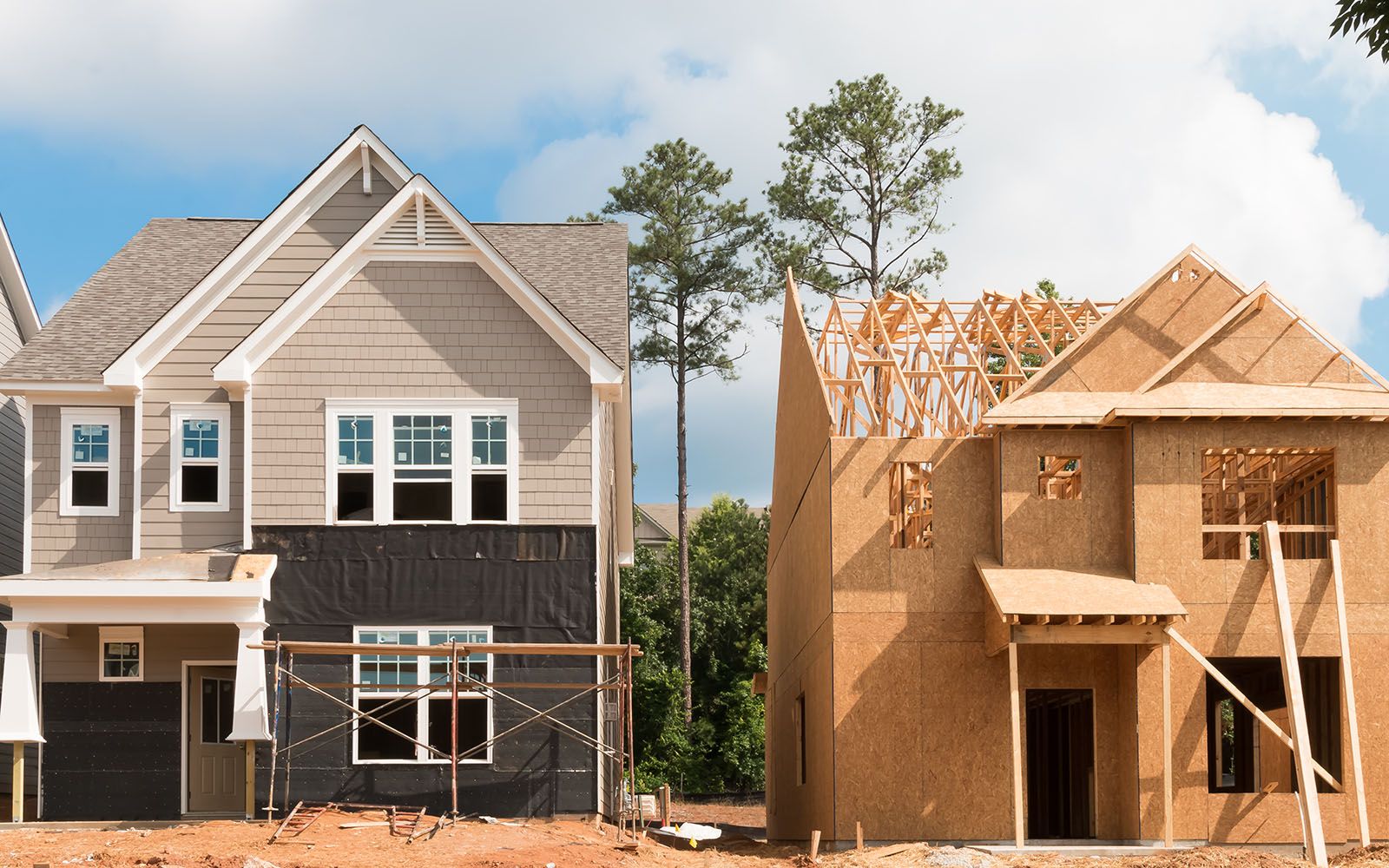 Call new single-family rental development an unstoppable juggernaut or a bandwagon headed straight into trouble.
Few who look knowledgeably at residential real estate and construction's current capacity and projected capability also look comfortably at all the money plowing into the space right now.
Investor enthusiasm and conviction are banking on two principle drivers right now: the math of structural, fundamentally-evidenced demand and actual current buyer and renter behavior. The question is can those two compelling, real-world forces be deceiving?
If so, which of the umpteen siroccos kicking up around housing's fringes right now amount to any genuine headwind threat for housing's hottest – albeit relatively small – asset class? We'll explore that here in a moment.
First, perspective and context:
Per a John Burns Real Estate Consulting newsletter post from senior research manager Danielle Nguyen this past Friday, all that money looks something like this:

The tally, per JBREC's Nguyen exceeds $30 billion. The reasons all this capital wants in on single-family rental development and property management now check all the boxes of sound, strategic investment – especially given the alternatives in a latter-pandemic shocked landscape. Nguyen writes:
Worldwide bond yields are at historic lows, and investors need yield.
Inflation is on the rise, and most investors view rental homes as an inflation hedge.
Record high rent growth (see chart below) is supported by high occupancy rates.
Renters have demonstrated that they are willing to pay a premium to rent in a new home neighborhood managed by a professional landlord. While the news headlines and NIMBYs are busy bashing institutional owners, many renters are clearly enjoying a better rental experience living with renter (instead of homeowner) neighbors and having no fear that their landlord might decide to sell the home sometime soon.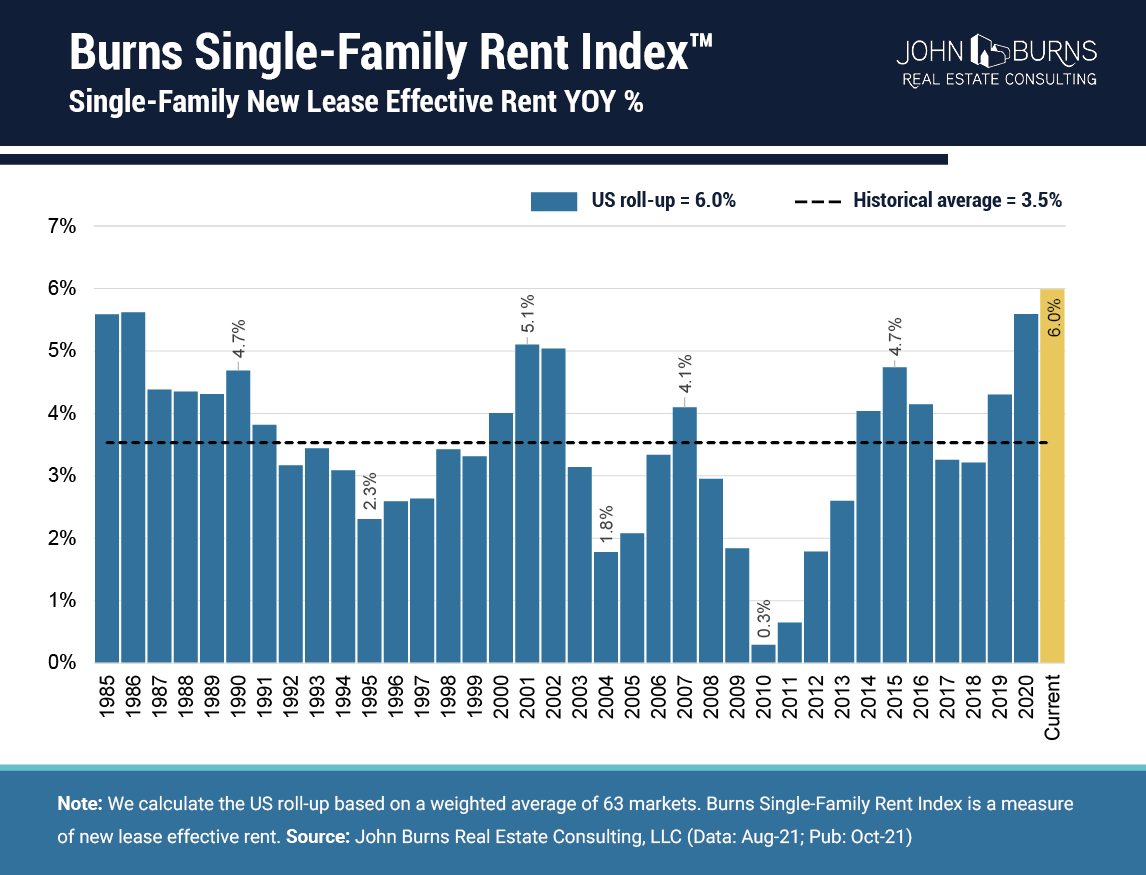 Here's more on why single-family-built-for-rent has been one of the fastest growing segments in housing – both before and since the pandemic.
In 2017, about 37,000 homes were built as rentals, according to the National Association of Home Builders (NAHB), as reported by CNBC. Just two years later, the number of build to rent houses soared to roughly 43,000.
The growth rate in build-to-rent housing above was impressive, but even more so because that number only includes homes built and held by builders as rentals. It doesn't include the homes that builders sold directly to investors to be used for rental property.
When you factor in the demand for build to rent from investors, the actual number of homes being built as rentals is likely quite higher for several key reasons.
Net net, the massive tube of global investment capital is being squeezed by a shrunken set of options from one end – thanks to Covid-related latency in a large number of consumer, business, and industrial activity, into a single-, "safe haven" vertical that is growing not only from discretionary housing preference but because housing's "playing field" is tilted at an incline that produces more and more rental households for financial reasons.
The result? Estimates ranging from JBREC's $30 billion to other's $60 billion are crowding into the space – like dozens and dozens of marshmallows at the end of sticks being held over one little campfire flame. By laws of physics, then, all that capital versus a constrained capability means what? Higher, and higher, and higher prices, accompanied by many last-ditch efforts to buy or rent before the prices go even higher, or before interest rates notch upward.
From where smart money in residential investment stands right now, bumper crop demand – millennials, GenZ, and downsizing Baby Boomers – is the decade ahead's sustaining given. Paired up with that fundamental factor an overweening conviction that policy – in light of a universal need for and value derived from safe, decent, healthy shelter – will continue to work largely in accommodation of developers, at least at the taxation and cost of money level.
That second assumption is where the trouble could start, soon.
Here's early word of a hearing this week on Capitol Hill in to "How Private Equity Landlords Are Changing The Housing Market."
THE COMMITTEE ON BANKING, HOUSING, AND URBAN AFFAIR will meet in OPEN SESSION, HYBRID FORMAT to conduct a hearing entitled, "How Private Equity Landlords are Changing the Housing Market." The witnesses will be: Ms. Sofia Lopez, Deputy Campaign Director on Housing, Action Center on Race and the Economy; Ms. Holly Hook, Manufactured Home Resident and MHAction Leader in Swartz Creek, MI; and Mr. Norbert Michel, Vice President and Director, Center for Monetary & Financial Alternatives, Cato Institute. Additional witnesses may be added at a later date.
According to insiders, the hearing will explore the role of private equity across all sectors of the housing market, include the SFR juggernaut.
For some, Capitol Hill's attention adds to both current impediments – and in the view of several vested stakeholders in the newly developed single-family rental property space – an even bigger threat at the local level.
For instance, many of the "smart money" players in single-family-built-for-rent development and construction – i.e. those with experience, proven wisdom, and relationships in local residential real estate – view local regulation with a wary eye.
Entitlement risk – a known, known among residential land and community development S.W.O.T. analyses forever – intensifies its vibrations around single-family-rental communities, if for no other reason that it's the "new kid on the block" among planning, zoning, and other local boards and commissions.
Being closely watched, in Henry County, GA, a town called Stockbridge has hoisted the zoning equivalent of the Jolly Roger.
Stockbridge is pulling the welcome mat from under the feet of developers of single-family subdivisions where houses are put up for rent, not for sale.
The Henry County community passed a mortarium earlier this week after Pineview — a recently approved development on the city's north side — switched from selling new homes under construction to renting them."
Builders and developers impacted by the Henry County zoning-out of single-family-rental communities do not see the Georgia county nor the municipality as a big exception, but rather as the rule.
We struggle all the time with municipalities," says an executive-level strategist for a homebuilding company with operations that focus on build-to-rent opportunities. "They don't want rental properties, and they generally want renters. The local officials come up with all sorts of barriers to get approved, to the point where they hope it won't be economically viable to develop. We have not seen one municipality be favorable to these communities.  It's not well-thought of , and there is a sell-job we have to do to make up for the stigma created before professional organizations were managing, maintaining, and sustaining the value in the communities."
David Howard, National Rental Home Council executive director, does not see municipal opposition as an existential threat, but rather as an education and training challenge for builders and developers, to correct prior misconceptions and persuade local officials of the multiple values and benefits to include affordable single-family rental housing as part of the broader community's portfolio of housing options.
Resilient and sustainable communities offer an appropriate mix of housing and a broader mix of owners and renters," Howard says. "Owner-occupied single-family, single-family rental, and vertical for-rent communities, our research shows, create the most sustainable balance, economically, socially, in terms of public safety, crime, education, and services. Our job in many cases is to educate local officials, and as more capital comes into the marketplace, we have our work cut out for ourselves."
The education process can take time. Sometimes the money awaiting the conclusion of that process is patient. Sometimes less so. That's where entitlement risk – whether it's from flak at the Federal level or on the ground in municipalities – makes or breaks the deal.
Join the conversation
MORE IN Land
The burning question: How it is the Pulte team manages to improve on its gross margin edge over peers, and on the other hand projects it will continue to drive pace amidst building price and margin pressures in the horizon.
The KB Home executive strategy team's comments shed light on what other builders – depending on their geographical markets, customer segment focus, price positioning, and operational models – may also face as the 2023 market takes shape.
A multiregional homebuilding executive strategist clocks in with word that failed deals on the BTR front are resulting in calls from developer/investors saying, 'Hey! You want to buy some lots?'
MORE IN Land
The burning question: How it is the Pulte team manages to improve on its gross margin edge over peers, and on the other hand projects it will continue to drive pace amidst building price and margin pressures in the horizon.
The KB Home executive strategy team's comments shed light on what other builders – depending on their geographical markets, customer segment focus, price positioning, and operational models – may also face as the 2023 market takes shape.
A multiregional homebuilding executive strategist clocks in with word that failed deals on the BTR front are resulting in calls from developer/investors saying, 'Hey! You want to buy some lots?'