Together with
Technology
A TBD Deep Dive On Century's Future-Forward Build Cycle Play
We spoke with Century Communities' exec VP-National Operations Genji Nakata, Diamond Age ceo Jack Oslan, and Digibilt ceo John McLinden on the top 10 national homebuilders push toward fully outsourcing construction coordination in the future.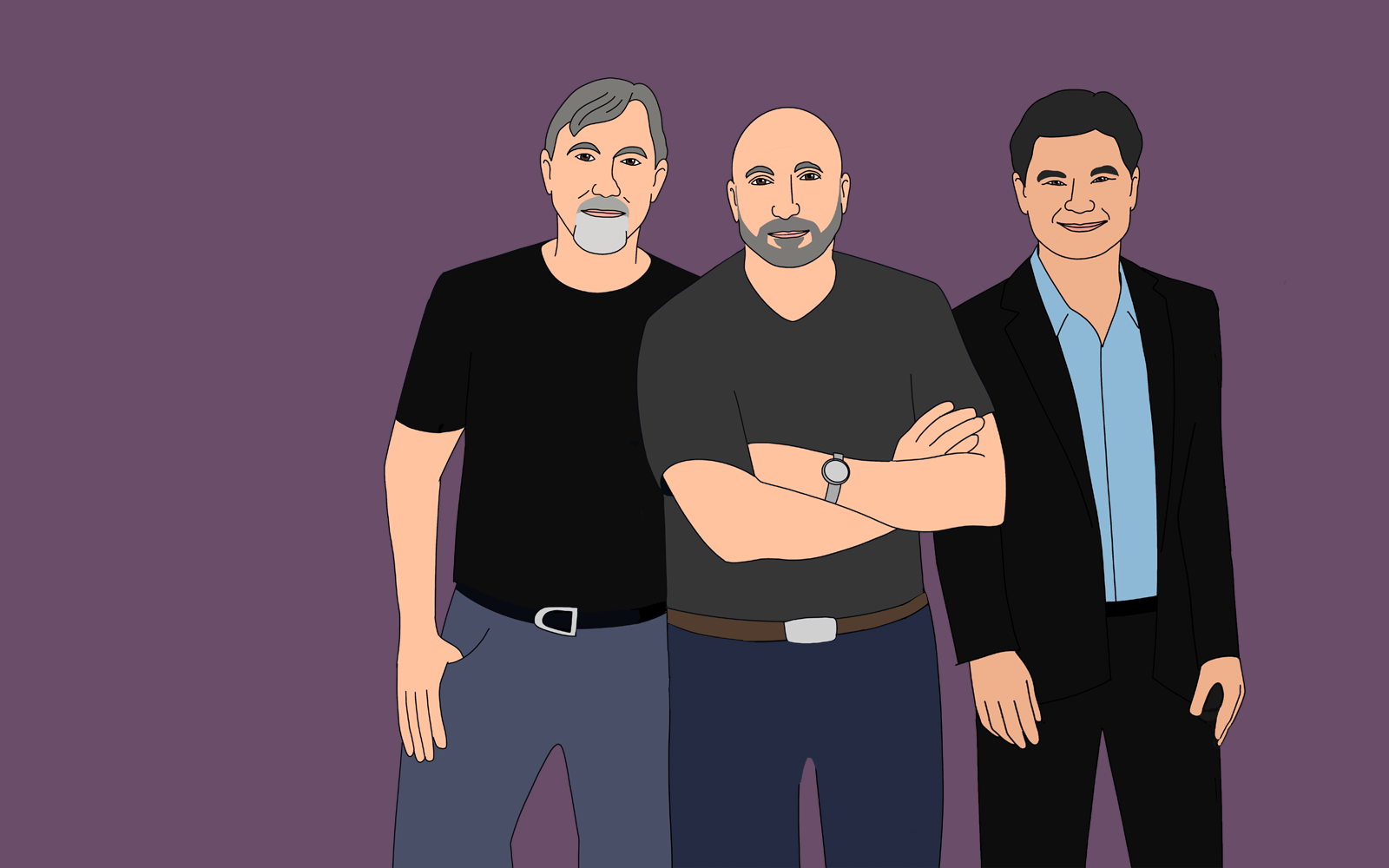 Left to right: Russell Varone, Co-founder and CTO, Diamond Age, Jack Oslan, Co-founder and CEO, Diamond Age, Genji Nakata, Executive VP, National Operations at Century Communities, Inc.
A media release last week announced Century Communities would team up with newly-relocated and cash-infused Diamond Age on a 72-home Phoenix-area neighborhood breaking ground this year.
An image of Diamond Age's gantry-enabled 1,800-square foot 3D demonstration model came with the release: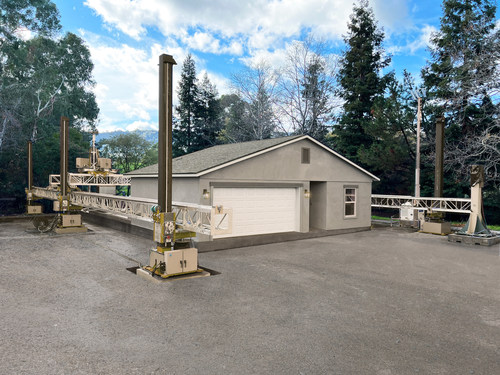 If you happened to skim the press announcement, and thought, "Oh, another big builder piloting 3D printing technology to build plate-level wall systems for tract houses," two consequential aspects of the story may have escaped notice.
One applies to who Diamond Age is and what it really does.
The other applies to the degree to which Century Communities has gone all-in on initiatives to leverage building technology in its macro goal to bend cost curves, deepen capability, and, in the end, expand its potential buyer pool. This, even as other builders experience shrinkage in the pool due to ravaging inflation, the prospect of spiralling mortgage interest rates, and supply chokeholds.
We'll look here at those two rich – critically game-changing -- seams of the Century-Diamond Age story.
Fortunately, we've had the opportunity to speak one-to-one this week with Century Communities executive VP of National Operations Genji Nakata, and Diamond Age co-founder and ceo Jack Oslan. Their insights and ideas help explode out the substance of what's happening in the Phoenix-area pilot project, and what that alliance is a bigger part of the innovative thrust going on at Century.
What Builders Need to Know
For starters, let's nest the Century-Diamond Age partnership in a perspective that reflects how the future of market-rate housing real estate and construction is taking a more streamlined and skills-based shape. What's more, recent events – the pandemic and its range of shocks to supply capacity in skilled labor, materials, and building lots, as well as related inflationary forces – have goosed and accelerated commitments, investments, and executional initiatives into a high-momentum mode that parallels what new-homebuilders and residential community developers have achieved by leveraging exponential data and technology advances on the home shopping and purchase front.
In a sense, recent upheaval on the public health, consumer behavior, economics, technology, capital investment, logistics, and local, regional, and national policy fronts has carried pluses and minuses for new home and community developers and builders, especially in a backdrop of too-few houses for too many people. As these forces have played out, a sausage-making impact, particularly on higher-volume homebuilding enterprises, and the future of their operational and financial models has gained clarity.
That future – certainly not cookie-cutter, but increasingly made up of shared essential core capabilities that transform resources into value – looks more and more like this, for an enterprise "homebuilding" organization that prospers by engaging people at various points in their "buyer's journey" and matches them with a home and community product that meets a blend of their price-point wherewithal, needs, preferences, and aspirations.
Essential capability, competitive advantage, and cultural pillars in the future-of-housing model for homebuilding enterprises include:
Economic cycle-smoothed and patient capital structure and management
Land access, planning optimization, and local entitlement proficiency
Design, architecture services
Consumer focus and match-making data, tech platform, and branding
Interior and indoor-outdoor liveability options and finishes
Marketing, sales, purchase and customer satisfaction
Conspicuous in its absence from this array of core enterprise skill-sets is actual building and day-to-day master-contractor involvement in construction productivity. Coordinating the 20-plus construction trades it currently takes to produce a home will no longer fall into the core skillset homebuilders need to resource.
Century Communities' Strides In Vertical Innovation
In the Century-Diamond Age sync-up in Phoenix, one of a multi-initiative array of new technology- and data-enabled processes – all of them leading eventually to that evolving core set of operating proficiencies that would consign its entire production operations to a building-as-a-service variable-cost capability – has set in motion, with a two-to-five year endgame.
That array – in addition to one-day being able to turn the entirety of home-site vertical construction to a Diamond Age-style fully-roboticized, even-flow on-site assembly line, up to the point of finish-level details – includes a big move of late into a marriage of building information modeling and digital twin "source code" that will enable Century to avail concretely from 2D information and imaging to 3D bill of materials "piece-level" detail, to construction documentation, and beyond.
Our initiatives strengthen our ability to improve our procurement efforts and construction efficiency," says Century's Genji Nakata. "We've been working with partners –  including Digibilt – on both the Century Communities product line and Century Complete for more accurate bill-of-materials details, and more."
Nakata notes that at each dimension of the concept-to-pre-construction to construction value chain time-traps, cross-purposes, and money overruns commonly thwart the building life cycle's efficiency, productivity, and ultimately, value creation.
The Role and Promise of Digital Twin
This "single-point-of-truth" opportunity – known among some who're working to fuse the workflows, expertise levels, and efforts of architecture, engineering, and construction into an elegant, simplified, cohesive value chain as a "federated model" – leads from BIM, to digital twin, ultimately to "the saw," or CNC machines that translate the zeroes and ones of data into precision-manufactured building components, structural members, and unitized panel systems.
John McLinden, ceo of Digibilt, notes that – beyond the AutoDesk Revit plug-in's piece-level information map of each of the Century Complete floor plan and elevation products, which convert into elegant request for proposals for manufacturer and materials suppliers – the richer capability of a true "digital twin" serves not just the vertical construction life-cycle, but also adds value to where builder-developers engage with municipal agencies, inspectors, and planning boards in the entitlement process.
Where you begin to really see the power of our digital twin tools, with our architectural and engineering capability wrapped into them, is at the land planning, density optimization, and placemaking level that goes on in the entitlement process," says Digibilt's McLinden. "This ability to blend the digital twin technology and design talent into a powerful visualization can work to help solve one of the biggest challenges builders face at the moment, speeding the entitlement process."
A federated model integration of 2D schematics, 3D digital twins, bill of materials, procurement bidding, fully-clash-detected construction documentation, and digital inputs to saws, robots, and other precision-automated manufacturing systems, gives homebuilders – for the first time ever – end-to-end visibility, real-time options cost analysis, and scheduling capability.
Time is money," says Nakata. "Where we're heading is to improve the data and information inputs to the point where we're able to pivot to a more industrialized production process."
The Diamond Age Build Out
Which makes the next step, to a site-based advanced manufacturing model – i.e Diamond Age – make sense.
"What we were attracted to and see as very different about the Diamond Age approach is that they're really driving at a full turnkey solution t0 the vertical construction dimension," says Nakata.
From the point where Century will plan the land and pour the slab foundation, Diamond Age's fully-loaded 26-robotic tools will be capable not only of achieving the durability, energy-savings, and sound-dampened building envelopes other 3D printing companies are developing, but an altogether different fit-and-finish level.
Besides the thicker openings for windows and doors, the Diamond Age home looks the same as a traditionally built home. Also, the robotic suite of tools that they'll bring in to do a range of other structure and systems assembly work that multiple trades would do, make this company different than the other 3D printers," Nakata says.
For the 72-homes scoped for the Century's first foray with Diamond Age, Nakata and the Century team wanted to get off the dime even as Diamond Age was in the process of building out its planned suite of 26 robotic tool.
They currently have the first cohort of their robots up and running," says Nakata. "So we suggested to Jack and Russell, 'why don't we take baby steps, and give us dried-in structures that we can finish, and then we'll slowly expand the scope from there?' So, for at least the first batch of homes, they'll print us dried-in structures, and we'll finish the homes from there."
Diamond Age's two founders, Jack Oslan and Russell Varone, founded their company with a big, game-changing vision to leverage technology and innovation to impact housing affordability. Early start-up phase due diligence has involved extensive immersion in the production pain-points higher volume builders experience as they try to drive value against the orthogonal, land investment and return and consumer sales and marketing rigors of their business.
Their gantry-based robotic system includes post-tensioned floor and wall systems from 3D printers that square off corners and produce exteriors that maintain strong fidelity to stick-built models. Beyond that, the robotic tools integrate mechanicals, electric, plumbing, HVAC systems, etc. on an evenflow production basis, a step-change in construction cycle time.
To be accretive to the value-creation capability of the homebuilding sector, we have to allow and empower them to do what they do best," says Jack Oslan. "When it comes to who we are and what we do, 3D printing is just a tool, not the whole system. Our system – with the 26 robotic tools all working constantly – will not only impact the capability of builders, it will bring more human resource talent into the industry. We'll be able to train people to work shifts and complete tasks – enabled by the technology – on any number of areas of the home that it would take 18 different trade crews to complete. Our impact will not only be on affordability, but on expanding the human capability of the sector."
The Century Communities initiatives – aimed both at deepening the technology-enabled solutions of BIM to digital-twin to construction component fabrication and, ultimately, looking to turn-key building-as-a-service platforms like Diamond Age – are evidence of increasing strategic investment that's driving the shape of homebuilding's future. And it's happening at an accelerated pace in part due to the multiple crises and disruptions challenging the U.S. economy and its households.
Join the conversation
MORE IN Technology
A cap-ex-light portable mini-factory approach to getting deep local scale and high-velocity end-to-end home construction capability aims to be production builders' local partner. TBD dives deep with the co-founders of Cuby.
Capability in the form of an end-to-end build-cycle-as-a-service can offset at least some of the difference between having a free pass and not.
With so many combination deals under discussion, consideration, or moving toward finalization, a challenge in an era that leaves little-to-no margin for error when it comes gaining accretive value is in good implementation and integration.
MORE IN Technology
A cap-ex-light portable mini-factory approach to getting deep local scale and high-velocity end-to-end home construction capability aims to be production builders' local partner. TBD dives deep with the co-founders of Cuby.
Capability in the form of an end-to-end build-cycle-as-a-service can offset at least some of the difference between having a free pass and not.
With so many combination deals under discussion, consideration, or moving toward finalization, a challenge in an era that leaves little-to-no margin for error when it comes gaining accretive value is in good implementation and integration.