Architecture
What's In A Name? Garman Homes Pushes The Envelope
Vertical construction got underway this month on a house in Chatham Park, N.C., whose name is Barnaby. Here's why.
John McManus
April 22nd, 2021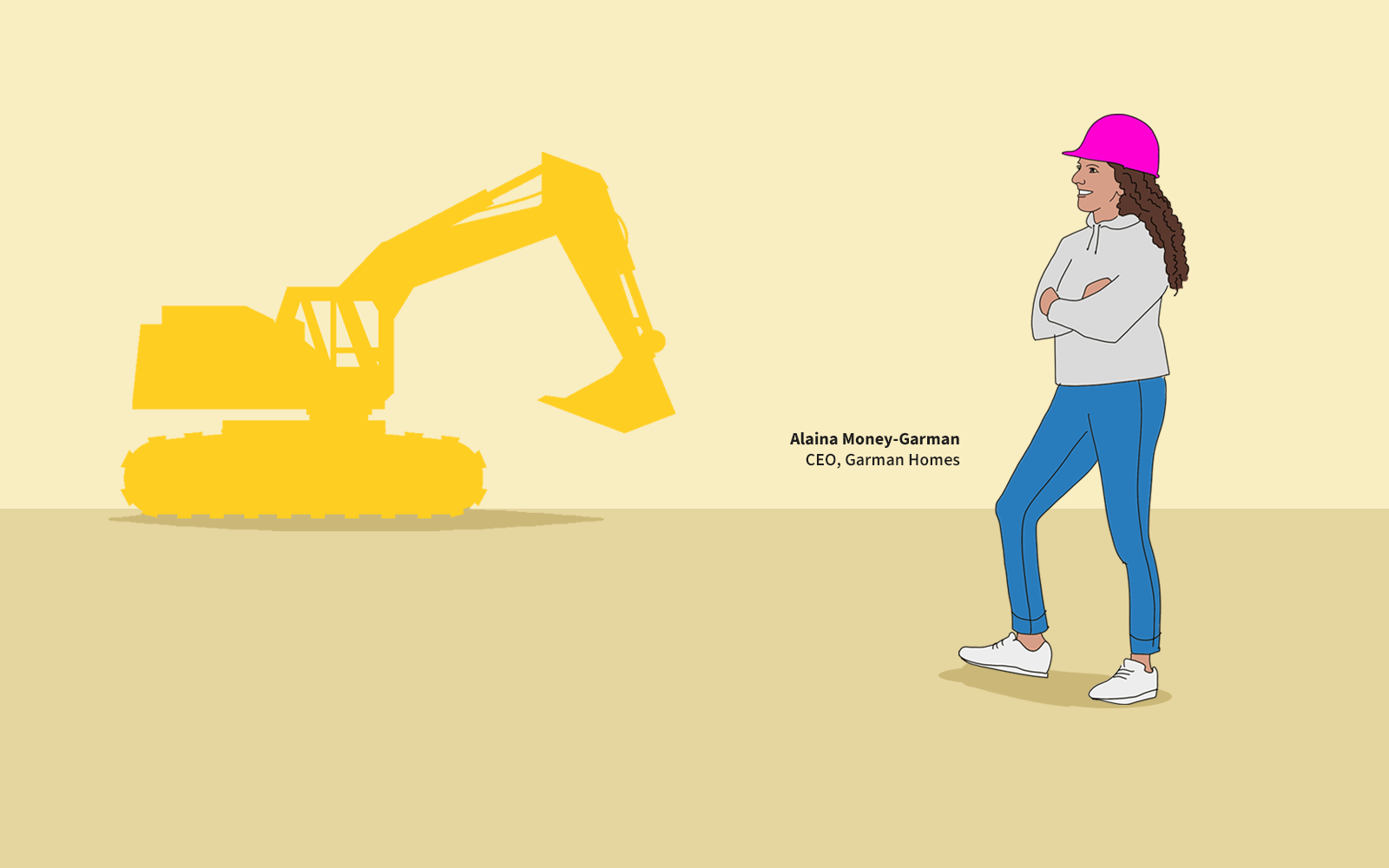 Go ahead. Pretend to try to resist falling head over heels in love with a new house whose name is Barnaby.
For real, and why not?
Communities get proper people names. Neighborhoods, too. Homes – mostly imposing structures down prosperous, long drives behind forbidding gates, or with slightly crooked wooden arrows nailed to trees on dirt roads that lead to lake or riverside bungalows – get a name.
Barnaby, mind you, is not the whole name of a Garman Homes' America At Home concept home project we've fallen for. That full name would be "No Little Plans – Barnaby." Garman so believes that people's deepest, often unspoken needs for safety, comfort, identity, peace-of-mind hardwire themselves to stories, it has created a dialog-driven home product line called Nonfiction to mesh and personalize the box that becomes its customer's home.
Taking mass customization toward personalization all the way through to personification invests the physical structure and its systems in mindfully serving its residents' needs, wants, and dreams.
Barnaby is no clever come-on, because Garman ensures that name is earned.
Why that is the case is as fiendish as it is brilliant.  It's also why we're in love with the project and why it's a story everyone planning, designing, investing in, building, finishing, and selling should learn by heart.
The plot around how No Little Plans – Barnaby comes to be here and now is simple, and it's propelled by three very human faculties, both shockingly obvious and dismayingly rare.
Be curious, listen, and discover rather than presume you already know
Intend to be for someone, and that way, solve her or his challenge
Relate, for needs are met when someone recognizes her or his needs are there to be met.
The project, which broke ground last week, will in 60 days or so, become Barnaby, a two-story, single-family 2,600 square foot idea house on a 45-foot of frontage lot in Chatham Park, a 25 minute drive due west of Cary, N.C.
The braintrust behind the village of contributors who're making this Barnaby project so fiendishly brilliant are four of residential building's most forward-looking women leaders. The Builder's Daily Dream Team member and master placemaker Teri Slavik-Tsuyuki, Garman Homes chief executive and builder Alaina Money-Garman, architect Nancy Keenan, CEO of the Dahlin Group, and consumer insight specialist Belinda Sward, president of Strategic Solutions Alliance.
The Beginning: Coronavirus
What will go down in the books as a reflexive, passing fad, and what may wind up becoming a real trend as people and businesses and communities and society channeled from impulse to intention in the post-Covid-2020s – this will be the stuff, one day, of Harvard Business Review-like case studies. When we've reached the threshold of "learning to live with Covid" may only be known in hindsight, but it would in the best of all worlds only be starting now.
With apologies to the rigor and discipline of the HBR editorial and research team in qualifying and spotlighting such cases, here's our pre-case study on a project we love for it's lean-in to a post-pandemic long-now while most peers fixated – understandably – on the shorter one.
Remembering a little over a year-ago the whitehot spasm of shock Covid unleashed everywhere, at once, percussively, relentlessly, and like nothing ever before, is like trying to recall details of what happened after your car slams full-speed into a solid wall. Remembering it and going through it bear little relationship to one another.
At best, assuming you've managed to walk away in tact, remembered details are foggy, sketchy, impressionistic, perhaps not there at all. What happens after such a super-compressed instance of trauma, normally, might be a sense of giddy, gravity-less embrace of mere sheer preternatural presence, after having last been conscious of an annihilating freefall.
"I survived."
And if you were a homebuilder in the latter part of March, running into April, and on the brink of May you may even have thought.
"I've died and gone to heaven."
After a flash of vertiginous, free-falling horror last March, builders expected awakening into permafrost abyss. What they got instead was a signal – loud and clear in online searches, and then in steady and growing orders – of something few could have expected: sales.
So many sales.  So, firms jumped to, figured out how to remove friction, physical constraint, and bother from the house-hunting and buying process, put their heads down, and sold. Pace exceeded expectation, and pretty soon, even with all operational cylinders firing, many firms couldn't keep up with the demand pull, a trajectory that only seemed to be climbing – fueled by Uncle Sam's interest rate put, by a need to get away from places that seemed prone to contagion, and by something else. Time.
Be Curious, Listen
Most builders raced to build and sell and stock their inventories with lots, and somewhat secure access to construction crews, and flows of materials. This was "jigging."
A few – including Slavik-Tsuyuki, Money-Garman, Keenan, and Sward – jogged.
Jigging leaned into the demand warp of the moment. Jogging meant taking a moment to ask with simple curiosity, what this time – now defined by the onset of the pandemic but leading into an undefinable middle, and later duration of its impact – means.
They asked. They listened. What came out of that is the America At Home study.
The America at Home Study was hosted online during the COVID-19 pandemic in two waves. The first wave took place April 23-30, 2020 with a nationally representative sample of 3,001 consumers 25-74 years of age with household incomes of $50,000+. The second wave took place September 24 – November 6 with a nationally representative sample of 3,935 consumers in the same age and income brackets.
Here's how what they learned sums up – and what it implies about how people want to live in their homes.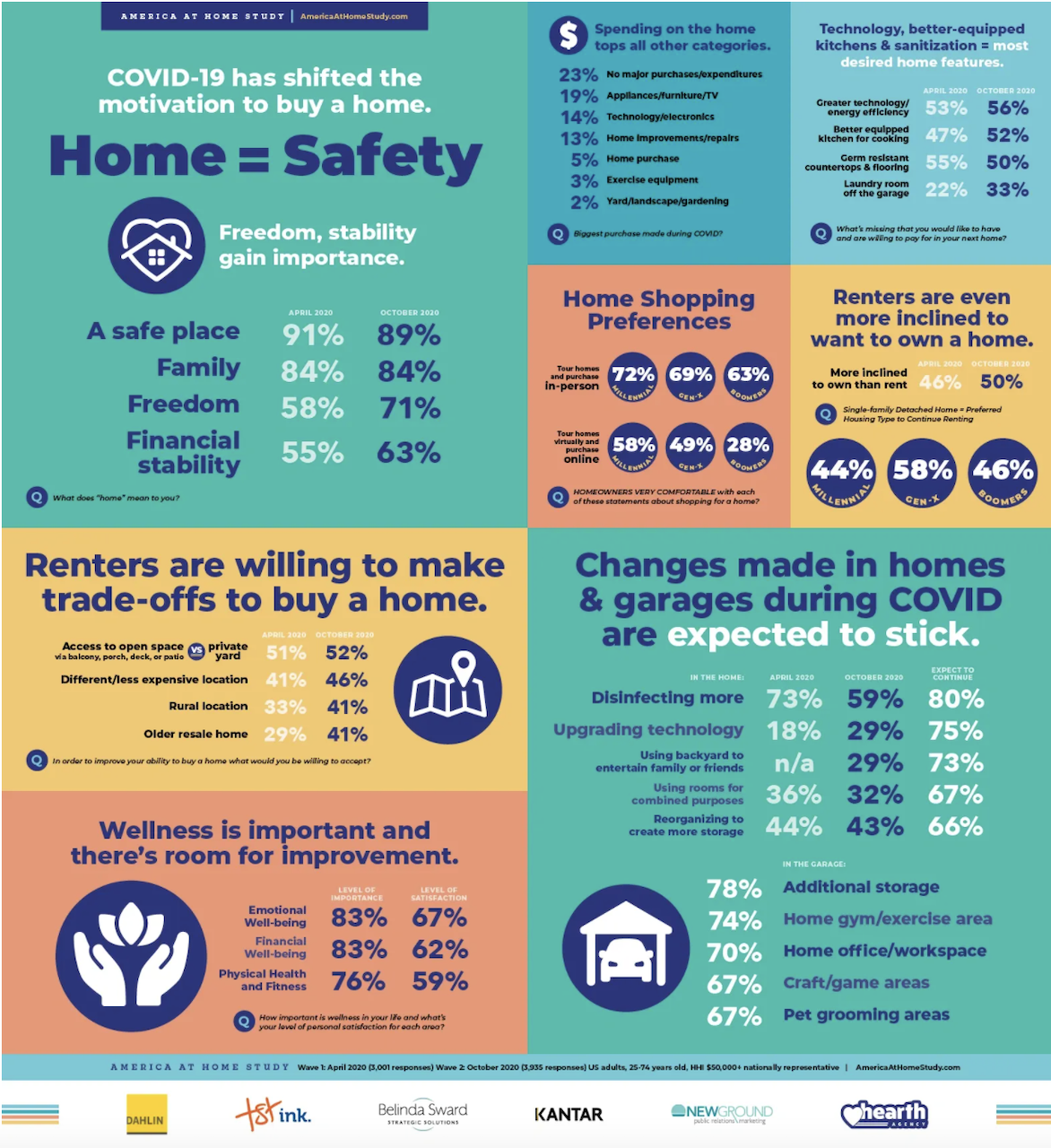 Intention Matters – Intend To Be For A Customer
The operative terms you see in the revelations of the America At Home study underscore primal, unchanging truths. Shelters dating back 250,000 years have always been about benefits that nest essentially in five master buckets: safety, comfort, health, well-being, and identity.
We wrote here:
A smart, healthy, operationally-sound, high-performance, environmentally-friendlier sheltering haven—one where inhabitants preferably do not die, get sick, nor suffer harm, and don't do so amid a relative feeling of well-being as their property-value meter runs—sounds just about right to ring in any new year. Bedrooms, a kitchen, bathrooms, living areas—they're the essential kit-of-parts that make a house. What Slavik-Tsuyuki, Keenan, Sward, and Garman seized on—and why it affords a glimpse at the future of housing—is that it's a merger of a home's parts and the story of people who live there, striving to prosper, that makes up today's biggest challenge in home design, engineering, construction, and real estate.
It's only logical. Which is a more likely beacon of protection, of peace-of-mind, of relaxation and enjoyment, of wellness, an inanimate thing or a trusted person?
When we think of "smart homes," what comes to mind is technological wizardry. But what smart homes really are are places that engage in the lives of those living their, and, together, weave their narrative of thriving, of being the person, or family, or household one aims to be.
The builder take-away here is, remember always, your credentials – the ability to put a new, vertical structure into a budding community – are your customers' solutions.
Relate
The America At Home project, and the No Little Plans – Barnaby home underway now in Chatham Park, N.C., takes care – with digital home buying experience help from Cecilian Partners – to illuminate the job a home needs to do for its inhabitants in a "learning to live with Covid" era.
Barnaby is no faceless, nameless, uninvested, distant entity. Barnaby becomes a family's companion, caregiver, respite, source of warmth, grace, light, and joy. Barnaby is one of the America At Home study's purest discoveries. The nonfiction narrative of that family, that household, those people living in those four walls have a nameable, present, personified reference point for all they value.
Alaina Money-Garman writes:
I used to think of our home as our landing spot.  Our rest between constant errands, endless practices, insistent appointments and frequent business trips.  And then last year it became our full time backdrop.  No longer the space in between all the places we would go.  It became the space where we would stay.  So we could be safe.
Unsurprisingly, over 7,000 respondents to the America at Home Study were thinking about safety too.  About working from home.  About school from home.  About life from home. About all the ways they would need the space inside their home to transform and adapt to new responsibilities.  A harder working kitchen.  More thoughtful entries.  The bar for homes had been irrevocably raised.
In too many cases, for too much of the time, builders develop, and design, and engineer, and build, and sell units to buyers.
Coronavirus – in nature and among people – stopped time. It was nature's pause button. Builders, fortunately, rebooted fast and had streams of customers to sell to. The America At Home project strategists seized that moment in time to decipher and help shape housing's future.
Join the conversation