Policy
Reg Burden's A Bane, But Fixing Rules Alone Doesn't Mean Gain
For those whose livelihoods stem from work producing homes in the housing crisis, each area of expertise looks through his or her own lens, and each assigns a different weight of importance to forces that impact that cost curve.
For most of us mortals, housing affordability – and the crisis it stands for domestically – links to an upward arc of the "cost curve," indexing a basket of direct and indirect expenses it takes to expand the supply of homes and communities.
Simply, input expenses have outpaced household incomes, creating a cost curve that has disengaged, increasingly, from wherewithal in a general way.
Bend the cost curve back down, the thinking goes, and one can lower enormous front-loaded capital investment it takes to increase supply of the absolute number of units of housing stock. That greater supply, then will allow for a reset of balance between household earnings and housing costs.
The hard part comes in agreeing on assigned values to the gamut of forces that impact that runaway cost curve.
For those whose livelihoods stem from work on the producer, developer, designer, investor, and importantly, government official side of the housing crisis, each area of expertise looks through a different lens, and each assigns a different weight of importance to forces that impact that cost curve.
It's only natural. That's how special interests work.
Depending on who you ask, the biggest impact – and widest-open opportunity area -- on the runaway cost curve might be (alphabetically):
Borrowing and capital costs
Construction inefficiencies and productivity loss
Regulatory burden (the stack of local, regional, state, and federal fees for land and building)
And depending on whom you're talking with, every person that names one or another of these three cost-curve influencers that doesn't match up to one's own lens of perspective suffers from a perception-versus-reality gap about the root cause of impact on the cost curve.
So, while from a high level, almost everyone might agree that 30-to-40% of each new home's cost curve – even today – might be susceptible to bending downward, back toward where more people would be included in the new residential development and construction ecosystem, few can agree on how to untie the knot of bundled excess expense.
Here's an example of how this self-perpetuating cycle sets itself in motion.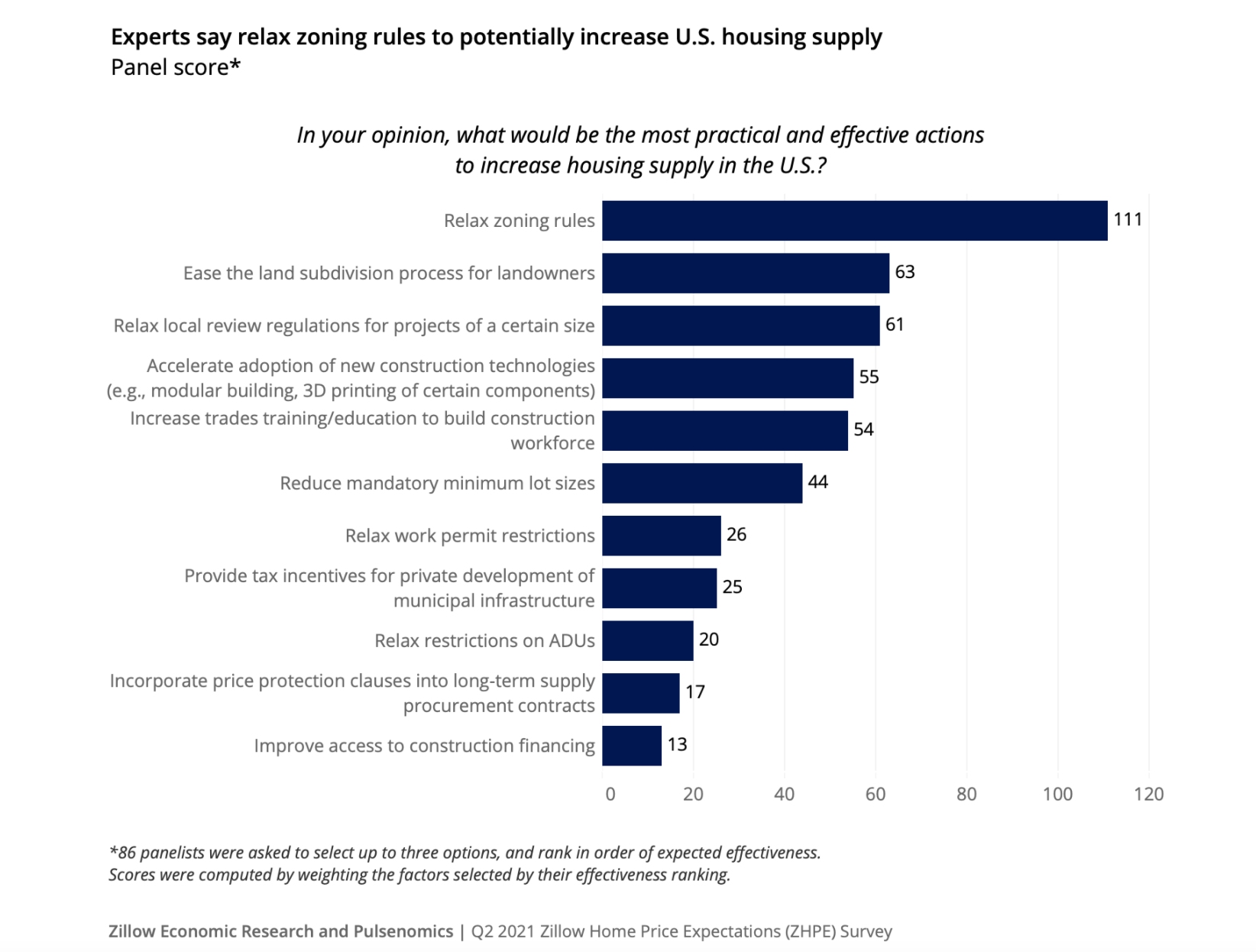 Relaxing zoning rules to allow for more and/or more-efficient new home construction would be the most effective way to increase supply in a housing market currently near historic inventory lows, according to the latest Zillow Home Price Expectations Survey.[1] On the current path, those experts anticipate new construction growth to stall and home prices to rise, resulting in fewer of today's 30-somethings owning homes.
High costs are expected to slow new construction momentum, a blow to home shoppers already facing an intensely competitive market with relatively few available homes when compared to the number of interested buyers. On average, the panel expects new housing starts to end the year 2.5% below December 2020 levels, and to fall an additional 2% by the end of 2022. Panelists cited the high costs of labor, materials and land as the biggest headwinds for home builders.[2] The Zillow Home Price Expectations Survey is a quarterly survey of more than 100 real estate experts and economists nationwide, sponsored by Zillow and conducted by Pulsenomics.
No argument here, land use and its tree of policy-related influences and impacts, branching directly to basic property-ownership law, is a barrier – and, potentially, an opportunity-area – for a downward bend in housing's cost curve.
Not in isolation, however.
Without big productivity gain that could only come from dismantling structural inefficiencies – and that means people's current casting and role in building's byzantine process of hand-offs, intermediaries, and cost-piggy-backs – and transformation toward integrated, precision-manufacturing design, engineering, sourcing, and assembly process, any gains captured on the regulatory burden front would be subsumed into present-day inefficiency.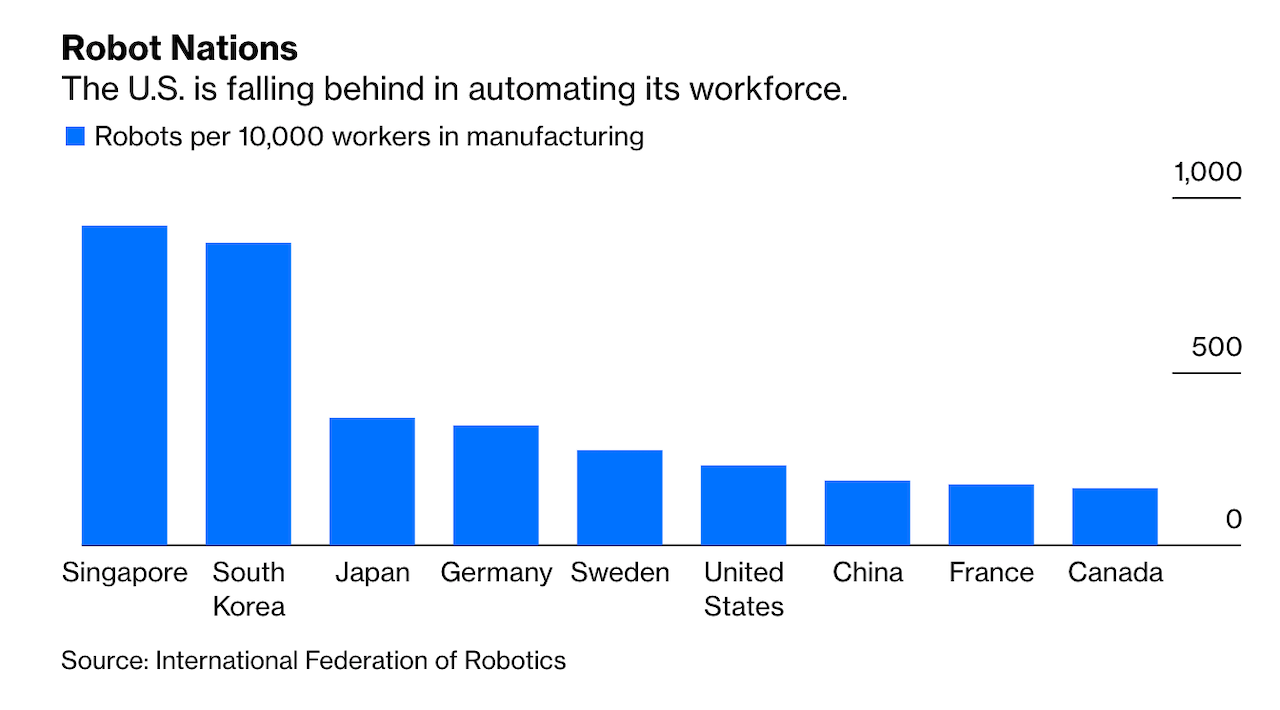 Likewise, without capital investment and lending "gains" that channel equity more equitably across stakeholders – rather than further narrowing and concentrating the gains among fewer shareholders – the opportunity captured on either the regulatory burden front or the building lifecycle front would be similarly eaten up as wealth gain to the few, with little or no impact on the fast growing number of people who need improved access to more decent housing.
The operative term in the middle ground of these three force factors is equity. Equity is housing's proverbial elephant in the room, and the ancient Indian proverb of the blind men and the elephant applies if true solutions, not isolated fixes, are to be imagined, resolved to, and achieved.
Once recognition and discovery seizes on the interdepence of regulatory burden, lost productivity, and over-sequestered value gain as equally important drivers of the cost curve, progress is possible.
Then, the next challenge, will be in how to begin working together not just to bend the cost curve downward, but to bend the arc of payment power – household income capability – upward.
Join the conversation