Together with
Leadership
Pulte Accepts Invitation To The Built-To-Rent Dance Party
Here are key takeaways of the five-year deal for homebuilding's No. 3 builder by volume to produce 7,500 homes for the single-family rental sector's No. 1 player.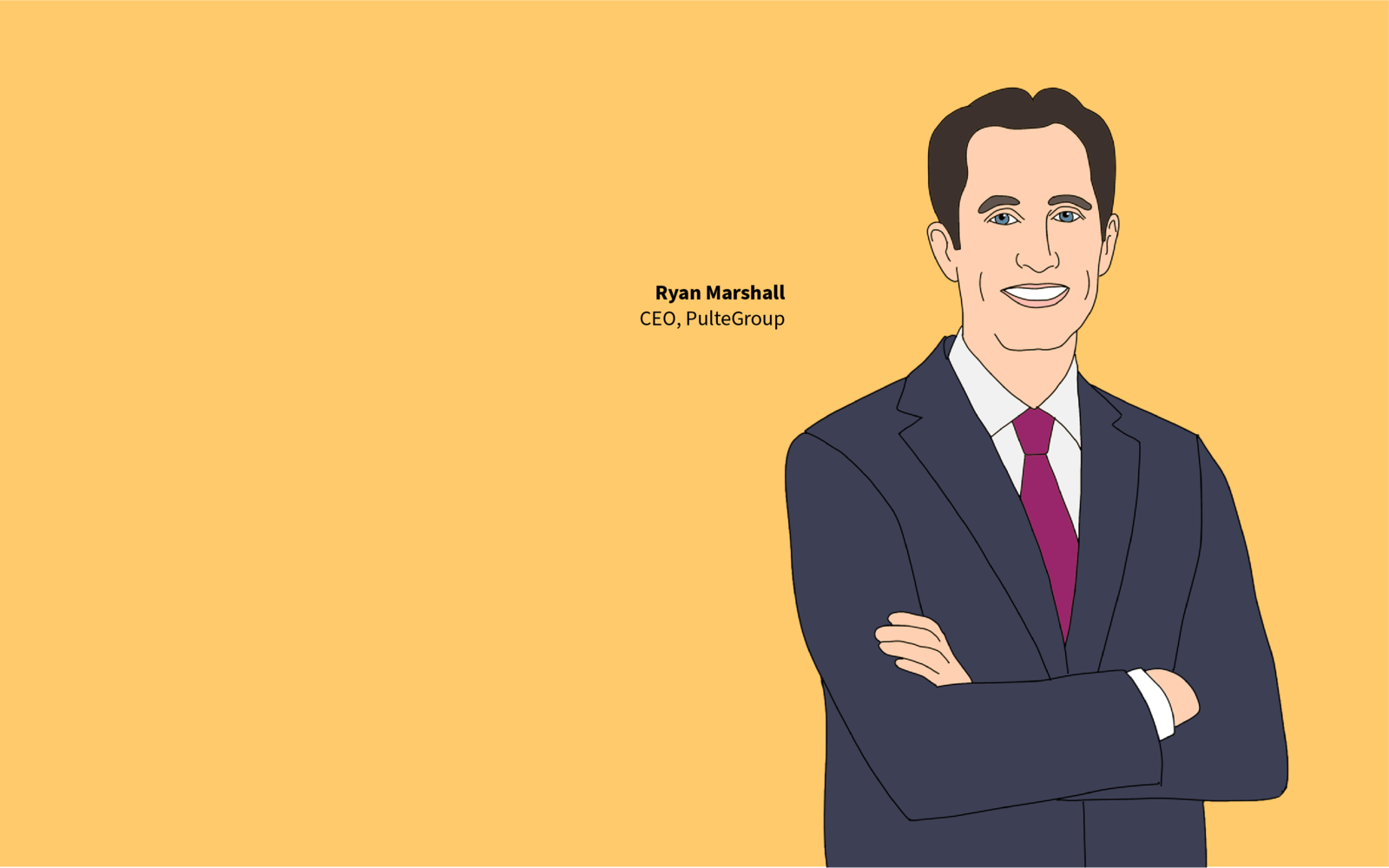 Here's how the Seeking Alpha site recaps the big announcement Monday of single-family-built-to-rent's latest blockbuster deal.
Single-family home leasing company Invitation Homes (NYSE:INVH) has signed an agreement to purchase ~7,500 new homes to be built by PulteGroup (NYSE:PHM) over the next five years.
The new homes will be designed and built specifically for this partnership. The two have already agreed on the construction and sale of more than 1,000 homes over the next several years, with sales to begin closing in 2022.
Initial projects will be located in Florida, Georgia, Southern California, North Carolina and Texas.
The five-year framework of the Invitation-PulteGroup partnership provides a perfect scope from which to understand its meaning, impacts, and implications for both the two partners in the deal, and for this juggernaut phenomenon that bridges single-family and multifamily as an asset-class, a real estate investment, and a consumer housing preference type.
For the purest, editorial-perspective-free view of the partnership, we'll turn first to yesterday's PulteGroup 2nd quarter earnings call with analysts, where Pulte ceo Ryan Marshall added this color commentary to the press statement verbiage.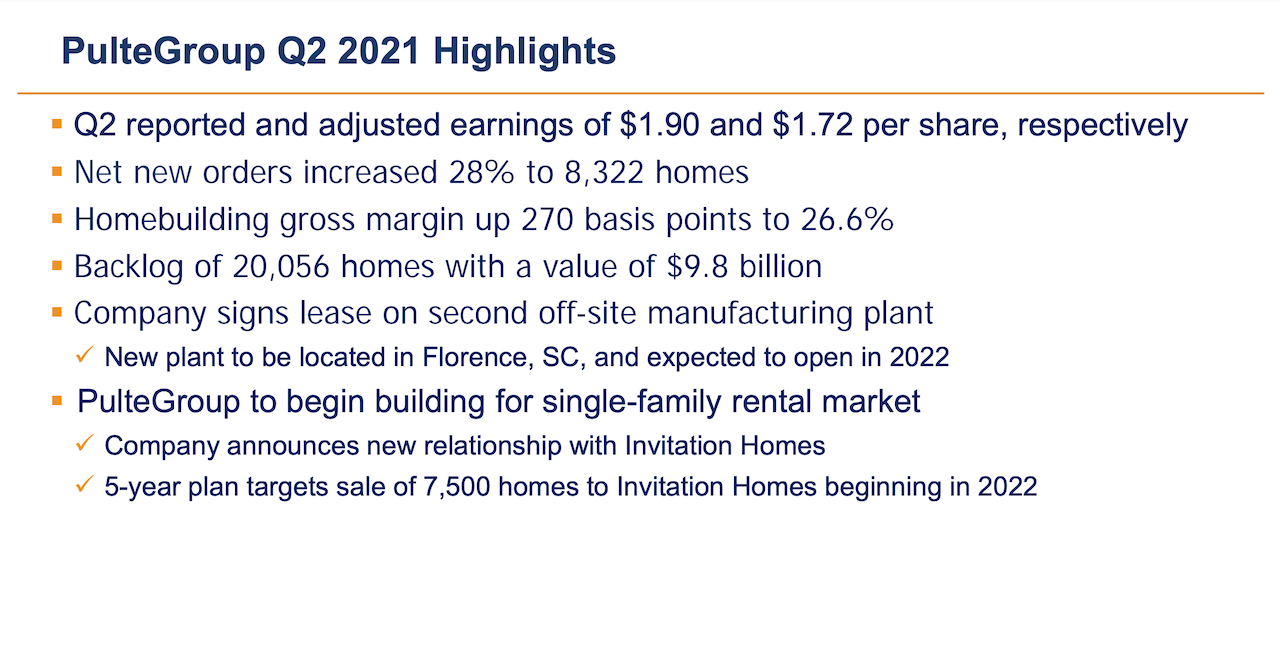 We have already agreed to projects in the state of Florida, Georgia, California and Texas, representing an initial 1,000 homes. Under the program structure, we are effectively a preferred provider of new construction homes to Invitation.
Along with providing a strong margin and return opportunity, this relationship offers a number of other benefits. The increased construction volume allows us to further expand local market scale within the areas we currently serve. The increased inventory turn resulting from these sales can enhance overall project returns. The increased volume could allow the company to potentially pursue larger land pieces in select locations, and the relationship could also support PulteGroup's entry into select new markets we have been assessing.
Marshall adds further depth to the backdrop of strategy and operational tactics that Pulte considers in its team-up with Invitation, in a Q&A exchange with Zelman & Associates managing director Alan Ratner.
Here, verbatim, is that exchange.
Alan Ratner
I'd love to spend a second or two hearing a bit more about the partnership with Invitation Homes, and what I'm curious about from your perspective is 7,500 homes over five years, should we think about that as being additive to your for-sale business, or is some of that going to maybe come out of the for-sale business, recognizing it's competing for the same land, the same labor, the same materials, and it doesn't seem like those constraints are getting better anytime soon. Is the capacity there to fully make this a one plus one equals two, or should we think about this as maybe a little bit more of a hedge and maybe the business grows a bit, but not fully at that 1,500 home per year level?
Ryan Marshall
Yes Alan, it's a fair question, and I'm going to give you a little bit of a, it's a bit of both, answer. We do believe that a fair number of these homes will truly be incremental to our existing for-sale business, and that would certainly be the intent. We think that this partnership will give us access to larger land parcels and allow us to build everything that we normally would have built for sale, and then incrementally do some rental units as well. Certainly I think there will be some projects where it becomes a little fungible and some of the units will come out of what historically would have been our for-sale portfolio. We'll see how the partnership plays out and what opportunities are there, but we do believe that this will become part of our growth story and we're excited about that.
I'd highlight, Alan as I think you know, the price points of the homes that are typically going to the rental pools are slightly smaller, more on the entry level price point, the cycle times are a little faster, the construction's a little easier, so we certainly think that aspect will help on the construction side of things.
Let's unpack this a bit within the context of what Pulte achieves through having a big institutional customer – albeit at wholesale pricing – for about 1,500 homes per year for the next five years.
Cadence, evenflow, velocity – Streamlined product types, smaller, value-engineered floor-plans, and finish spec, zero-customizations and upgrades, cadenced start-to-completion cycles, etc. allow for ultra-low variability, no customer care management, no associated costs, time, etc. At the same time, local project-level scale and smoothed out consistent volumes across time allow Pulte to secure access to contractors trained and cost-based to that higher-volume, lower-variability efficiency.
Too, as Marshall notes, the ante for vacant developed lots can draw on more clout commensurate with the higher volume, quicker inventory turns, and faster take-down schedules that would benefit masterplan developers, land bankers, and other land sellers.
A fuzzier, less tangible value proposition for Pulte is – despite serving as a white label wholesaler for Invitation – it can learn about how resident's relate to its product spec, what they value most, and what they're most likely to pay for in Pulte's spectrum of branded for-sale products.
The question and challenge for Pulte at the end of the day was articulated well in a conversation with a senior level capital investment and lending executive we were speaking to about builders' strategic pivot toward partnership, ownership, and ventures in the meteorically-rising built-to-rent space.
This executive said:
All the institutional parties are trying to team up with and source builders to deliver built-to-rent houses. On the plus side, if I'm a builder, I want to have as many buyers as possible and now there's a whole new market of buyers, in addition to the retail primary homebuyer or second home buyer, now I've got institutional investment buyer.
So it's a heyday for the builders. But the paradox is, they've got to decide, 'am I going to deliver this 300-unit community on a traditional retail-buyer product, which is my core business, and which is yielding terrific margins, right now?' Or 'am I going to find a way to get comparable margin – but probably a little bit lower – offsetting that with the quicker turn I get on that entire project by selling 300 at once, versus having to go through sale-by-sale-by-sale over a period of time?'
For insight into that question, Pulte ceo's Marshall also connected the dots between the volume and margin opportunity in the Invitation deal with Pulte's other key operational pivot – offsite manufacturing. The Q2 earnings talktrack also highlighted the fact that Pulte has contracted with a Florence, South Carolina site to serve as a step-two manufacturing plant in its ICG offsite assembly build-out.
Marshall's earnings call remarks inferred that offsite's operational efficiencies should come into play in producing the Invitation Homes output.
We're really excited about the second location for our ICG operation... Even with this second facility, we think the amount of our business that it's impacting is still pretty small. As we continue to scale, we get to a third plant, a fourth plant, and it's starting to impact a bigger part of our business, I think that that insight will become more relevant and certainly more appropriate.
Qualitatively, I think the thing that I would expound and elaborate on, we're really happy with what it's doing for our operation. In terms of the quality of the product that's coming out of the facilities, it is top notch. We've got a really talented team of designers and operators that are running that plant. The constructability of those components that are happening in the field are really exceeding our expectations, and it's serving saving a significant cycle time on the frame shell components of the homes, depending on how many of the components are actually going in.
Now, a couple of high-level thoughts on the Invitation-Pulte combination in light of the BTR dance floor right now, that has seen homebuilders and multifamily developers alike engaging in all manner of mating, going-solo, buying into, or providing third-party production capabilities as institutional investment capital throngs for a way into the party.
Housing, period, is underbuilt. This goes for decent, fair, healthy, attainable shelter almost anywhere, everywhere, whatever the submarket, market, or metro characteristic. So, the demand appetite for single-family detached, horizontal built-to-rent communities is there – the challenge being who can do it viably, profitably, and sustainably.
Homebuilders crave five resources most: customers who can pay, land, construction capability, steady access to materials, and predictability. BTR – even though it strays from a for-sale value proposition of builder to owner-resident -- looks good on paper as a way to get all of those. The real-world usually messes in one way or another with what looks good on paper.
Mismatches in price and cost versus the means and wherewithal of households continue to be residential real estate's big tension point, and no doubt those tensions will determine initial winners and losers in the BTR party.
Whatever happens on the capital investment front, single-family for-rent living, and the more recent brand of purpose-built SFR community living has proven to be a housing-type preference for consumer households. This goes for both rent-by-necessity households and rent-by-choice residents.
A macro question, assuming that production volumes and marketshare in the single-family-for-rent segment of households increases in significance, is what happens ultimately to homeownership rates, and what happens to the number of homes a lifespan of homeownership encompasses as SFR scales as a need the market can meet.
Join the conversation
MORE IN Leadership
Housing innovation doesn't just disrupt the cost of building; it disrupts the cost and value of owning.
While first-cost hurdles remain a mathematical challenge to price-in would-be buyers, total lifetime value and financial constants play a key role in persuading folks to buy now.
For past giants and present everyday people in homebuilding and residential development, one thing is always and forever true. There's always more to learn than the sum total of all we know from experience.
MORE IN Leadership
Housing innovation doesn't just disrupt the cost of building; it disrupts the cost and value of owning.
While first-cost hurdles remain a mathematical challenge to price-in would-be buyers, total lifetime value and financial constants play a key role in persuading folks to buy now.
For past giants and present everyday people in homebuilding and residential development, one thing is always and forever true. There's always more to learn than the sum total of all we know from experience.