Together with
Technology
New Factories Start To Resculpt Homebuilding's U.S. Landscape
No. 6 in our countdown of the macro trends transforming homebuilding forever by 2030, industrialized building will finally breakthrough as the common denominator solution for housing's affordability, talent, and climate crises.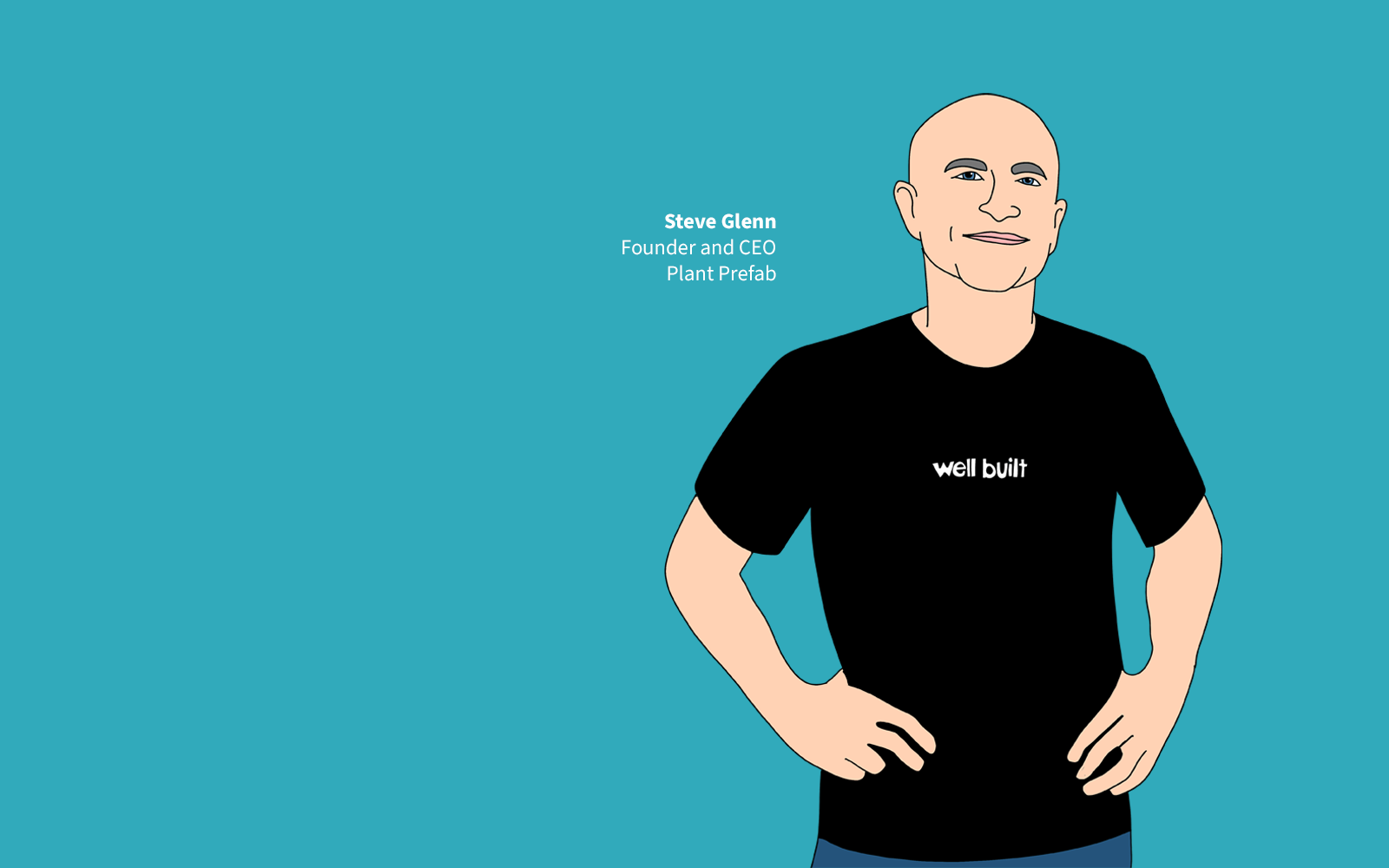 Most people overestimate what they can achieve in a year and underestimate what they can achieve in ten years."
Like quotes famous for extra special relevance across time, this one gets attributed to a pantheon of beautiful minds. At least back to the 1960s, the phrase may have sprung up, but almost just as commonly, its provenance can trace to a friend or mentor we happen to know personally.
The quote traffics far and wide these days as "Gates' Law." It tends to ride shotgun with another quoted and misquoted predictive principle, "Moore's Law," which like the observation that originated with Stanford computer scientist Roy Amara, or Bill Gates, or Arthur C. Clarke, or Tony Robbins, or Peter Drucker, focuses brilliant, precise insight on one of the bulwark cognitive and real-world challenges of our era, exponential growth.
Whether it's the pandemic, or social media, or cryptocurrency, or meme investments, exponential growth often hovers beyond what us mortals typically can fathom. Often it's right there, beyond what we recognize for real is actually going on. Exponential is like a mask reality wears, fooling most of us but not able to pull the wool over the eyes of everyone.
Nothing in the world of building and community development so sharply illustrates the mental lacuna that separates the parallel realities of present and what's next in construction as the opposite sides of the same coin of building pre-industrialization and post-industrialized, factory-based precision manufacturing.
We wrote about it recently here, equating it to two people engaging in two altogether separate conversations at the same time with one another. Neither relates to the logic, the rationale, the frame of reference or relevance, the evidence, the conclusions of the other. They're in parallel realities.
As this article maps it, the parallel realities may have to do with vantage points at differing positions on what technologists refer to as the Gartner Hype Cycle:
When we are cresting the peak of inflated expectations, we imagine that the new development will transform our lives within months. In the depths of the trough of disillusionment, we don't expect it to get anywhere, even allowing years for it to improve. We typically fail to anticipate the significance of the plateau of productivity, even if it exceeds our initial expectations.
Smart people can usually see through the initial hype. But only a handful of people can—through foresight, stubbornness or perhaps pure luck—see through the trough of disillusionment. Most of the initial skeptics feel vindicated by the dramatic drop in interest and expect the innovation to disappear. It takes far greater expertise to support an unpopular technology than to deride a popular one.
Correctly spotting the cycle as it unfolds can be immensely profitable. Misreading it can be devastating. First movers in a new area often struggle to survive the trough, even if they are the ones who do the essential research and development. We tend to assume current trends will continue, so we expect sustained growth during the peak and expect linear decline during the trough.
Transformation Trend No. 6 – Industrialized Building
Assertion: Real estate and construction's innovation triangle – building technology, stakeholder-equity value, and public policy – will tip single-digit marketshare pre-industrialized building practice into at post-industrialized 2030s, starting with offsite construction commitment, investment, and proof cases currently paving the way.
Where we have spun our wheels as a business community over the past years plots along the Gartner Hype Cycle milestones – "the trough of disillusionment," "the slope of enlightenment," and just shy, we believe, of "the plateau of productivity."
During the long-drawn-out, capacity constrained recovery period since the Great Recession, new technologies dawned and kicked into gear, greeted by hyper inflated expectations for quick fixes, and then caught in that "trough"of reality as they didn't pan out as silver bullet bolt-ons to current homebuilding and development business models.
What happened in homebuilding during the past five or so years – as offsite panelization progressively fused with building information modeling, which integrated with CNC programming, and modeled through site-specific construction that tied together architecture, engineering, and building inspection approvals, ultimately spidering into lumber and materials supply chains, inventory management, and machine learning a digital thread straight to a prospective home buyers mind and heart and pocketbook – roughly corresponds with the "adjacent possible" notion coined by Stuart Kauffman.
This theory proposes that biological systems are able to morph into more complex systems by making incremental, relatively less energy consuming changes in their make up."
Effectively, as this piece notes:
Each new innovation adds to the number of achievable possible (future) innovations. It opens up adjacent possibilities which didn't exist before, because better tools can be used to make even better tools."
The News
In a press statement, Plant Prefab announces:
Plant Prefab, the first Certified B Corporation™ building technology company dedicated to sustainable design, materials, and operations, today announced it has signed a long-term lease to open the nation's first automated factory devoted to efficiently and sustainably building multifamily developments and custom single-family homes. The new 270,000-square-foot facility will be situated on 17 acres in the Tejon Ranch Commerce Center 25 miles south of Bakersfield, California, and will serve as Plant Prefab's third factory.
Slated to break ground in January 2022, the facility will be purpose-built to efficiently manufacture custom-prefabricated panelized and modular building components. The factory will be Plant Prefab's first automated facility, utilizing sophisticated machinery driven by Plant Prefab digital modeling data to achieve even greater production velocity and a level of quality assurance and cost, time and material efficiency unmatched by any other custom housing manufacturer. It will serve as Plant Prefab's first regional production hub, expanding the company's service area to the entire Western United States and employing up to 440 people. Construction on the $30 million factory is expected to wrap in late 2022.
What builders need to know
What Steve Glenn and his Plant Prefab team have been modeling since their 2016 evolution from its LivingHomes prefabricated pedigree is a blend of sustainably-produced high-concept livability with a lowered-carbon footprint and an iterative vocabulary of designs.
Today, with two factories in California (Rialto, Ontario) and a design studio and show home in Santa Monica, PlantPrefab's stated mission is "to build a better world by design, i.e. a net zero goal and actually achieved carbon neutrality in their operations in 2020. Plant Prefab is backed by leading investors including Amazon, Asahi Kasei, Gerdau Paris Ventures, Obvious Ventures, and others.
The launch of our hub is a critical milestone in Plant Prefab's broader mission to make architectural, sustainable housing more accessible, as it allows us to expand our capabilities from single-family and small multifamily housing into high-volume, large-scale developments – including student, affordable, and market-rate housing for real estate, hospitality, and corporate developers," said Steve Glenn, Founder and CEO of Plant Prefab. "Materially expanding the end markets we serve helps address critical housing issues in supply- and labor-constrained markets. Our expanded capabilities will allow us to provide an even faster and more predictable, repeatable and sustainable building solution for both developers and consumers."
Whether or not you'd point to drastic workforce capacity constraint, or to the convulsive disruption in construction supply chains, compounded by inflationary shocks and stresses, or to skyrocketing house prices, or to climate conditions that seem to deteriorate on an accelerated basis, or to the business community's struggle to attract smart young talent to its ranks, solutions invariably lead to a common source of potential: industrialization.
Nested in that term – industrialization – will be core ride-along use-case solutions for housing attainability, for resiliency, for sustainability, and for a new dimension of livelihoods, skills and training, leadership and management.
The Plant Prefab new facility statement addresses this in part:
The new production hub also enables a step change in sustainability, as the facility is being built to Plant Prefab's strict environmental standards to minimize energy and water use, and to safeguard employee health. Energy-efficient lighting, appliances and mechanical systems, coupled with high-performance windows, water-efficient fixtures and utility monitoring will minimize resource consumption, while solar power will offset electricity consumption. These efficiencies are critical to meeting Plant Prefab's goal of achieving carbon-neutral operations by 2028.
Off- or on-site manufacturing – modular, panelization, integrated offsite, 3-D printed, mass timber, new-age cementitious, bamboo, etc. – each process or system crushing some major source of unnecessary complexity that separates raw natural or synthetic materials from what shelters people and gives them a place for sanctuary and well-being, is the "exponential growth" lying smack in the path of navigation from here to the 2030s for all but a few remaining builders of bespoke homes.
Notably, some builders – mostly the ones with the deepest capital pockets for investment in research and development – have been quicker on the draw with respect to embracing, venturing, reframing current business and operational logistics around the "exponential growth" moment lying between here and 2030.
Many, many others await the fallout of false moves, missteps, and brain damage the early adopters experience.
We hope we're around to see how the collision – Gates' Law with U.S. homebuilding – sorts out in the next eight or 10 years. We've got a strong sense it will be never a dull moment.
Join the conversation
MORE IN Technology
A rapidly evolving buyers' market puts homebuilders' schedules, costs, and build-cycle controls to the test. Collaboration, data-sharing, and constantly refreshed insights become non-negotiable tools.
Amid a competitive scramble to secure timely performance on capital put in place, operational excellence and strong relationships on the ground are not an option.
The strategic joint-venture will focus on design, engineering, testing, and platforming VBC brand affordable building types with BamCore structural wall panel systems as an ingredient brand.
MORE IN Technology
A rapidly evolving buyers' market puts homebuilders' schedules, costs, and build-cycle controls to the test. Collaboration, data-sharing, and constantly refreshed insights become non-negotiable tools.
Amid a competitive scramble to secure timely performance on capital put in place, operational excellence and strong relationships on the ground are not an option.
The strategic joint-venture will focus on design, engineering, testing, and platforming VBC brand affordable building types with BamCore structural wall panel systems as an ingredient brand.