Together with
Technology
Model Home E-Retail As-A-Service Taps Pandemic-Era Mojo
As Pulte ventures with Mine on turnkey interior design and furnishings e-commerce solutions, a business model pivot on model home economics begins to come clear.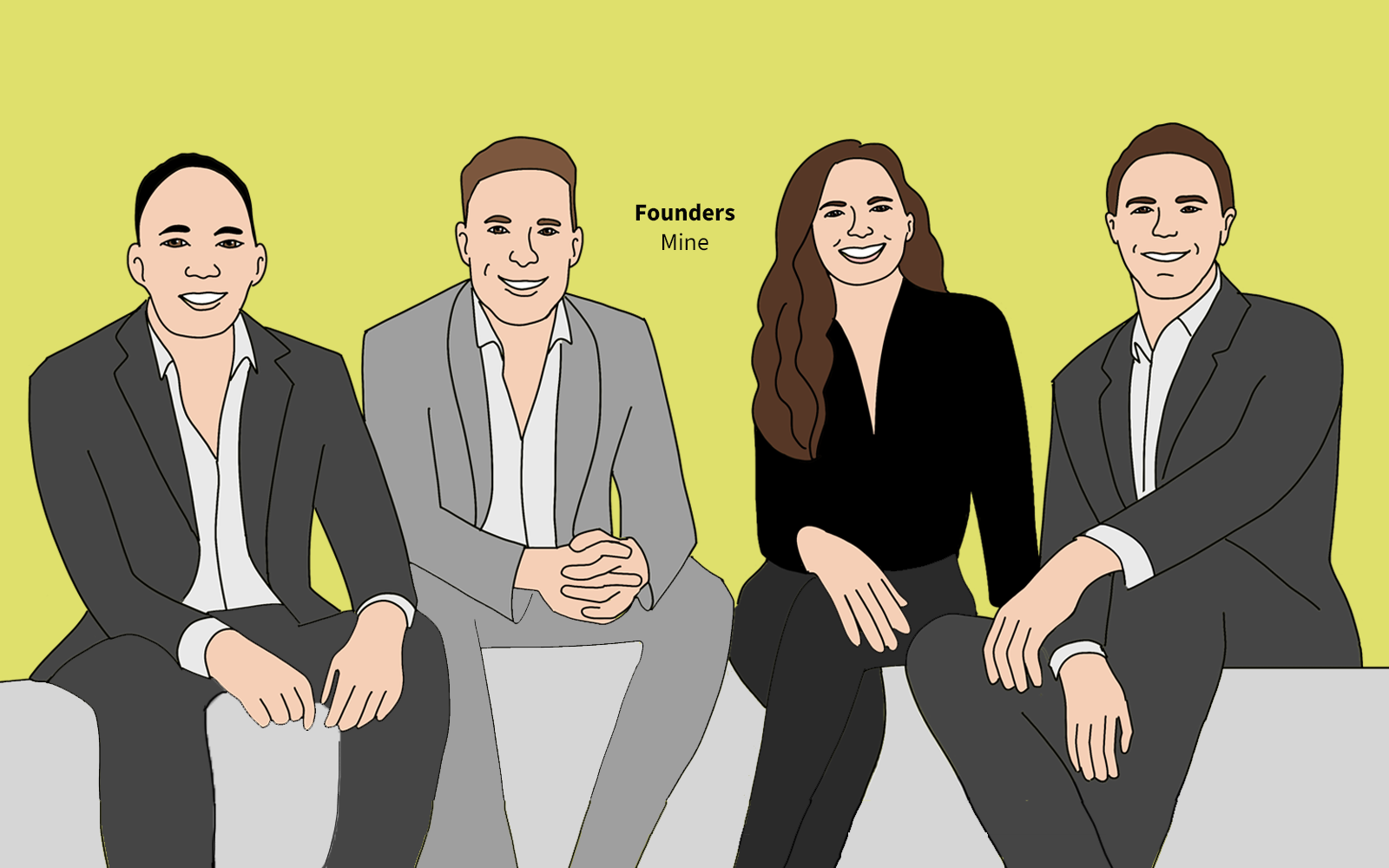 [Pictured: Mine founders, from left – Stephane Nguyen, CTO, Eoin Harrington, CEO, Sandra Stangl, Strategic Advisor, Bennett Hauser, VP of Operations. Illustration Maggie Goldstone, TBD]
PulteGroup announced last week that it's teaming up with Sausalito, CA-based start-up interior furnishings and design platform Mine, whose mission is to turn luxury model homes across the US into shoppable furniture showrooms. The partnership will give Pulte new-homebuyer customers a turnkey, elegant e-commerce solution for moving into a home they'll love, living the way they want the home to live.
For homebuilders and partners, this is actually four big stories.
A consumer experience pain-point: solving for the "white-model" downer taking ownership of a brand new – empty -- home, after having emotionally attached to a professionally designed model.
A sales model monetization strategy: For homebuilders, an opportunity for a new revenue stream – i.e. a "share" of ancillary consumer purchases related to the new-home buy -- from their model homes as a retail showcase infrastructure platform. Additionally, the ultimate marriage of AR-enabled end-to-end interior solutions and builders' design center-advisory services is in the offing.
A new-construction multiplier-effect economics impact: Given data showing that new-home customers spend more than $4,500 more than homebuyers – and just under $4,000 in furnishings – in general, an e-commerce powered growth in those expenditures measurably will amp up new construction economic impacts and an opportunity to sway policy.
The topline news here is that Pulte's leading the way in partnership with Mine, along with charter partners Ashton Woods, DRB, and Taylor Morrison. Mine, a 2019 technology start-up, that has taken off with a strong early-adopter base of national and regional homebuilders, and has more, including Century Communities, Gehan Homes, Stanley Martin, on deck.
Here's the homebuilder-to-consumer value proposition as articulated in the Pulte statement:
Now the homebuilder is making it easy for its customers to achieve a designer look in their new home. With MINE x Pulte, an online interior design service, homebuyers can buy the same furniture and décor pieces that Pulte Interiors features in its collection of beautiful model homes throughout the country.
Model home visitors – whether they're earnest buyers-to-be or "Looky Lou's" – can now use their smartphone cameras to enter Mine's deep, professionally curated, regionally-specific, augmented reality rich, seamless click-to-buy world of choice, agency, and personalization for design and furnishing their own newly purchased homes.
We are live in 300 showrooms across 80 cities now," says Eoin Harrington, co-founder and CEO of Mine. Harrington is former senior vp for Innovation at well-entrenched homebuilding model home partner Restoration Hardware. "Our goal is to expose model home visitors to an experience, learn from them what they love, and then do the work with our designers to cater and curate in a seamless, easy way for them to match their tastes and desires."
Part of the technical challenge in developing a platform that would be both highly responsive in an e-commerce data management sense along with a robust user experience fell to Mine chief technology officer Stephane Nguyen, who explains the complexity of matching the consumer experience with the channels and layers of infrastructure that involve geographical location-relevant data, retail and product distribution nodes or "stores" and a homebuilder's network of model homes across its selling communities.
We designed product search capability around multiple entity types and fields," says Nguyen, a former Apple technology developer. "And we combined this multidimensional search with natural language processing to make it more intuitive for users."
Mine's AR features allow users to place product ideas into a room, share the ideas with others, and purchase, in a friction-free e-commerce mode. Early word from homebuilding strategic executives is that, at the point of sales, the platform becomes a tool for salespeople, both making the home more sellable, and enhancing the home shopping experience. What's more, "tire kickers" with questions about the furnishings can – rather than taking a sales associate's time – can be referred over to the Mine site. Here's ceo Harrington's key take-aways:
We work with with builders' internal design teams or external design partners to make their model homes shoppable.
We work with home buyers or visitors who want to buy one item or take advantage of our free design services to complete their entire home.
We offer the best prices to our customer due to our business model and a larger assortment of products than any retailer.
If the Mine value proposition sounds vaguely familiar, it may be that, earlier this year, The Builder's Daily wrote about our Dream Team member, Builders Design ceo Joe Duffus, and his collaboration with Houzz on a "Houzz Inspired" solution that gives new homebuyers access to Houzz-designed interiors and the furnishing product complement using QR code technology.
In that piece, we wrote:
For builders and community developers, the Builders Design-Houzz partnership evolves a business- and capital investment model pivot, that transforms model homes into a dynamic extension of retail showcases. Here's where Lennar's Dave Kaiserman, president of Lennar Ventures, has led a transformative charge that could convert model homes from a cost center to a revenue and profitability opportunity for builder developers.
Builders – who've been challenged on the sales volume front not because of weak demand, but because many have sold through a lot of their active communities – plan to redouble efforts to bring more new communities online in the next 12 to 18 months. Ballpark, builders will build and merchandise a new model home for every 50 units in a new community, with interior furnishings and design expenditures ranging to about $75,000 per model home.
At a rate of 850,000 single-family new home sales projected for 2022, the economics of model homes could go one of two ways, according to back-of-the-envelope estimates of an executive with knowledge of model home finance. It's either a cost-center north of $1 billion for the high-volume home building set, or a revenue stream that could tap into a roaring $843 billion e-commerce marketplace by sharing a piece of homebuyers' furnishing and design outlays with platforms like Mine, Modsy, etc. Mine's Harrington believes there's room for more than one big player in design and furniture e-commerce solutions for homebuyers.
We believe the builder community has a massive opportunity to change the way people buy furniture by activating the largest furniture showroom network in the US."
Builders Design's Duffus believes the Houzz, Mine, Modsy, and other platforms are in the early stages of transforming how people both make the choices and derive value in their homebuying experience.
Builders are creating this experiential journey for the buyer," says Duffus. "People want to make sure their home looks and lives great when they move in, and this type of solution allays a fear so many of them have even as they make that big purchase."
Join the conversation
MORE IN Technology
The capability to improve, in good times or bad, will hinge on enterprises' ability to blend cultural and data transformation to zero in best on undeterred homebuyers' pursuit of value.
As higher and higher finance costs upend pro forma margins and depress land valuations, we'll see a culling of the weak vs. strong players in the BTR space over the next six to 18 months.
"Trying to align your business to the market on 'stale' data is not an efficient business practice and requires larger swings in pricing as you look to recapture lost revenue." — Paolo Benzan, Constellation Homebuilder Systems
MORE IN Technology
The capability to improve, in good times or bad, will hinge on enterprises' ability to blend cultural and data transformation to zero in best on undeterred homebuyers' pursuit of value.
As higher and higher finance costs upend pro forma margins and depress land valuations, we'll see a culling of the weak vs. strong players in the BTR space over the next six to 18 months.
"Trying to align your business to the market on 'stale' data is not an efficient business practice and requires larger swings in pricing as you look to recapture lost revenue." — Paolo Benzan, Constellation Homebuilder Systems