Marketing & Sales
Fortune Smiles On Lennar, 4 Others In 'Most Admired' List
As five top-10 ranked U.S. homebuilders make it into Fortune's "World's Most Admired Companies" rankings, the impact of the recognition grows.
Fortune's recently unveiled annual rankings of its "World's Most Admired Companies" for 2021 spotlighted five of homebuilding's biggest brand names among 15 shelter category enterprises.
If the honor were merely a public relations coup, enough would already have been said.
However, for enterprises and the business sector within which they compete, a Fortune "Most Admired" recognition carries more than the symbolic ceremonial meaning it might have a decade ago. This is the case, especially as legacy firms try to unlock some of the valuation power investors give only to technology unicorns and moonshot-wannabes, to the exclusion of time-tested, sticks-and-bricks brands.
The annual ranking, a venture Fortune teams up with global executive talent consultancy Korn Ferry to produce each year, includes Lennar, Toll Brothers, PulteGroup, D.R. Horton, and NVR in rarefied company among 332 corporate global powers across industry sectors.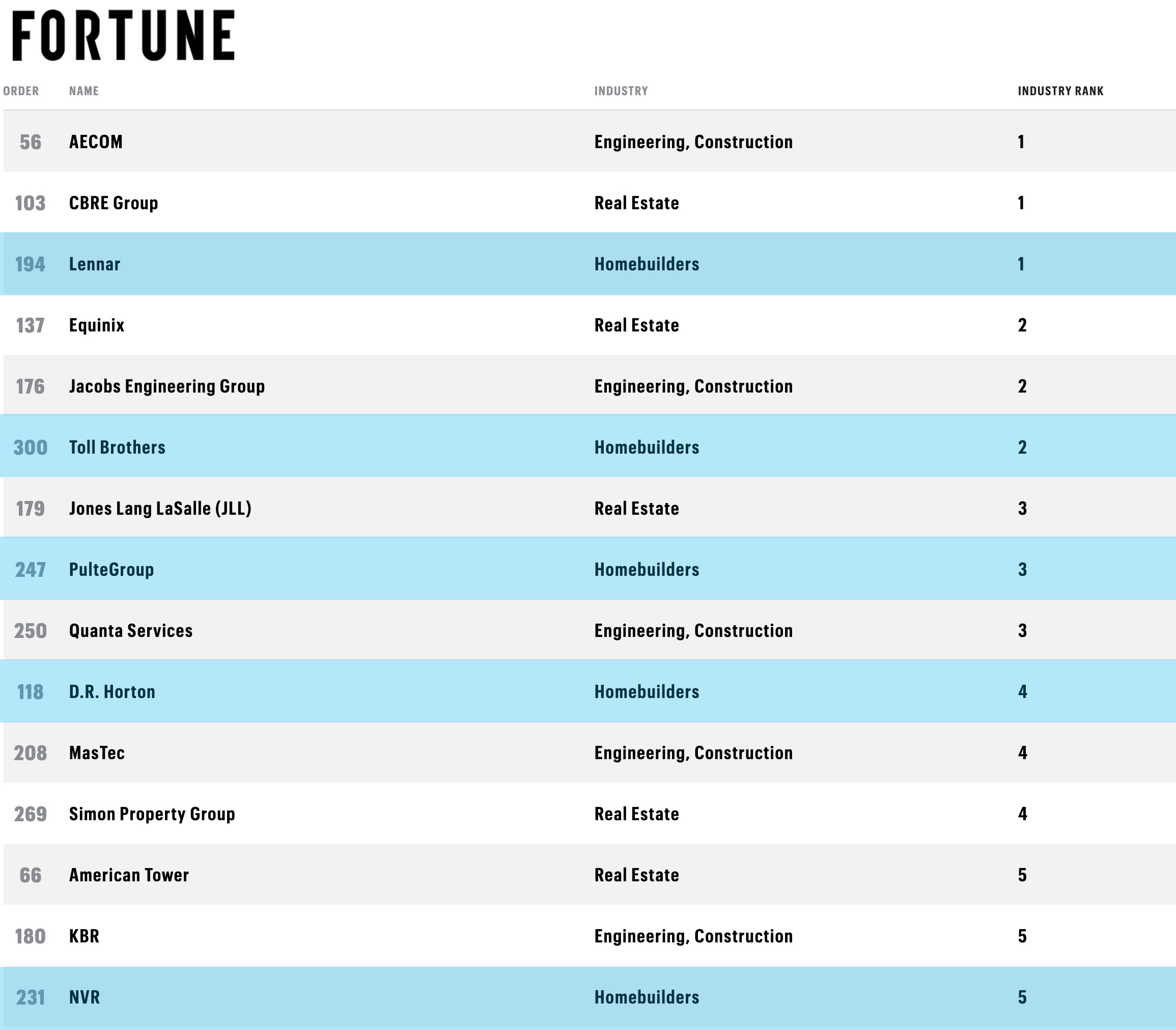 Here are key criteria that Korn Ferry researchers vet in their survey of 15,000 senior-level executives and analysts as they surface the annual listing:
Ability to attract and retain talented people
Quality of management
Social responsibility to the community and the environment
Innovativeness
Quality of products or services
Wise use of corporate assets
Financial soundness
Long-term investment value
Effectiveness in doing business globally
In each of the buckets and between the lines comes through normative skillsets that speak to accountability for a fuller array of stakeholders.
Securities and Exchange Commission proxy statements for any of the leading residential building and development enterprises make strategic executive compensation among "named executive officers" a big focus of annual shareholder disclosure. Increasingly, the blur between soft skills leadership and black-and-white financial and operational results measures arises in the discussion.
Lennar, for instance, spells out clearly a cause-effect equation that links stakeholder accountability – to stockholders, homebuyers, the environment, community, associates, trade partners, and corporate governance – as a kind of septuple-bottom line.
"We can only be an engine of social good if we are ultimately
successful in our business. We believe that our ability to
serve each of our stakeholders plays a vital role in our
success."
Reputation and organizational culture – two fuzzy and hard-to-quantify leadership skillsets – will get more weight as compensation factors as a direct correlation links transformation on diversity, equity, and inclusion with sustainable stake-holder value creation and operational results.
Join the conversation