Together with
Technology
Entry-Level Gets Hit On Mortgage-Price Axis So Horton Hatches A Plan
The nation's No. 1 builder's investment commitment in Las Vegas start-up Boxabl gives D.R. Horton a platform to expand attainability for price-sensitive buyers.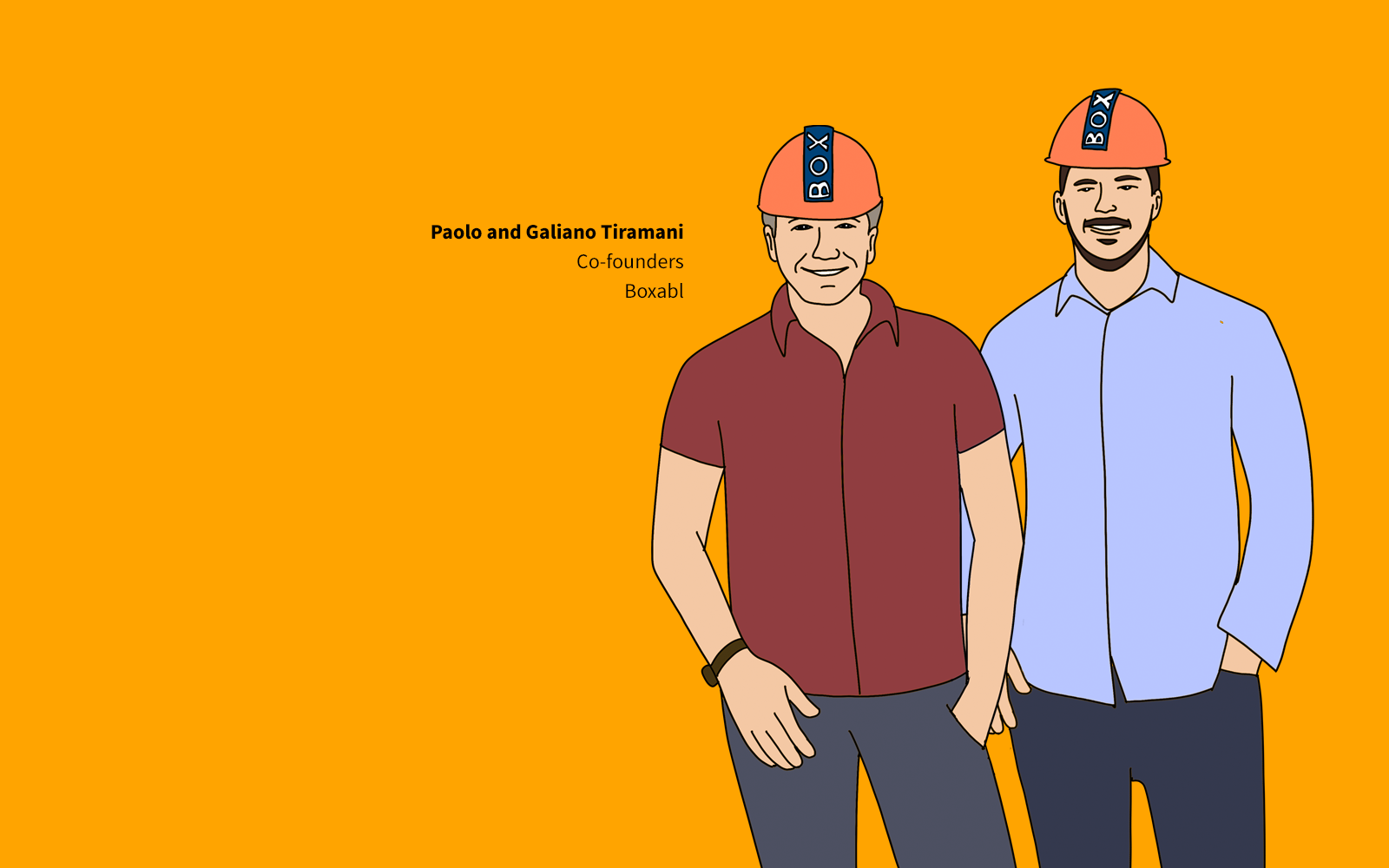 Whether or not market-rate new housing development and construction can regain a solid footing, and when that may be is uncertain.
Whether or not those players will resume producing and booking sales and lease-ups for new homes to get back in pace with the Millennial cohort juggernaut doesn't change the business community's three underlying mega-challenges to strategic investment and cultural commitment.
Attainability – which puts building profitably and household payment power into the same two cupped hands.
Construction capability – which pairs technology-enabled people with more, better, faster throughput
Resiliency – which pairs homes' and communities' operational performance, protectiveness, and comfort with their ability to net-positively impact the environment
These business challenges pre-date the pandemic and the geopolitical disruption and their convulsive ripple effects. They're there. Good times or bad, they challenge the broad business community of stakeholder builders, architects, investors, manufacturers, developers, and materials distributors to solve them, come what may.
Setting aside whether solving for those challenges will positively impact the world or society, they're business challenges. Seeking the solution for them – whether it's driven by necessity of staying ahead of the curve on legislation or addressing increasingly activist investor groups' interests, or hewing to a simple profit-motive principle that customers needs and demands are evolving – is a business best practice.
For homebuilding's players with the biggest geographical footprints and the deepest, most patient capital resource structures, the moment they reckon it's time to shift their heft into position to capture greater market share, local scale, and control of their markets is when other, smaller, more constrained competitors are back on their heels.
Of course, land control is a big national builder's go-to strategy to box out, dominate, and improve their local scalability in their operational arenas. This comes clear in statements like the following, where D.R. Horton president and ceo David Auld speaks to Wedbush Securities equity research analyst Jay McCanless during Horton's Q2 2022 earnings call six weeks ago.
Here's how one of their exchanges went:
Jay McCanless
... David earlier was talking about liquidity being the competitive advantage, especially with land prices moving up. I mean when does this lack of liquidity, I think, especially for some of the smaller private builders, when does that really force a bigger wave of M&A than what we've seen so far in post-COVID?
David Auld
I don't know that it's going to force a larger M&A program. I do think that their inability to secure financing to move forward on different projects or even to start houses is going to open up market opportunity for us, both in our ability to aggregate market share on the home sale side and the ability to control longer and longer land positions at very favorable numbers. So, it's a -- when you look at the impact of a two-plus month expansion of our cycle time and what that's done to our liquidity, and then I understand that we are still building houses much faster than anybody else, and we started at -- and are going to continue to protect a very strong liquidity position.
It's -- I got to believe there's tremendous pressure on the -- especially the private builders. And at some point, these guys have made a lot of money over their careers. And they're guaranteeing loans. And at some point, you're just not going to put everything at risk. So I do think that's going to open up market share gains for us. And we are very well-positioned to take those market -- that market when it does open.
D.R. Horton's strategic thrust – as well as that of LGI Homes, Century Communities' Compete, Lennar's Everything's Included and PulteGroup's Centex lines –, and its operational excellence springs from trading on its well-earned ability to command lower costs on land outlays versus strong margins and attainable selling prices for a more price-minded buyer seeking homeownership.
Here's David Auld with the double-down on how crucial that entry-level window into homeownership is as a D.R. Horton strategic lynchpin:
I think [our ability] to produce great value at the lower end is a tremendous advantage that we have. The buyer pool is significantly deeper there, although qualification may be a little tougher. But as I referenced before, people really want to buy home and especially their first home. So I see that segment of our business just continue to get stronger. And, whereas, some [forces] may have pushed up on price from a very low rate – where we have a lot of first-time homebuyers buying in the Horton brand – ultimately it comes down to monthly payment. And if their desire is to own home in a very, very nice community location, our competitive advantage just gets better and better.
Now, D.R. Horton's adding a strategic arrow to it quivver of competitive advantages, one that will enable the nation's No. 1-ranked builder to offset some of the corrosive impacts of climbing mortgage interest rates and higher-prices.
It's not a lower land basis cost per se that bends its cost curve and gets passed along to a potential entry-level home. Instead, it's a way to add to a potential buyer's payment power, by adding a potential revenue producing unit to the property. That's because more and more local land use and zoning rules now allow for the addition of accessory dwelling units (ADUs) as part of single-family property permits.
The ADU – as either an extra revenue source for the property owner, or a way to add additional family-members to a property for financial or health-related reasons – bends monthly cost and mortgage qualification criteria in favor of a broader pool of would-be buyers, an offset to mortgage and inflation impacts.
At least potentially, that's what's in motion with D.R. Horton's recent strategic investment in Las Vegas-based modular builder start-up Boxabl.
SeekingAlpha senior editor Liz Kiesche writes:
D.R. Horton (NYSE:DHI), the U.S.'s largest homebuilder, has invested in closely held Boxabl, a maker of compact prefabricated homes, through the purchase of preferred shares, according to a statement from Boxabl. Terms of the deal weren't disclosed.
In addition, the two companies entered a cooperation agreement in which D.R. Horton (DHI) will share resources with Boxabl to help the smaller company grow. The agreement includes a phase one order of 100 of Boxabl's Casita units.
"We expect D.R. Horton's (DHI) experience in developing houses will be invaluable as we roll out the first batches of consumer facing Casitas," Boxabl said.
Here's what Medium contributor Caleb Naysmith writes:
Boxabl hasn't had any issues with sales, but they have so many pre-orders it could be years before they will even get close to delivering on-demand. This announcement could help quelch some of those issues, allowing the modular housing startup to "share resources" with D.R. Horton, and even a statement from the CEO stating that "Boxabl customers will live in and buy Casitas deployed by Horton."
This means that they got a large investment from the company and D.R. Horton is will now help sell and deploy Boxabl homes.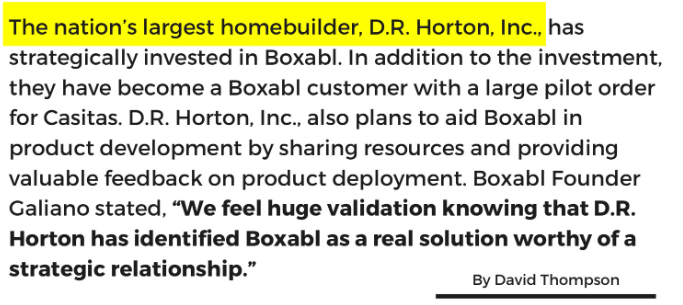 As consumer households – especially the ones D.R. Horton wants to attract with its dominant entry-level Express brand models – get whipsawed in the throes of cost-of-living increases and mortgage rate hikes, Horton's pilot JV with a player like Boxabl stands as an investment commitment in both the near-term speedbumps, and at least two of homebuilding's longer term chronic challenges – attainability and construction capability.
No better time than now to get a lot of learning and operational value in such investments.
Join the conversation
MORE IN Technology
The capability to improve, in good times or bad, will hinge on enterprises' ability to blend cultural and data transformation to zero in best on undeterred homebuyers' pursuit of value.
As higher and higher finance costs upend pro forma margins and depress land valuations, we'll see a culling of the weak vs. strong players in the BTR space over the next six to 18 months.
"Trying to align your business to the market on 'stale' data is not an efficient business practice and requires larger swings in pricing as you look to recapture lost revenue." — Paolo Benzan, Constellation Homebuilder Systems
MORE IN Technology
The capability to improve, in good times or bad, will hinge on enterprises' ability to blend cultural and data transformation to zero in best on undeterred homebuyers' pursuit of value.
As higher and higher finance costs upend pro forma margins and depress land valuations, we'll see a culling of the weak vs. strong players in the BTR space over the next six to 18 months.
"Trying to align your business to the market on 'stale' data is not an efficient business practice and requires larger swings in pricing as you look to recapture lost revenue." — Paolo Benzan, Constellation Homebuilder Systems