Together with
Products
Plug-And-Play Ducts Deliver Airflow To Building's Digital Age
Eight public homebuilder investors have backed the go-to-market adoption of an innovative HVAC distribution platform that checks multiple boxes as a solution.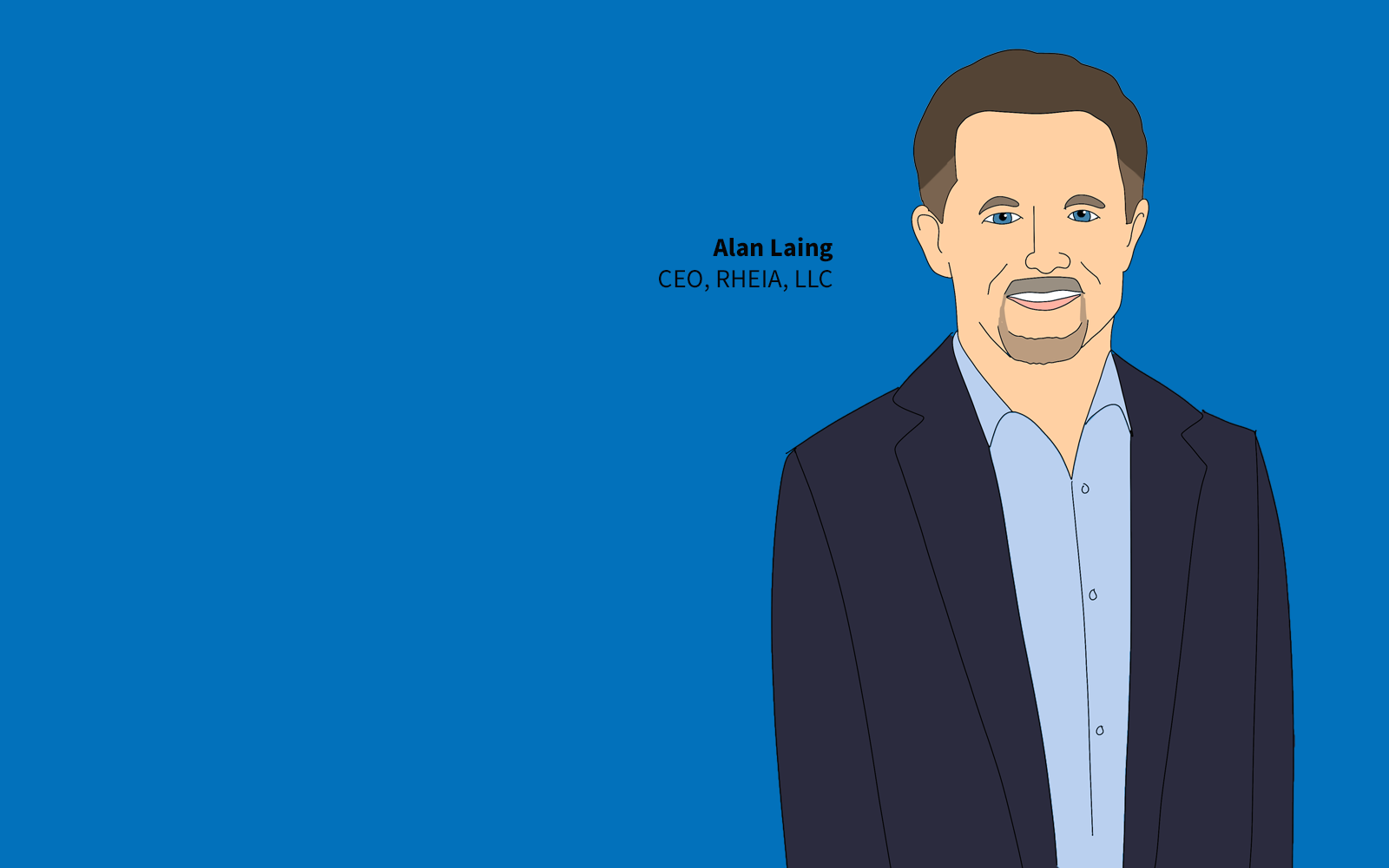 A 2,500 square foot new home goes vertical as a $350,000-plus assembly these days, many in the range of 18,000 piece-level parts, cascading down from 600 or more SKUs. This process normally engages 25 or so skilled or semi-skilled trade crews for widely varying start-to-completion spans of 100 to 200 days, counting today's workflow bottlenecks.
Can a mere 15 of those SKUs – 2.5% of the total – change how that assembled kit of parts does its job over time?
How the enclosure and its systems exceed the ever-rising bar energy codes are setting for sheltered space?
How it feels to its inhabitants in terms of comfort and air quality? How it saves money on the cost of operation?
How that 2,500 sq.-ft. structure assembles in time-value-of-money terms, by installing in less-than-typical workflow duration, and done-right-the-first-time terms?
And, of great matter in these days of materials and labor supply bottlenecks and constraints, can these same 15 SKUs relieve strain on highly-trained technicians' time and expertise by simplifying a process to the extent that it takes a net 30-minutes of demonstration and video to train a crew in its installation?
With eight public homebuilder enterprises, plumbing and climate solutions firm Uponor, and 40 or so "angels" as investors, a new solution called Rheia will give those 15 SKUs – practically none of them more than a 3-inch in diameter injection-molded, thermoplastic piece – a shot at checking each and every one of those boxes.
It turns out, dramatically so in light of COVID-19's airborne spread, that air handling – improving it – is an enormously impactful solution waiting for its moment to happen to a building business community whose "go-get" in potential vertical construction savings and efficiencies is said to be in the 20% of direct costs neighborhood. That moment – similar to giant steps in handling water flow and leak sources in the past few years through a combination of advanced materials science and data and sensor technology – has evidently come.
HVAC systems are designed using ACCA Manual J. This design procedure establishes a target airflow in cubic feet per minute (CFM) for each room in the house. The duct system must deliver conditioned air to each room as close to the target CFM as possible. Rheia uses proprietary design and balancing software to ensure the installed system meets the performance requirements of the duct design. The Rheia Verify app enables technicians to easily balance the system to meet the target CFM in each room. When the correct airflows are delivered to each room per the design, the home will have uniform temperatures throughout—eliminating hot and cold spots—providing a comfortable living space.

In an industry noteworthy for its relatively low investment in research and development, and its breathtakingly long cycle of adoption of product and materials innovation, Rheia has the makings of proof-case in how to incubate, finance, vet, and achieve broad adoption of products, processes, and materials, that – while relatively simple and unsexy – can make a difference in expense, higher performance, perceived value, environmental sustainability, and – critically, these days – at least part of an answer to today's severe labor constraint.
With financial investment – and a new form of collaborative stake in testing and market roll-out – from Beazer, D.R. Horton, Lennar, NVR, Pulte, Taylor Morrison, Tri Pointe, and Toll Brothers, Rheia reflects a potentially powerful new discovery and development platform for competing companies to team up in developing building technologies that could impact not just their balance sheets and customer value propositions, but also their collective capability at solving for increasingly-challenging code compliance and environmental accountability.
Chuck Chippero, national vp, Strategic Sourcing and Innovation at PulteGroup – one of the Rheia homebuilder investors – vouches for both the process and the ultimate solution as a test-case in commercializing innovations in building by gaining important buy-in and momentum in the genesis stages of development.
"We're a supporter of this technology," says Chiperro. "We don't view it as an astonishing breakthrough technology, but rather as an incremental innovation that's been long overdue – almost in the same sense plumbing has achieved commercialized products, processes, and practices that improve the reliability, efficiency, and install of ways to distribute water through a home – now we're able to do that with airflow and room comfort. Along with the other homebuilder stakeholders, a product research, development, and commercialized adoption path is clearer. This is a good test case in how to bring new products to market more efficiently and faster."
Chippero notes big, glitzy, well-capitalized innovation efforts in the past that have stumbled and crashed, either because of a misread of the value and cost of the technology, or because trade or channel partners pushed back negatively, creating a fatal drag on adoption in the market. With its IBACOS pedigree, Rheia developers – joined by Laing in late 2018, after he'd retired as Taylor Morrison COO earlier that year – pursued collaboration across a wide net as a path to roll-out.
Rheia LLC was launched in early 2019 and immediately developed a detailed proforma business plan that defined the action plan to bring Rheia to market in mid 2020. Rheia also raised capital from eight of the largest homebuilders in the USA and over 30 individual investors to provide funding for the critical elements required to commercially launch Rheia including:
Partnership with Wrightsoft to develop the Rheia software design module
Collaboration with industry Star to develop our supply chain and manufacturing platform
Successfully secure all required UL certifications
Source all required injection molding and duct production capability
On-boarded our team members and relocated our operations to Phoenix
As we speak, Rheia – named for the Greek goddess of comfort -- goes to market in a series of seven or eight real-world, early adoption roll-outs in production builder communities in the Indianapolis and Seattle markets over the next 90 days.
"We're seeking a surgical solution to a known energy, cost, value, and level of difficulty pain points," Rheia LLC ceo Alan Laing – a former Taylor Morrison, Orleans Homes, Dominion Homes, and Pulte strategic and operational executive – tells The Builder's Daily. "Builders in the Northern Virginia/Maryland/DC market will be underway by mid-October, Minneapolis, Chicago, Cleveland, Columbus, Las Vegas, Seattle and Portland markets will all be doing models by Fall and ready to go into production. Phoenix, Houston, Atlanta, Toronto, and Detroit are also in the plan. This will give us exposure to all the key climate zones."
Rheia's origin story traces back more than five years, to Pittsburgh-based IBACOS and the Housing Innovation Alliance in work with the U.S. Department of Energy, Laing notes. The DOE initiative reflected the government and energy code development drive – with increasing intensity over the next decade – to get ducts out of the attic and into conditioned space.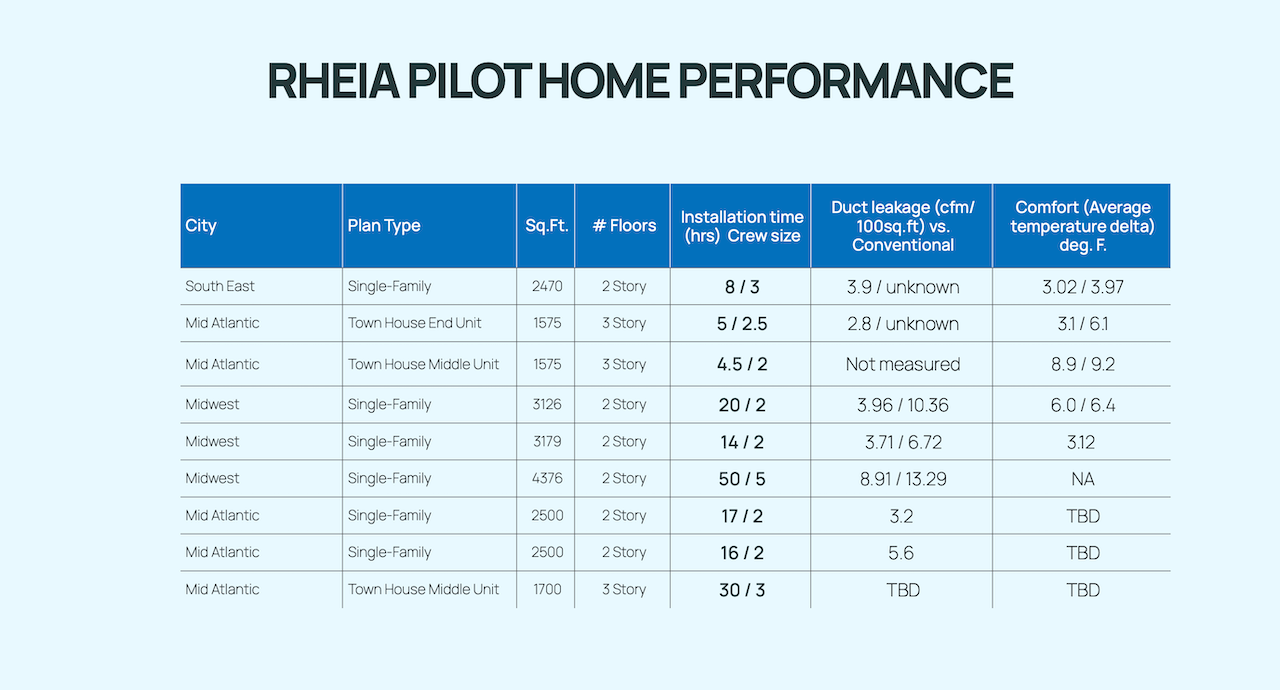 Rheia is designed to simplify and improve the supply side of a home's arterial airflow network. Its "home run" system of manifold, duct, connectors, and diffuser components achieve room air comfort consistency and quality, and – by virtue of snap-together, tightly-sealed plastic fittings commissioned specifically for each structure, rid the installation process of trial-by-error errors in sizing, balancing, and sealing that typically lead to up to 30% air loss through leaks, holes, and poor connections in the duct system.
"The push is to lower loads of energy use at the house level, so the primary driver at first was to get ahead of evolving energy codes, and a close second was to deliver better room comfort and air quality, which – in the aftermath of Covid – makes Rheia an especially powerful opportunity," Laing adds. "The labor piece of it came later, as we started time-in-motion testing and learned that we can train typical contractor crews in 30 to 45 minutes, get technicians out of attics where typically they'd be straddling trusses, and achieve both velocity improvement of 30% to 40%, and better first-time quality to eliminate call-backs."
What may be less evident, Laing points out, is that homebuilders and their contractors have become sophisticated users of available tax credits, such as 45L, allows builders and contractors a credit equal to $2,000 per unit for qualified owner-occupied or rental dwelling units that meet certain energy-savings standards. Simplistically, to qualify, raters or examiners inspect each home's HVAC and other systems to determine whether that structure earns the credit. Rheia's data-generating app – connected through Wrightsoft – can save builders and contractors time and trouble with validations and credit reimbursements.
Challenges to an introduction and roll-out like Rheia are plentiful, painfully-felt, and well-known. They range from profoundly varying climate conditions in North America's geographic regions, to building and design practices that have prevailed in different regions, to the complicated relationship of builders to local trade contractors, to the mind-numbing array of floorplans, construction document formats, MEP designs, not to mention specific individual comfort parameters residents may add to the complexity.
Big builders – as they push to comply with California's more advanced Title 24 energy codes, and anticipate wider adoption of those standards nationally – have been moving away from mechanicals closets in the attics, and bringing air handling into conditioned space," says Laing. "For Rheia, this is a trend tailwind, and we're modeling rapid, aggressive growth in what's a couple of billion-dollar marketplace.
In Indianapolis-area suburban Franklin Township, a community of four-to-five bedroom homes ranging in the low $300,000s to just-shy of $400,000, the Rheia system is going into models and ready to become standard in Beazer Homes' product offerings there.
This product and platform aligns with the direction we're going at Beazer Homes, which is to deliver all of our new homes net zero [energy] ready by the end of 2025," says Joe Starr, senior director of National Accounts and Innovation at Beazer Homes. "Rheia is not just another new product. The Rheia system contributes to our performance goals. At the same time, we expect to see improved system performance for our buyers by delivering conditioned air from A to B with less friction and no leaks. This makes for a more comfortable home in every room. And, even in the pilots and model homes, we're seeing improved install time because of the upfront design and the snap-together pieces."
"If there's another widget out there that meets a need like this one, I can see this process as a constructive and valuable way for it to come to market, creating the opportunity for a group of homebuilders to come together in support of the research and development.
Join the conversation
MORE IN Products
Our MasterClass series with Ken Pinto focuses on a cause-and-effect approach to reducing construction costs by giving suppliers SKU and lead-time information to optimize their own channels.
Ken Pinto's field-guide to an underused supply chain strategy to secure the build cycle time ... at a time construction schedules have been so massively disrupted.
A one-on-one chat between Felicia Ratka, president of Toll Brothers' TBI Smart Home Solutions and Kohler director of sales Brian Humphreys points to how tech solutions have evoled as new home value drivers.
MORE IN Products
Our MasterClass series with Ken Pinto focuses on a cause-and-effect approach to reducing construction costs by giving suppliers SKU and lead-time information to optimize their own channels.
Ken Pinto's field-guide to an underused supply chain strategy to secure the build cycle time ... at a time construction schedules have been so massively disrupted.
A one-on-one chat between Felicia Ratka, president of Toll Brothers' TBI Smart Home Solutions and Kohler director of sales Brian Humphreys points to how tech solutions have evoled as new home value drivers.