Together with
Technology
Building Tech Pioneers VBC And BamCore To Team On Assemblies
The strategic joint-venture will focus on design, engineering, testing, and platforming VBC brand affordable building types with BamCore structural wall panel systems as an ingredient brand.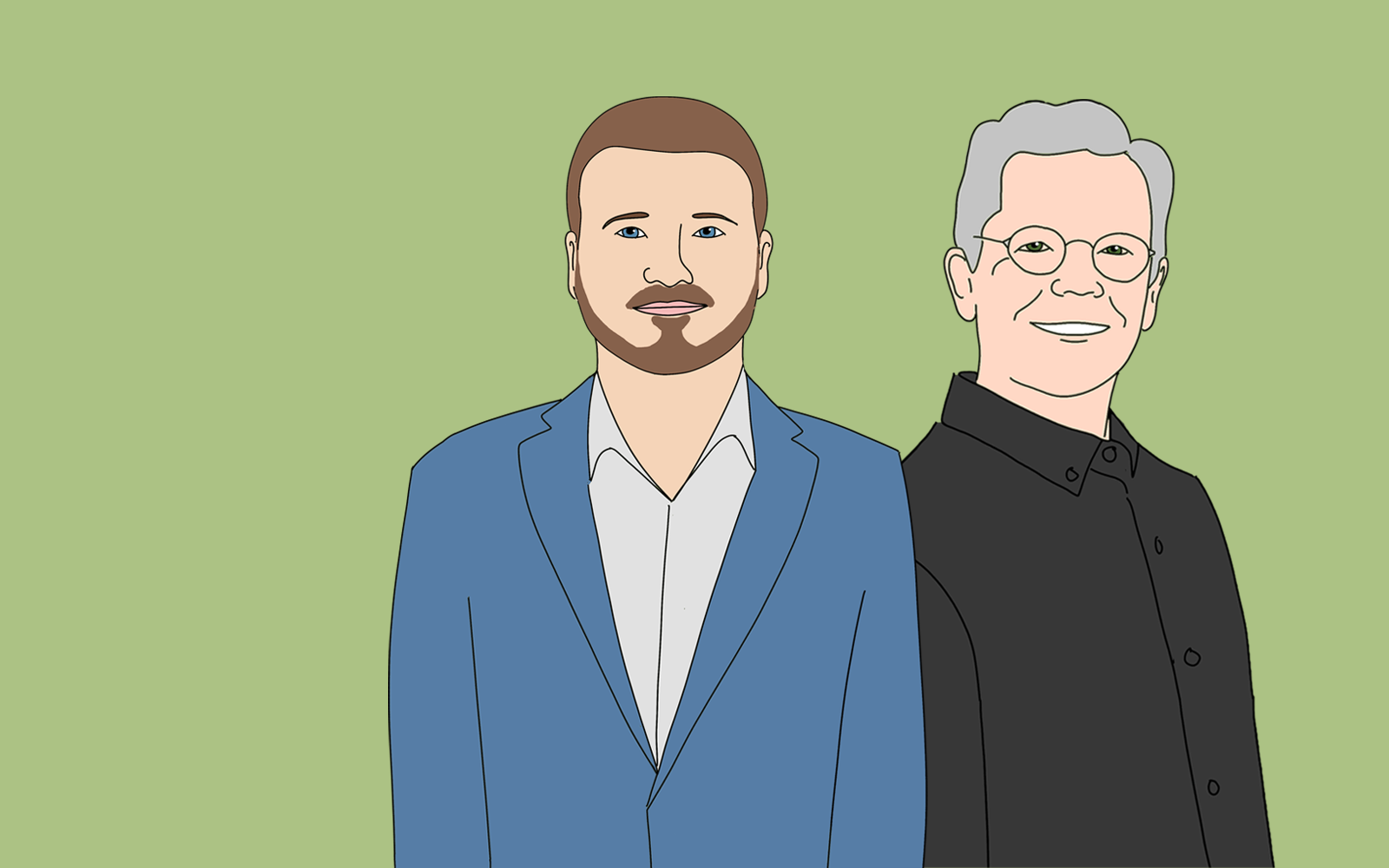 Left: Vaughan Buckley, CEO of Volumetric Building Companies
Right: Hal Hinkle, CEO of BamCore
Two building technology pioneers – Philadelphia-based Volumetric Building Companies and BamCore, headquartered in Windsor, CA – unveiled plans today to team up strategically to produce a line of affordable multifamily communities made of newly-engineered structural enclosure assemblies made of the fast-growing bamboo fiber components the two companies will design, test, and platform.
A press statement, released as part of U.S. Department of Housing and Urban Development Innovative Housing Showcase this week on the Mall in Washington, D.C. notes:
The companies will develop an innovative new wall assembly that uses sustainably harvested engineered bamboo components. BamCore's proven process produces structural framing components that are stronger, quieter, thermally superior, and faster to construct than conventional materials.
Incorporating this technology into VBC's proprietary building process demonstrates the company's continuing commitment to partnering with like-minded organizations that are devoted to building housing more quickly, affordably, and sustainably.
The announcement, whose genesis traces back more than five years to a National Association of Home Builders' International Builders Show meeting between VBC founder and ceo Vaughan Buckley and BamCore chief revenue officer Zack Zimmerman, stands as a signal cause of confidence and resolve at a moment financial, mortgage, and inflationary forces are upending what had been expected to a continued boom for housing producers.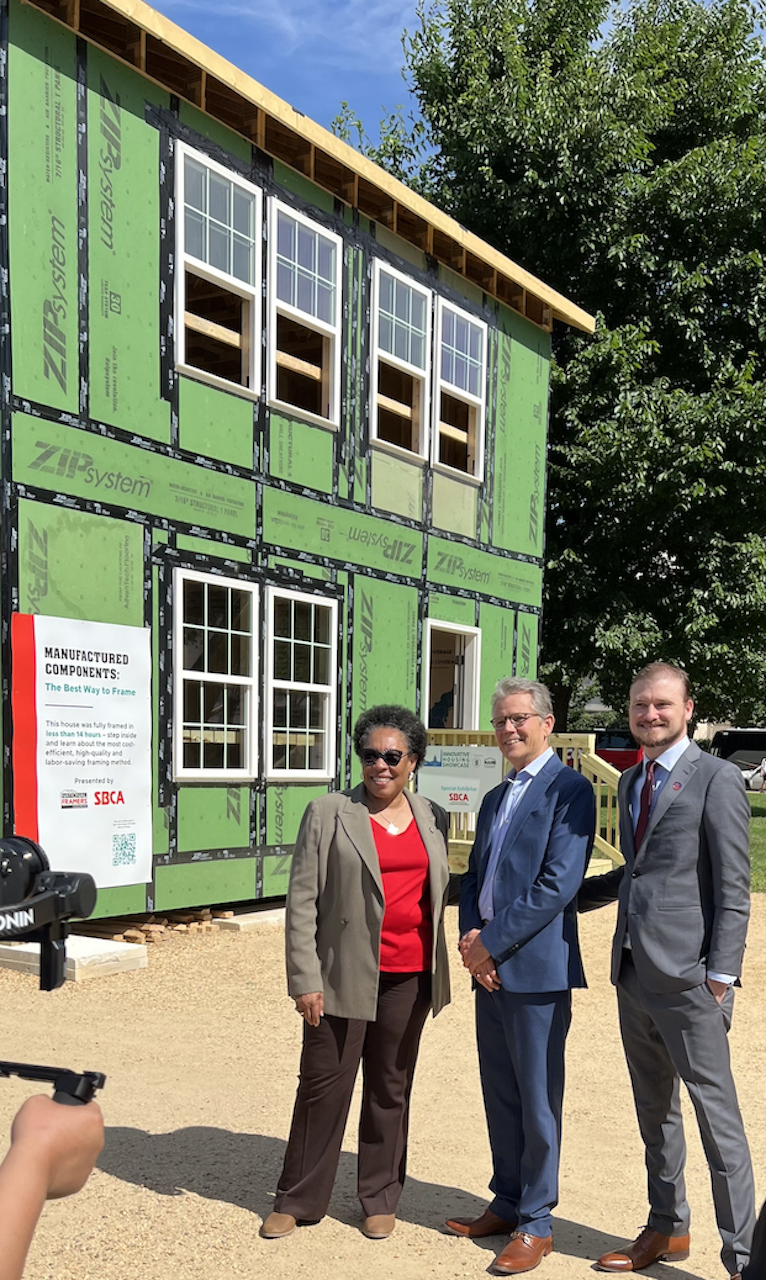 The reason? The partnership pact recognizes the inseparability of the capability to build affordably and sustainably where crises on both fronts are intensifying in severity and urgency.
To digress, briefly, on the context of this partnership announcement. Leaders of both the VBC and BamCore – Vaughan Buckley ceo of VBC and Hal Hinkle, ceo of BamCore – are marking a brightline, profit-motive business assertion that developer-builders, by driving fully into modern industrial construction, will take on and solve for attainable, sustainable, resilient homes and communities for people.
In prepared statements, the two noted:
"Our goal for VBC is to continue designing, manufacturing, and constructing large-scale, resilient multifamily buildings to address the growing housing crisis. We believe that BamCore is the company to further support that mission by using materials that result in a massive reduction in carbon emissions," said Vaughan Buckley, CEO of Volumetric Building Companies. "Mandates from owners and regulators that require the use of sustainable building materials are coming, and we're not waiting to implement these changes. We're taking steps to reduce our carbon footprint now. We are excited about what the future holds with BamCore and look forward to starting immediately."
"The traditional construction industry accounts for the largest amount of carbon emissions in the world, and we are focused on reducing that footprint by providing materials and methods that set the standard for de-carbonizing the built environment" said Hal Hinkle, CEO of BamCore. "VBC is a perfect partner as their mission of combining sustainability with affordability aligns so closely with ours. Together, we can offer a solution set to developers that introduces for the first time the combined carbon, cost, and time benefits required by the coming generations."
American Nobel novelist William Faulkner captures the direct effect constraint exerts on innovation in two strokes, 13 words.
I only write when inspiration strikes. Fortunately it strikes at nine every morning."
Housing yesterday, now, and likely tomorrow – at least while populations grow and current buildings age out of viable housing stock – boils down to a "more-better-faster" constraints riddle, where "better" solves not just for financial value but contributive health, well-being, and environmental impact.
Now, many of us think of the more-better-faster axis not as a set of constraints, but as a pipedream. Realists regard them as an illogical combination of goals, where achieving any two of them necessarily rules out the third.
But what if ruling out any of the three necessary conditions is not an option?
What if, as well, wiring the three together drives toward profit-motive solutions that transform how affordably and valuably house and neighborhood producers can ply their trade?
Together, the necessity of a more-better-faster fusion comprises a market-dynamism challenge – and opportunity -- to meet a greater number of people's unmet need for access to shelter that is sustainable, protective of their health and safety, and resilient across time.
Is it a private enterprise deal-killer or a carrot of opportunity that attainability, sustainability, and total lifecycle value should co-exist, equally essential, none truly achievable without the other two in tow?
A Harvard Business Review piece notes:
When there are no constraints on the creative process, complacency sets in, and people follow what psychologists call the path-of-least-resistance – they go for the most intuitive idea that comes to mind rather than investing in the development of better ideas. Constraints, in contrast, provide focus and a creative challenge that motivates people to search for and connect information from different sources to generate novel ideas for new products, services, or business processes.
What's more, just the way inspiration needed to strike promptly at 9 a.m. for William Faulkner, housing's stakeholders don't have the luxury of setting their own schedule for solving for the more-better-faster axis.
Rather, evolving market forces – household payment power, regulators setting new codes and standards, bumpy business conditions and supply chain dislocations, a whipsaw Wall Street financial market, and profound environmental shocks and stresses – converge to place housing's solutions seekers in a timebox.
Timeboxes provide pull even when all of the other sources of pull are lacking."
Within micro basis framework of the VBC-BamCore context, the timebox is most meaningful for chief technical officer Helena Lidelow, who's running point on fully operationalizing the firm's Tracy, CA, mega-facility, and Sara-Ann Logan, vp of design, who'll be key to integrating design of BamCore wall panels into multifamily-ready 24', 32', and 36' wall section systems, Buckley says. On the BamCore R&D front, the lead is Nicholas Allan, who's been directing product development for BamCore for three years.
For a backdrop to the more-better-faster axis challenge in a housing market that turned from exuberant to anxiety-ridden with almost a flip of the switch, you could look just about anywhere to feel strong "sources of pull." For instance, this week: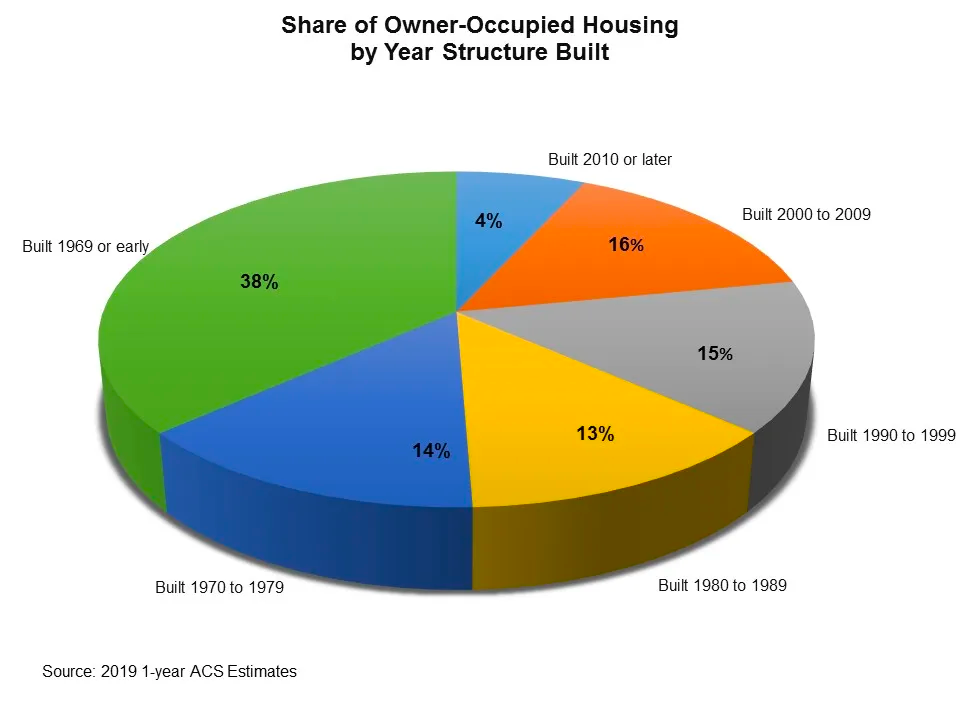 New construction added nearly 5.4 million units to the national stock from 2010 to 2019, accounting for only 7% of owner-occupied housing stock in 2019.  Owner-occupied homes constructed between 2000 and 2009 make up 15% of the housing stock. But more than half of the owner-occupied homes were built before 1980, with around 38% built before 1970. Due to modest gains of housing construction, the share of new construction built within past 9 years declined greatly, from 15% in 2006 to only 7% in 2019. Meanwhile, the share of housing stock built 50 year ago or earlier increased significantly from 30% in 2009 to 37% in 2019.
So owner-occupied homes in the U.S. now average almost 40 years old, another metric source of pull.
In that context of powerful urgent constraint, a strategic commitment and investment private-sector solution that specifically weights housing's more-better-faster go-get as an achievable bar of ambition shines meaningfully, especially in  harsher, meaner, and gloomier moments for housing.
Buckley says above that a motivator underlying the partnership is to get-ahead of the curve of regulators and code officials. There's hardly a business strategy in existence that thrives by waiting for mandates to fall into place before developing solutions to eclipse their sway. Even more than that, Buckley tells The Builder's Daily, the real matter depends on a business' capacity to reimagine what industrialized construction means and how it works in a way that fully integrates both durability, quality, and carbon optimized construction and building performance.
As a start, the two partners will team to design, produce, and engineer wall panel assemblies that extend the length, and load-bearing capacities of BamCore systems for Type 3-style mid-to-high rise buildings common for affordable housing communities.
Carbon neutrality and affordability are two of the many things that need to go into the solution rather than being disentangled and pulled out of it, and we've recognized bamboo as a key opportunity area building material for some time now," says Buckley. "We [VBC] will co-fund the development necessary, provide design resources, develop the factory tooling and platform implementation, and go through the multiple phases of testing and approvals for the BamCore structural assemblies in all of our VBC branded affordable housing products and beyond."
Hinkle too sees attainable and sustainable not as opposing goals, but as part and parcel of a single one, to source plentiful, highly renewable materials that perform as well or better than those currently commonly used in construction, as a means to both bend the cost curve and bend the embodied carbon curve to reduce CO2 and greenhouse gas emissions.
It's a misperception to say that building affordably means lower quality or lower standards on on the sustainability front," says Hinkle. "We're out to demonstrate persuasively that the market should consider affordable and sustainable buildings as equally achievable and equally essential."
Join the conversation
MORE IN Technology
The capability to improve, in good times or bad, will hinge on enterprises' ability to blend cultural and data transformation to zero in best on undeterred homebuyers' pursuit of value.
As higher and higher finance costs upend pro forma margins and depress land valuations, we'll see a culling of the weak vs. strong players in the BTR space over the next six to 18 months.
"Trying to align your business to the market on 'stale' data is not an efficient business practice and requires larger swings in pricing as you look to recapture lost revenue." — Paolo Benzan, Constellation Homebuilder Systems
MORE IN Technology
The capability to improve, in good times or bad, will hinge on enterprises' ability to blend cultural and data transformation to zero in best on undeterred homebuyers' pursuit of value.
As higher and higher finance costs upend pro forma margins and depress land valuations, we'll see a culling of the weak vs. strong players in the BTR space over the next six to 18 months.
"Trying to align your business to the market on 'stale' data is not an efficient business practice and requires larger swings in pricing as you look to recapture lost revenue." — Paolo Benzan, Constellation Homebuilder Systems