Together with
Leadership
A Salute To Homebuilding Dynast & Humanitarian James P. Ryan
We remember Ryland Homes founder Jim Ryan, as a legend and dynasty builder, and as a man who relentlessly pursued helping others as a path to his own humanness.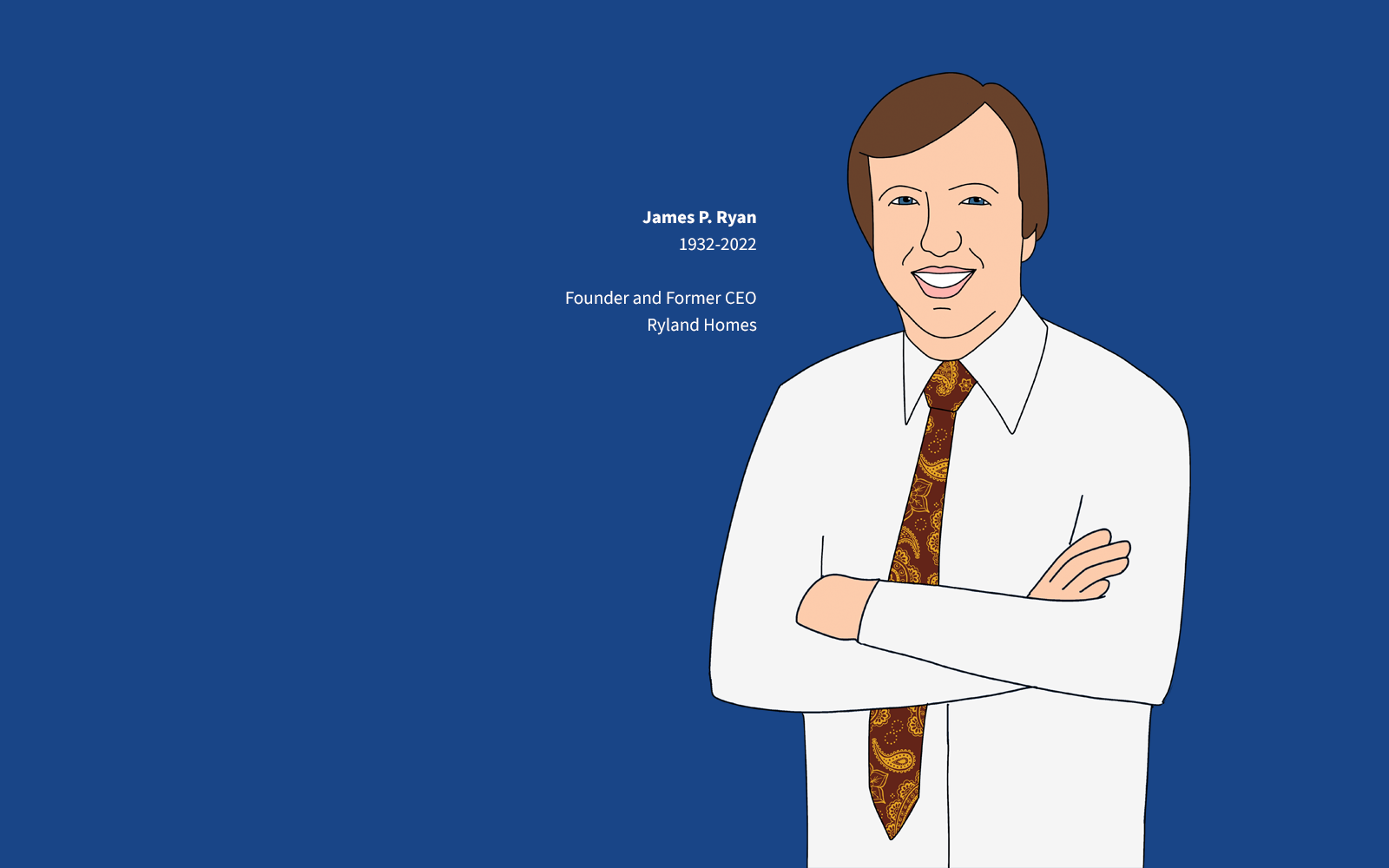 Homebuilding, thoroughbred horse-racing, and humanitarian legend Jim Ryan's thousand-watt smile lit up a room. And he knew it.
James Patrick Ryan passed away peacefully this past March 11, after a period of declining health at the age of 89.
His richly-led, deeply impactful life ended, but Jim Ryan's legacy – and that of his family, which has gone on to build dozens of mini-, medium-sized, and large homebuilding empires that fired on many of the identical cylinders of character-based business principles and people-focused culture – will live on, both in spirit and in many of the Ryan dynasty family members who work building homes and communities to this day.
Born and raised in Pittsburgh's Mt. Lebanon neighborhood, Jim Ryan was the younger brother protege and self-anointed sales rainmaker for Ryan Homes (now NVR) founder, the late Ed Ryan, who died in 2012 at age 88. Ed knew everything his little brother didn't know about homebuilding – which was everything about building homes – down to the board-foot and nail-count for a 2,000 square foot house.
Jim knew a few things too. Like how never to quit. How to look into someone's eyes and study them until he learned something from them. How to judge, nurture, cajole, and, at times, infuriate his raw-talent teammates to excel. How to care for how customers felt about a freshly-weeded garden bed outside a spec home, and that the garage door needed to be pristine, and that someone should welcome each one in the moment they cross the threshold to new homeownership.
If you worked for Jim Ryan at Ryland Homes – whether it was at the reception desk, or the mail room, or the field sales offices, or the job sites – he'd know your name, and probably knew your significant other, your kids, and maybe even what your childhood was like.
If you bought a house from Ryland Homes – whether it was in the late 1960s in the then-brand-new Rouse Co. planned Columbia, MD, community – or the '70s, after the Ryland Group went public —  Jim himself would make it a point to be there, shake your hand, thank you, and listen to you, the guy with that thousand-watt smile who knew he'd not only light up the room but warm your heart.
Still, in his own mind, Jim was the skinny kid brother of Ed, the father-figure, 10 years older brother he would always look up to and stand in the shadow of – but eventually had to break free from to start his own company in 1967, after worrying himself to the bone about his own declaration of independence.
For everyone else Jim would ever meet, do business with, or relate to as a father, grandfather, step-father, husband, brother, friend, etc., Jim was a force-of-nature in his own right, a dynamic roiling blend of dark-Irish blarney, gusto, and good natured mischief.
He was the most charismatic, alpha dog-like, powerful man I ever met," Jim's son Dan – who also took a turn working for his uncle Ed Ryan at NVR prior to setting out on his own to found Dan Ryan Builders, now DRB Group, a Sumitomo Forestry North America portfolio company – told me in conversation this week, after his dad's passing. "In homebuilding, he was the man. They talk about the Bill Belichick coaching tree – well, my dad was that in homebuilding. The kids, grandkids, nephews, friends – the number of people that he'd hired or worked with who went out and started their own homebuilding company is amazing."
One of Jim Ryan's life-tested principles was to hire people smarter than he was, and then to fuel their own zeal to reach the highest pinnacle of success, notes Jim's son Pete, a trait that goes back to Jim's days as a lightweight quarterback and kick return specialist at Mt. Lebanon High School. Jim himself told me this story:
In suburban Mt. Lebanon, a high school player, too small for any football future, nonetheless took a blue-and-gold jersey with the No. 1 on it and led his team as quarterback to an undefeated season. Thing is, the record was not flawless. The final game ended in a tie, and the quarterback that led Mt. Lebanon High to glory all season was in tears he couldn't hold back. A gent approached him and extended his hand: "What you did out there on that field today, young Jimmy Ryan, will serve you well for the rest of your life. You'd been receiving the kicks all game, and you were not returning the kicks well, and the only guy running well on your team was Bernie Kelly. And on the last kick, you let Bernie Kelly run it back and he did a lot better than you did. That was a smart decision."
The lesson-learned for Jim Ryan was about recognizing his own limitations, and letting others shine, and leaning fully into that as a management principle.
Like so many people drawn to homebuilding as a livelihood and profession, Jim was drawn to it naturally as a channel for the nobility of his pursuit to do something meaningful for others, to seize a stake in turning his own effort, heart, and soul to improving people's lives. As a homebuilding empire builder and business executive, Jim's relentlessly driven type triple-A personality impressed those around him as one of those larger-than-life people you sometimes know.
For Jim's children Dan, Pete, Jim Jr., Kassy, and Barbara – all of whom live in the Howard County, Maryland area with 15 grandchildren – it felt like just that, at least until Jim had to recover from a stroke in the past 10 years.
He kind of reminded me of the great and powerful Oz," Dan says. "After his stroke, the experience of it humanized him, and you could begin to feel this more tender, less-guarded part of dad come through. It's at that point, we really started to reflect on this journey of life – his beginnings, his successes, his work, his passions, and his well of generosity with both his money and his spirit, pouring out. We got to see him more as a man, and less as an idealized whirlwind."  
Pete's own experience getting to know his father better in the past decade echoes Dan's.
"Dad's legend loomed so large that there were actually several different versions of key episodes in his life at any given time," Pete says. "As younger kids, we never got to see much beyond my dad's strengths and his success. Over the past few years, we children got to see more of his humanity."
Here's how the family records the journey of this man, this legend, a loss to the community of people who center their livelihoods on making homes and neighborhoods more accessible and better for working people.
James P. Ryan, 89, of Glenwood, MD, a successful home builder and exceptional thoroughbred horse racing owner and breeder, died peacefully on Friday, March 11, 2022. Jim is survived by his wife, Mariam, of 27 years, 5 children, 2 step-children, 15 grandchildren, 2 step-grandchildren, 5 great-grandchildren, and ex-wife Linda Ryan.
Jim was born on December 4th, 1932 in Pittsburgh, PA. Jim was preceded in death by his brothers, Ed Ryan, Bill Ryan, and sister Adele Moritz. He was also preceded in death by his ex-wife and the mother to his 5 children, Eleanor Ross.
Jim was best known as a philanthropist. Making his fortune in the home-building business, Jim worked closely with his brother, Ed, at Ryan Homes and founded Ryland Homes in 1967 in Columbia, MD. Ryland Homes grew to be one of the top home-building companies in the nation.
Jim served in the U.S. Airforce and graduated with his master's degree in Pastoral Counseling from Loyola College.
Jim's avocation was horse racing, which eventually grew into a full-scale business. His operation, Ryehill Farm, employed Hall of Fame trainers and won the Belmont Stakes in 1983. For a decade he was one of the country's leading owners and breeders in the thoroughbred industry. He became one of the game's most visible and controversial figures in bringing to light the deplorable conditions in the stable areas of U.S. racetracks, leading to his founding of the Backstretch program.
Through the Ryan Family Foundation, Jim spent millions enhancing the lives of thousands by supporting various charities. The foundation supported over 100 different organizations, especially those having to do with the handicapped, housing for the poor, and inner-city programs for the homeless.
Jim Ryan's true love affair was with people of the world, deeply stemming from his high social character. His love of humanity and his unhesitating generosity were among his main defining qualities. He always had a smile ready for anyone and loved giving advice whether in life or business. Working with Operation Smile in the Middle East, he met his wife Mariam and became a friend of the Palestinian people. He proceeded to build homes, start a dental clinic, fund loans and other missions in Palestine, the Middle East and Africa.
Jim will be greatly missed by his family and many friends.
In lieu of flowers, donations may be made in Jim's memory to United Palestinian Appeal.
If you got to know Jim as a writer-editor covering homebuilding, as I did in 2006, professionally, it was transforming. He and his restless, fun-loving, maddeningly curious, and constantly forceful spirit transgressed – in a welcome way – conventional reporter and subject boundaries. Almost on purpose he'd remind me of my own father as a perfectly imperfect and powerfully vulnerable bulwark of support. Jim and his wife Mariam became friends with my wife Marsha and me. I will miss Jim but will recognize always that the magazine title BUILDER and what it stands for forever is people like Jim Ryan, which changed the way I look at and listen to builders.
Join the conversation
MORE IN Leadership
The Denver-based public company chose to terminate its agreement to acquire the Nashville-area local powerhouse. Here's what's going on and what it means.
Is there a housing shortage? Let us count the ways. Let's also focus more on who exactly would benefit from solutions to the underbuilding crisis.
Private sector residential real estate and construction leaders now — as always — have to both secure the business' future, and, to do that, secure the present. Their best people are key to both.
MORE IN Leadership
The Denver-based public company chose to terminate its agreement to acquire the Nashville-area local powerhouse. Here's what's going on and what it means.
Is there a housing shortage? Let us count the ways. Let's also focus more on who exactly would benefit from solutions to the underbuilding crisis.
Private sector residential real estate and construction leaders now — as always — have to both secure the business' future, and, to do that, secure the present. Their best people are key to both.