Building Tech & Products
The Risk Of Labor Shortages Vs. The Opportunity To Diversify
The rapidly-shrinking construction workforce exposes both a glaring threat and an enormous potential for transformative growth. Can the data drive action?
John McManus
September 27th, 2021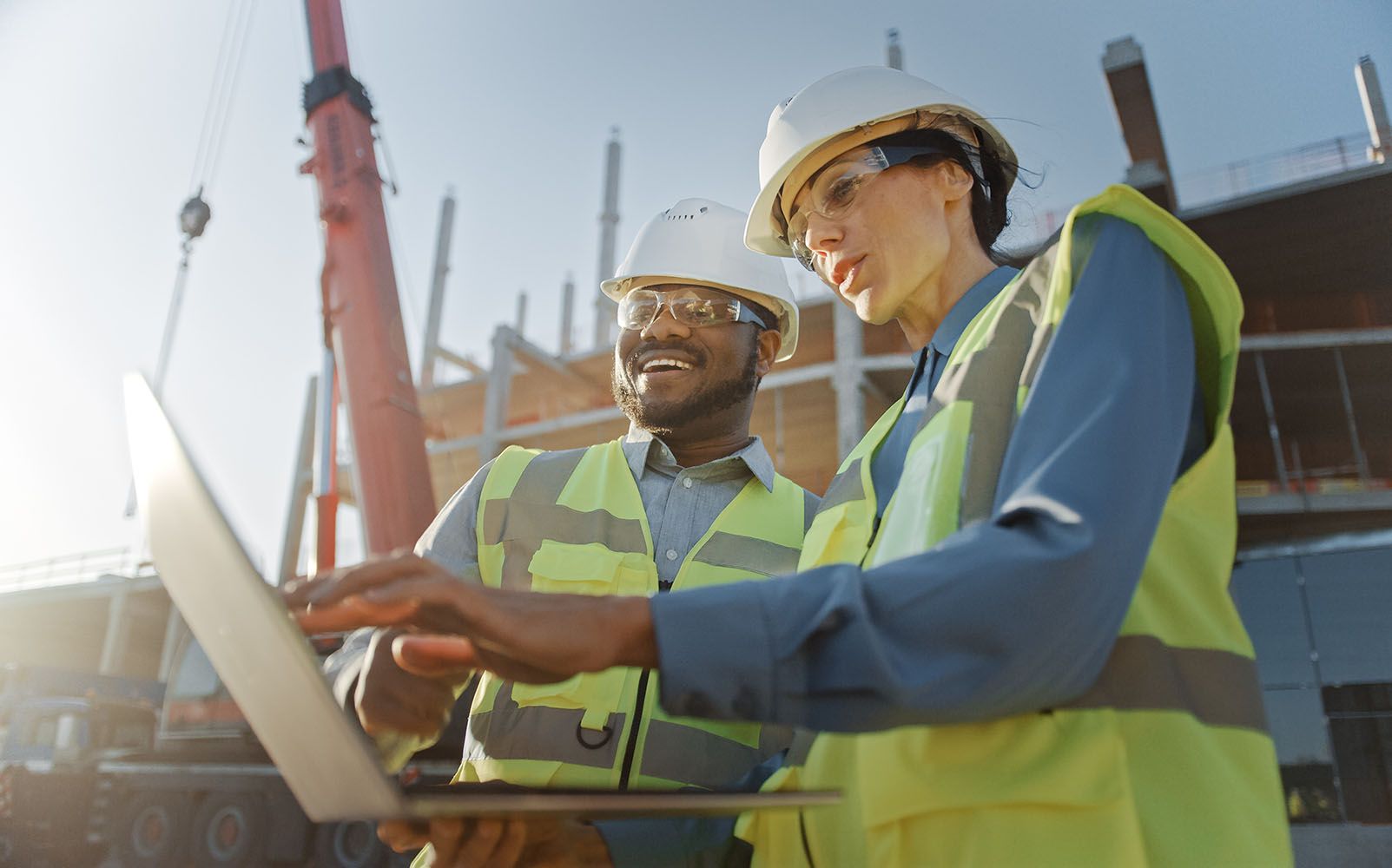 This week starts the countdown to deadlines and a moment-of-truth for big, bold, bodacious federally sponsored new spending programs, all of which beam a harsh light of reality on this fact.
Just shy of 11 million people make a livelihood of construction occupations in the U.S.
That Bureau of Labor Statistics data point begs this multiple choice series of statements with the overall question, "which is true?"
(A) That's too small a skilled workforce – with 321,000 unfilled jobs, per July JOLTS data – to support America's housing needs, and the economic recovery.
(B) Part of the reason for stagnation in construction's skilled workforce is that only one in 10 construction team members is female.
(C) Part of the reason for stagnation in construction's skilled workforce is that only one among 17 or so construction team members is black.
(D) All of the above.
(E) None of the above.
The data drives at conclusions. The numbers peel back on a raw state of urgency since attrition and age-ing out of construction occupations occur at 5-times the rate of new and lasting entrants into the array of building fields.
But will the arithmetic that bares the truth of both why skilled construction labor is in such gravely challenged supply and what could fix that trigger action?
What's abundantly clear is that no homebuilding firm whose leaders are not living under a rock has been immune to the massive crunch of labor capacity constraint – even in a surreal period of time where builders have held back on starts due to materials and product supply choke-holds.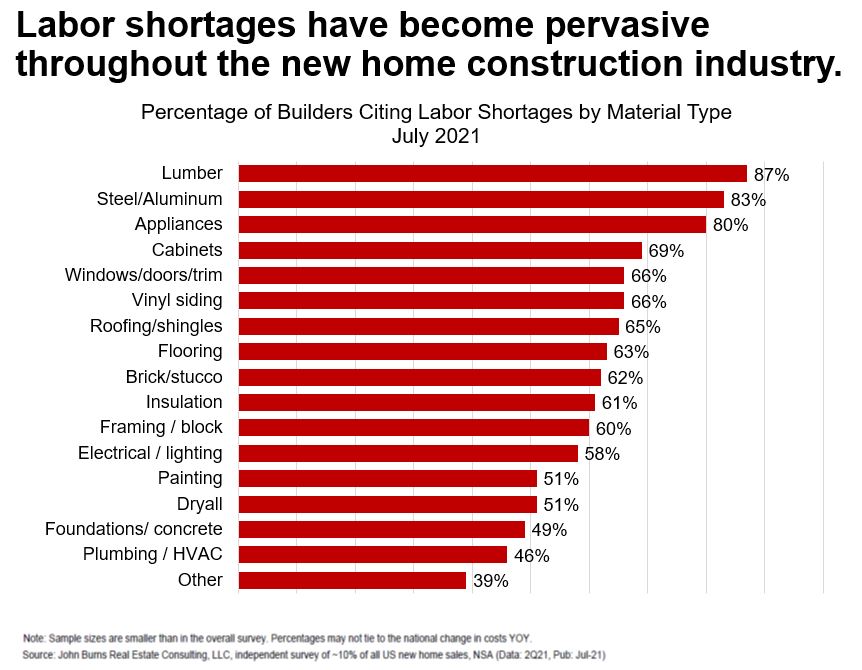 A recent posting from John Burns Real Estate Consulting says as much. What's been happening in the field and on job sites is that disruptions, shorts and allocations on materials deliveries, delays, etc. has shocked and stressed scheduling, sequencing, and sanity in construction cycles. If anything, human capability and work forces have been strained more, even as throughput decreases and construction schedules elongate.
Many job sites – under the circumstances – have regressed or reverted to analog management systems. Each day's work comes with a series of crapshoot "ifs and thens," such as "if the drywall crew is available, and if they can get all the materials they need to complete their tasks, then it might be safe to try to schedule the painting crews."
What's distressing and a source of angst is that, looking ahead, things don't look better. They look more challenging, even in a scenario of an improving economy and/or a big boost from a new $1 trillion infrastructure plan that would – you got it – draw from the same pool of construction laborers who are already in short supply in a pandemic constrained, supply-chain disrupted environment.
Something's got to give, and that's why many people have begun to open their eyes to the potential for answers within the multiple challenges above.
New York Times correspondent Patrick Sisson writes:
If the infrastructure bill passes, the industry could be short a million and a half to two million workers by 2025, estimates Boyd Worsham, the president of the National Center for Construction Education and Research. That would create an immediate challenge, but also an opportunity to hire from communities that the industry has ignored.
"Traditionally, heavy industries have not been diverse," said Kevin DeGood, director of infrastructure policy at the liberal Center for American Progress. "The benefits for labor should flow to those communities where the work is going to be done and where jobs traditionally haven't been."
The economic solution here is simple: Diversify the industry.
The real-world solution is not simple. The same lens through which it's clear to see that diversity – in gender, race, and ethnicity – would benefit the industry clouds up when it focuses on whether the benefits are truly mutual.
More simply, diversity and inclusion may suit builders and managers in their interests to tap into a bigger pool of skilled workers. However, that is not necessarily equivalent to more people choosing construction occupations because the fields offer them a livelihood and a workplace they want.
The business risk associated with workforce capacity constraint and the personal, financial, and social mobility risk of not having gainful employment and career prospects may weigh equally. However, particularly in a context where worker shortages are pervasive in many industry sectors and communities right now, construction employers are going to have to do more to tap into diversity and inclusion as a capability solution.
Sisson writes:
Actively opening the construction industry to a broader range of people would increase the pool of recruits, allowing for more opportunities to train them to assume in-demand positions. But it wouldn't be a silver bullet. Better wages, labor standards and benefits would also help attract more workers to long-term careers in the skilled trades, especially when wages are rising for jobs that require less training.
For leaders in construction and housing, one way to begin a transition from talk about a chronic problem to productive and constructive action will be to reframe the context of the challenge and the language of the opportunity.
In other words, the terms diversity and inclusion may be useful insofar as they peel back and expose a past and present condition that account for why just one in 10 construction workers today is a woman, and why just one in 17 team members in construction is black.
Diversity and inclusion are among those terms – however – that don't, in themselves, cause people to behave differently when it comes to hiring, jobsite practices and behaviors, training and upskilling, management mentoring, career advancement. Diversity, equity, and inclusion have begun to emerge as a compliance and benchmark cudgel rather than a cultural-adaptation for sustaining fitness. They don't – apparently -- serve as the kind of kick-in-the-butt managers need to make changes that will improve the likelihood of success.
What terms and context would be helpful, particularly to bore into the scores of "micro-habits" and micro-instances that occur between the lines in workplace behavior, attitude, and practice.
The World Economic Forum has an idea that could offer game-changing opportunity were building and construction owner and manager firms to consider in their efforts to solve for labor capacity shortages and disruptions. Where diversity, equity, and inclusion fall off in terms of galvanizing action, there are other stepping stones housing, construction, manufacturing, and distribution channel leaders could navigate toward reaching into an enormous untapped resource of potential new talent and team members.
Diversity, inclusion, and equity may work to expose what is wrong, but, observers say, they don't map to ways to get it right. Why? They're principles, not values.
Here are the values:
Belonging is one's physical, emotional and psychological safety; the indescribable feeling of being welcome.
Dignity is one of the most universal concepts to describe the sacred nature of each individual's personhood.
Justice is the repairing and restoring of individuals.
Solving for people, the taproot for building technology, capacity, attainability, resilience, environmental stewardship, and social equity may be possible. As in many instances, stakeholders may lean in to every wrong pathway before arriving ultimately at the right one.
Belonging, Dignity, and Justice belong in the province of common sense and the realm of the Golden Rule. So, it's fitting that they'd be the solutions hiding in plain sight as construction and real estate's business community tries to rise to its biggest challenge of any decade.
People.
Join the conversation