Together with
Technology
The Builder's Daily Take On The LP Reorg Of Entekra Leadership
With verbatim Q3 earnings call commentary from LP Building Solutions chair and ceo Brad Southern, we explore what new leadership at five-year-old juggernaut Entekra may signal.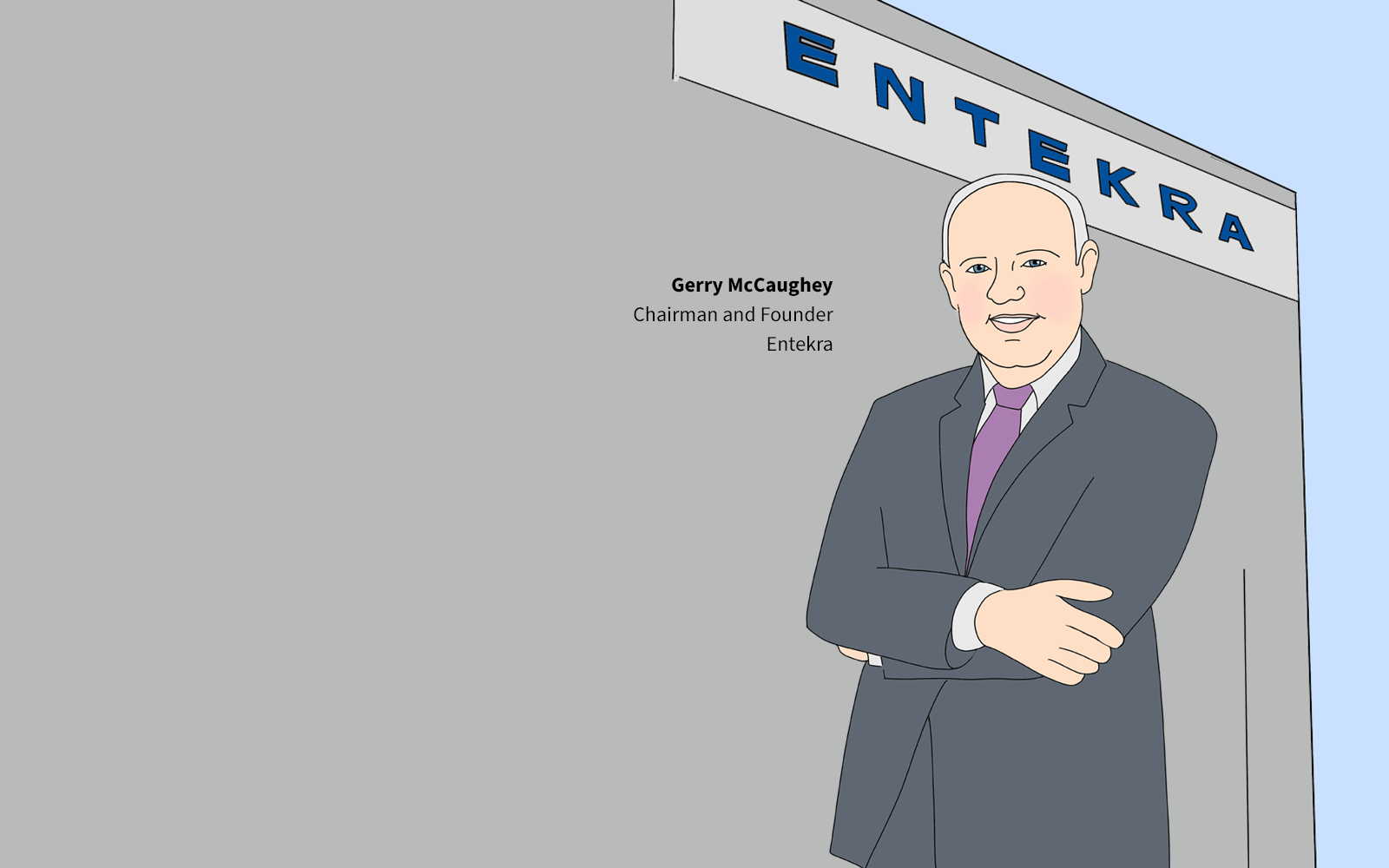 The news
Louisiana-Pacific Corporation chair and ceo Brad Southern announced during the firm's Q3 earnings conference call last Tuesday that Neil Sherman, who joined LP in 1994, and has served as executive vp and General Manager of LP Siding business since January of 2017, will transition to lead Modesto, CA-based Entekra as its President [note: Entekra is a sponsor of The Builder's Daily]. Word is, Entekra founder Gerry McCaughey will keep his Chairman title and work with LP on the firm's advanced framing strategic options.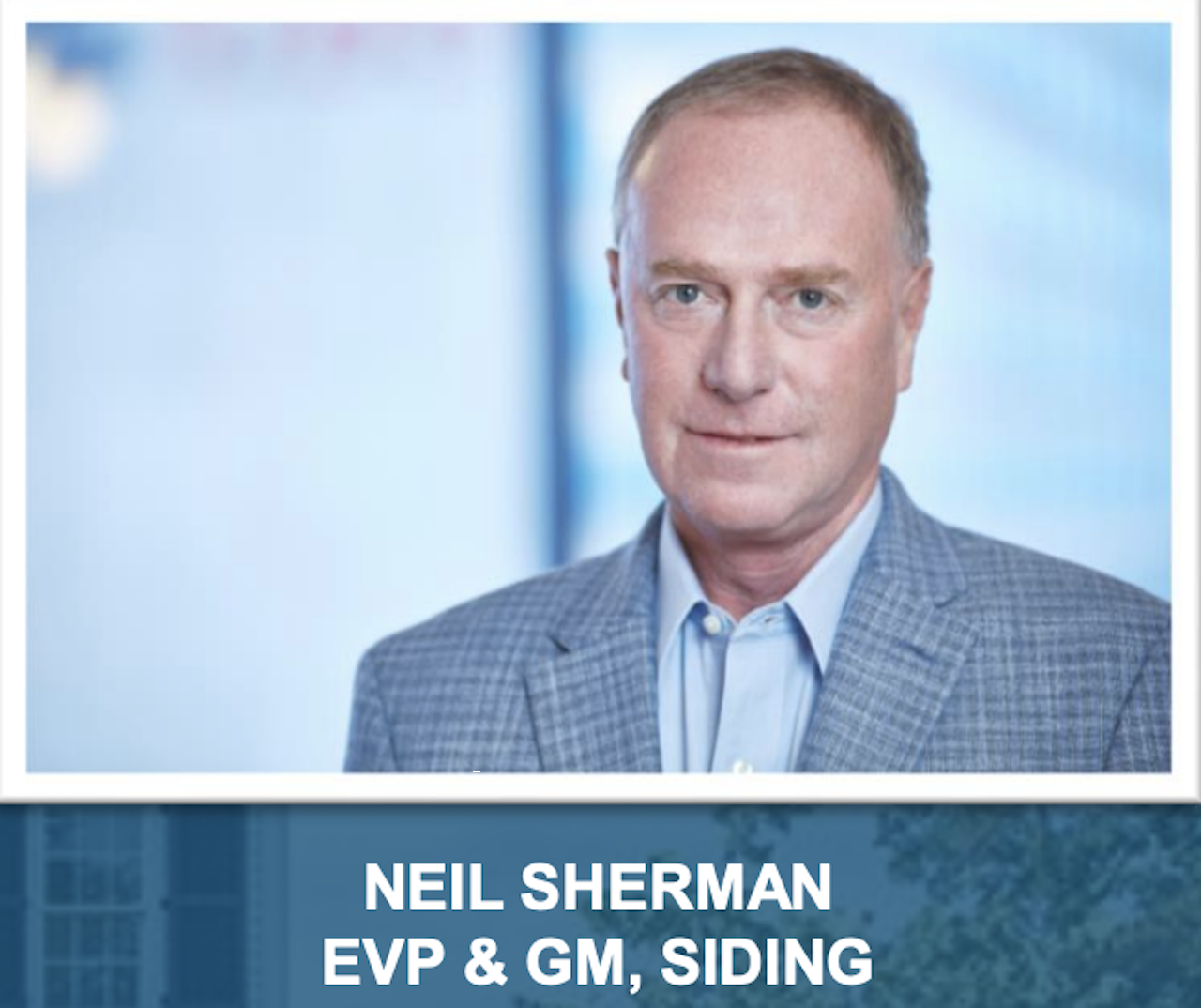 There are executive appointments, and there are executive appointments. This one, we believe, could meaningfully signal not just LP's evolving strategy – away from a price-range-bound forest-products commodity  source – into a technology-forward building solutions portfolio platform, but equally, as a step-change in industry-wide consolidation and integration at hand.
Together, imbalanced forces of demand versus supply in new residential construction and development, and a pandemic blow to the bow on materials supply chains could grind homebuilding and construction to long-heralded industrialization of end-to-end building lifecycles.
The context:
The Neil Sherman appointment certainly impacts LP and Entekra, which we'll explore, but also signals fundamental investment and commitment mega shifts builders and their partners need to get their bearings on and prepare for.
On the surface, the financial performance reveals a company navigating both external and internal pivots and shifts to its business and operations in a year a continuing health pandemic has rocked with turbulence and challenge. Bottom line, Southern sums up LP Building Solutions third-quarter financials as follows: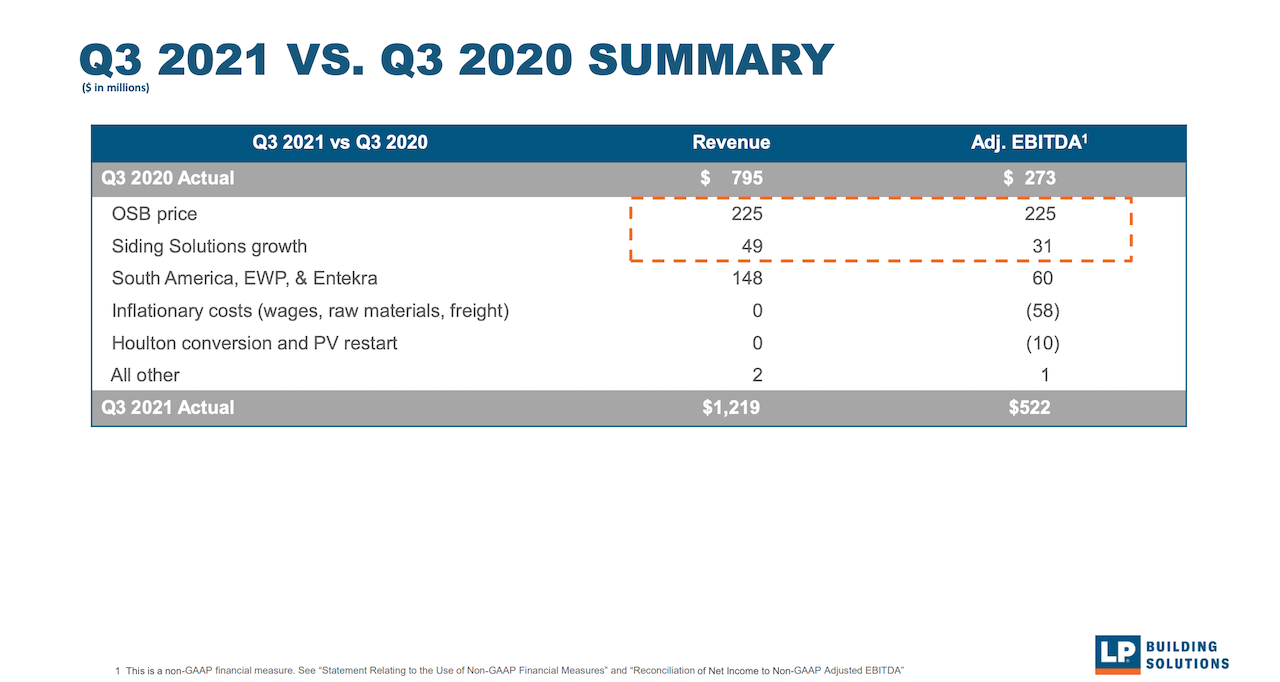 LP's businesses generated a combined $1.2 billion in sales, $522 million in EBITDA and $3.87 in earnings per share. We returned over $400 million to shareholders via dividends and share repurchases, all of it from free cash flow generated in the quarter. Our Board of Directors declared a $0.19 per share dividend.
Within this context, several powerful forces, shaping the near- to mid-term landscape of residential construction capability come to light in the LP commentary on the quarter's performance.
Capability – an advantage in secure access to the raw material inputs and human talent to produce when peers and rivals continue to be besieged by supply chokeholds – is today's clearest competitive edge. It will give organizations that seize it a leg up on market, profitability, and resilient businesses in residential construction's nearer-term future.
What builders need to know:
Let's take a few of Brad Southern's verbatim statements from the Q3 earnings call and do some unpacking.
First, from a curation standpoint, here's the first big item of note. Four sentences into Southern's prepared top line comments on LP's financial performance he says:
Entekra, our California based offside advanced framing system business was gross profit positive in the quarter and continues to gain customer acceptance and operational momentum.
In prepared remarks, Southern also highlights the business environment's wildly disruptive challenges and both strategic and tactical agility LP pursued in dealing with a globally broken building materials and products supply chain, and a fast-emerging inflationary surge.
When faced with raw material scarcity, we have consistently allocated limited resources to the most strategic applications. Because our OSB business has maintained the flexibility to use various resin types, we've been able to ship MDI resins to siding in order to maintain production, product quality and growth. For freight, flatbed trucks are in tight supply, we have the ability to convert shipments from truck to rail, and we have our own small trucking fleet, both of which contributed to record siding shipments in the quarter. We can't predict the duration of the supply chain challenges, but our teams will continue to work diligently to minimize their impact.
Then, in the earnings call Q&A, Southern addresses the question of strategy and Entekra's new president Neil Sherman. Here's the unedited verbatim quote:
Entekra is very strategic to us. I'm really pleased with the progress we've made in that business over this past year. But I think that they're speaking  a step change, Mark, there's a step change needed. I believe we have validated market acceptance. I've said that on this call before, but we really have to bring a level of confidence in to [ad]just the overall operations of that business and the delivery of the value proposition.
So we made a couple of moves in the quarter. One that we mentioned on the call, we did one of our very experienced plant managers into the Modesto facility is now the plant manager. And then as we talked about, we're moving Neil over there to be President. So we see this as a very significant strategic opportunity for us. We think the timing is right to really put some concentrated resources on it. Obviously, Neil has a great track record over his tenure in siding of growing that business and building a really strong team that was capable of doing that.
And we want to kind of lift and place him over in Entekra to see the same kind of rapid business improvement. And then we're very blessed to have a strong bench... I guess the nature of your question, [is] what does this say about Entekra.
It says that we see it as a huge opportunity, and we're really getting serious about getting a manufacturing competency so that we can continue to grow that business. We'll probably – we'll have revenue in the business of around $100 million this year of Entekra. We're close to breakeven EBITDA, particularly in the second half of the year. So, I mean, $100 million from zero, 18 months ago, does show that the revenue generation capacity of this business. And so we're excited about turning that into a growth engine that is creating value.
The two major take-aways here: capability and timing – and Entekra's model gives LP both. We'll come right back to those key areas, because they're critical for every builder and every builder's partner to reckon with in a moment of economic and business uncertainty and volatility, where lots, materials, capital access, and workforce capability are in various states of scarcity.
First, let's credit and hear from Entekra founder Gerry McCaughey, who started Entekra in 2016, and crusaded to validate its business and operating model as a force of nature over the past five years. The biggest challenge was to get an entire community of homebuilders whose reflexive first-response to the Entekra model was "we've tried it before and it didn't work," to try it again because it could work.
In a sense, the legitimacy and proof-case Entekra achieved with a thrust of velocity and resolve played a big part in bringing advanced framing and offsite construction to a national tipping point, back into realistic focus as a multivariate solution to several chronic home construction challenges: affordability, productivity, labor constraint, materials waste, durability and resilience, and – importantly – business success.
I am so proud of the achievements that the team at ENTEKRA have made, since entering the US market. In a very short period of time, we have proven, that there is a better, higher quality, more sustainable, way to build.

Only a few short years ago, when I put this team together, I knew I was assembling one of the most talented, knowledgeable and experienced teams, in off-site construction worldwide, as I had worked with them all before, as we built Europe's largest off-site company.
To establish and set in motion an advanced-framing technology solution that LP now expects to become a growth engine, particularly in a sell-to-production capability present and future, took someone willing to hear "that's the way we've always done it," and persuasively, practically, and consistently upend that thinking. The McCaughey approach, and the Entekra team he brought to it, helped improve and speed homebuilding's path to better building, as few, if any entrepreneurial firms might have.
What it means
Now, the high-level and sweeping impacts of what the Entekra-LP combination, which by its nature and as an extension of its industrialized integration of building enclosure solutions, come clearer.
Not to forget, LP's operational and infrastructural footprint includes upwards of 25 mills for its siding, OSB, and engineered wood platforms, and both technology, data, and machine learning have begun to impact how those materials and processes might flow more elegantly into pre-assemblies for new and remodeled homes.
The Entekra operational model of pre-home site integration of architecture, engineering, and construction removes guesswork, friction, and human labor hours from the building lifecycle. Fitting the rough-finished enclosure together with subsequent weather-tight structure, mechanicals, electric, plumbing, and finishes is where a huge opportunity delta remains.
LP's goal to move up building's value chain to where it is seen by its builder customers as a solutions platform and by its investor stakeholders as a technology-forward integrated supplier of capability is what we see in the Neil Sherman executive re-casting.
Join the conversation
MORE IN Technology
The capability to improve, in good times or bad, will hinge on enterprises' ability to blend cultural and data transformation to zero in best on undeterred homebuyers' pursuit of value.
As higher and higher finance costs upend pro forma margins and depress land valuations, we'll see a culling of the weak vs. strong players in the BTR space over the next six to 18 months.
"Trying to align your business to the market on 'stale' data is not an efficient business practice and requires larger swings in pricing as you look to recapture lost revenue." — Paolo Benzan, Constellation Homebuilder Systems
MORE IN Technology
The capability to improve, in good times or bad, will hinge on enterprises' ability to blend cultural and data transformation to zero in best on undeterred homebuyers' pursuit of value.
As higher and higher finance costs upend pro forma margins and depress land valuations, we'll see a culling of the weak vs. strong players in the BTR space over the next six to 18 months.
"Trying to align your business to the market on 'stale' data is not an efficient business practice and requires larger swings in pricing as you look to recapture lost revenue." — Paolo Benzan, Constellation Homebuilder Systems