Building Tech & Products
Ground Game: If Builders Want To Dig Out Of Their Lumber Woes, Slabs Count
The lowly slab is a critical path issue to homes that build straight, square, and level, which is the only way they'll build faster, on budget, and at a high quality standard. Slabs, according to NAHB analysis of Survey of Construction data, account for 63% of new home foundations.
John McManus
April 21st, 2021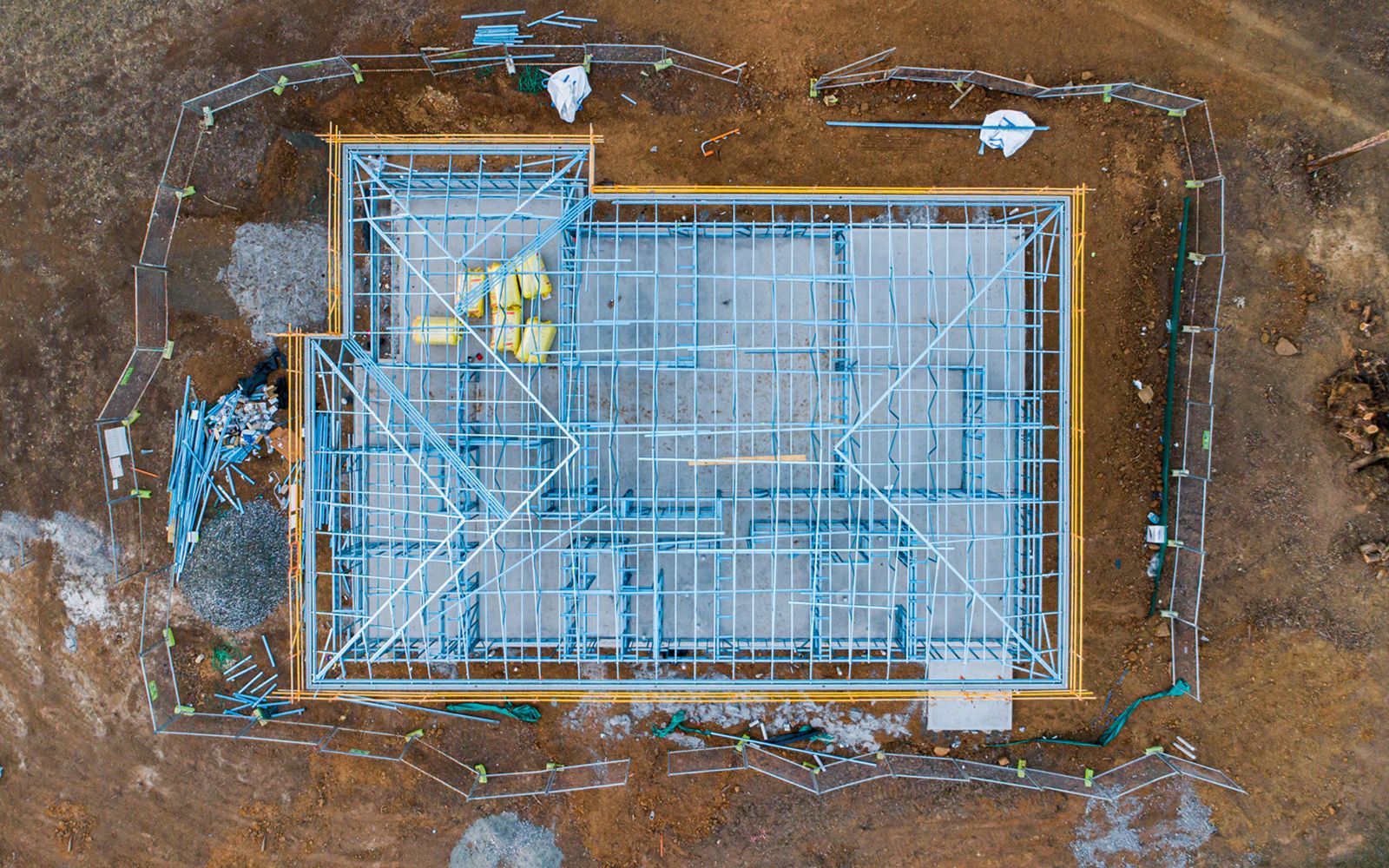 The future of residential building is straight, square, and level.
A corollary factor: that future world is flawlessly flat.
That's not the present, however. And, it's failures in precision that cause a domino-effect of problems that tie to lumber, time, and money costs builders are struggling with these days.
Not to bury the lead here, keys to the kind of construction velocity, first-time quality and precision, waste-free material use – time, lumber, money saved – builders need in a jacked-up  nationwide construction scramble come down to getting it right on more of the 66,000 slab-on-grade foundations they do each month for new homes.
Yes, the lowly slab is a critical path issue to homes that build straight, square, and level, which is the only way they'll build faster, on budget, and at a high quality standard. Slabs, according to National Association of Home Builders analysis of Survey of Construction data, account for more than three out of five new homes built in the United States.
This story, about slabs on its surface, is more about digging into the building lifecycle's weeds right now for possible solutions to astronomical cost surges, supply disconnects, schedule disruption, and, ultimately, new homes that fail to deliver on budget and on time.
As Entekra ceo and founder Gerry McCaughey, square, straight, and level in his words, is "precision-improved productivity."
According to NAHB senior economist Na Zhao, 63.2% of all new single-family started in 2019 were built on slab foundations. Here's the skinny on the geography and climate of slabs.
"New homes with slab foundations are most common in the West South Central (95.6%), South Atlantic (76.2%), Pacific (66.0%), and Mountain (46.0%) divisions. These are most popular in the West South Central division where new single-family homes have been primarily constructed on slab foundations over the past ten years. A warmer climate makes building on slab more cost-effective, compared to full/partial basements. Slab foundations also need the least amount of maintenance in the long run. In the East South Central division, 40.8% of new homes started in 2019 had a crawl space and 37.3% were built on slabs."
Thing is, not all slabs are created equal, or square, or straight, or level, and that gets vertical construction started on, em, the wrong footing, which winds up being a time, money, quality, and materials suck all in one.
"We find that if you're not on top of the process, the quality you get from the concrete crews doing the slabs can be atrocious," a construction executive tells us. "Their idea of quality assurance on the slab is to pour water on it and see if it ponds. If it does pond, they'll grind it down to what looks more level and that'll be that."
Problem is, for a fast-arriving future of more wall-panel prefabrication, manufactured roof and floor trusses, and advanced precision industrialization of building enclosures in integrated offsite building, a slab is not just a slab, says Entekra's McCaughey.
"Everything produced in factory conditions is within a margin-of-error factor over spans of 16 or 30 feet of close to perfect in both straightness and on the square, and if you don't have that same accuracy on the site preparation and slab, including the anchors, have to be perfectly precise for the assembly to go up as it should. There's no room for course corrections on-site."
For instance, can you imagine this?
[For Sekisui House and Woodside Home's 2019 Chowa home in Las Vegas using innovative Shawood building technology, a foundation team poured 180 yards of concrete for stem wall perimeters measuring 139 feet 4 inches at diagonal] using a metric metal-form system the U.S. crew had never utilized before — shipped to the U.S. from a Sekisui House engineering center in Japan —the results speak for themselves: A diagonal from the right-angle southeast corner of the foundation to the right-angle northwest corner, measuring 139 ft. 4 inches, was within 3/16ths of an inch (less than 5 millimeters) accurate.
It's that square, that straight, and that level that the two-story building envelope for the 5,400 enclosure was ready for its roof in 16 days.
Few can.
Now, where is U.S. construction today with respect to producing, with consistency and flawless execution concrete slabs that are square, straight, and level? At current single-family starts run-rates of 1.24 million homes, the number of slabs needed is upwards of 800,000 in a forward 12-month stretch.
Soil base, forms, vapor barriers, load tolerances, mixing, pouring, consistency, cone slump tests, curing, etc. – getting these aspects right on slab are matters crews need skills, experience, and care to do right. The fact is, that just as skilled, experienced, and careful workers in every one of the building trades are in short supply these days, it's the same with foundation crews.
More of the framing and rough-finish work done off-site is inevitably where building is going. Once manufacturing plant capability is more geographically distributed, that future has moved from the eight-to-10 year scenario in most builders' minds, to more like three to five years. But it's starting from a pretty low current basis in the low-to-mid single-digits' share of new home construction starts.
Given the current lumber and other building materials pricing and supply capacity crisis builders are facing, a new solution may be emerging in an innovative monolithic slab form process developed to IRC Section R403.3 code, and now ready for distribution by Mono Slab EZ Form, in Boise, ID.
Mono Slab® EZ forms are placed along the perimeter walls, and connected by placing nominal 2-by-8 wood boards 8 feet (2438 mm) long into the pre-formed slots. Exterior forms must be backfilled prior to concrete pour. After concrete curing, the wood boards may be removed and replaced with the Mono Slab® 2-by-8 EPS filler piece. For footing construction, interior Mono Slab® Forms are placed along the interior wall and must be secured in place with two nominal 1-by-2 wood stakes 18 inches (457 mm) long in each form on the back side. The interior side must be backfilled along the back side prior to concrete placement.
We spoke with Lance Boyce, who invented the form, which "allows you to form, insulate, and back-fill all before you pour and place concrete, removing several steps in the forming and insulating process. These forms were in IEEC and IRC code since 1996, it's just that nobody applied them."
Boyce, whose firm spent the past two years in proof-of-concept development, has worked extensively with Greeley, CO-based Baessler Homes to model volume production scaling of his innovative form product technology and process. Meanwhile, he's also built a broadly-dispersed production and distribution network to reduce the net carbon footprint and truck travel radiuses of no more than 500 to 600 miles.
"The Baessler Homes foundation crews have been able to do four or five of these a day, using 40% less concrete, and getting that quality for a lot of their panelized systems to fasten precisely how and where they should," says Boyce. "Our manufacturing, engineering, and triple-sourced distribution networks in place for us to scale now, and we're ready to go do it for the builders."
As for flawlessly level foundations, there are laser scanning tools – like this series of 3D digital scanning tools from Trimble Geospatial --  for that.
Concrete Construction guru Bill Palmer notes here:
A laser scan creates what's known as a point cloud: millions of points that are oriented to a benchmark in three-dimensional X, Y, Z coordinates. These coordinates, or points, define an object's shape, be it a truck or a coffee cup or a building or a floor. The scanner operates robotically to collect all these points by shooting out a beam of laser light and collecting the reflected light. To create a point cloud, multiple overlapping scans are performed and the results are stitched together.
Now, building, perhaps, can raise its own expectations to move faster into a straight, square, and level future.
Join the conversation