Together with
Leadership
Bob Toll, A Homebuilding Legend, Leaves A Mark Of Incomparable Impact
The Builder's Daily celebrates the life, achievements, and legacy of Toll Brothers Inc.'s co-founder, who died Oct. 7, 2022 at the age of 81.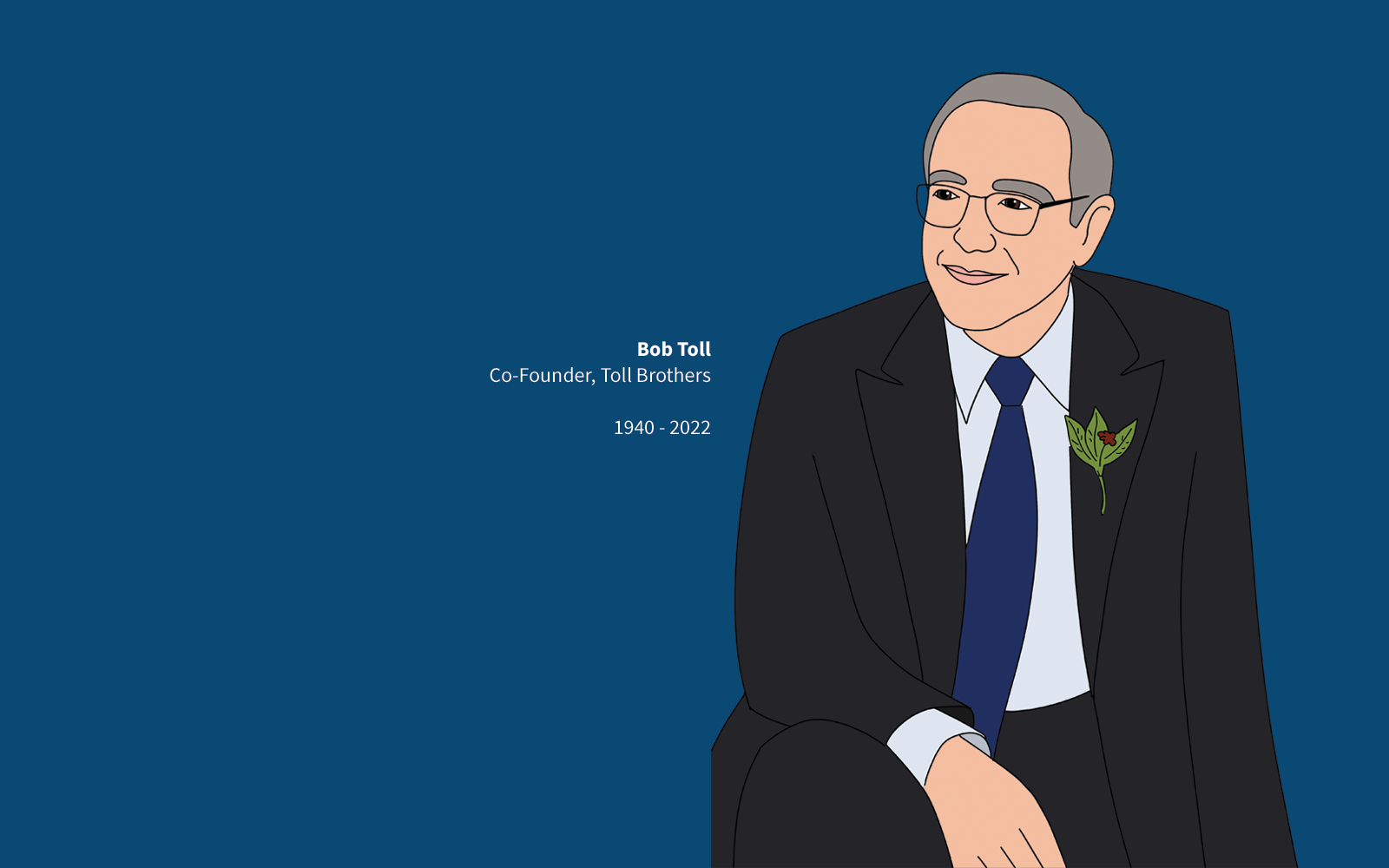 We must learn to die, and to die in the fullest sense of the word. The fear of the end is the source of all lovelessness…" – Richard Wagner
In Wagner's Ring Cycle, an epic work in an artform the late Robert I. Toll held near-and-dear to his heart, the heroic character Siegfried embraced a code, "never to let your life be shaped by fear of its end."
In the industry of housing, and the business community of homebuilding, and in the culture and ecosystem of building places that closely match up with people's dream homes, Bob Toll's name is legend, and will remain so. Among those who lived and worked closely with him, loved him, befriended him, and so often felt strongly enough to go to the wall for him, Bob Toll, the man, mostly held himself entirely to account for doing one thing in everything – embracing life fully, with no fear of its end.
Opera may be one of the few passions Bob Toll immersed himself in that he wasn't the razzing, sly, fun-loving, mind-game-playing, fierce competitor – skiing, sailing, golf, tennis, softball, swimming, and of course, business. In opera though, he'd surrender to a wash of beauty, to time suspended from all earthly deadlines, to learning more about life and its lessons, some of which would tie back to Yiddish sayings that translate only roughly into English, like "man plans, God laughs." For Bob, opera was a bridge. Its span, almost like nothing else in Western culture other than a few dozen great temples, classic epic poetry, a finite few sculptural and painted masterpieces, connects the truly sublime and the utterly human.
We knew this day would come, and yet it still hurts beyond words." – Douglas Yearley
Toll Brothers chairman and CEO Douglas C. Yearley, Robert I. Toll's hand-picked successor 12 years ago, learned the morning of Friday, Oct. 7, 2022, that this epic transformer of homebuilding as we know it had died at age 81, after a hard struggle the past couple of years with Parkinson's disease. Yearley, who started at Toll Brothers in 1990, at age 30, in a career move uncannily like that of Bob Toll himself, lost his own father 15 years earlier to the very day he received word of his mentor and father-figure's passing. Bob's brother Bruce – who co-founded the company in 1967 shortly after he'd graduated from University of Miami – called Doug Yearley with the news, saying Bob died peacefully in his home in New York City, his family by his side.
It's so difficult to imagine this place without him here with us," Yearley said. "In so many ways, he is still with us, and Toll Brothers will always be his company because of what he taught us all, and because of the passion for the business and all of its customers that he passed along that continues as part of who we are today. He was one of those guys, so iconic and so special in a fully human way."
If you spent time with Bob Toll one-to-one, you'd feel that.
You could feel that blend of both larger-than-life presence and a plain old kid who grew up the son of a real estate developer in suburban Philadelphia, went to sleep-away camp on Pleasant Lake in Maine in the late 1940s and early '50s. You felt the classic human pang of a son, at age 27, angsting over having to tell his father that, no, he wasn't going to live his father's dream for him, but rather his own. As a matter of fact, after grinding out part of a year in the practice, he'd tell his dad exactly what he didn't want to hear, that his eldest son wanted to do something that sounded for all the world like following in his footsteps in real estate.
After sitting with Bob, one-to-one in his office, in 2007, here's how we recorded the "origin story," on the 40th anniversary of Toll Brothers'.
In late 1966, the first time 26-year-old Bob approached his dad about taking down two residential lots that Al Toll's real estate development partnership was shepherding through approvals in Philadelphia's Chester County, Penn., environs, Toll senior said, flat out, "no."
Al Toll had made it the hard way in residential and commercial land development, and he'd taken considerable pains to prepare his elder son for more, for better. Al had two brothers, four-time U.S. congressman Herman, and Joe, who ran hotels in Atlantic City, N.J. Like Al, they had come to the United States in the early 1900s from Kiev, Ukraine. Unlike Al, they'd studied and practiced law, leaving Al somewhat wistfully wishing he'd done the same. Although he'd acquitted himself admirably and successfully as a real estate developer and builder–doing apartments and commercial projects–through the 1950s, Al wanted his son Bob to be an attorney. He and his wife Sylvia sent Bob to Cornell University to do his undergraduate work and to the University of Pennsylvania to study law. He was confident in his son's future, especially since Bob loved law school. Al Toll knew his oldest son was destined to become a lawyer.
Or so he thought. Although he loved studying law, Bob didn't love being a lawyer. No more than a few months into his first job at prominent Philly firm of Wolf, Block, Schorr, and Solis, Bob Toll decided the legal profession was not for him.
He'd been doing some entitlement work on the two lots his father's company was to develop, and he'd obtained approval for an access road. He'd also decided that he wanted to develop those lots.
That's when Al said no. So, Bob did what any respectable child of his generation would do in a clash with a parent. He went to the parent's partner, whom he enlisted in a campaign of persuasion. The partner agreed. At the time, his brother, Bruce, who'd finished his undergraduate work in accounting at the University of Miami, said he wanted in on the deal. With two sons, a lawyer and an accountant, no less, and a partner lobbying him, Al relented and came through with money, lot deals, connections and access to their first bank loans. Toll Brothers was thus born.
"We built two homes. Instead of selling them, we used them as samples for the ground down the street," says Bob Toll, who is now 66. This was news to their bankers. "We showed up with contracts at the bank, and they said, 'You know, you're only supposed to be building two houses,'" he explains. "And I said to them, 'Yes, but I have 20 contracts for homes people want to buy down the road.'"
The brothers would go on to develop and build about 20 homes in 1968, which doubled each year until the business took off in 1976. That first batch of homes in Chester County sold for $17,490 each, remembers Bruce Toll, who is now 63. "My father thought we were overcharging." Profits on those first homes ranged from $400 to $800 per unit–which meant the fledgling company was making an annual profit of about $12,000, according to Bob Toll.
The story of the enterprise, the innovative gambit of using those first two houses as fully-decorated model homes, and the canny expansion – first in Philadelphia's path-of-growth environs by virtue of extensions and improvements to the Interstate highway system, and eventually a Fortune 500 company with $9 billion in annual home building revenues, and a presence that now spans over 60 markets in 24 states, with a singular brand name in the business of residential construction and real estate that meant and means "luxury" – now, all that's the stuff of legends.
The person, who leaves behind his wife, Jane, and five children, and 12 grandchildren, and a host of men and women with whom he spent all that time over five decades, eating, breathing, sleeping building a business whose sole purpose is people's homes and their neighborhoods, leaves a hole the size of the larger-than-life Bob Toll, and at the same time leaves a perpetual flame of presence, and fun, and perspective as well.
Bob and Jane also made philanthropy and social justice an integral part of their lives. In addition to their avid support of nonprofit organizations including the American Red Cross and the American Cancer Society, they were hands-on leaders and supporters of numerous causes. [please see press release for details.]
Larry Webb, who helped build California-based John Laing Homes into one of the most successful private homebuilding company brands ever, and who took his own start-up homebuilding company New Home Company public in 2014, had this to say on learning of Bob Toll's death last week.
I am very sorry to learn about Bob Toll's passing. His intellect and confident/calm presence was awe inspiring. He built an incredible organization filled with like minded people. His legacy will endure. He was a true giant in our industry." – Larry Webb
At the soul of the organization he and his brother Bruce put together when they were very young was a heightened sense of the crucial place humility plays in being smart about real estate, a business that at its core is about big rewards and high risks. We wrote in the 2007 article on Toll's 40th anniversary:
Zvi Barzilay, who joined the company in 1980 after working, among other jobs, as a city planner in Philadelphia, is a director on Toll's board, as well as COO. "We are a unique brand name, which is unheard of in this industry, and we are deliberately and purposefully a teaching and learning organization. Each part of upper management has an obligation to impart knowledge, experience, and wisdom, and we have many, many communications channels for this to happen on a daily basis."
Talk to Zvi about Bob Toll – an original of the Toll Brothers braintrust going back almost the whole company's hist0ry – and it will be just like you're talking to one of Bob's brothers. So many of the long-tenured and former executives of the company share deeply personal, often hilarious stories about their first encounters with Bob Toll. Something he'd say would stick with them as a pivotal moment in their career, in their life. For a journalist with the opportunity to sit behind closed doors with Bob Toll for a few hours, it might be that he'd tell you the much better question to ask him than the one you asked, and do it entirely without insult.
Doug Yearley – who unbeknownst to both he and Bob, had both gone to Cornell University undergrad, studied law, practiced for a bit and hated it -- had such a first-encounter experience in an interview with Bob Toll.
I was a fourth year law associate at the time, answering a blind help-wanted ad for an executive assistant to the CEO of a real estate and construction company, and I didn't know whether it was some sort of secretarial position, or what," says Yearley. "I met Bob, and our Cornell and legal backgrounds clicked in the interview. He offered me a salary and two weeks vacation, which was less time off than I had as a law associate ... plus he said, 'don't make any plans for time off Mondays, because we spend time going over the business on Mondays, and I'll need you there.' I said, 'Bob, that's a lot of time to give up compared with what I have,' and he didn't miss a beat, saying, 'Don't worry, Doug, you'll be having so much fun, you won't even miss the time off.'"
From that point in 1990, Yearley calculates that he spent over 900 Mondays in what become fondly known as Toll Brothers' "manic Mondays," a site-by-site review, strategy, tactics, and go-forward planning sessions, where "we'd turn out the lights and lock-up the office together."
There's hardly better words that speak of both the eternal presence and the deep-felt sadness of absence, than those Bob Toll spoke to me at the time he handed over the reins of CEO to Doug Yearley in the late Summer of 2010.
After a certain time, somebody else has got to figure this stuff out and carry the burden. And also, luxuriate in the fun of doing it, and having it work, and being behind it. That's Doug and the gang." – Bob Toll, Sept. 2010
ABOUT

Staffing and recruiting done right. Fast Tracking Solutions specializes in delivering top talent in accounting/finance, construction, and technology operations.
MORE IN Leadership
Exactly this time, these pressures, this pain, this uncertainty, these risks, and all of those threats can and will add up in the minds and hearts of your young colleagues as the quintessential meaning of fun.
The transformation we've seen begin in residential real estate, construction, and their ecosystem in the last several years is one with both the future of home and work at the heart of it, toward expanded belonging. So, thank you.
A wave of layoffs, business retrenchments, and shut-downs of once-vaunted game-changers steamrolls through Silicon Valley tech firms. Resist the urge to gloat and say, 'I told you so.'
ABOUT

Staffing and recruiting done right. Fast Tracking Solutions specializes in delivering top talent in accounting/finance, construction, and technology operations.
MORE IN Leadership
Exactly this time, these pressures, this pain, this uncertainty, these risks, and all of those threats can and will add up in the minds and hearts of your young colleagues as the quintessential meaning of fun.
The transformation we've seen begin in residential real estate, construction, and their ecosystem in the last several years is one with both the future of home and work at the heart of it, toward expanded belonging. So, thank you.
A wave of layoffs, business retrenchments, and shut-downs of once-vaunted game-changers steamrolls through Silicon Valley tech firms. Resist the urge to gloat and say, 'I told you so.'