Together with
Technology
Some Build Homes In Factories; Cuby Builds Factories To Produce Homes
A cap-ex-light portable mini-factory approach to getting deep local scale and high-velocity end-to-end home construction capability aims to be production builders' local partner. TBD dives deep with the co-founders of Cuby.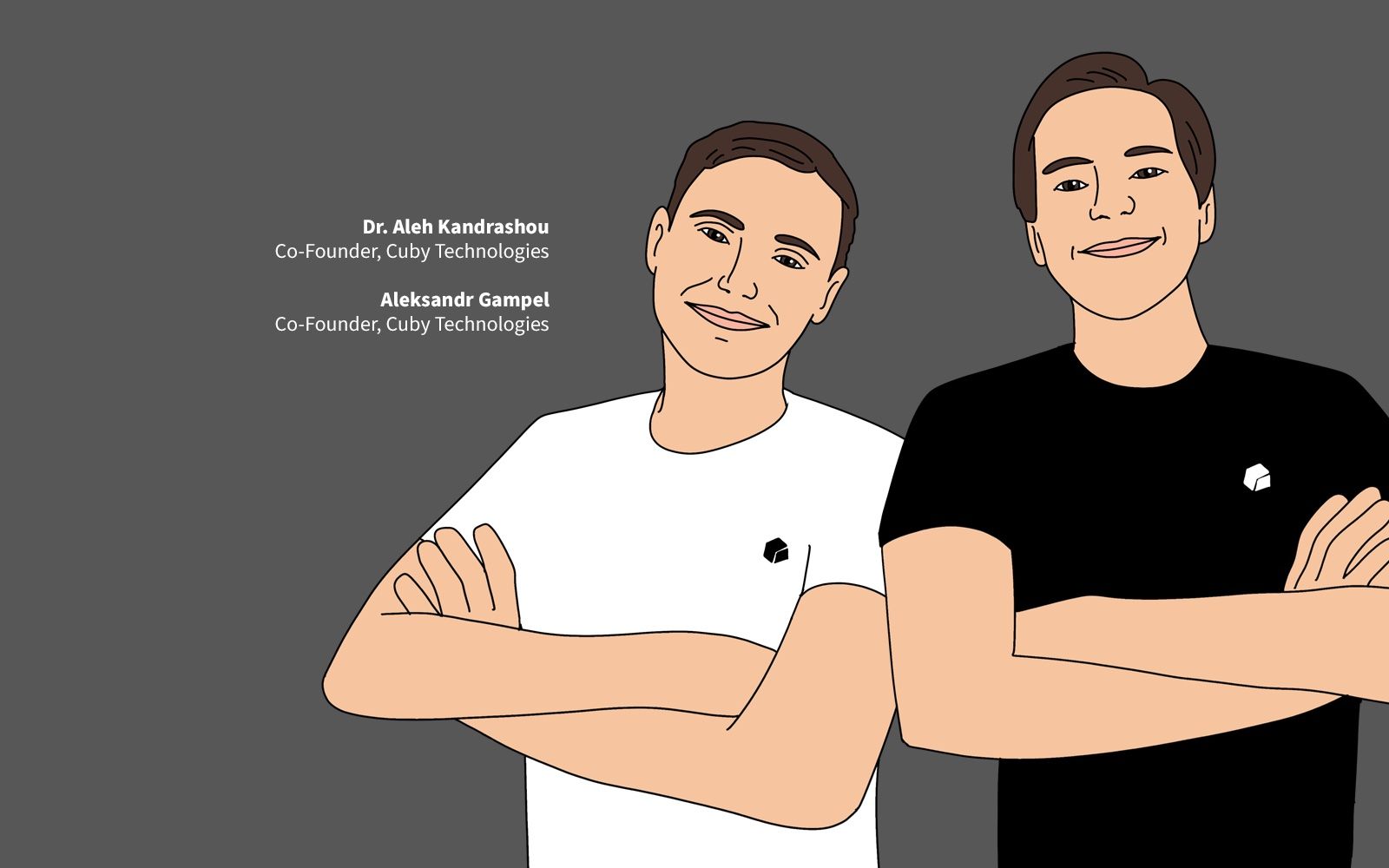 Soon after Covid upended the world as we then knew it in early 2020, a refrain began to gain traction in a suddenly and almost magically resurgent new residential real estate and construction business.
Instantly almost the entire community adapted to a touch-less, virtual, sight-unseen, elegant, friction-reduced, and profoundly simplified digital shopping and buying experience that suited the pandemic self-induced economic semi-coma state to a tee. It did so because it had to and because it could and because it was time.
The business accomplished in 60 days what it hadn't been able to do in a decade before that," went a widely-embraced trope of the moment.
For a fleeting moment, housing of the future's data and technology powered pathway seemed to know no bounds, spawning proptech, REtech, buildtech, automation and robotics, modernization, industrialization, and modern manufacturing initiatives by the dozens, attracting tens of millions of venture, private equity, and friends and family dollars. Founder and co-founder pedigrees that blended Silicon Valley start-up track records, with Wall Street capital chops, with scaled precision manufacturing, with deep-tech engineering, with real-world architectural, construction, and real estate experience teamed up, prototyped their break-through solution, raised capital, and plunged into the breach with the noblest of intentions given their current state of crisis:
Solve for housing affordability, attainability, and access
Solve for a chronic and worsening skilled labor imbalance
Solve for sustainability and resiliency at the home and community level
Even back then, in the pre-2022 Fed Reserve pivot "easy-money" regime, nothing felt like a sure thing when it came to validation and support. Nonetheless, start-ups that set out to solve the converging housing labor, affordability, environmental, and natural hazard crises proliferated and got big-dollar backers. Now, as economic, financial, and new investment conditions become downright Darwinian, those feel to many founders striving to steer fledgling building technology game-changers on a much leaner, meaner, and faster path to business validation and profitability like the "good old days."
Meanwhile, since the Fed started winching up its Funds Rate, old-school stick- and site-build-centric homebuilding operators have thanked their lucky stars  for business and operational models loaded up with variable costs that can be cut out right on a dime, leaving a fixed-costs subsistence-level going-concern if that's what survival required them to do.
Many, like Lennar, for instance, like to refer to their very healthy per-unit gross margin as a "shock absorber" that allows an operator to give back some margin basis points in price reductions and increased sales costs to keep order pace flowing sufficiently to pull through overhead and other expenses. Well, if profit margin is a homebuilding operator's shock absorber these days, the breaking and acceleration systems come in the form of variable costs, which can be subtracted or re-added relatively quickly depending on the ebb and flow of demand for their new homes.
And here's a data point that attests to how averse the nation's higher-volume production homebuilding operators have remained insofar as adding to the fixed cost side of their balance sheets, and forfeiting their ability to slash variable costs if they have to.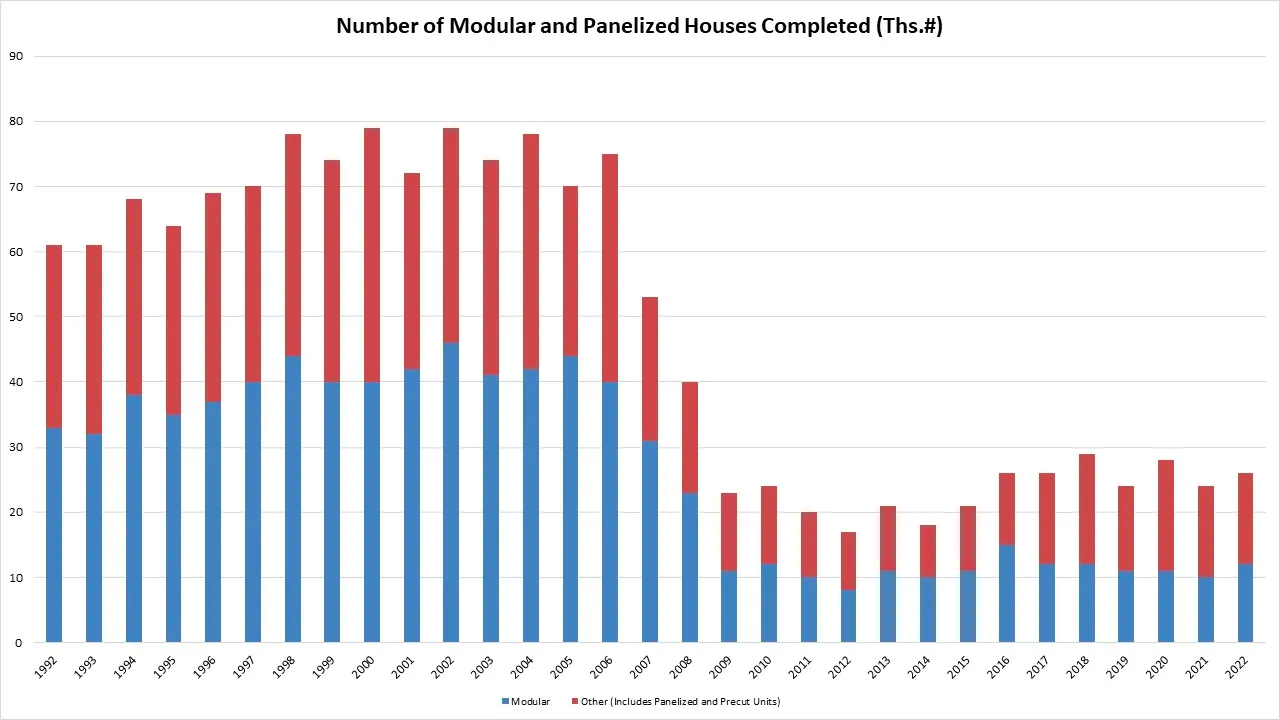 The total market share of non-site built single-family homes (modular and panelized) was just 2% of single-family homes in 2022, according to completion data from the Census Bureau Survey of Construction data and NAHB analysis. This share has been steadily declining since the early-2000s despite the high-level of interest for non-site built construction... This 2% market share for 2022 represents a decline from years prior to the Great Recession. In 1998, 7% of single-family completions were modular (4%) or panelized (3%). This marked the largest share for the 1992-2022 period." – Eye On Housing
Now, even as many continue to believe that industrialization, precision manufacturing, automation, robotics, commercialization, and generative A.I. are in fact the future of housing, it's anybody's guess as to which of the current cohort of innovative ventures may make it out of their capital-intensive, multi-year, pre-profitability development runways to business viability, scale, and sustainability.
One relative new-comer to the dance floor, Cuby, would offer what its co-founders believe solves both the daunting CapEx riddle and the capability to drive the advantages of deep, local, high-velocity scale that could impact pricing, profitability, and sustainability.
According to an earlier statement from Cuby:
Using robotics technology perfected by a team of over 200 engineers, a Cuby factory is able to produce all the necessary "building blocks" for a 2,000-square-foot single-family home in just one week, and its next-generation factory will be able to do it in a single day. Once the "blocks" are delivered to the building site, the structure can be ready for occupancy in a month, including interior finishing and even furniture. That means with one building team, 20 high-quality homes can be built per month, a staggering improvement over current build times that average one home every seven to nine months, using 12 skilled folks across numerous trades. Constructed using steel, with smart-home technology built in, Cuby homes are of higher quality than a typical wood-framed home, and cost, on average, less per-square-foot.
Unlike traditional modular or prefab building concepts, Cuby's franchisee builder or developer will utilize mobile micro-factories (referred to as "MMFs"). MMFs can be placed on or within miles of construction sites. These localized factories will all but eliminate costly and challenging logistic issues and are agile and scalable. With localized factories, the labor pool can be sourced directly from nearby communities, helping to contribute to, rather than drain, the local economy. Workers employed at a Cuby factory can be hired unskilled, and with minimal training, can be easily embedded into the manufacturing process."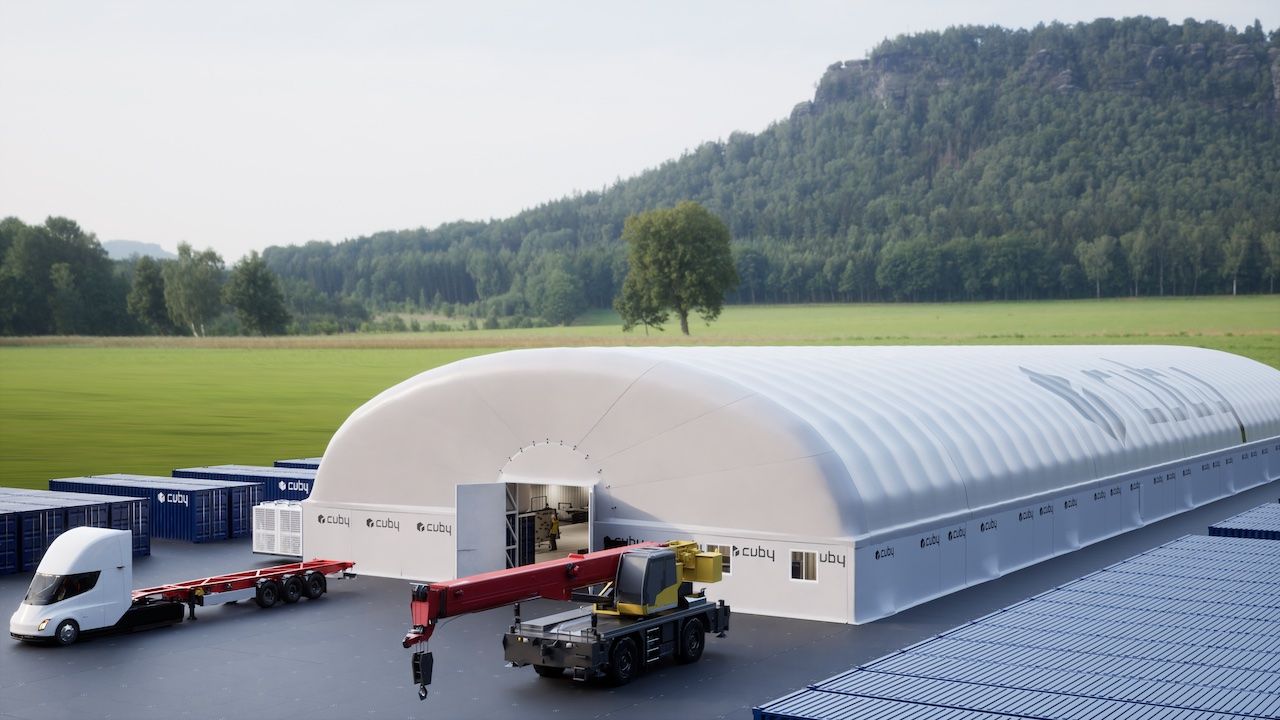 Taking time-out from the recent Blueprint event in Las Vegas, we visited with Cuby co-founders Aleksandr Gampel and Dr. Aleh Kandrashou to hear how their three-and-a-half-year-old venture is faring in a harsher, higher-for-longer rate environment that has become a big challenge for early-stage building technology innovators.
Here are some high-level take-aways about what Aleks and Aleh are up to, and what they're next milestone looks like as they try to introduce "mobile micro-factories for last-mile construction" to a homebuilding business community that may desperately need them, but may not know it. And even if they do, they may not know how to wean themselves from their variable-cost accelerator-break system to fully adopt this change.
Q: How did you arrive at the Cuby solution?
Aleks Gampel
We decided to go about it backwards and not think about the end product. Rather, we decided to think about what scales Day One in a massive way in terms of copy and paste. We developed the mobile micro-factory, our mechanism to deliver what we want to ultimately deliver -- the end product -- which is a single family home.
We've containerized a factory that can launch on three acres of land. It's a non-permanent structure. Within the containers already lives each station full of machinery that quickly-deploys to perform a designated task. This inflatable structure is of pneumonic repurposed military technology, used for air hangars. There's no pressure inside the factory, so we can quick-deploy it all. We integrate three types of functions out of this factory. One, we make something from scratch entirely. Think about a window, think about a SIP panel. We literally make these items from raw goods to finished product. Two, we prep things. These include typical parts you can buy at Home Depot when you're building a single-family home, i.e. pre-cutting sheet rock or PEX pipes for plumbing, for example, ...  things needed for that specific home that we make for the kit of parts. It all comes off the conveyor. And three, there are things we flow through the system that we don't even touch, but they still make their way through our factory. Think a toilet, or think of finished cabinetry etc., that make their way through and get palletized.
You won't believe how much it costs to launch them – sub-$10 million for us to launch an entire factory that does 200 single-family homes a year. We can launch them anywhere, say a parking lot or a raw piece of land.
When we launch it, we start production in these factories. We then palletize those things, but there are about 30 packs that make their way on-site. The whole point is low capex, high output. We're trying to service about 150 mile radius. The same labor that's employed by the factory is also the on-site assembly labor. Right now, on site we're putting together a single family home with four unskilled people in 45 day production cycle from helical screwpile foundation to interior finish for $100 a square foot."
Q. Where are you in development of the capability you're talking about?
Aleks Gampel
We're about 225,000 engineering hours into our journey to make sure that this product can be copied and pasted hundreds of times. We've scaled to 134 folks, skewed towards hardware/software engineering. To date, we've now designed all the machines, manufactured them, put them all together, pushed them into production, and created the mobile micro-factory (MMF). Now we're on our second one, and we're selling that one: That is the system we're copying and pasting with local operating partners, say homebuilders, developers, general contractors, and even private equity groups focused on legacy manufacturing and industrials..
When I say building the system, it's not building a home like a lot of players in our space. It's replicating that system, which is the infinitely hard part. However, now we've built single-family homes out of the factory (easy part). Our R&D team is now building about a home per month for tests and writing software on top of them. There's quite a bit of software that we have to write now to 'codify' the off-site and on-site processes, but we're starting to commercialize the factories. We're now at a point in time where we set up a pretty robust ability to build the factory itself to sell it to customers. We're now setting up a supply chain and a 'Papa factory,' likely in China, or India, or Mexico, where our goal is to do about 20 factories per year.
Q. Any U.S. presence for your factories yet?
Aleks Gampel
The first factory in the US that we can talk about somewhat publicly is going to Detroit, Michigan. We have a partner there. The background on that partner is they're a local general contractor that's pretty large at scale. They saw the pain points we are solving and where the industry is headed; their typical construction site now averages at 42-50 years of age for a worker."
The partners we partner with to launch these factories mean it's not our own factory. We're partners in the factory. Each one is an special purpose vehicle venture: So, a standalone business entity we generally partner with, whether it's a home builder, general contractor or private equity group.
We're like McDonald's in the sense that we built a system that any local operator can launch. Once the factory is launched and stabilized, it pays back in about three years. So it can do about $70 million in top line at its stabilized production peak. In other words, each of these MMFs will do about 400,000 square feet of output. That's about if you take a 2,300 sq ft home and average about 188 homes per year. You apply a loss factor. Let's just say each factory is doing about 150 homes per year getting to about $70 million in top line.
It takes us 12 months from signed contract to fully operational factory. That's the beauty of what we've done. That's where we are today. Once the factory's operational, its customers become local developers that are doing build-to-rent or for-sale single-family homes. We're focusing our initial rollout in phase one as we commercialize on single-story, single family which is 50% of the market and growing, especially with an aging demographic that we're seeing in the U.S."
Q. Are these homes code compliant?
Aleh Kandrashou
Our construction process consists of 30 stages. All of these stages are 100% fit to the inspection process. The inspector doesn't even know that this is a modular construction – he see only all the processes as standard ordinary construction. We are not necessarily trying to reinvent the wheel – say, the end product. We just want to make it spin faster. This is really process and delivery innovation. We did not want to be at the whim of regulators and code compliance. We can pretty much back into the same product that any of the top 10 home builders can design.
Q. How do you reach efficiencies with inexperienced workers?
Aleh Kandrashou
All of these stages consist of a kit of parts, called PAX. There are a number of kit of parts in one pallet that a worker needs when he or she opens it up to assemble it. It's like an Ikea process, where they open the pack, and everything is included in these packs ready to install. This is how we change the way to build. We can actually use unskilled laborers without usage of heavy machinery on-site. We have a simple training system. We have a software program to control the assembling and manufacturing process. We have a software based on Unreal Engine software, where we do the virtual duplication of our factory, a digital twin. Workers work in one month in a virtual factory, using VR headset or with a laptop. After one month playing the game they 100% know what to do. And that's how we decrease the level of skills workers require to succeed in the factory. It's not construction anymore. It's manufacturing, more specifically lean manufacturing. This software acts like an Uber for the workers where the worker come to the workplace, pushes the button and the system give him exact task. What he needs to do right now based on the pipeline of the houses is the factory need to produce them based on his personal skills. In manufacturing, there is a conveyor belt and this conveyor belt control the process itself. It means that one operation control previous operation, and so on. When you set up the factory, you begin the Lean Manufacturing approach. It's called 'catching a flow.' It means that when you catch the flow, working nonstop, the production capacity increases 10 times. But in construction, it's very difficult to catch the flow because it's full of moving parts, fragmented trades, etc., that you need to control. This is not a miracle. This is why we reduce labor costs more than 10 times without any subcontractors in the factory. This is the most important piece to reduce as it's the most expensive – 60% to 70% of any $1 that it costs to build is related to skilled labor hours."
MORE IN Technology
"I don't care what endeavor someone is looking to innovate or start up. It is hard. It's really hard to do. I want to embrace those who are bold enough to get out there and try, and sometimes fail. They do provide a stepping stone for the learning process." -- Stuart Miller, Lennar
What private builders need in their fight against giant nationals.
Gen A.I. could put machine learning to work in a process builders are already working through to remove time, money, materials waste, policy burdens, and other "costs" a consumer household does not value and only does, develop, and build more precisely what consumers do value.
MORE IN Technology
"I don't care what endeavor someone is looking to innovate or start up. It is hard. It's really hard to do. I want to embrace those who are bold enough to get out there and try, and sometimes fail. They do provide a stepping stone for the learning process." -- Stuart Miller, Lennar
What private builders need in their fight against giant nationals.
Gen A.I. could put machine learning to work in a process builders are already working through to remove time, money, materials waste, policy burdens, and other "costs" a consumer household does not value and only does, develop, and build more precisely what consumers do value.