Architecture
Garman Homes' 'Barnaby' Unveils Ideas For Living In A Time Defined By The Pandemic
The concept project's close-up moment takes place in Pittsboro, N.C., spotlighting the need to listen and discover to meet new homebuyers' demands in a time defined by the pandemic.
John McManus
July 15th, 2021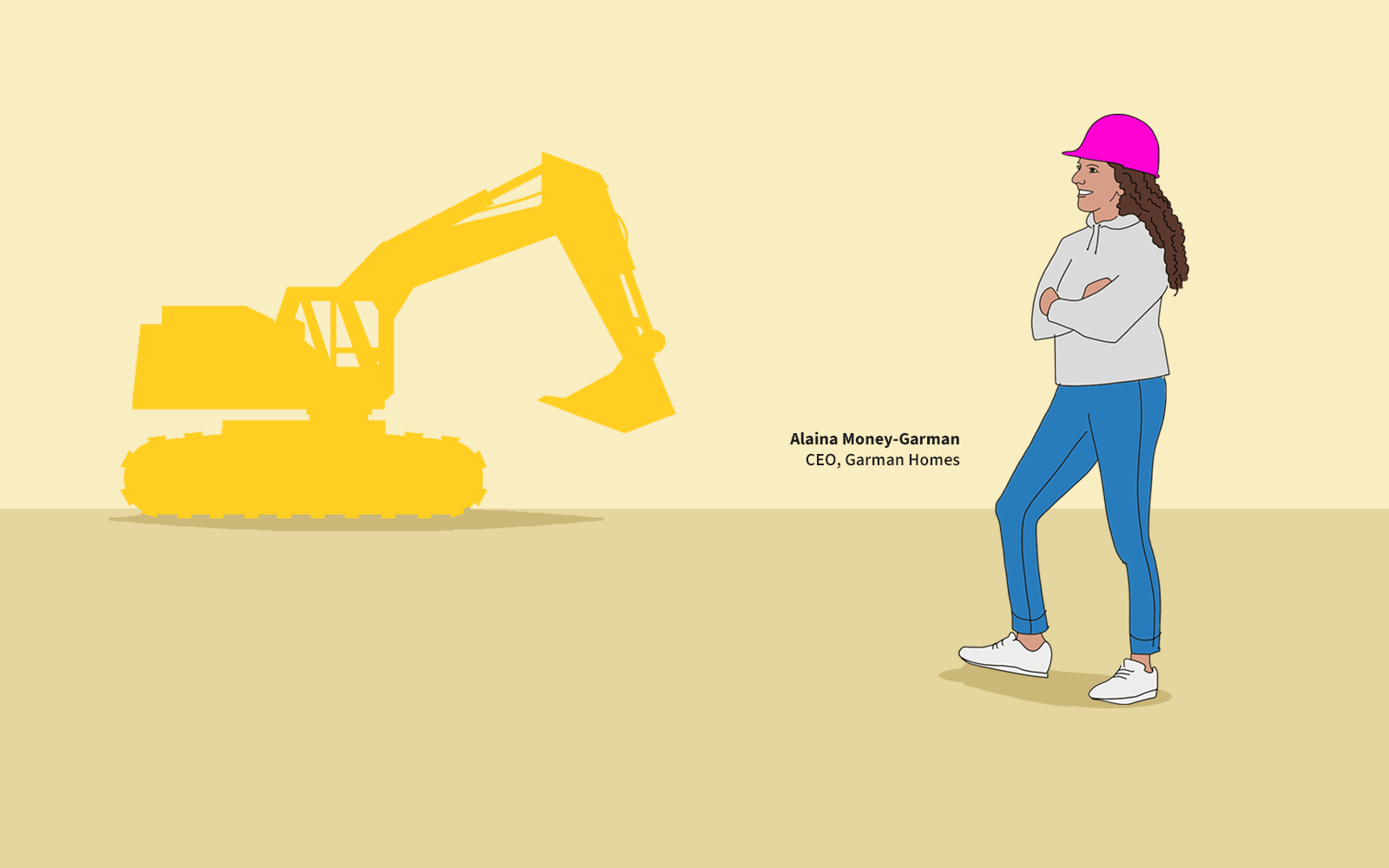 Prediction: With effective Covid-19 vaccines widely available, the economy, social activity, recreation, etc. would be good to go, ready for a return to normalcy.
Reality: In the U.S., 335 million doses have been given so far. In the last week, an average of 548,045 doses per day were administered. Per Bloomberg, at this pace, it will take another 8 months to cover 75% of the population. That's the percentage experts zero in on as necessary for "a return to normalcy."
So much for predictions. Predicting is hard.
But what is innovative, bold, compelling housing design and engineering if not a front-loaded investment, a living example of a gigantic prediction into what people will both want and pay for in a new home?
Half-baths and entry parlors, once upon a time, were just that. They amounted to predictions as to what people would want in their homes as they began to live with and adjust their lives to an ongoing menace – the Spanish Flu – in the late teens and early '20s of the last century.
Still, knowing the answers to what people will say when you ask them, "How do you want to live in your home?" is never static. Rather, it's a question that needs to get asked constantly with several things in mind.
They may be clearest about what they don't want when they talk about how they want to live in their home.
Recency-biases can impact what they'll tell you about what they want most, but may obscure from them what they may need. So, even your customer may not be able to tell you what he or she wants and will pay for in their new home.
Wisdom – which is what it takes to ignite a widely-adopted new consumer behavioral trend, i.e. homes of the future – comes of a hybrid of equal parts knowing and learning.
There's what we know – including what we've known about single-family home design trends over the past decade or so – and what we need to learn.
This is the basis of Barnaby, which a more than a year ago presupposed that by now American home shoppers would be putting the worst part of the pandemic behind them, yet, somehow defined by it.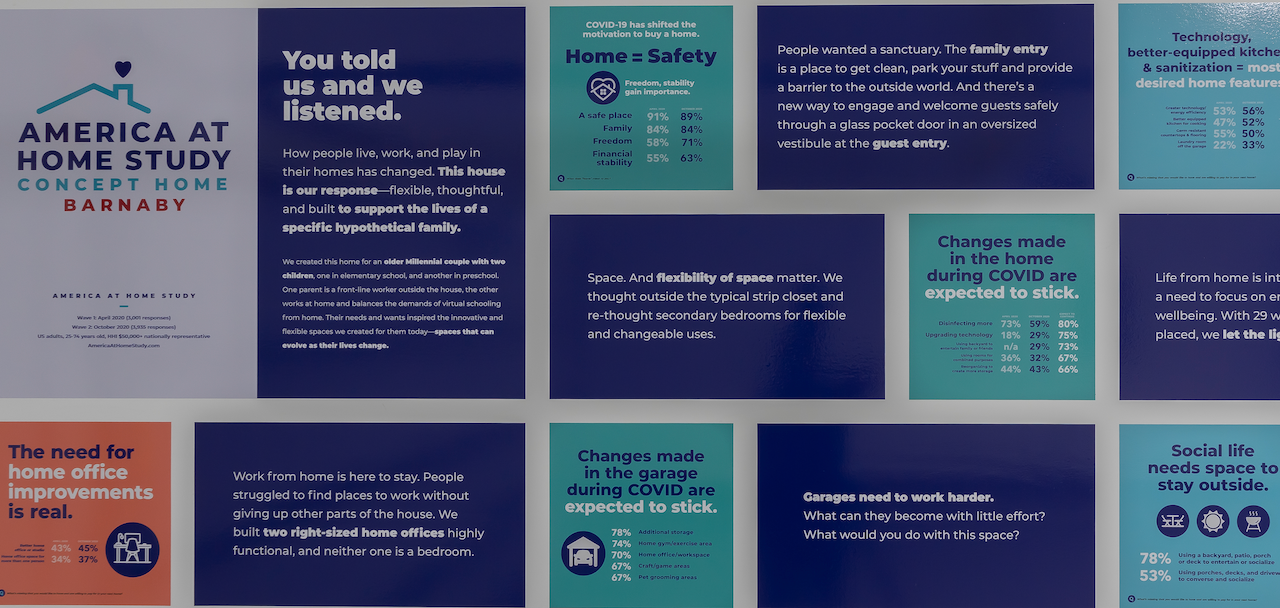 The "keeper trends," what everybody wants to see – whether virtually or in person – in new single-family models include:
Separate homeowner and guest entries, dedicated office space, "flex spaces," larger bathrooms, touch-less fixtures, a glassed-in package drop area
Some of these "new trends" preceded the pandemic, but most of them were viewed as "nice-to-have" options. Now, though, they're practically non-negotiable. Especially when now the realization has begun to dawn on people that Covid-19 may be going nowhere fast, and learning-to-live-with-it will mean changes.
The future of work and workplaces is shifting
Household and family composition and family time together is shifting
Health-and-well-being and technologies and solutions that support them are shifting
Social challenges are shifting
Economics of community, region, nation, and globe are shifting
Privacy, security, and sanctuary – their meanings and impacts – are shifting.
This all makes predicting – the job of new home design, engineering, and construction – all the harder.
What's central to the grand opening of the America at Home Study Concept Home: Barnaby in Pittsboro, North Carolina, is the project's origin story.
Listening.
Specifically, listening to 7,000 owners and renters speaking to researchers during the time the Covid pandemic was upending life as we knew it.
Here from a press statement:
The 2,600-square-foot, two-story home containing 4 bedrooms and 3.5 baths was designed for a hypothetical family with two working parents, one who works from home and the other outside the home. Design considerations and key decisions were driven by how the concept home can support safety, comfort, and wellness through separate homeowner and guest entries, two dedicated office spaces, flex spaces, a guest suite with outdoor access, a larger family bathroom, multiple covered outdoor spaces, improved kitchen functionality, flexible storage, drop zones for package deliveries, and more.
"After spending significant time in their homes during the pandemic, many Americans leaned into greater wellness and comfort as well as stronger reflections of personal taste including layout changes, dedicated office space and more storage," said Garman Homes' CEO and Co-Founder Alaina Money-Garman. "By constructing a home that spotlights key findings from the study, we are able to bring to life collected data and transform it from consumer insights to an actual physical home that can be experienced by all."
When pandemic lockdowns went into effect, a majority of women shouldered additional full-time responsibilities in the home such as caring for older family members and coaching children through distance learning. The unique perspective arising from limited movement in the home environment motivated three women with decades of combined homebuilding industry experience to summon individual and shared talents to study and construct a more efficient, effective, and current home ideal.
Teri Slavik-Tsuyuki, a community design and marketing expert, spearheaded the America at Home Study in collaboration with consumer strategist Belinda Sward and architect Nancy Keenan, president and CEO of Dahlin Group Architecture Planning. "Many industries were negatively impacted by the pandemic; but missing from the daily conversation was how COVID-19 and 'life from home' revealed deep dissatisfaction with our individual home environments as they became 'catch all' destinations for multiple family members for work, school, play and rest," said Slavik-Tsuyuki. "Our shared concern and perspective was the catalyst for the creation of the America at Home Study, and ultimately, the decision to bring the findings to life in an actual concept home."
The America At Home Study reflects a step-change in how developers, placemakers, and home design professionals can apply listening to their knowledge base of experience. It's a start, not an end, to what will be a long, testy journey to learning to live with the Covid pandemic.
Join the conversation